We are two weeks away from our next WP Elevation webinar, that will be focusing on how to sell and deliver landing pages as a service. As you know landing pages can help you sell a product, be used for lead generation, event promotions and overall increase web traffic. There is a lot to do when it comes to landing pages, and this webinar teaches you how to sell and deliver them for your customers.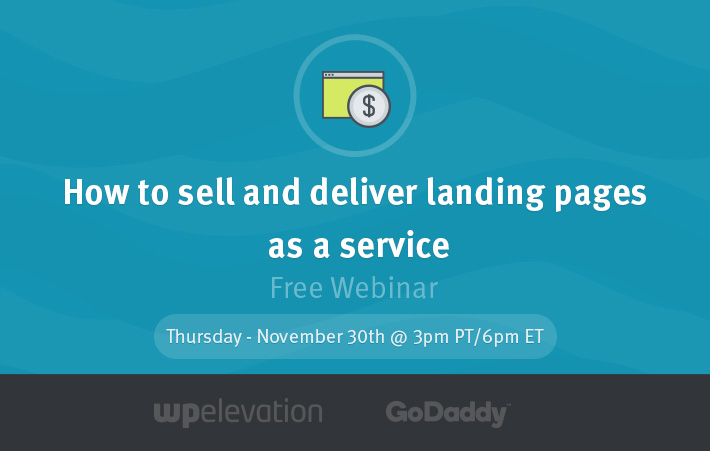 Websites are not the only thing you can deliver with WordPress. You can start offering landing pages to your customers, you can do that before building a website solution, or you can offer it as an addition for certain promotions. Either way, landing pages can have a huge effect on a business. It's important that you know how to sell this service.
This webinar will focus on helping you add landing pages as a service, so that you can help your customers increase email subscribers, convert sales, and generate more traffic.
Learning points:
How to sell the concept and delivery of a landing page
The 3 step process we use to build landing page projects
How much to charge for a landing page package
Webinar date and time
Join GoDaddy Pro and WP Elevation on Thursday, November 30th at 3pm PT / 6pm ET for a free one-hour training session on selling and delivering landing pages as a service.
Your presenter for this webinar will be Mike Killen, owner of Sell Your Service, works with funnel builders to help them sell marketing funnels and run a funnel business.
Can't make the webinar?
Register anyway and we'll send you a link to the recording and downloads. (Note: The live Q&A is exclusive to webinar attendees and is not included in the recording!)
To sign up for the webinar, head over to the GoDaddy Registration Page.