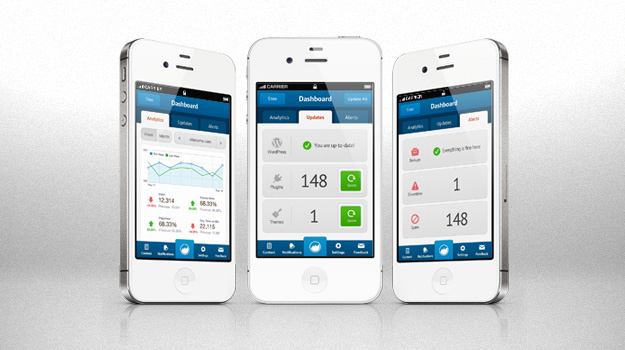 As you will know if you read our initial announcement post back in April, we have been very hard at work on an iOS app over the past few months.
Well, the time has now come to announce it to the world formally! The ManageWP app is now available on the App Store for you to download. It is just the second WordPress-related app to be released on the iOS platform (the other being the official WordPress app) — an astonishing fact.
You can go ahead and download it right now!
However, we didn't just set out to develop an app that complements the desktop version of ManageWP. We wanted to develop a means of managing your WordPress sites that in many ways could be even more convenient and easy to use than the desktop version. From a ManageWP user perspective, having toyed around with the app for a couple of weeks now, I can confidently say that the development team has accomplished just that.
We are extremely proud of the app and can't wait for you to get your teeth into it and give us your feedback. But before that, take a moment to check out all of the awesome features we have packed into it!
Update Everything from Anywhere
With the ManageWP iOS app you can update your websites from nearly anywhere in the world: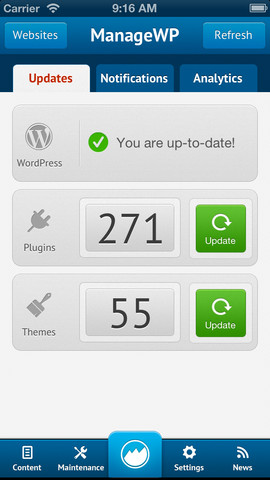 The interface really is as simple as it looks. Load up the app and you can see what updates are available. Hit the 'Update' button and ManageWP will take care of the rest!
Notifications and Analytics
The ManageWP app can immediately inform you of issues with any of your site with push notifications for backups and downtime. You no longer need to fret about whether or not your websites are up and running because you'll know as soon as there is a problem.
But that's not all — you can also view analytics data at a glance: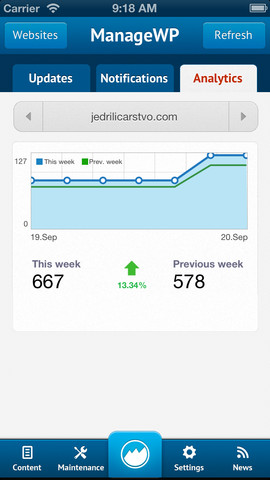 Maintenance
Need to run a backup for one (or all) of your sites immediately? No problem — just select the backup profile you want to run and hit 'Run Now':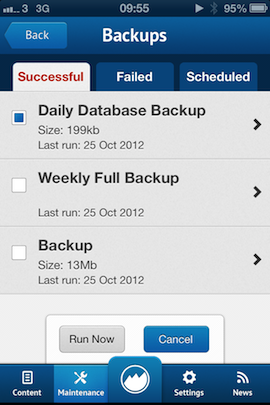 ManageWP also keeps a record of successful, failed and scheduled backups.
Content Overview
Want an overview of the draft, scheduled and published content across all of your sites? No problem — just hit the 'Content' tab: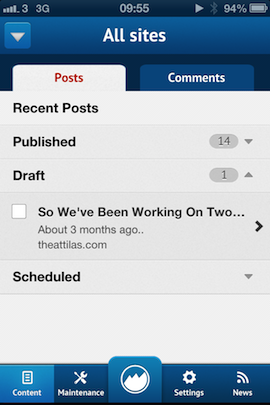 From this screen you can manage your content — whether that be publishing or deleting. You can also view and moderate recent comments.
And That's Not All…
We've covered some of the primary features above, but there is plenty more on offer. Here's the full list of features offered by the ManageWP app:
Themes/Plugins/WordPress updates overview with changelog info for each item
Remote updates
Analytics
Backups information
Uptime information/notifications
Overhead management
Spam management
List of recent posts/comments per post status (e.g. published/draft/scheduled)
Category management
Direct support contact (send ticket/idea/feedback)
User management
ManageWP plan details
Links to ManageWP forum/blog/user guide
Latest posts from the ManageWP blog
Sound good? We hope you think so. And now we hope you'll give it a try.
We'd love to get your feedback on our new app, so please let us know what you think in the comments section!