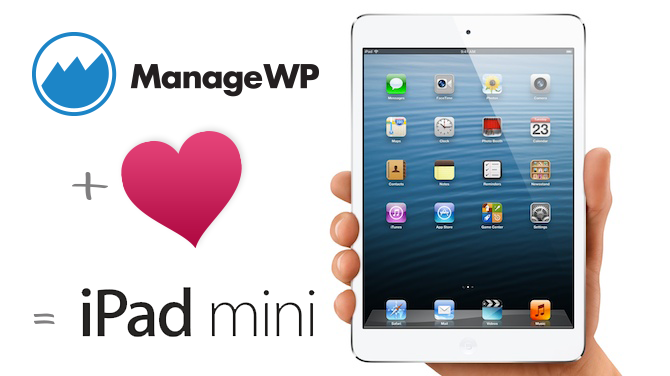 Some of the best feedback we get on the ManageWP app is from you — the end user. Your thoughts and comments act as a fulcrum for the ongoing development and improvement of the world's best WordPress management tool and we appreciate it hugely.
With that in mind, we have decided to launch a new competition in which you can be rewarded for your valuable feedback. If you are a current ManageWP user and want a chance of winning an iPad Mini just for giving us your opinion on ManageWP, read on…
How to enter
To grab your chance of winning one of three iPad Minis, all you need to do is answer our simple survey, from within the ManageWP dashboard — log in right now and it will be waiting for you!
Rules:
In order to participate in the survey you need to be a paying user

The three people who leave what we consider to be the best feedback will each be rewarded with an iPad Mini (16GB WifI White or Black as available). We will contact you through your ManageWP registered email.
We're also going to send out  ManageWP t-shirts at random just as our little way of saying thank you for continuing to support ManageWP!
The survey will last for 7 days. You are able to edit your response during this time
In our opinion this is a win/win situation — we get to hand out some nice goodies to you guys and we get a bunch of awesome feature ideas for ManageWP that we can use to make the app even better for you. We can't wait to get your feedback and use it as fuel for the ongoing development of ManageWP.
What Are You Waiting For?
The survey will close at noon (CET) Monday,  14h may, 2013 so be sure to get your answers in quickly!
Please share this survey amongst your friends and colleagues to give everyone a chance of winning! If you have any questions, please don't hesitate to ask them below, and remember that the survey must be filled in from the ManageWP Dashboard.