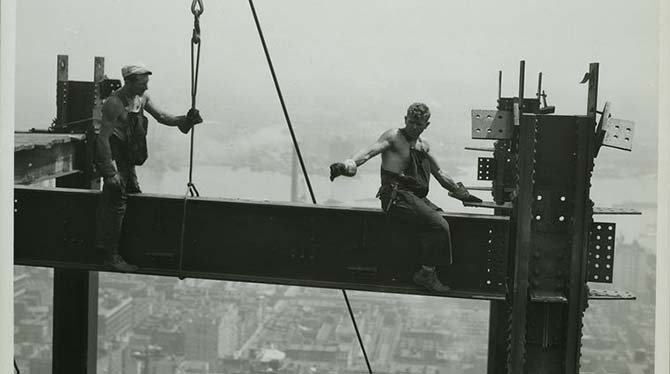 WordPress frameworks have existed for years but unfortunately the terminology and therefore the basic understanding of what they are, why someone should use one and who should be using them has often been lacking. I want to change that with this post.
I have been planning this guide for quite some time — ever since my post Why I Switched to a WordPress Theme Framework kicked off such a rich and nuanced discussion on the topic here on the ManageWP Blog in fact. If you get a chance please check it out and give the comments a read — it's a perfect primer for this article.
The request that popped up over and over again was for a post outlining the current state of WordPress Frameworks. Something that defines precisely what they are, which ones are recommended for who and how they differ from each other.
That is exactly what you'll find in this post. So let's get into it!
Some Important Questions, Terms & Definitions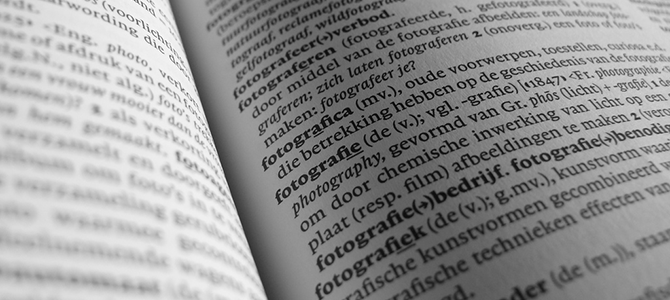 What is a WordPress Theme Framework?
According to the WordPress Codex, the term "Theme Framework" currently has two meanings:
A "drop-in" code library that is used to facilitate development of a Theme.
A stand-alone base/starter Theme that is intended either to be forked into another Theme, or else to be used as a Parent Theme template.
What is a Parent Theme?
Almost every WordPress theme is a Parent Theme. Unless it is specified as a Child Theme (or a Framework) then it is a standalone Parent Theme. Parent Themes should contain the theme design, functionality and templates required for it to run on WordPress.
What is a Child Theme?
A Child Theme inherits all of its functionality from its Parent Theme but makes it possible for a user to make further customizations without affecting the future "updatability" of their Parent Theme.
If you're wondering if you should have a Child Theme running on your WordPress website then the answer is yes. Always create (or make sure you've been provided with) a Child Theme if you're planning on making any custom changes. Otherwise you will probably be in for a nasty surprise when your next update comes around.
For more info on how to do this check out this post by our Editor Tom Ewer: How to Create a Child Theme in WordPress.
How are frameworks different from a Parent Theme or Child Theme?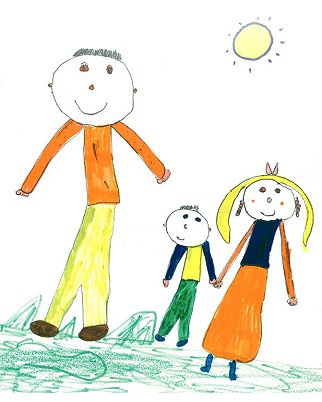 According to the definitions provided above I hope there is no confusion as to where Child Themes fit in and what their purpose is. From my experience it's when attempting to split the difference between the second definition of a WordPress Framework and that of a traditional standalone Parent Theme that things start to get a little confusing.
In this instance the important word to latch on to is template at the end of the second definition of a WordPress framework. A Parent Theme template is not meant to be used as a theme all by itself. It's almost there, and therefore makes a great starting point for further development, but is meant to be used (and often requires the use of) an additional Child Theme.
Genesis is a great example. The Genesis Framework is available by itself but StudioPress is adamant that you (the designer/developer/end user) should either always create a Child Theme to use with it or use one of the many Child Themes they provide.
A standalone Parent Theme on the other hand is just that: a theme meant to be used as is. Which makes a framework like Genesis seem incomplete and less than a standalone theme, begging the questions:
Why use a framework like that at all?
Why not just use a great Parent Theme and then create a Child Theme for it?
The answer is that a properly coded framework (like Genesis) is going to be much more feature-rich than a standalone Parent Theme. It will almost entirely separate functionality from design, packing all of its extensive functionality into the framework (and additional plugins) and depend almost entirely on a Child Theme for its design.
With a standalone Parent Theme you get your (more limited) functionality, design and templates all in one. This results in a theme that is perfectly ok to use, but not nearly as flexible when it comes to advanced functionality and design customizations.
Who are WordPress Theme Frameworks for?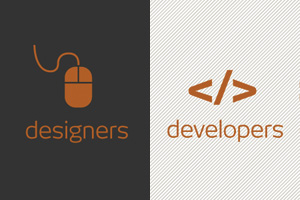 This is an interesting question that has a few different answers depending on where you're coming from. For the most part though frameworks are for web developers/designers who want a faster way to produce more powerful and feature-rich websites for their clients with little to no custom development.
StudioPress, the creators of the Genesis framework, have a great car analogy they use which I've borrowed before when explaining this topic. WordPress is like the engine; A framework is the body and internal features/functions; and then the Child Theme is your site's paint job and exterior design elements.
It's a succinct description that helps put things into focus. If all a developer has to do is "put on a different coat of paint" (instead of building everything from the ground up for every new client) then they're able to take on a lot more work and make a lot more money. So of course this is a great tool for developers.
Beyond developers though frameworks are great for web designers, publishers, bloggers and any other type of end user who wants a powerful yet "future-proof" WordPress website without extensive development (that they may or may not know how to do).
In fact I would say that many of the more popular premium WordPress frameworks have become less about providing developers with a lean core of functionality and more about empowering "do-it-your-selfers" in the WordPress community at large. A trend I think will be obvious as you read about the premium frameworks below.
Now whether or not you think that is a good or bad thing is a topic to be discussed in the comments.
My Criteria for a Quality WordPress Framework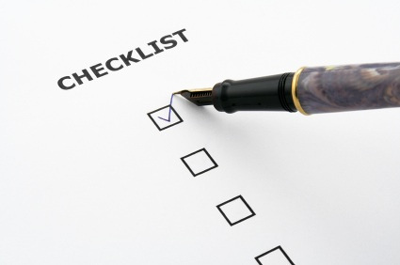 My goal with this post was not to begin a massive debate about whose framework of choice is better than someone else's.
While that might be fun I think the most beneficial way to approach this post is to start with the following assertion: every single framework featured in this post is worth taking a look at. From an objective point of view there are no bad frameworks here. They're all good. Most of them have found their own loyal (and in some cases fanatical) followings as a result. The question is: which one is right for you? And only you can decided that after reading about and comparing your options.
For a framework to make my Top 10 List of Premium WordPress Frameworks it had to embody the following qualities:
High overall value, i.e. be a good investment. This of course is dependent on how well a framework meets the needs of its target market (developers, DIY or both).
Great customer support and a large/active community.
The ability to strike a good balance between serving the needs of both customer groups mentioned above without becoming a "diluted product" in the process. Or, be a perfect fit for one or the other.
Similarly, this is how a framework made my Top 10 List of Free WordPress Frameworks:
Excellent Community
Helpful Documentation
Regular Updates
Support Options
I should also note at this point that this post contains absolutely zero affiliate links. So you can rest assured that I'm not giving any one framework a "boost" in the hopes that I'll generate extra income. The following recommendations are made with the best interest of this readership in mind.
My Top 10 Premium WordPress Frameworks
Please note that I have listed these frameworks in alphabetical order. They are not ranked best to worst or anything like that. The specifics of the framework is what will determine if it is a good fit for you, not my subjective opinion.
Catalyst is premium WordPress framework that's positioned itself nicely within the WordPress community to serve business owners, WordPress DIY enthusiasts and intermediate to advanced developers particularly well.
When you make a purchase it comes with the Catalyst Framework, their Dynamik Child theme (complete with 800+ design options), unlimited licenses for personal or client websites, a framework that's optimized for SEO/Social/Multisite, a very active member's only forum, theme updates and support for life, in-depth documentation and more.
While it does not come with what they call custom skins, you can purchase them separately from the Dynamik Skin Store if you'd rather not start from scratch on your own skin or Child Theme. Or spend time customizing the Dynamik Child Theme. Which, I should add, is pretty fun and easy to do with all of the options they provide.
Arguably Catalyst's biggest strengths are its one-time fee, unlimited website licensing, lifetime support and updates, fanatical fan/user base who appear to be very active in the forums (and elsewhere I researched Catalyst online), and its extremely useful front-end custom CSS builder.
I would say the only real downside to Catalyst is that the control panel and general admin navigation is not quite as polished as say WooThemes or PageLines who market themselves to everyone from beginners to advanced users.
Recommended for: Intermediate to advanced web developers are going to love Catalyst. It's going to give them a flexible and powerful framework to create websites for themselves and their clients. They'll have a lot of help from support and the catalyst forums, as well as solid documentation and tutorial videos.
Full Details | Price: $127 one time fee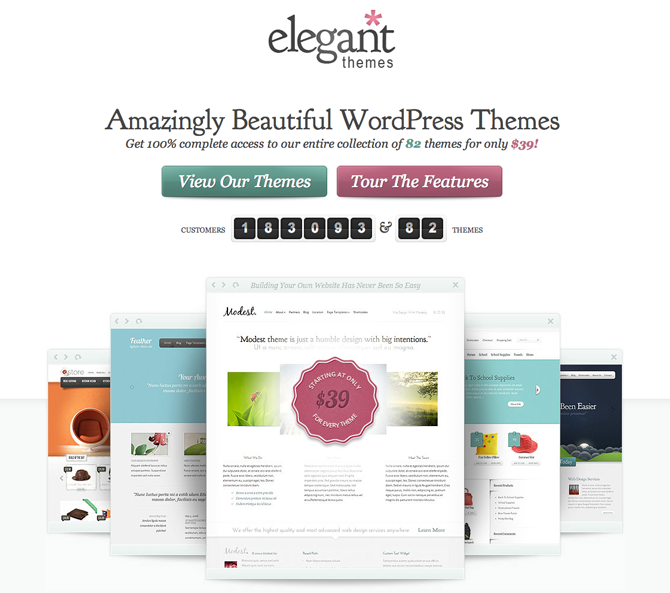 Elegant Themes is widely known in the WordPress community as "the best value for your buck". They have a stellar library of 75+ pre-made themes that run on the Elegant Themes framework, a growing arsenal of powerful plugins and one of the best support teams available for WordPress — all for $39 a year.
Unlike most of the other frameworks on this list though, Elegant Themes does not give users access to just their framework, so going in there's no question that members will be using one of their themes — instead of a custom built Parent or Child Theme they create themselves. But that's not necessarily a bad thing. Instead it's a great way to provide potential clients with ready to go options that they can demo. Not to mention you can also switch between the available themes as much as you want.
The options panel is fairly straightforward, easy to understand, and nearly identical from theme to theme. Which means once you're familiar with the backend on one you can more easily switch between them all.
The plugins you have access to as a member are not just usable on your Elegant Theme but on any WordPress theme. Meaning that just having the membership for the plugins might be a good idea for some.
The downsides are obvious though: this is not a blank slate with endless options for customization. The idea is to pick the Elegant Theme that best suits your needs and then tweak it rather than create something original.
Recommended for: Anyone creating a self-hosted WordPress website for the first time and/or beginner WordPress developers and web designers looking to make WordPress Websites an offered service without getting in over their head.
Full Details | Price: $39 Annual Membership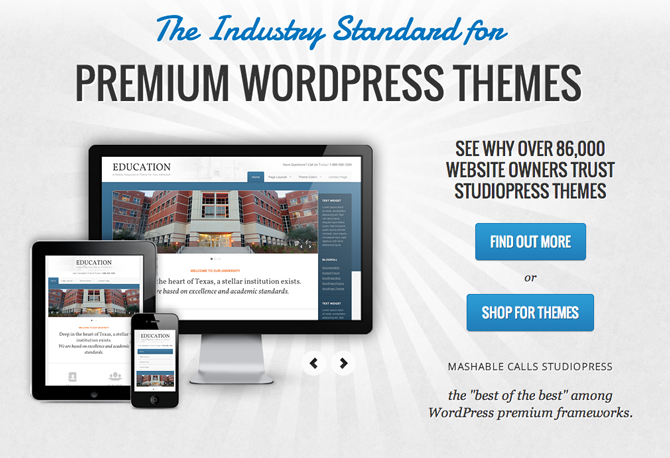 Genesis is by far the most talked about and commonly recommended WordPress framework on this list. Chances are you have heard about it even if you've never looked into frameworks before in the past. That's because it is by far the best purchase at the intersection of value and power/flexibility. At just ~$60 you get what many call the industry standard of WordPress frameworks, unlimited website licenses, unlimited updates and support for life.
The Genesis framework by itself is very lean and fast with a focus on SEO, speed, security, site "future-proofing" and flexible design options. It is always meant to be paired with a Child Theme, whether that be one of the many StudioPress offers or one you create yourself.
The StudioPress approach is geared more towards the intermediate to advanced developer and curious DIY users can certainly become "dangerous" with it in short order. Total beginners can use it but they will either want to take a StudioPress Child Theme as is or look for another more beginner friendly framework. I would highly recommend the Prose theme for beginners as it's got the most point and click control over the theme's design elements allowing those users who'd rather not get into a lot of code avoid it. For the most part.
Almost all of the StudioPress Child Themes are aimed at creating great blogs that are tight on security, optimized for SEO and great at converting visitors into email signups. So it's no wonder this theme framework has been such a darling in the WordPress blogging community.
Recommended for: Intermediate to advanced developers who want a tried and tested framework to build out new and exciting Child Themes or quickly turnout new websites/themes for their clients. The only framework on this list that provides such a massive amount of unlimited features/support for such a low one-time fee. And the community aspect of this purchase is enormous; one of if not the largest customer/fan base.
Full Details | Price: $59.95 one-time fee
For designers and non-coders everywhere Headway is a really exciting Framework option. It's an entirely drag and drop theme builder that gives you insane control over every single element of the entire theme including individual pages, posts, post types, taxonomies and archives.
The Headway Framework uses the Headway Grid to allow their customers to create any layout they can dream of in a dynamic drag and drop visual editor. Once the layouts are complete the next part of the visual editor is all about filling in the design elements section by section — again, with total control.
You can even build landing/squeeze pages, unlimited navigation blocks and unlimited widgetized areas/sidebars. All things that are very handy when working on custom design solutions for either clients or personal projects.
Everything built on Headway is automatically responsive and easily viewable on both desktop and mobile devices. They also stay up to date on the latest coding standards for HTML5 and CSS3.
And while obviously made for non-coders, Headway is not a total shutout for developers, who of course can use all of the features mentioned above just fine too. In addition though they can build their own Child Themes, use hooks for actions and filters, take advantage of the Blocks and Panel API's as well as sell their own Headway products as third party developers in the Headway Extend store.
Speaking of the Headway Extend store, this is where Headway and various third party developers offer what are called "Blocks," which are basically turn-key solutions built specifically for the Headway framework. Some of the more popular ones include bulk packages of useful features, compatibility with WooCommerce, custom post type template building and a lot more.
So what, if any, are the downsides?
Well, as you can probably imagine it's just about the opposite of lean. That's not to say that you can't make it fast with the right hosting, caching, and Content Delivery Network (CDN)…but it's not going to be anywhere near as quick as some of the lighter weight solutions here. Besides that, developers who love keeping things minimal and coding everything themselves may or may not want to deal with a lot of features and capabilities they will never use.
I should also mention that when you get into the visual editor, it takes a good deal of getting used to before you're pumping out new designs. So in a sense you're not just investing money but probably more than the average amount of time required to familiarize yourself with Headway's capabilities and unique tools.
Recommended for: The Headway framework is perfect for web designers who understand how websites work but don't want to spend any time coding (without sacrificing any control over various site elements). They want a library of turn-key solutions that allow them to quickly create powerful yet totally custom websites for themselves or their clients.
Full Details | Price: $87 Base Annual Subscription; $174 Developer Annual Subscription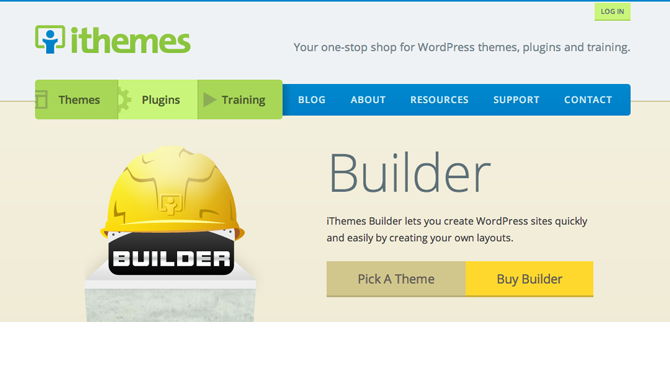 Builder is another impressively powerful no-coding required framework for beginners and advanced developers alike. Although, as I've mentioned before, actual advanced developers might find all of the built in customization options and turn-key plugin solutions a bit bulky. But that doesn't mean it isn't a great product.
And if we're being fair, which I like to think I am, iThemes does a great job of separating out its "bulk" by placing the vast majority of the design — or as they call it styling — options into the Style Manager plugin. So what you're getting is the Builder Core Theme, a varying number of Child Themes depending on which package you purchase, a powerful style management plugin and a year of support and updates before you have to re-up.
While that may not sound like a whole lot, it is only after you dive into the details of what you're getting (and what else is available on the iThemes website) that Builder really begins to look like a top notch WordPress framework option.
First, lets talk about Builder itself. It's a responsive framework that comes with five foundation Child Themes and a very flexible layout editor. This layout editor allows you to very quickly (I'm talking a minute or two tops) create various page layouts by mixing and matching the available "modules" or page parts in your preferred order.
Then of course there is the Style Manager plugin that allows you to manage the various design elements associated with the Builder framework itself or whatever Child Theme you happen to be using. And speaking of Child Themes, depending on which package you purchase, you could have access to 80 of them! That's quite the strong library of ready to go themes!
On top of all that you also get access to something called Builder Blocks. These are feature and design packs that help you create specific types of niche sites. Right now they only have blocks for Restaurants and Event sites but more are on the way.
After all that there's the support, documentation and free tutorials available. If iThemes Builder is not the best documented framework on this list with the largest library of tutorials and extra resources, it's certainly in the top few.
Recommended for: Literally anyone at any skill level (so long as they are at least familiar with WordPress) can use Builder to create an awesome website.
Full Details | Price: $80 Foundation Pack; $150 Developer Pack; $197 All Access Pass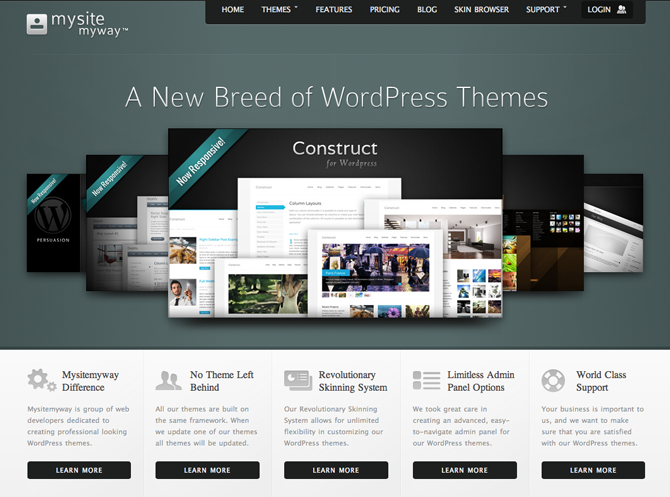 MySiteMyWay is another solid offering by a company who uses their own framework to produce a growing number of themes with a seemingly unlimited number of skins available. This is made possible in large part by their massive (but still relatively easy to navigate and use) admin panel options. You're even able to export and share your personal design settings as a way of adding to the community's skin library! It is one of the most social/community driven features I've come across while creating this post.
As is the case with some of the other frameworks on this list (like Elegant Themes) you cannot get your hands on the MySiteMyWay framework to create your own themes, but if you can find or make what you're looking for from their themes and skins libraries then you'll be in good hands. Each pricing option comes with free updates and unlimited support, layered photoshop files, and a 30-day money back guarantee.
Also, since their pricing options are just one time fees it looks to be one of the best values represented in the roundup.
Recommended for: Anyone looking for ready to use themes, a community crazy about design customizations and theme skinning options and who doesn't want to deal with much (if any) code. They also have a massive amount of shortcodes so the options throughout the site become near limitless when you start tweaking things with them.
Full Details | Price: $35 Single Theme; $149 Theme Bundle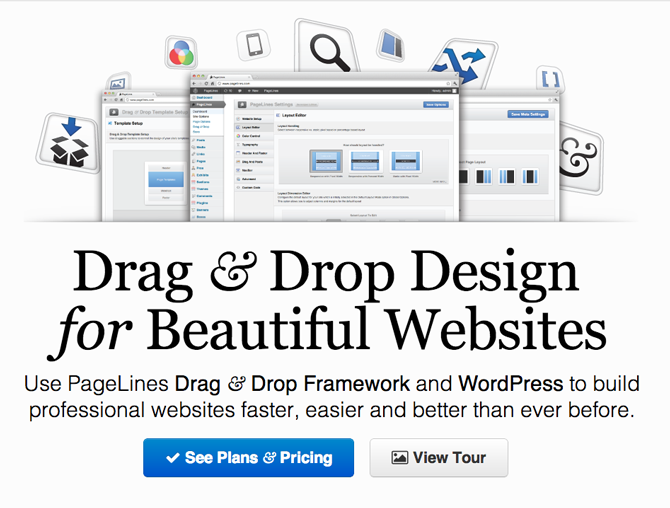 After its launch PageLines rapidly became one of the most popular WordPress framework options on the market. Its combination of power, flexibility, and drag & drop functionality has captured quite the loyal following. On top of that, their admin user interface seems to be one of the easiest to use and navigate of the drag & drop frameworks on this list. That probably has a lot to do with it's popularity as it captures the same crowd but makes it easier for new users to get up and running.
The pull here for non-coders and DIY customers is obvious. They get an extremely powerful, easy to use framework that empowers them to either create their own great websites or offer services they would otherwise not be able to.
For developers though, the attraction is two-fold. Not only could they also benefit from the power and ease of use that PageLines offers other user types but with the PageLines store they can now create PageLines specific tools/plugins and sell them to other PageLines users. And seeing as it's a framework already targeting a core user group who's willing to pay for great turn-key solutions I see a lot of potential for extra income for developers here.
Value-wise it's a toss up for me. Personally, I think the framework-only prices are fine — especially since they include several themes and premium plugins. However the plus membership packages with a bunch of added support features seems a little steep to me. Not that they don't offer enough support, they do and it's amazing, but I just really hate recurring monthly payments and I would almost always rather pay a higher upfront fee to avoid that. But that could just be me.
Overall though, PageLines is excellent. My one gripe has nothing to do with their product itself but with those recurring payment options. Which, after all, are just options. I'd say if you're after a drag & drop design solution you shouldn't make a purchase until you've thoroughly checked out and considered PageLines.
Recommended for: Designers/DIY users and Developers looking for a great starting point for creating powerful and varied WordPress websites for themselves or their clients. People who enjoy a lot of high quality turn-key options will love it.
Full Details | Price: Base rates start at $97 + $14/month for framework & plus membership or $139 for personal framework edition only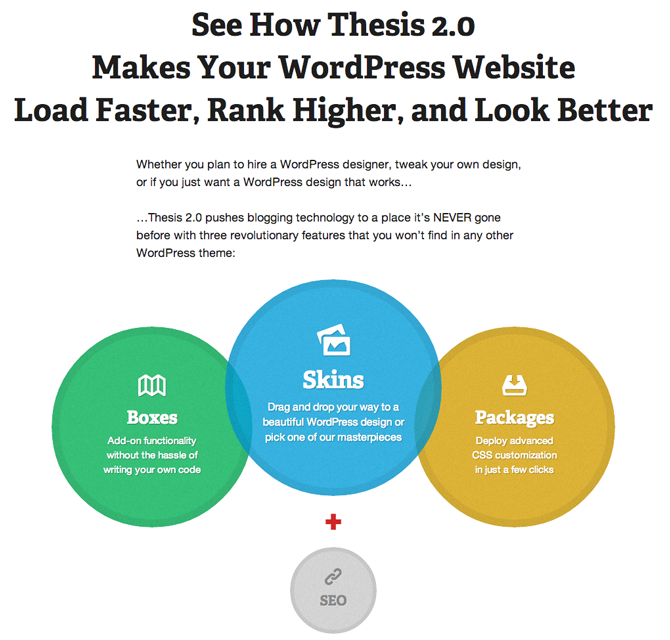 The Thesis Framework is one of the most popular, well known and well loved WordPress frameworks on the market. In the past they were a lean framework that had a reputation for being concerned primarily with just one thing: SEO. Now however, ever since their Thesis 2.0 release, they've expanded their features quite a bit and are pulling in a lot more non-coders and DIY enthusiasts who not only want a great theme but something they can control completely and tweak with abandon.
This new(ish) release focuses on three main features: Boxes, skins and packages.
Skins are pre-made designs that you can add on top of Thesis 2.0 in just a few quick clicks. You can also edit them extensively with the new Visual Design Template Editor, which provides very powerful drag and drop functionality to the design process that requires zero coding.
Boxes are "like WordPress widgets on steroids" and they continue to build off of the empowering Visual Design Template Editor by allowing you to put widget like functionality (email signup forms, popular posts, etc.) anywhere you want. And not just anywhere, but only there. A change on one page does not have to propagate across your entire site. Which will make for excellent distraction free home pages, custom side bars, etc.
Finally, there's Packages. Where the skins, template editor and boxes help you to get specific functionality where you want it, Packages helps you change how each of those items looks without having to get into any CSS.
On top of those three new elements Thesis 2.0 is still a fast SEO-centric framework. It still comes with an enormous community of active users and a helpful support forum. If there's a downside it's on the value side and not to do with any features, functionality, design or support.
Recommended for: Anyone passionate about SEO and speed as well as someone who craves code-free customizations. There are a lot of people both in the development and DIY communities who really enjoy Thesis 2.0 so in this case it'll probably come down to personal preference on price/value compared to the other options.
Full Details | Price: $87 Thesis Basic; $164 Thesis Basic Plus; $197 Thesis Professional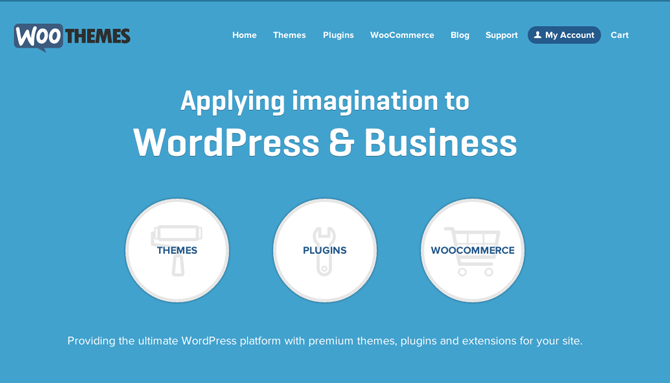 The WooThemes WooFramework is possibly the best example of a framework used in-house by a theme marketplace to produce an excellent collection of individual WordPress themes. They've also got a top notch collection of premium and free plugins, the two most popular being WooCommerce and the WooThemes specific WooDojo that houses much of the WooFramework's extensive functionality.
Beautiful is the term I would use to describe their theme designs. On both the front end and the back end! Everything they give to their customers is neat, well documented and in general has a sense of "polish" and "togetherness" that goes above and beyond what most of the other frameworks listed here provide.
"It just works" is a phrase that comes to mind, and hundreds of thousands of customers agree. So you're joining quite the online community when you buy anything from WooThemes.
Obviously it's probably the best framework option for building out a website with an online store. Due to the massive success of their WooCommerce plugin, it's deeply integrated into all of their themes, but it doesn't come baked in (which is important). Just like all of the other great features offered by WooDojo, WooCommerce is something that you can activate and add it to your site with just a few clicks, but if you don't want it then it's not there contributing to unnecessary bulk.
Of course creating online stores is far from all WooThemes cares about. Their themes catalogue contains themes for online apps, businesses, magazines, multimedia, personal blogs/sites, creative portfolios, etc. Their most versatile theme, Canvas, is a brilliant zero coding required option for designers/developers who want a great starting point to create a wide variety of websites.
Recommended for: Anyone who enjoys a beautiful theme that "just works" with some of the best and most powerful plugins made for WordPress. Developers/Designers are going to love using Canvas and the average user is definitely going to get their money's worth when it comes to individual themes used for specific purposes.
Full Details | Price: $70 Standard Package; $150 Developer Package; Club Memberships available starting at $125 + $20/month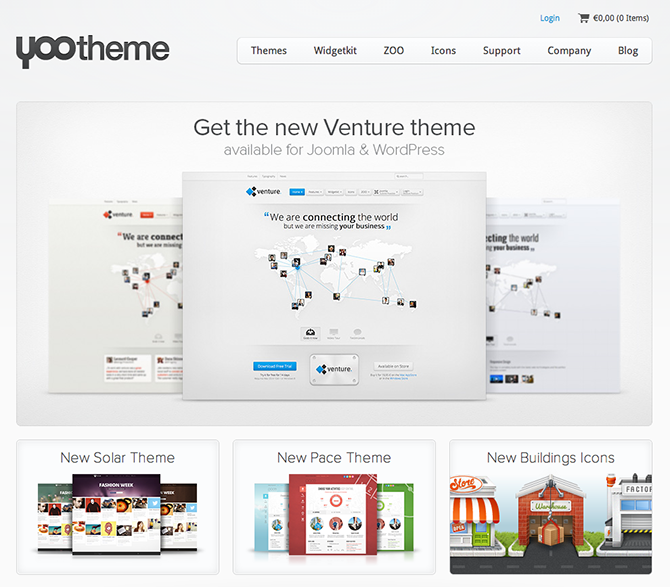 YOOtheme uses a business model similar to WooThemes and Elegant Themes. They use their Warp Framework in-house as a drop in code library to build out an exclusive marketplace of WordPress themes for their members to download and use, which they add to with a new theme each month! But they also provide the Warp Framework for developers to download and build their own themes with which is something the other companies I mentioned do not do.
Probably one of my favorite things about them is that they provide multiple design skins for each theme in their marketplace so that the end user has several nice starting points for their customizations; or the option to just swap out the copy and run with a great looking website.
YOOtheme also provides comprehensive documentation, premium support, a community driven support system (forum) and other exclusive tools for their members — such as their Widgetkit. This makes for an attractive package for anyone who wants a powerful future-proof site, with clean code, premium support and tools for advanced features.
On the downside their subscription model is a bit on the expensive side when compared to others on this list. Mostly because of their Euros pricing and the extremely low site license restrictions that seem designed to push everyone into the Developer Membership.
Also, anyone who enjoys an extensive admin panel with a lot of options may not be quite as happy with this framework as they would be with some of the other ones on this list. The admin is far from incomplete or difficult to use, simply minimal.
Recommended for: Anyone (Developer or DIY User) who wants to spend as little time as possible on theme design and most of their time on content, features and site layout.
Full Details | Price: 39 Euros for Basic Membership; 79 Euros for Standard Membership; and 249 Euros for the Developer Membership.
My Top 10 Free WordPress Frameworks
Please note that I have listed these frameworks in alphabetical order. They are not ranked best to worst or anything like that. The specifics of the framework is what will determine if it is a good fit for you, not my subjective opinion.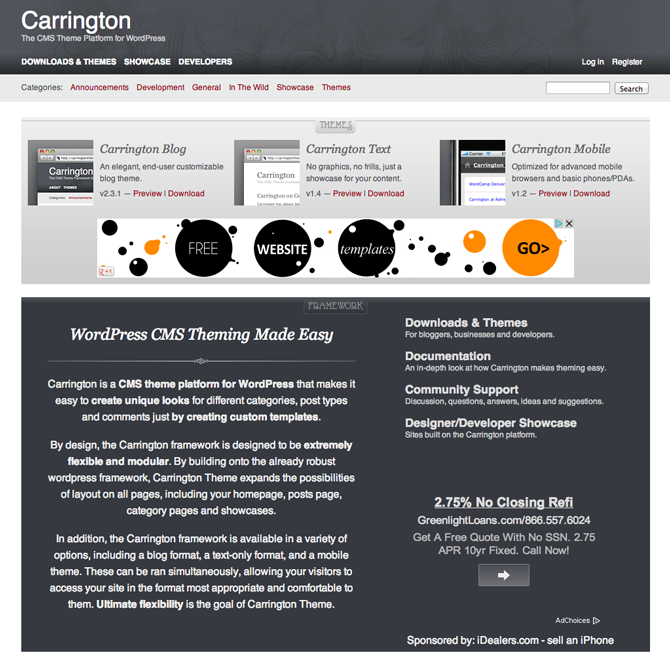 The Carrington WordPress framework by Crowd Favorite is all about flexibility and easy theme styling. To do this the developers focused on providing a solid core so that anyone using Carrington would only need to create custom templates for their various categories, post types and comments. To help get the ball rolling Carrington comes in three different variations: blog format, text-only format and mobile theme.
Carrington Framework Features:
Extreme flexibility
Modular approach to design
Allows for custom page layouts
Comes with three starter types (as listed above)
Support through the Carrington Community Forums
In-depth Documentation
Design/Development showcase for discovering what's possible
Recommended for: Anyone who buys into the Carrington development philosophy. This framework is probably the most unique out of everything on this list as it does not try to follow certain WordPress conventions in favor of leaning heavily on custom templates and less conditional coding.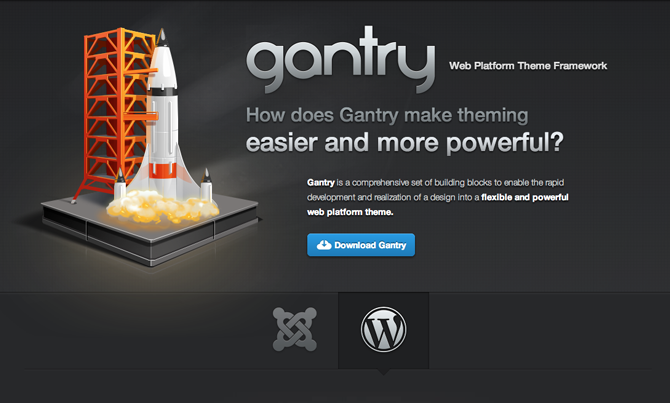 Gantry is a WordPress theme framework created by the folks over at RocketTheme. They developed it to be the basis for all of their Joomla and WordPress projects but have made it available to the rest of us via a General Public License (GPL).
Gantry puts the most emphasis on flexibility and a collection of rich features. This is accomplished by creating a new layer on top of the traditional module configuration of WordPress to provide users with an unprecedented level of control and flexibility.
Here are the Gantry Framework Features:
Responsive grid system based on Twitter Bootstrap
WordPress 3.2+ support
New admin interface
XML driven with overrides that make customization easier than ever
Built-in fields
Per override level control over any configuration parameter (layouts, colors, features, etc)
Built-in extensible AJAX communication layer
RTL language support
More with LESS (built-in LESS CSS compilation)
Flexible grid layout system for unparalleled control over block sizes
Optimized codebase with speed, size, and reuse core tenets of the framework design
Growl-style event notifications
Responsive HTML5 base template
65 base widget positions
38 possible layout combinations for mainbody and sidebars
4 Column Mainbody
Many built-in widgets and gizmos such as font-sizer, Google PrettyPrint, Google Analytics, to-top smooth slider, etc.
Ability to force 'blank' widget positions for even more advanced layout customization
Flexible parameter system with ability to set parameters via URL, Cookie, Session, Presets, etc.
Advanced typography
WordPress base styling
Automatic per-browser-level CSS and JS control
Recommended for: Intermediate to advanced developers looking to create WordPress websites that are highly extendable.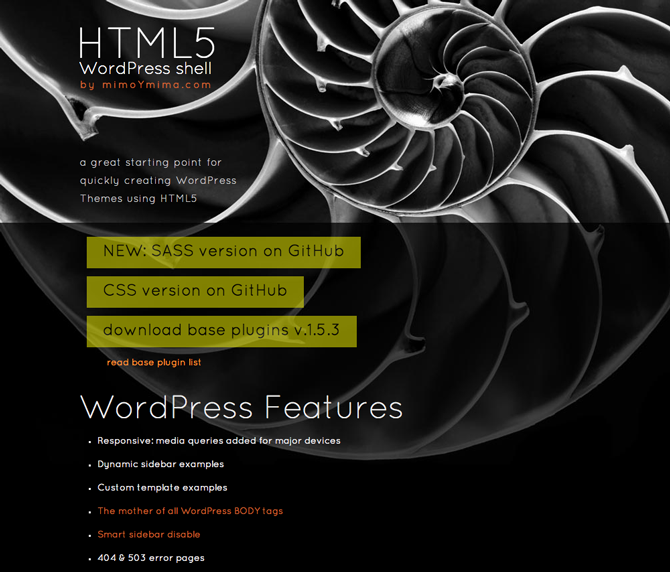 The HTML5 WordPress Shell is a WordPress framework created by Brooklyn-based web design studio mimoYmima. This is the same framework they use when creating their own websites and they hope to improve it by opening it up to the public under a General Public License (GPL).
HTML5 WordPress Shell Features:
It comes with a "base plugins" package of 15 free plugins that they recommend using to get the most out of every WordPress install.
Responsive design
dynamic sidebar examples
404 & 503 error pages
Will detect visitors using the iPhone
Contains IE conditional stylesheets
Has clearly commented code
Has lots of useful CSS classes in the basic.css stylesheet
And more
Recommended for: Developers who are crazy about HTML5.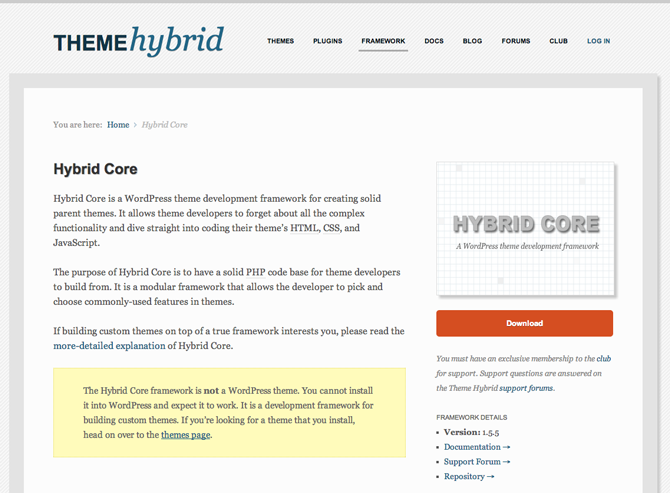 The Hybrid Core Framework for WordPress was created by Justin Tadlock. His goal was to create a development framework for himself and others to use when creating Parent Themes. It allows developers to skip the really complex stuff and jump right into their theme's HTML, CSS and JavaScript.
Hybrid is a modular framework with a solid PHP code base that allows developers to pick and choose commonly-used features for their themes.
Hybrid Core Features:
Breadcrumb trail
Cleaner Galleries
Loop Pagination
Theme Layouts
"Feature Images on Steroids"
Theme Settings
Translation friendly
Drop-down Menus
Post Templates
A starter theme called Hybrid Base
Support via the theme hybrid club membership
And much more
Recommended for: Anyone who enjoys a modular approach to developing WordPress Parent Themes.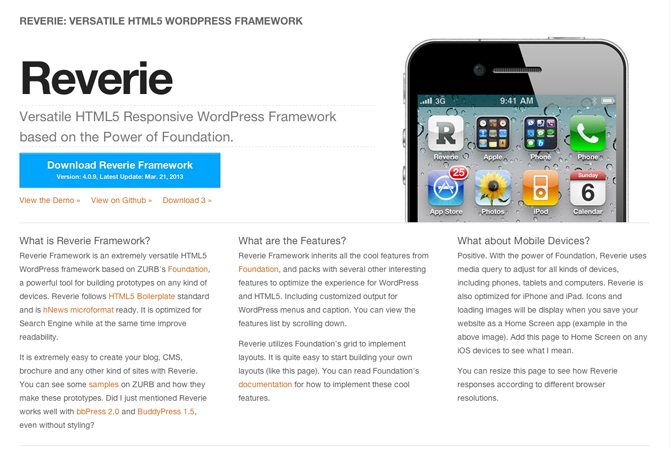 The Reverie Framework by ThemeFortress is a versatile HTML5 responsive framework based on Zurb's Foundation. Both are available under the MIT License.
Reverie's features include:
HTML5 Boilerplate
hNews microformat ready
Optimized for SEO
Basic CSS included
Foundation files packaged separately
Clean image HTML output for TinyMCE, only class and alt are returned. Post title will be automatically used for alt.
Custom menu output for ZURB's sub nav
Custom caption output for HTML5 figure and figcaption tags
Custom filter for images, will automatically wrap images with figure tag
Two Widget: sidebar and footer
Two menus: top navigation menu and footer information menu
Template structure inspired by Roots. Separated loops from templates, for better WordPress practice.
bbPress.php included, compatible with bbPress 2.0. Looks good even without styling
Several custom page templates are included in the package. A folder named custom is used for storing all your custom page templates
Check out what's new and how to implement extra features in the 2.0 version
Custom WordPress menu output, dropdown menu added
Pagination added using WordPress built in function. (WordPress 3.1 required.)
Use Google Web Fonts Open Sans as major heading font
Don't need these features? You can turn them off
Support through the GitHub forum
Recommended for: WordPress developers looking for a grid approach to developing mobile first WordPress websites.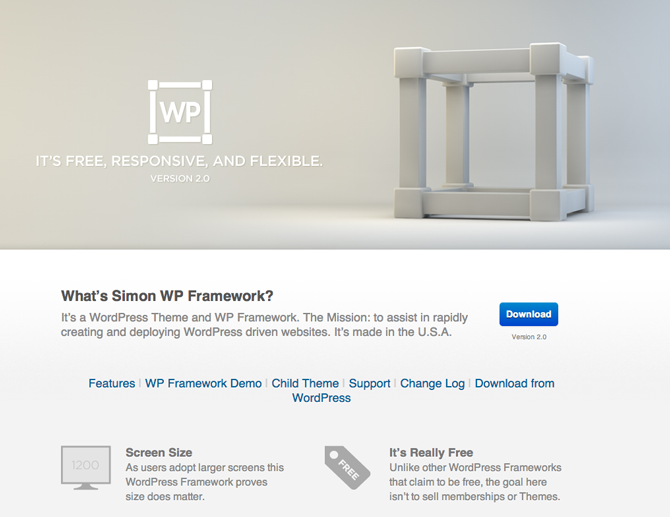 The Simon WP Framework was created by web designer and developer Simon Urbina. His mission is to "deliver common sense web design solutions [with] designs that are beautiful…" And when it comes to his framework he'd like to empower others to do that too.
Simon WP Framework Features:
Responsive
It comes with widget ready areas
Has the ability to activate post formats (audio/video/image/text)
Comes with a starter Child Theme
Clean code
Free icons
Typography options
Completely open source
Support is run through a form on the Simon Web Design website and I'm actually unclear how fast responses come. There is no forum.
Recommended for: Adventurous and self-relient advanced developers looking for an open source WP Framework that is clean and minimal.
The Thematic Theme Framework is an extremely popular free framework created by the Theme Team at Automattic. It has been downloaded over 600,000 times and has a 4.5 out of 5 star rating in the WordPress.org theme repository. So not only is it high quality but the community is huge too.
Thematic Framework Features:
The ultimate in SEO-ready themes
Highly extensible
13 widget-ready areas
Drop-down menus
Grid based layout samples
Footer shortcodes
Minimal Design
Fast and friendly support in the forum
Recommended for: Fans of Automattic, minimal design and large open source community.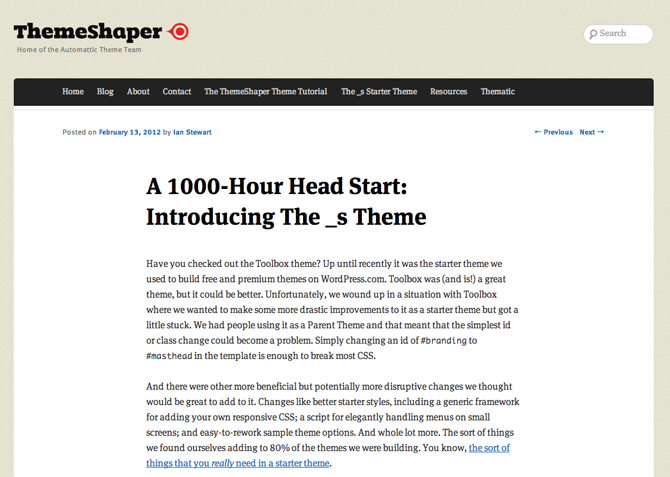 Underscores is by ThemeShaper, aka "The Theme Team" at Automattic. It is is their attempt to give back to the open source community all of the theme developing wisdom they gain creating great products for WordPress.com.
They refer to this starter theme as a 1,000-hour head start, stating, "That's the approximate number of design and development hours you get for free every time you use it in a project. Weeks and weeks of refinement by dozens of WordPress theme experts over several years that you don't have to do."
This also means that as they continue to build themes for the future of WordPress, that added developer time and knowledge will also find its way into this starter theme.
Its current features include:
A just right amount of lean, well-commented, modern, HTML5 templates.
A helpful 404 template.
A sample custom header implementation in inc/custom-header.php that can be activated by uncommenting one line in functions.php and adding the code snippet found in the comments of inc/custom-header.php to your header.php template.
Custom template tags in inc/template-tags that keep your templates clean and neat and prevent code duplication.
Sample theme options in /inc/theme-options/ that can can be activated by uncommenting one line in functions.php.
Some small tweaks in /inc/tweaks.php that can improve your theming experience. They can be activated by uncommenting one line in functions.php.
Keyboard navigation for image attachment templates. The script can be found in js/keyboard-navigation.js and is enqueued from the image attachment template, image.php.
A script at js/small-menu.js that makes your menu a toggled dropdown for small screens (like your phone) ready for CSS artistry. It's enqueued in functions.php.
5 sample CSS layouts in /layouts: Two sidebars on the left, two sidebars on the right, a sidebar on either side of your content, and two-column layouts with sidebars on either side.
Smartly organized starter CSS in style.css that will help you to quickly get your design off the ground.
The GPL license in license.txt.
Recommended for: Developers who want to do things the Automattic way.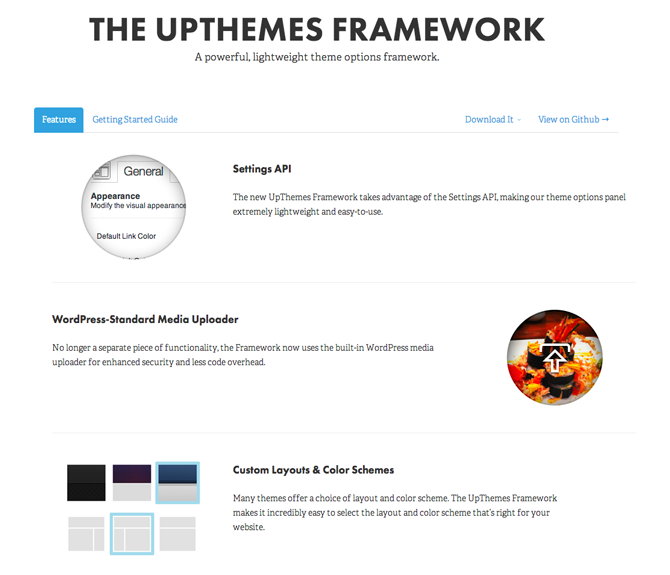 The UpThemes Framework takes a free approach to the same business model some of the premium theme marketplaces utilize above. While they do run a premium WordPress themes marketplace they offer their framework up under a GPL for any developer who wants to use it.
Some of its features include:
Use of the Settings API (improving their admin panel)
Custom layouts and color schemes
A live theme customizer
Customizable header and background images
Multiple language support and more
Access to the support forums is free but there is no premium or dedicated support option. As a bonus though they do provide a nice Getting Started Guide.
Recommended for: Developers looking to add the features above to an existing theme they've created.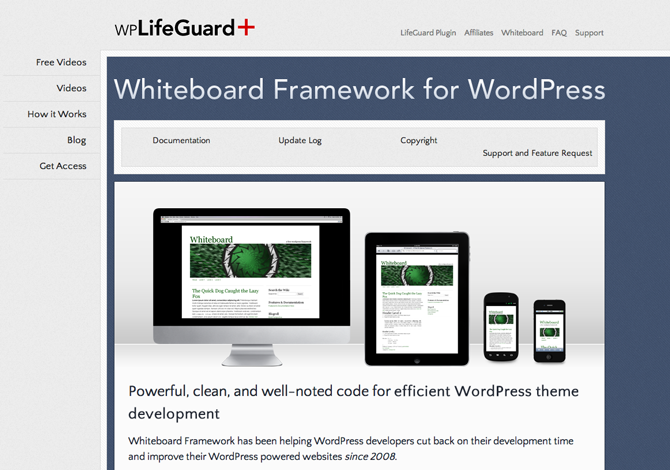 The Whiteboard WordPress framework has been around since 2008, which (I think), makes it the oldest framework on this list. Definitely the oldest free WordPress framework on this list. But that of course does not mean that it isn't regularly updated.
The goal of Whiteboard has been and continues to be consolidating the universal needs of WordPress theme designers and developers in order to speed up quality development. Here's how they do it:
Responsive Design
Free and Open Source
Built with the Less Framework for an instant mobile website
Comes with a minimalist theme
Strong and flexible div structure for easy development and diverse usage
More dynamic Classes and IDs than any other WordPress Framework
Lightweight and well noted for a shallow learning curve
Cross browser compatible with all major browsers
Strong Search Engine Optimization, including dynamic content, tags, titles, and more
Follows the Web Accessibility Initiative for easy access by visitors with disabilities
Simple CSS3 Animations with graceful degradation
Follows WordPress' CSS and PHP Coding Standards
Fully Compatible with WordPress 3.0 and up
Comes with a Child Theme ready to go
and much much more…
Recommended for: Advanced developers who enjoy working with the Less Framework to create responsive WordPress sites for any device.
Final Thoughts
After reading this post you should know the following things: What a WordPress framework is, how it fits into the WordPress ecosphere and what exactly you're looking for in a framework that's a good fit for you. I tried to do my best to provide quality options without being too biased. Hopefully I succeeded!
Let me know how I did and what you thought about the various WordPress framework options in the comments below!
Recommended Reading on WordPress Frameworks
If after all of that you're still in the mood for researching WordPress frameworks then here is a list of some of the best articles and roundups I came across while putting this post together:
Image Credits: NYPL Digital Gallery, Pim Fijneman, International Art Therapy Organization, Dudnyk and irinakostyuk1