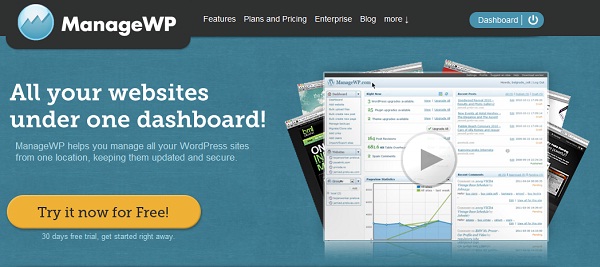 With the official launch of ManageWP getting ever closer, we felt it was time to give the site a complete overhaul. And with our new design now on display, you'd be crazy not to give ManageWP a try!

We're really proud of the new design, as it does a great job of showcasing the capabilities of ManageWP. Head over to our homepage and take a look at what our tool can do for you:
See all of your websites in one place
Install or clone a WordPress site in minutes
Super-fast upgrades, plugin and theme installs
Scheduled backups
Bulk posting
We've also included a glut of testimonials. If you're looking for independent opinions, we've got you covered:
ManageWP has increased my productivity twofold. I should have discovered this WP management tool earlier. Oh, well.. now I'm in. Thanks guys! – ditesco
Awesome kit, makes blogging life worth living. – trapsolutions
Thank you so much for ManageWP. It is an answer to my prayers! – lovebostons
I LOVE IT. ManageWP has made my life about 10,000% easier! – clnewbill
We shouldn't brag, but there are plenty more where they came from.
What Do You Think?
Do you like the new design? We are always looking to improve our service, and your feedback is highly valued.