Update: There have been some changes from the time the Orion idea has originated. I would highly suggest reading our newest edition of Developer Diary #8! 🙂
It's been almost a month since we kicked off the Orion Developer Diary. It's crunch time in the ManageWP HQ, and we've got some great news for you.
You Were Promised Backups In The Previous Diary
Initially the Dev Diary #2 was intended to give you a tour of the new backup system we planned to release into Orion Beta by then, but the beta tester feedback was so overwhelming that we needed to pause further development and sort out the fundamentals.
So before I go over these changes I'll just drop a small teaser of the new backup system that will DEFINITELY be in the next dev diary (the design is still a bit off, don't hold this against us) 🙂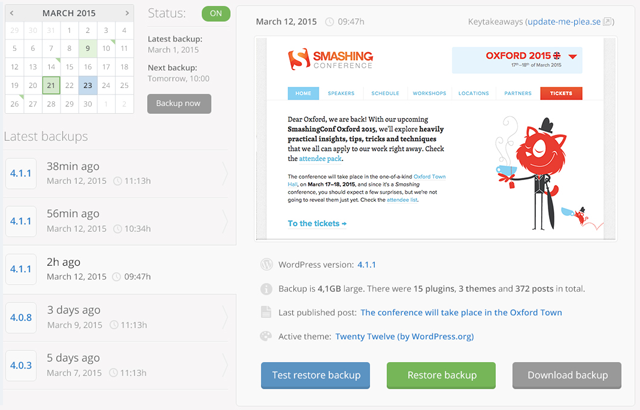 Pictured: a concept of pure awesomeness
This Is Why Your Feedback Matters
You gave us a lot of food for thought, so a lot of the dashboard elements were sent back to the To Do list. The first one on the chopping block was the Overview tab in the Statistics widget: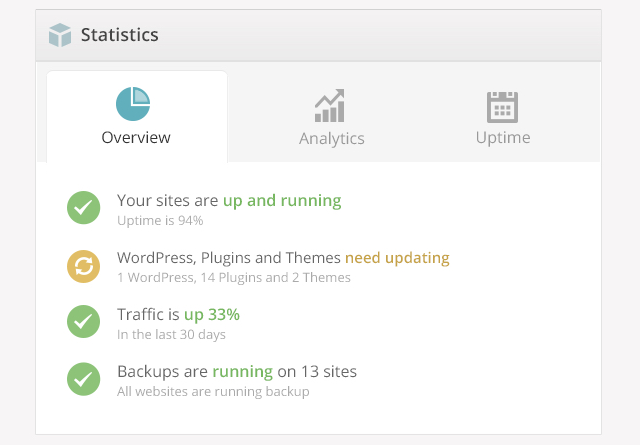 Originally intended as a feel-good part of screen real estate, it did not strike a chord with you so we replaced it with more useful information; instead of getting a quick numerical overview of the available updates that was in the initial Orion Beta, the new Overview tab content is of much higher quality: you've got an overview of backups, updates, uptime and traffic all in one place.
We also took a shot at redesigning our most important widget that handles the plugin, theme and core updates: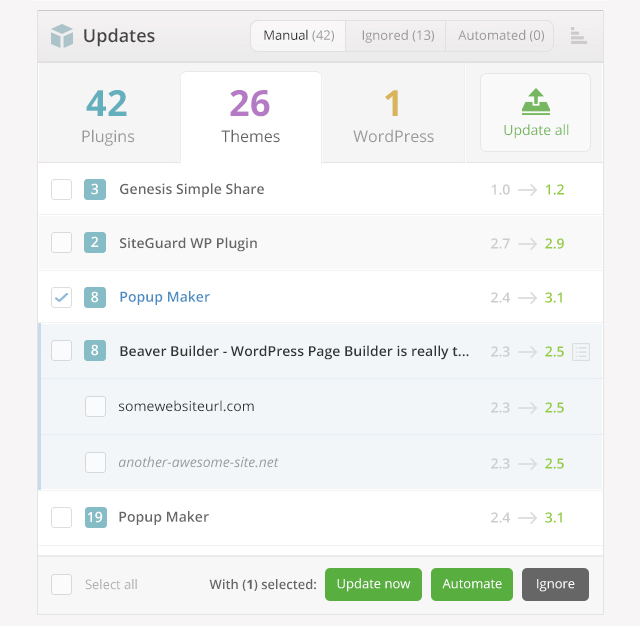 You haven't sent us negative feedback regarding this widget, we felt we need to go above and beyond, so we added the Ignore and the Automated Update buttons to this widget, reducing the number of clicks you need to make in order to manage the available updates. There are also bracket numbers you know the exact number of plugins, themes and core updates in each category, for your convenience.
We're also close to locking down the uptime monitoring widget design: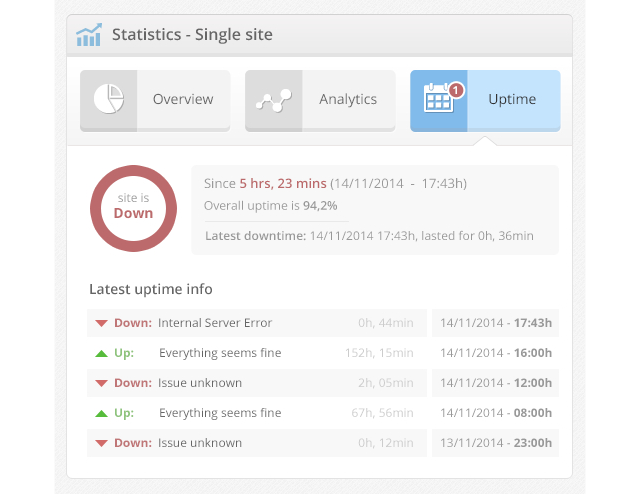 You'll notice that we've made some improvements over the current version of ManageWP – there are more stats, better error logging, and the uptime can be included in the client report.
Other Major Improvements
You are now able to add websites that are fully behind HTTP authentication
You are now able to manage websites with the altered wp-admin URL
Whenever a website is added, it will automatically be linked to the correct Google Analytics website if your Google Analytics account has been connected
You are now able to add the website on a server with a self-signed SSL certificate
The Refresh IP button has been removed. An algorithm now checks if your website IP has changed and updates it for you
There are now inspirational quotes on our loading screen 🙂
Got any questions or suggestions, or want in on the beta? Let me know in the comment section and I'll be happy to write back. Good times ahead!
Want more info? Check out the Orion Developer Diary #1
Update: ManageWP Orion Developer Diary #3 is out with a detailed rundown of our new backup system!