Update: There have been some changes from the time the Orion idea has originated. I would highly suggest reading our newest edition of Developer Diary #8! 🙂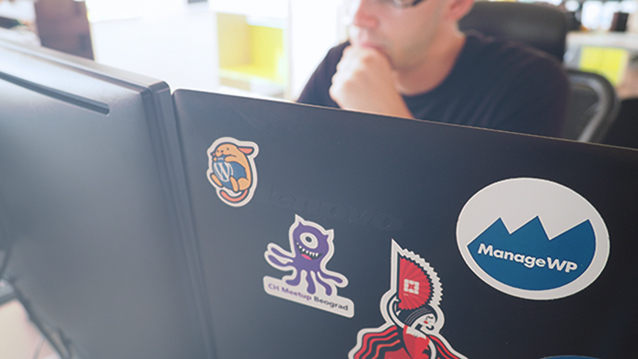 "Technology is supposed to make our lives easier, allowing us to do things more quickly and efficiently. But too often it seems to make things harder, leaving us with fifty-button remote controls, digital cameras with hundreds of mysterious features and book-length manuals, and cars with dashboard systems worthy of the space shuttle."

– James Surowiecki, The New Yorker
Philosophy
Orion is unique in many ways and perhaps the biggest change is in its design philosophy. WordPress use is constantly evolving; for the past five years ManageWP has been adopting and adjusting. Orion is a product built specifically for WordPress professionals, with complete understanding of the high level of standards you guys and gals require.
As a modern WordPress professional, you don't need thirty features. You need just a couple, and they need to work flawlessly; they need to be fast and easy to use. So we started building Orion with these goals in mind and discovered that what you use 80% of time are updates, maintenance and backups. These three features have taken the most part of the year of development time that Orion has already been through. This is how good we want them to be. This is the essence of the ManageWP Orion philosophy. And judging by your reactions we are on the right track.
I've been trying to get Mason James of WP Valet, one of the largest WordPress support agencies, to use ManageWP for ages. Finally, with ManageWP Orion we reached the high level of standard that his agency requires, and WP Valet is now one of our most active contributors, helping us tremendously in further shaping Orion functionality.
"Orion is the first managed-WordPress solution that exceeds expectations. Setup and adding sites couldn't be simpler. The management interface is intelligent and the action speeds are fantastic. This is the first WordPress software platform designed with agencies in mind."
Mason James, WP Valet
Features
Orion will launch with a handful of features concentrated around day-to-day WordPress management, including our new backup service, that will make the backup you always needed just one click away.
Most of the features are already accessible to our beta users; our goal is to further refine them for the release. Others are not present right now, but will be included in the release: the ability to mass install plugins, and the test restore functionality which will double as a clone website tool, until we release the fully rebuilt clone tool after the release.
I am very excited to announce one more upcoming feature.
We call it Safe Updates. A backup will be created (using our incremental backup technology) before you update anything on your WordPress site, and if anything breaks you will be able to roll-back to the previous state with a click of a button.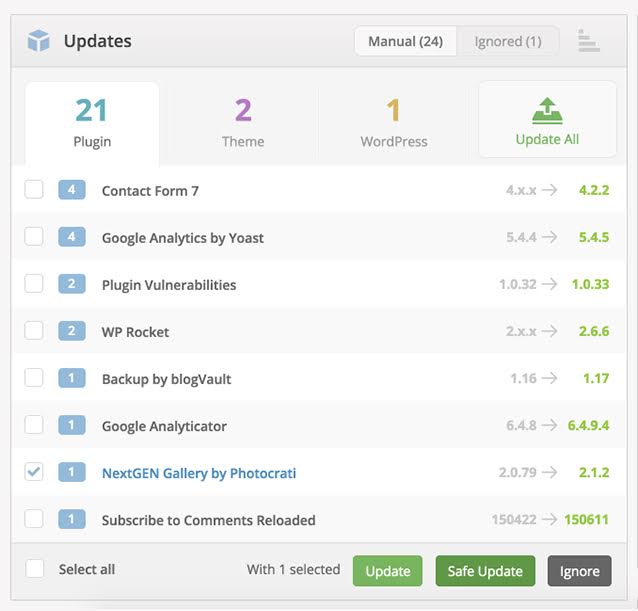 Pricing
Over the years you have been telling us that the best way to price features is based on their actual usage. Our current ManageWP billing does not allow us to do that, but we are rebuilding the pricing model for the Orion release.
Orion will be free for an unlimited number of websites. This will allow you to keep all websites under one umbrella, something that was not possible with current ManageWP plans.
On top of these we will offer high quality premium addons, that you will be able to enable on per site basis, e.g. a high quality backup service with hourly incremental backups, to our secure Amazon storage – that's 720 restore points every month!

"That's a lot of restore points."
Release Date
ManageWP Orion will be released on October 26th.
Yeah, that is only three months away and there is so much to do. But we are excited to get this product into your hands!
If you're not already in our closed beta, leave a comment below to apply.
If you are already a tester, send us your feedback; anything that crosses your mind – and I mean anything – UI quirks, features not working as expected, features you miss. Orion will be continually evolving. With your help, it will evolve according to your needs.
To see the previous Developer Diary installment, click here.
UPDATE: The Developer Diary #7 is out, check out the Install Plugins & Themes App and other goodies!