ManageWP Is Completely Redesigned & More Amazing Than Ever!
ManageWP, the world's most popular and revolutionary WordPress management platform for multiple WordPress site management, is revolutionizing the WordPress management scene once again with a fully redesigned dashboard and an epic set of new timesaving functionality. WordPress management has never been this easy… until now!
Team ManageWP is very proud to introduce a completely new design and amazing set of new features to the ManageWP dashboard. This latest iteration of the ManageWP dashboard was designed with two primary goals in mind: maximum efficiency and unquestionable simplicity for all your WordPress management needs.
Our team of over twenty full-time employees has been working for months and around the clock to redefine and fully optimize the ManageWP experience. Thanks to our incredible customers' support, we can now take all this hard work and reveal it to the world.
Anyone can sign up for free to try out and enjoy the new ManageWP experience. So come see what the completely new ManageWP dashboard has to offer!
Beauty & Style
The ManageWP dashboard has been completely redesigned in order to simplify and streamline the user experience. With our new dashboard, users can quickly organize their sites, access frequently used actions, and execute critical tasks like cloning and backup all from a single powerful dashboard.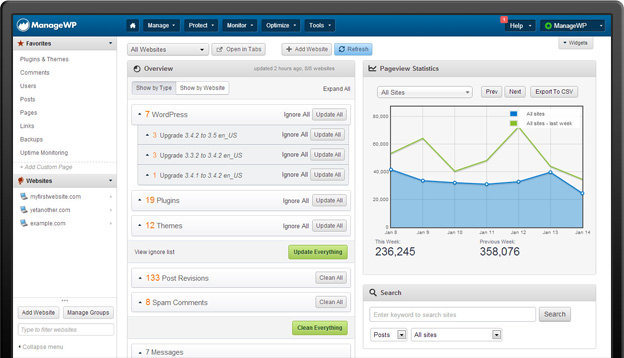 Quickness & Efficiency
The new dashboard, along with a number of technical speed improvements, enables users to quickly open and access screens much quicker than ever before. These speed improvements ensure that you're spending more time with your customers and your content, and even less time managing WordPress.
Accessing Favorites
Users can now add frequently accessed pages, websites, links, and tasks to the dashboard sidebar. Simply drag & drop to rearrange items at will. This ensures that users can always quickly accomplish their most important objectives within ManageWP, while still also providing an easy-to-use interface to manage any WordPress site in an instant.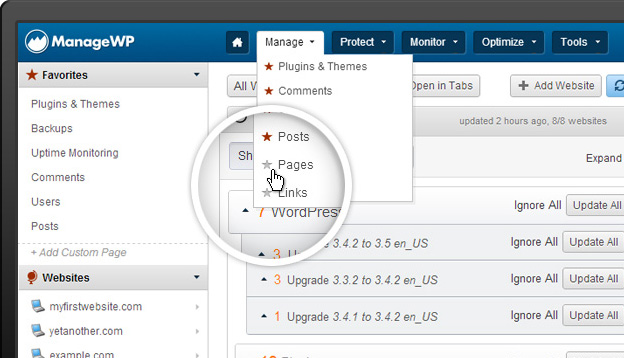 Powerful Site Selection Filters
Selecting sites to interact with is now much easier in the new ManageWP dashboard. Our revamped site picker will ensure that users can more quickly and easily refine their selections with filters and shortcuts.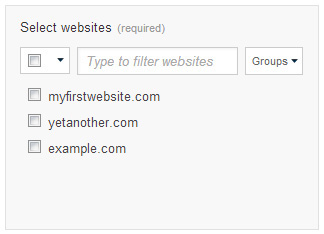 Account Action Logging
Keeping tabs on what happens within ManageWP is now easy as pie. Users can now view a list all account actions with a few clicks. Users also have the ability to view these actions with IP and timestamp filters, ensuring that you're always in the know.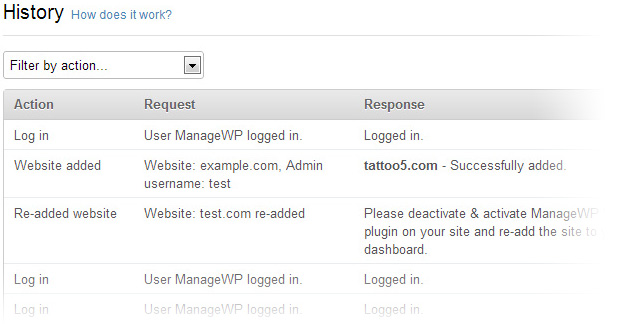 Client Reporting
Want to know exactly what's going on within all those WordPress sites? ManageWP's brand new Client Reporting feature will help you create professional and fully editable reports that can be exported to PDF, shared via email, or sent via secret links. Note: the feature will start gathering data now, so you will not have a history of previous actions.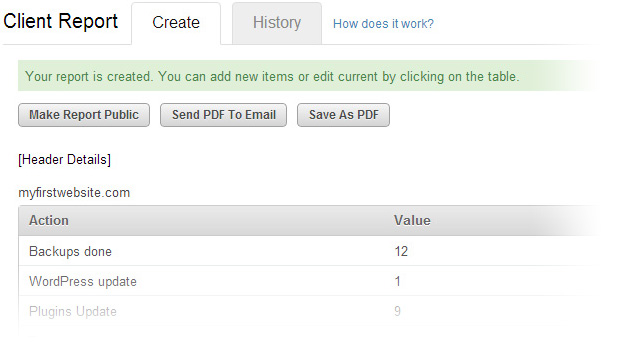 Open Multiple Sites In Tabs
Need to get down and dirty directly in your WordPress dashboard? A much requested user feature, we now created a simple way for users to instantly open all of their WordPress sites into new and separate tabs while being automatically logged in.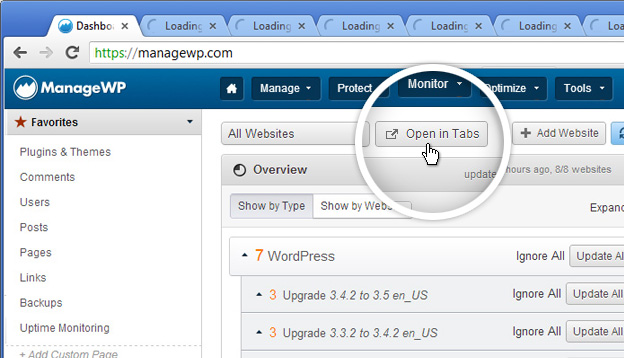 Finally
We spent a lot of time working on this to make your life much easier. However we are aware there may be bugs and features that needs polishing. We won't be happy ourselves until it's all perfect. So please forgive any glitches and performance issues, we are working on it.
Please do not hesitate to let us know about anything you think about the new dashboard, whether good or bad!