Back in January we introduced a major new update to the ManageWP tool, the focus of which (quite rightly) was on our shiny new dashboard. In short, ManageWP became quicker and easier to use overnight. It also looked pretty sexy too: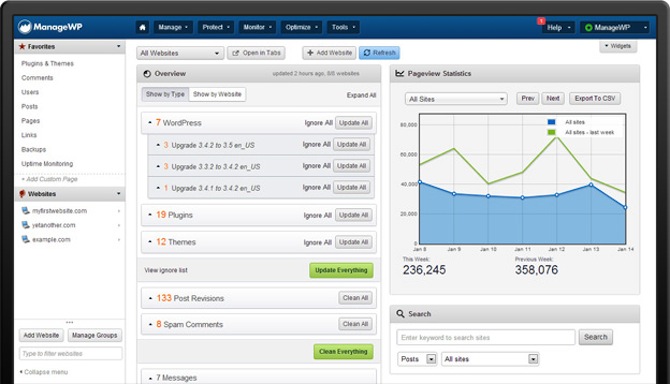 The announcement of the new dashboard was accompanied by mention of a brand new client reporting feature. In a nutshell, it helps you create professional and fully editable reports that can be exported to PDF, shared via email or sent via secret links. We knew that this was a feature that a lot of our users wanted so developing it was a major priority.
The dust may now have cleared from the launch of the new dashboard but we have been working hard in the meantime to improve our reporting tool so that it is as intuitive and feature-packed as possible. In this post I want to introduce you to the tool and show you how it can help you to keep your clients abreast of your actions.
Accessing the Client Reports Tool
You wil find the Client Reports tool under the Tools submenu in the top bar in the dashboard: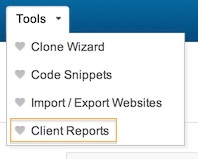 Don't forget that you can also favorite the feature by clicking on the heart to the left of the link. This will add it to the Favorites section in your sidebar for easy access: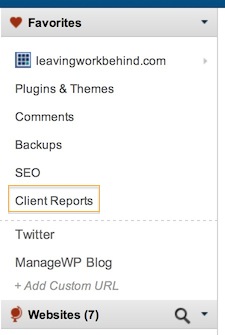 Clicking on the link will give you access to the main Client Report screen: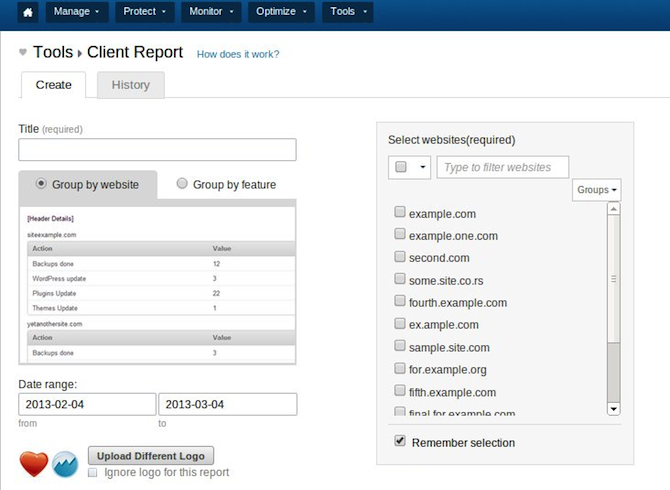 This is the area from which you can customize and generate just about any imaginable report relating to the maintenance of your clients' sites.
Generating a Report
The process for generating a report is remarkably simple:
Create a title

Choose to group your report by website or feature
Select a date range
Select the websites or groups to be included
Select the actions that will be included
Once you've done that and hit "Generate Report" you'll be presented with an editable draft: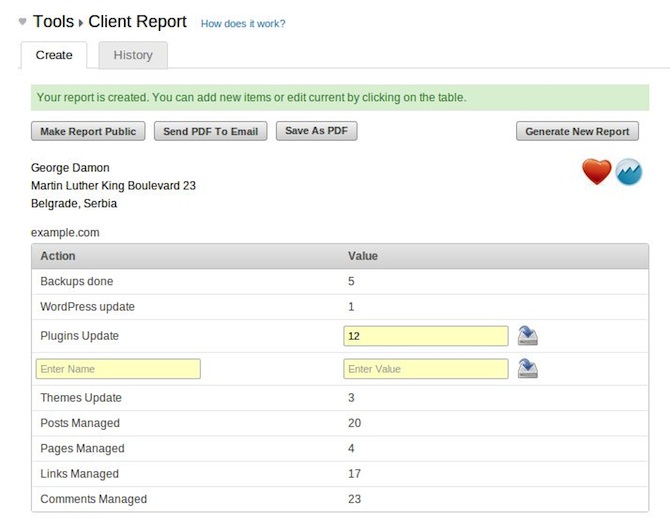 As you can see you are able to change the action labels and the actual values as you see fit.
Once you are finished you have an option to make the report public or generate/send via PDF. This is what a final PDF report looks like: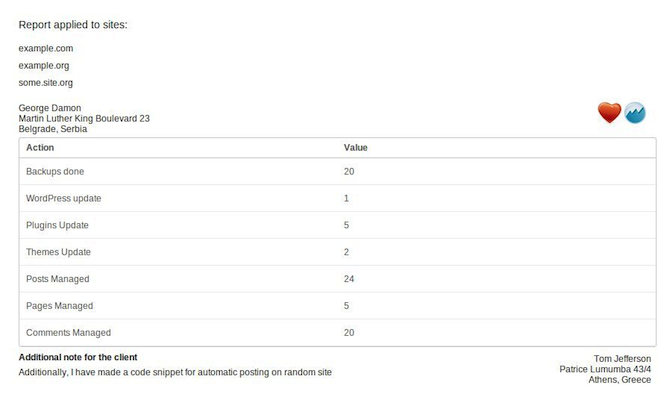 As you can see from the above screenshot, it is possible to include your logo for branding purposes and append manual text to inform the client of anything specific.
Report History
Every report that you make is stored on your account and is accessible at any point in the future. Just navigate to the History tab on the Client Reports screen and you will be presented with a list of historical reports:

No matter the reason you never have to worry about past data being lost — not only the raw data stored as a matter of course, every single past report is made available under this tab.
What Do You Think?
The Client Reports feature represents an evolution of design. We started off with an idea (thanks to your suggestions!) and have developed it into its current form from scratch.
With that in mind, we'd love to get your feedback. Our aim is to constantly and consistently improve the ManageWP service, so if you have any comments regarding the Client Reports feature then please fire away in the comments section below!
Photo Credit: Dave Dugdale