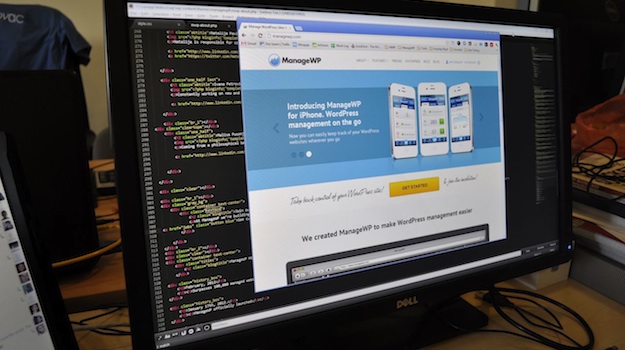 At ManageWP, we have an ongoing commitment to excellence. That counts for everything that we do — not only our product and service, but our blog too.
Throughout 2012 we have been busy publishing post after post, focusing on many of the awesome things you can do with WordPress. But for several months now, we have recognized that a new blog design would be the icing on the cake. We wanted to produce a design that would showcase our content in the best possible way. The kind of design that would blow visitors away.
Now that the new design has gone live, I am confident in saying that I think we managed it. As the Editor of the ManageWP blog, I couldn't be any happier with the new-look ManageWP blog — publishing content on it is a real pleasure. And since what you see in front of you is the result of months of hard work, I thought this would be a good opportunity to demonstrate to you the thinking behind our new design.
The Old ManageWP Blog
Don't get me wrong – I didn't dislike the old ManageWP blog. After all, it was clean and easy to navigate — the two things I hold most dear when it comes to web design: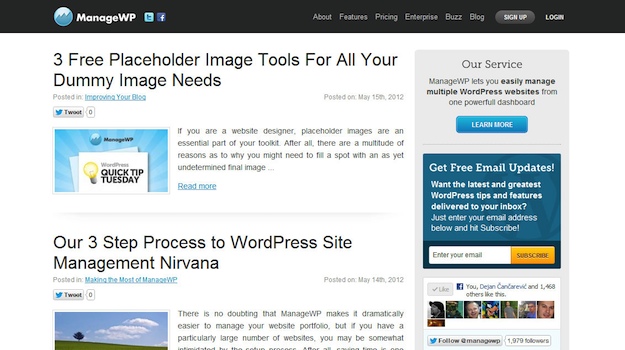 But we would be the first to admit that it was hardly sparkling with individuality. It did a job, but reminded us more of where we had come from, as opposed to where we going. And whilst we are proud of our humble beginnings, nostalgia will not help us create the undisputed best multiple WordPress site management tool available.
But of course, simply wanting to create a better design won't achieve anything. We knew that we needed to take action. With that in mind, we all agreed that the new design would have to be completely bespoke, and designed to hit a perfect balance between elegance and usability.
The Site's New Design
In designing the new blog (and the website as a whole), our priority was to never let design finesse get in the way of usability. But on the other hand, we didn't want to err too far on the side of conservatism, and end up with an uninspiring design.
We're all big fans of the contrast of whitespace and select visual elements, and so we decided to make those two factors the cornerstone of our design: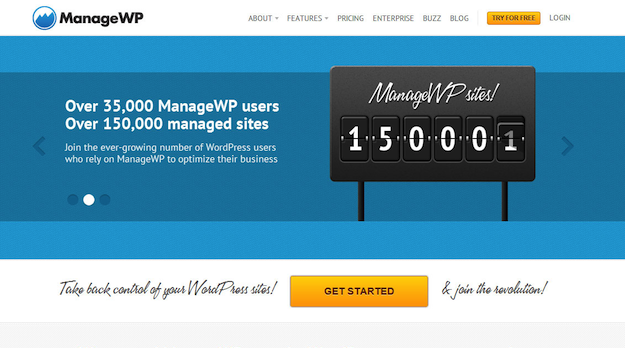 When we were finished, we found ourselves with a design that was not overwhelming, and pleasing on the eye. Whilst there are expanses of whitespace, they never roll on for too long without being broken up by a subtle design element.
The Blog's Home Page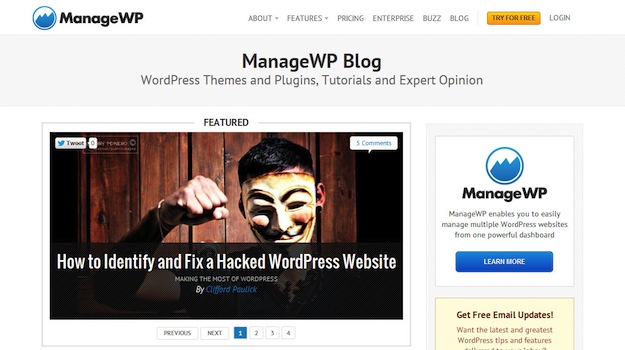 What a blog should include on its homepage is always open for debate. The traditional approach is to list the most recent posts in reverse chronological order, and this style is used on countless popular blogs.
However, such a format is typically best suited to blogs that don't publish a huge number of posts (say 1-2 per week). If you have a site that produces a greater volume of posts, quality articles can slip off the front page too quickly. And let's not forget — the homepage is always the most visited page on the site, and more often than not, it is your only chance to display your best content to new visitors.
With that in mind, we knew that we wanted to do a little more with our homepage. We felt that a "Featured" spot was a must-have, so that we could promote our most popular recent articles more visibly. And since we have a split focus on the site (between WordPress, blogging, ManageWP and productivity), we felt that a thumbnail view of the most recent post from each category would be best. Finally, we knew that we didn't want to limit the options of visitors to the homepage, so we included a "ManageWP Vault" section at the bottom of the page, featuring a pick of the most recent posts from each category.
We believe that this approach offers up the best available content (and the best variety of content) to our visitors.
Blog Posts
We love typography, and more importantly, large and easy to read fonts.
It may not sound like much, but the readability of the content on your site ranks right up there in terms of the "most important design elements" list (in my humble opinion). Too often I have seen beautiful designs that have forgotten the main reason for the existence of the site — the consumption of content.
So when it came to creating a design for our blog post pages, we felt that readability was absolutely key. With that in mind, we knew that black text on a white background was an absolute no-brainer. Furthermore, we chose an easy on the eye font (PT Sans) in a generous size (16px), with comfortable line spacing.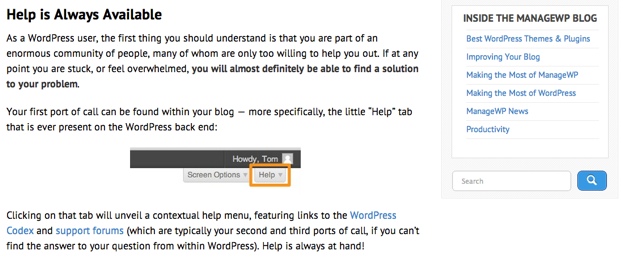 The devil is definitely in the detail when it comes to presenting content in WordPress. The presentation of basic text is of vital importance, but you can't forget all of the other important elements, such as:
Lists
Blockquotes
Spacing
Image margins
A site's design can be horribly compromised by a lack of attention to detail on the smaller things, and we didn't want to fall into that trap. So, we made sure that each content element that we use on the blog was catered for carefully.
What Do You Think?
Now its your turn — what are your thoughts on the new ManageWP blog design? Do you love it, or do you think there is room for improvement? We are still working on ironing out a few creases here and there, so please feel free to voice your opinion!
We'd love to know what you think, regardless of what your opinion may be, so please let us know in the comments section!