A few days have passed since the Orion launch, and we have been overwhelmed with your positive feedback. Thank you for being patient with us, and for giving us even more inspiration on how we can improve Orion for you. There are a few things that are causing a confusion, and so this post will look to answer the more frequently asked Orion questions. Hopefully it will clear up any doubts you are having.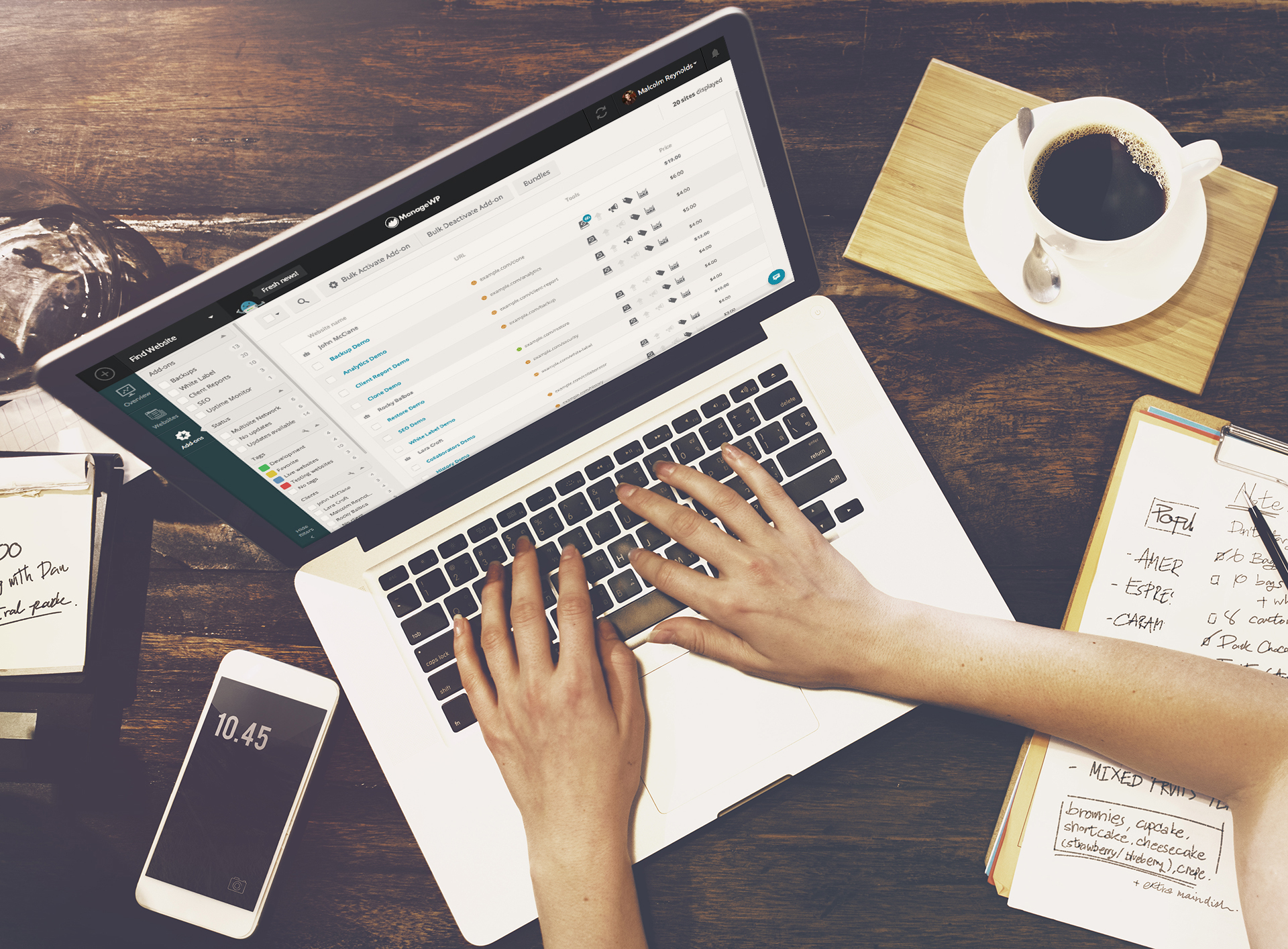 Let's get started.
1.What is Orion's new business model anyway?
It is freemium.
You can add any number of websites for

free

. You get a ton of free tools to go with that.
There are premium add-ons that you can enable per website.
Most popular is Daily cloud backup at $2/mo. Other add-ons all cost only $1/mo.
2. What are bundles?
We introduced bundles as a way to reduce the monthly bill for people managing 25+ websites. If you turned on Uptime Monitor on 100 websites that would cost $100/mo. If you activate an Uptime Monitor bundle it will cover this cost in full for just $25/mo. Bundles basically cover the cost of 100 activations for $25/mo (or in the case of Backups $75/mo).
3.What's the difference between the legacy bundle and a bundle? 
The legacy bundle applies only to ManageWP Classic users, and it is as such a reflection of features in their Classic plan (Professional or Business) in Orion. In other words, it is a way of transferring your plan and pricing from the Classic, to Orion, without having to pay any extra money for the features you are paying on the Classic. It's our way of letting you to keep your Classic plan in Orion.
A bundle is a flat fee for a 100 websites for an add-on. There are 5 different bundles, for each of our add-ons. You can select any bundle you want and turn it on for a 100 websites. There is also the all-in-one package, a bundle of all bundles. This is all of the add-ons in one bundle for a 100 websites.
To summarise, a legacy bundle only applies to ManageWP Classic users, and it transfers your original pricing plan to Orion. A bundle is a discount for an add-on of your choice for up to a 100 websites.
4. How do I turn on my legacy bundle?
To turn on your legacy bundle, you need to click on your username, find billing, then click on the bundles tab, and there you will see Legacy bundle with a transfer button underneath. By clicking transfer you will enable your legacy bundle in Orion.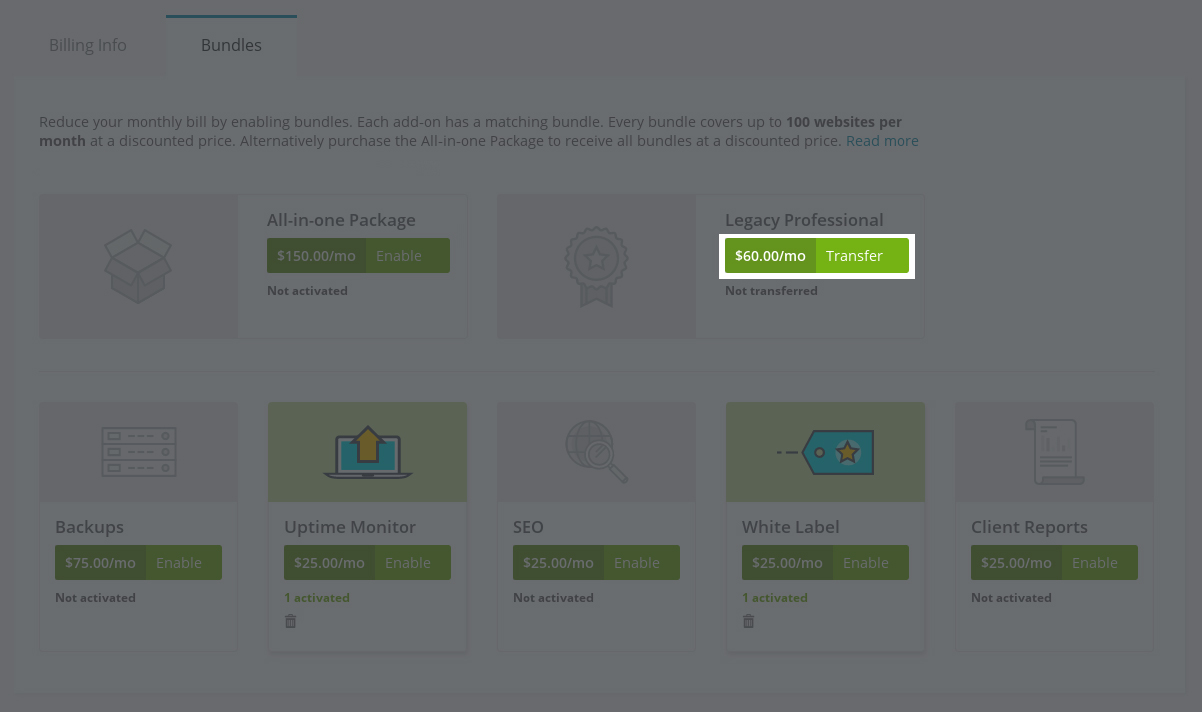 5. What happens when I turn on my legacy bundle and another bundle? 
If you turn on your legacy bundle in Orion, it means you are choosing to use Orion from now on, and your Classic subscription will be cancelled, and your ManageWP Classic account will be switched to a free account. It also means that you have transferred your Classic pricing to Orion. For example, if you have a Classic Professional account for 50 websites, you will get the same features as you would in the Classic. You get all of the free features, plus Advanced Client Reports and Scheduled Backups for the 50 websites that you have transferred from the Classic to Orion.
If then you decide to turn on a bundle, say for example sake, you turn on the Advanced Client Reports bundle (which like all bundles counts for 100 websites), you will get an additional 100 websites with Advanced Client Reports. What this means is, your 50 websites from the Classic already have Advanced Client Reports, as you activated the legacy bundle and with another Advanced Client Reports bundle you will get additional 100 websites. This means you have Advanced Client Reports activated on a total of 150 websites.
5. Do I need to assign the bundles to websites?
No. You don't need to assign which website is covered by the bundle. That we do for you.  However, you do need to activate the add-ons on the websites that you want them on. This means, if you have 103 websites, and you buy an Uptime Monitor bundle that covers 100 websites, but you turn on all 103 websites, the bundle will cover a 100, and the other 3 will be charged as per website add-ons. You can not choose which out of the 103 are covered by the bundle and which are not. We make sure that we cover your highest costs with the bundle.
To activate the add-on on websites go to add-ons on the left hand side, click on the add-on that you enabled the bundle for, and you can activate it from here.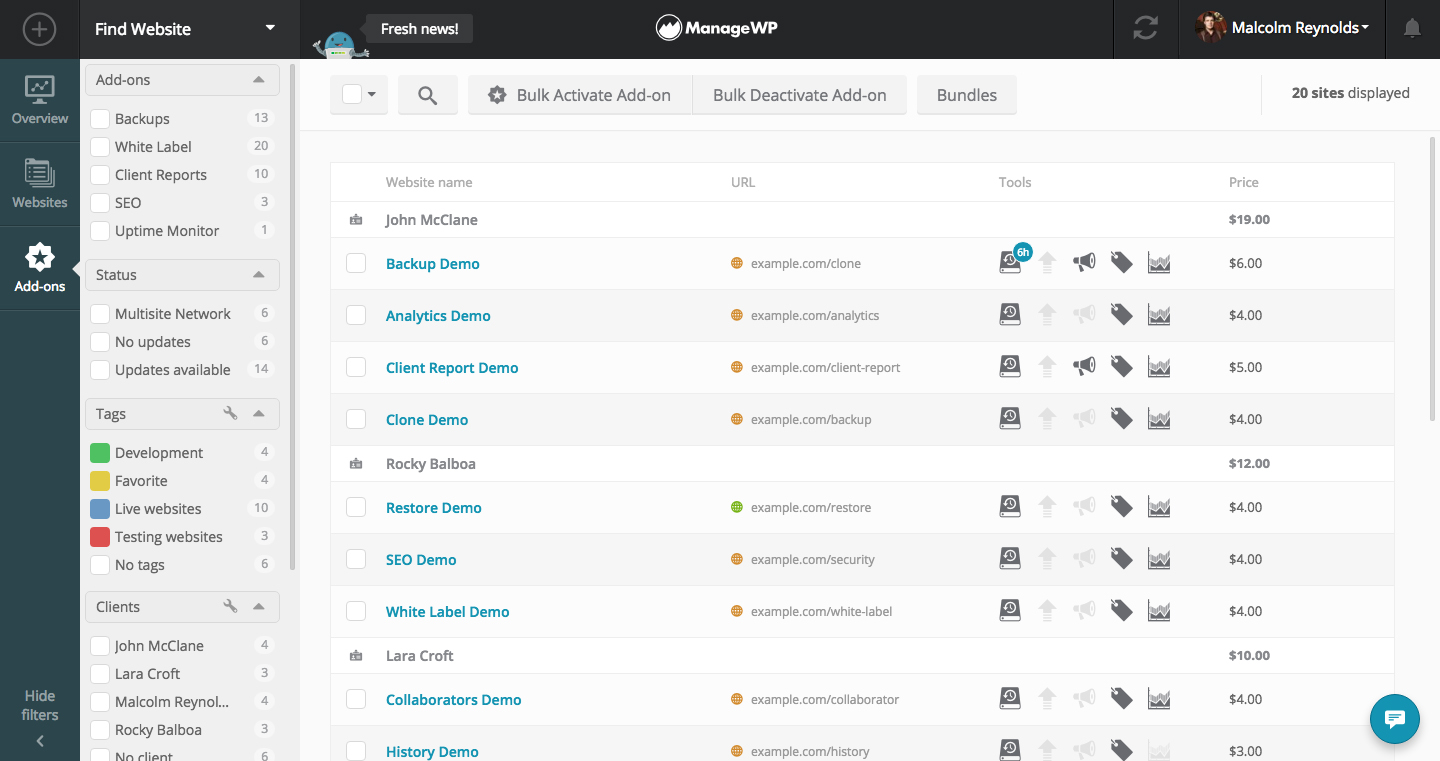 You can also bulk activate the add-ons, by selecting the websites you want to assign them to and on the top you will see a dropdown menu, there select the add-on you want to activate.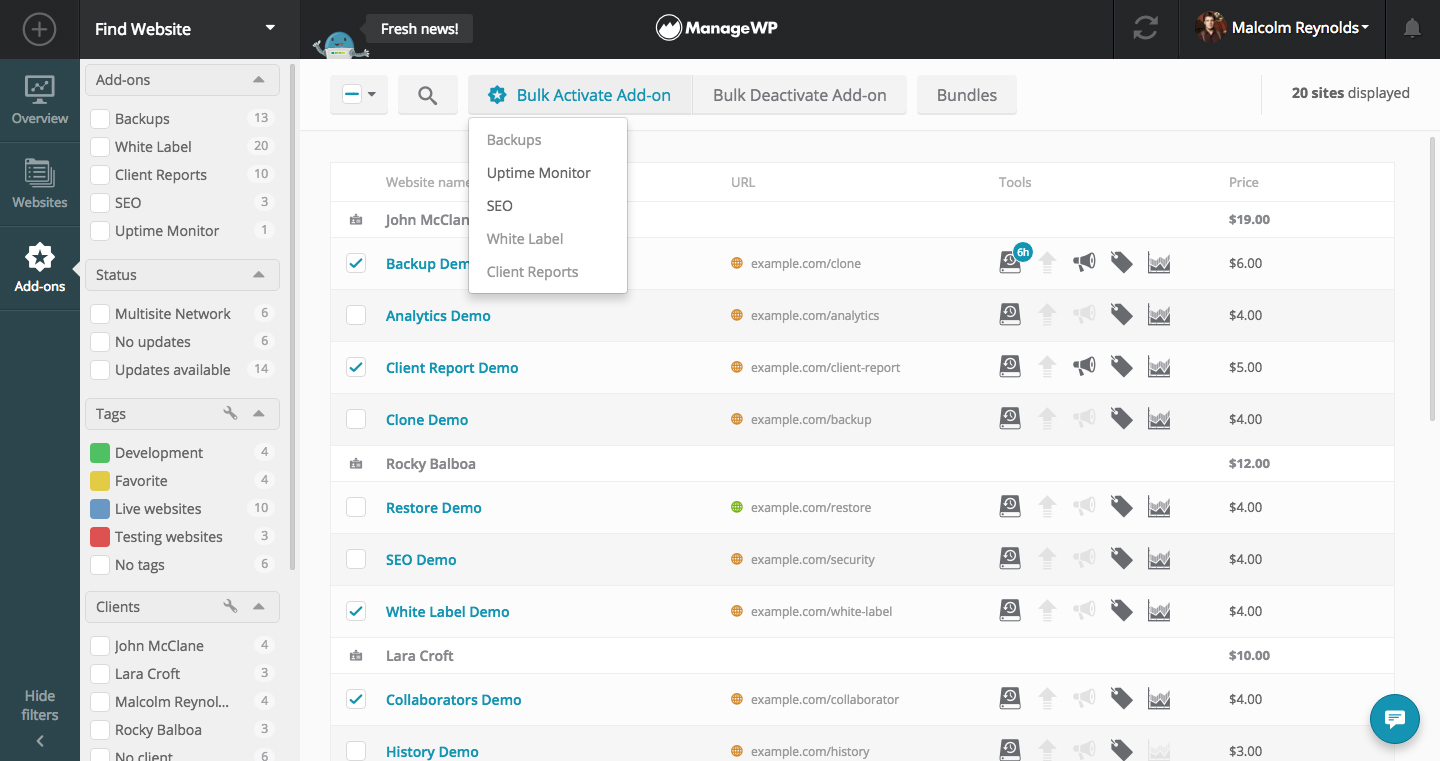 Activating an add-on is also possible, by clicking on an individual website, there you will be able to activate any of the add-ons.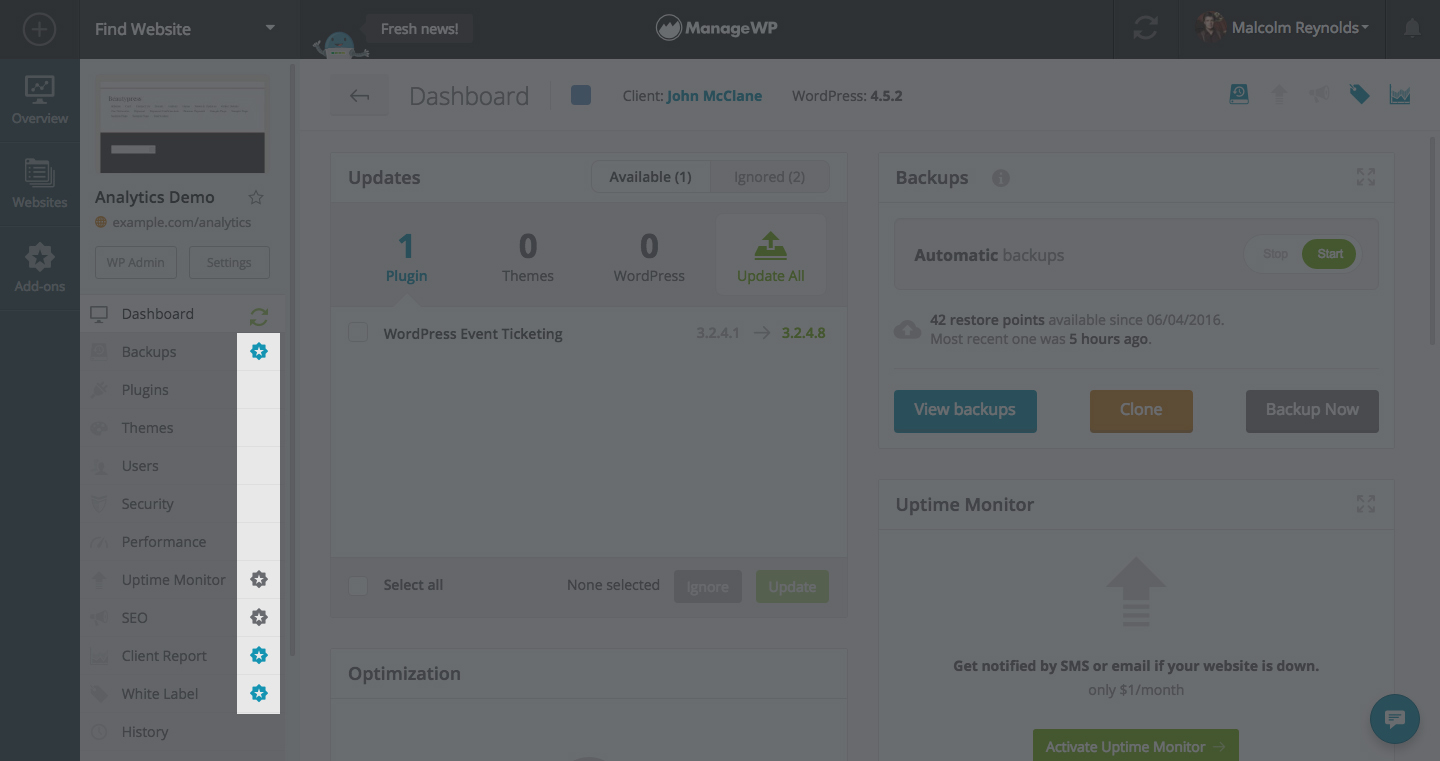 6. What happens if I have backups activated on 105 websites, and I buy a backup bundle?
If you already have activated 105 backups, and you want to enable a backup bundle on a 100 websites, Orion will automatically assign which 100 websites will be covered by the bundle. The bundle will automatically be applied to your cost, that way making sure the bundle covers your most expensive cost. This way you will get the most out of the bundle discount.
7. What happens if I increase my backup frequency on a website covered by a backup bundle?
The backup bundle covers daily backups ($2), but if you decide to increase your backup frequency on one of the websites covered by the bundle, you will be charged additionally. If for example you increase a frequency on one website for a day to hourly, we charge $6, the additional $4 will be charged on top of the $2 that is covered by the bundle.
8. What if I enable a bundle on a 100 websites, and then take 25 websites of my dashboard, and add another 25 new websites?
If at the beginning of the month you have a 100 websites and you enable the SEO bundle at this time, you then remove 25 websites on the 10th of the month, and add another 25 on the 15th, and turn on the SEO add-on for these. This overall counts as you having 125 unique websites on your dashboard for that month, and the bundle will only cover 100 websites. The 25 that you took off and the other 25 that you added can not replace each other, however what the bundle will do is cover the most expensive cost.
9. How long does my bundle last?
All bundles, in fact all pricing is based on a monthly basis. It is all post paid, so we charge you for the month that you bought the bundle or single add-on. When you activate your bundle, it is active for that month. You can not go back on the bundles, you have to commit to a month minimum. If you cancel it during the month you paid, you will still be able to re-activate it for the rest of the month at no additional cost. You only get charged for the following month unless you deactivate it before the beginning of the next month.
We charge always on the 5th of each month! A new charge will be applied from the 5th of each month.
10. How do I get to the billing screen, and where do I get an overview of what I am paying?
There are a few ways of keeping track of your payments. To view and activate add-ons and bundles you need to go to your username, then billing and there you will be able to see two tabs, one for your billing info and the other for bundles. Here you have the price of all bundles, so you can activate what you need.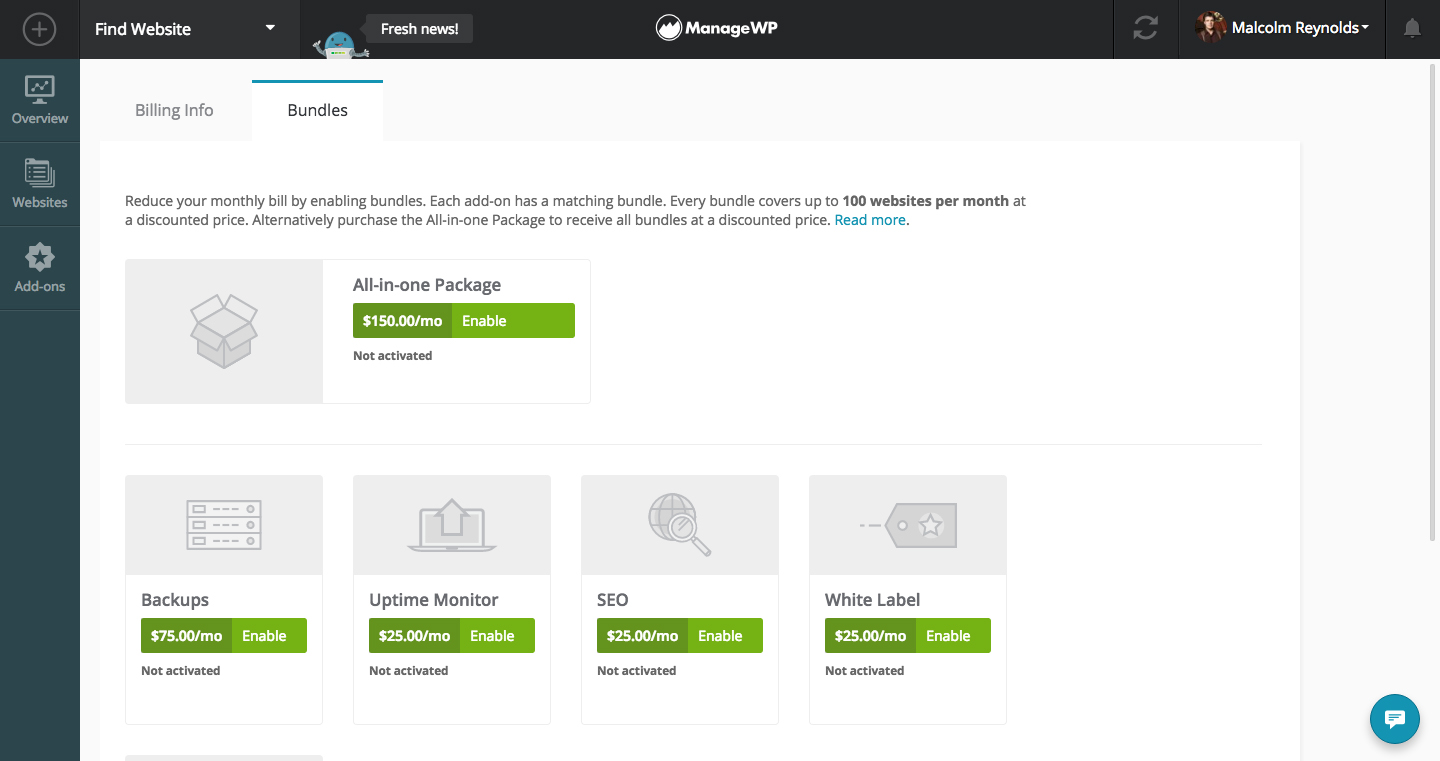 You can also see what you are paying (in total) per website. If you go to the websites overview, by each website you will find the features that are enabled, and the total amount that you are paying for that website.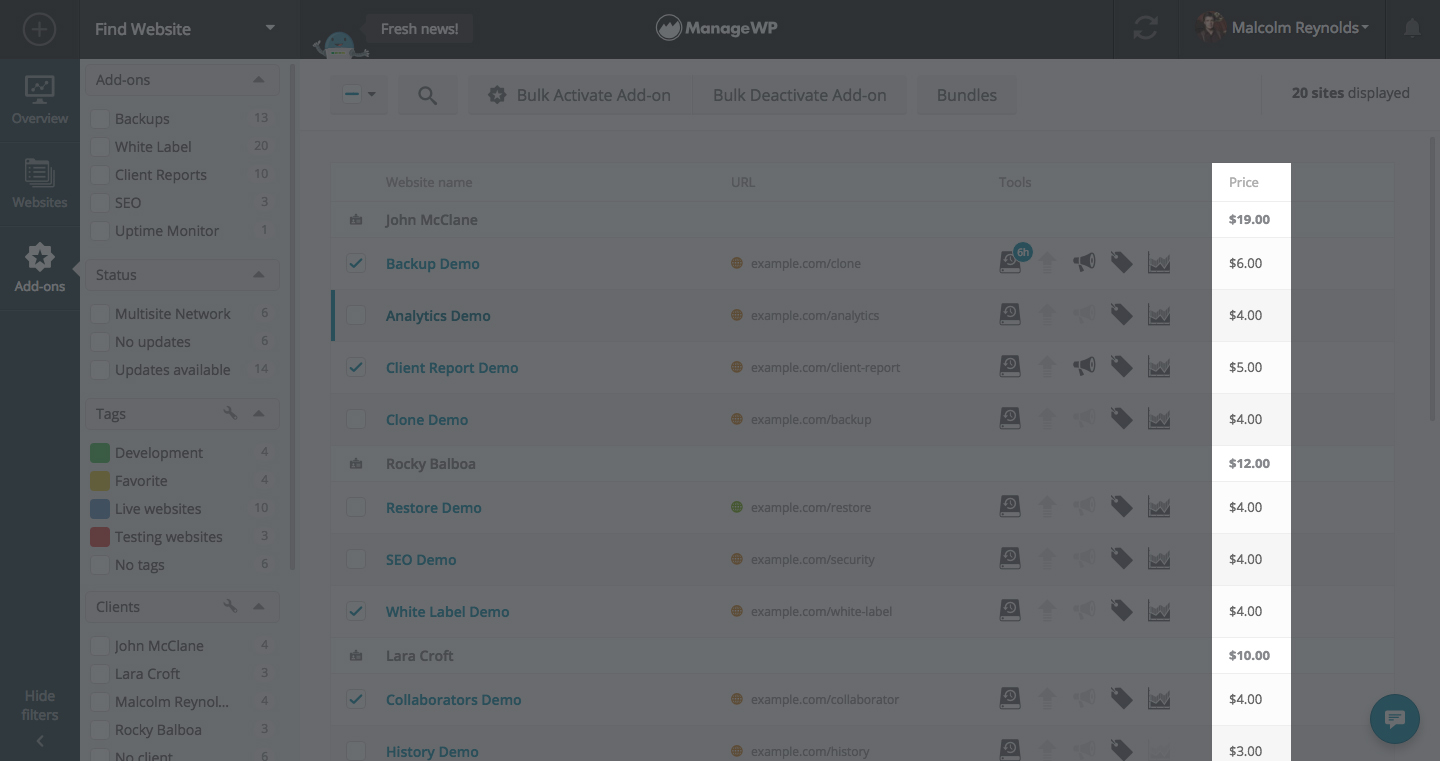 At the bottom of your websites overview, you will get the total of all features on all websites. You can see what you will be expected to pay.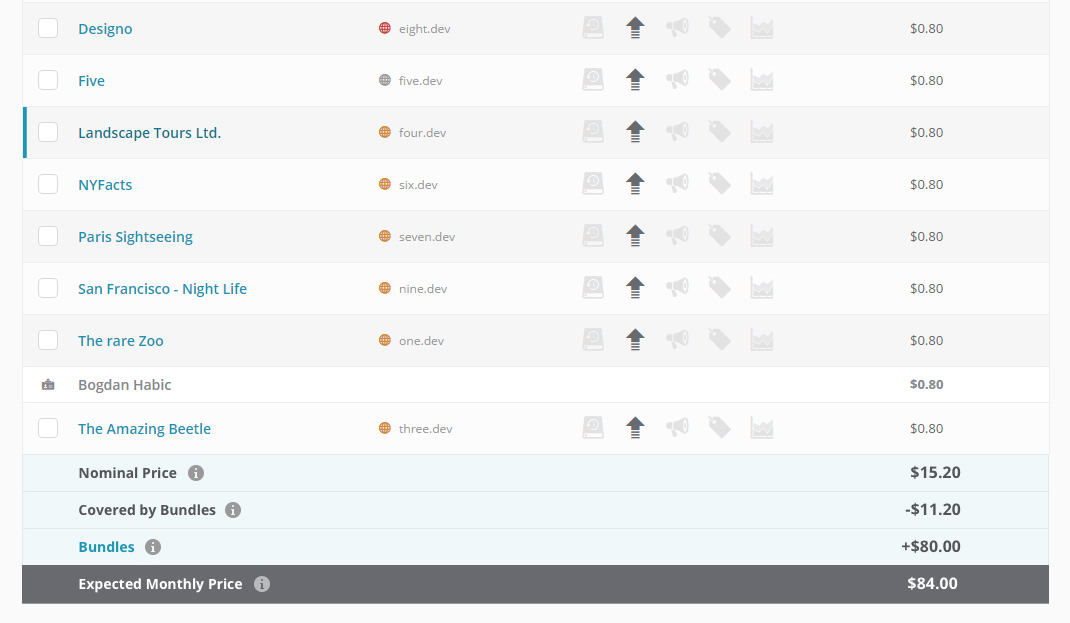 Here are the explanations of what you see:
Nominal price: this is the price of all your currently selected add-ons for the month.

Covered by bundles: this is price of all of your currently selected add-ons for the month that are covered by your bundles.

Bundles: the total price of your selected bundles

Expected Monthly Price: This is your monthly charge. Each month is charged on the 1st of the following month.
12. What is the Expected Monthly Price? 
The expected monthly price is the sum of all of the add-ons and bundles that you have activated for one month. This is what it would cost you for a full month. If you have activated one add-on on the 10th for example, it will appear in the expected monthly charge as the full month worth, but you will only be charged from the 10th. This is just the expected monthly price if you use all the add-ons for a full month. If you don't use them for a whole month, you will not be charged the expected monthly price.
13. I am a beta user and I can't see the option to activate my legacy bundle? 
If you are a beta user, and you haven't seen the option to activate your legacy bundle. Don't worry, it's because you haven't had your websites mirrored over to Orion. You haven't done anything wrong, it is simply because the mirror effect hasn't taken place. What you need to do, is to contact our support and if you wish to have your account mirrored and legacy bundle enabled, they will do that for you. If you wish to just stay in the Classic, you can also do that, but make sure you contact our support so they can set everything up for you.
I hope that we have covered all of the main things that have been bothering you. If you have any additional questions, or some things remain unclear, let us know!
Thank you!