Today is July 12th and it is a very special day for the team at ManageWP. We are launching Orion, the platform we have been building for the past two years.
Orion is ManageWP reimagined. It is the most comprehensive and most sophisticated software for managing WordPress ever made.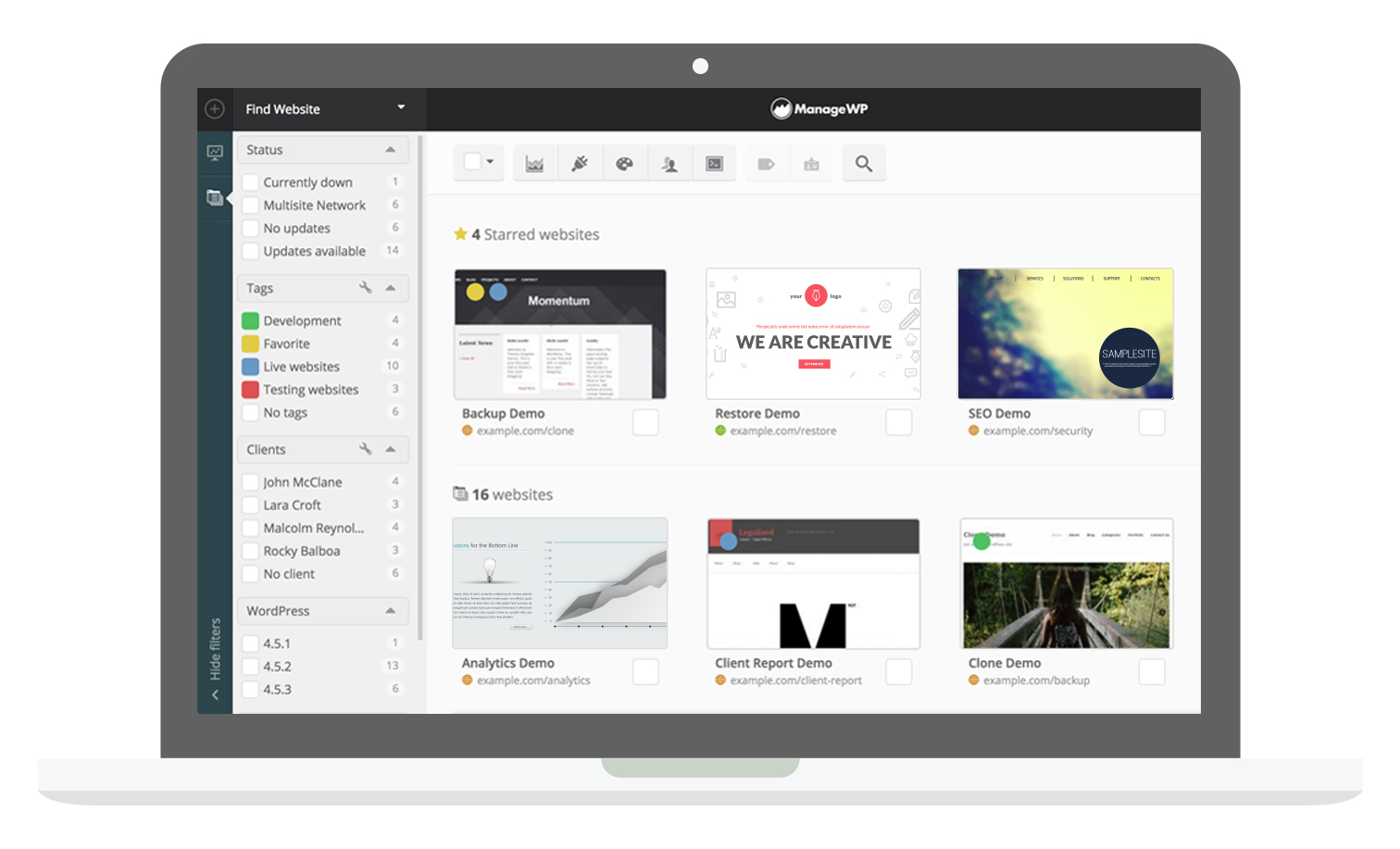 Orion at its heart exist for a simple purpose – to give every WordPress professional equal opportunity to succeed. By bringing most powerful tools available to any WordPress professional or agency anywhere in the world into a single product, ManageWP Orion gives you the unique ability to focus on your work and clients.
This day is also very special and emotional to me. If you have read the original three part ManageWP story you know that ManageWP classic launched just two days after my first daughter was born. It so happens, that ManageWP Orion launches two days after the birthday of my second daughter.
I don't want to tell you at this moment that Orion is perfect. It isn't, and I could show you a product backlog that spans 1,000 items. You will notice glitches here and there, especially in the first few days following the launch. I just ask you to report them to us and do not worry. We are a team of nearly thirty people now and we have significant 'firepower' to deal with these in the upcoming days.
What matters is that we have delivered on some of the most important goals. Like for example the Orion Cloud Backup. I can easily say that there is nothing like it on the market. We managed to achieve backup 97% success rate world-wide (up from 80% of ManageWP Classic and most other similar WordPress tools). Orion is also faster, prettier, easier to use, and scales infinitely (thanks to us becoming an Amazon Web Services technology partner).
And tweets like this are the ones that inspire us to keep working on our product for you.
Shoutout to @managewp . Your new Orion dashboard is freakin' awesome! Love it! Instant subscription.

— Leif Ottosson (@leif_ottosson) July 3, 2016
OMG! Just looking at the fully live @managewp #orion dashboard and pricing. Absolutely epic. Per-site add-on pricing? A masterstroke.

— Dom Wint (@CleanPageDesign) July 13, 2016
Let's talk a bit what is in it for you.
First time user
If this is your first time using ManageWP, just sit back and relax – Orion is simple and intuitive. Just add your first website and you are good to go.
Things you need to know about pricing:
ManageWP is free for unlimited number of websites. All of them can finally be in one place.
You will get a ton of free features to go with that. Oh yes, that includes a monthly cloud backup, absolutely free.
There are premium add-ons available that you can enable per site – and most of them are only $1/month.
Learn more about ManageWP premium add-ons.
Learn more about ManageWP free tools.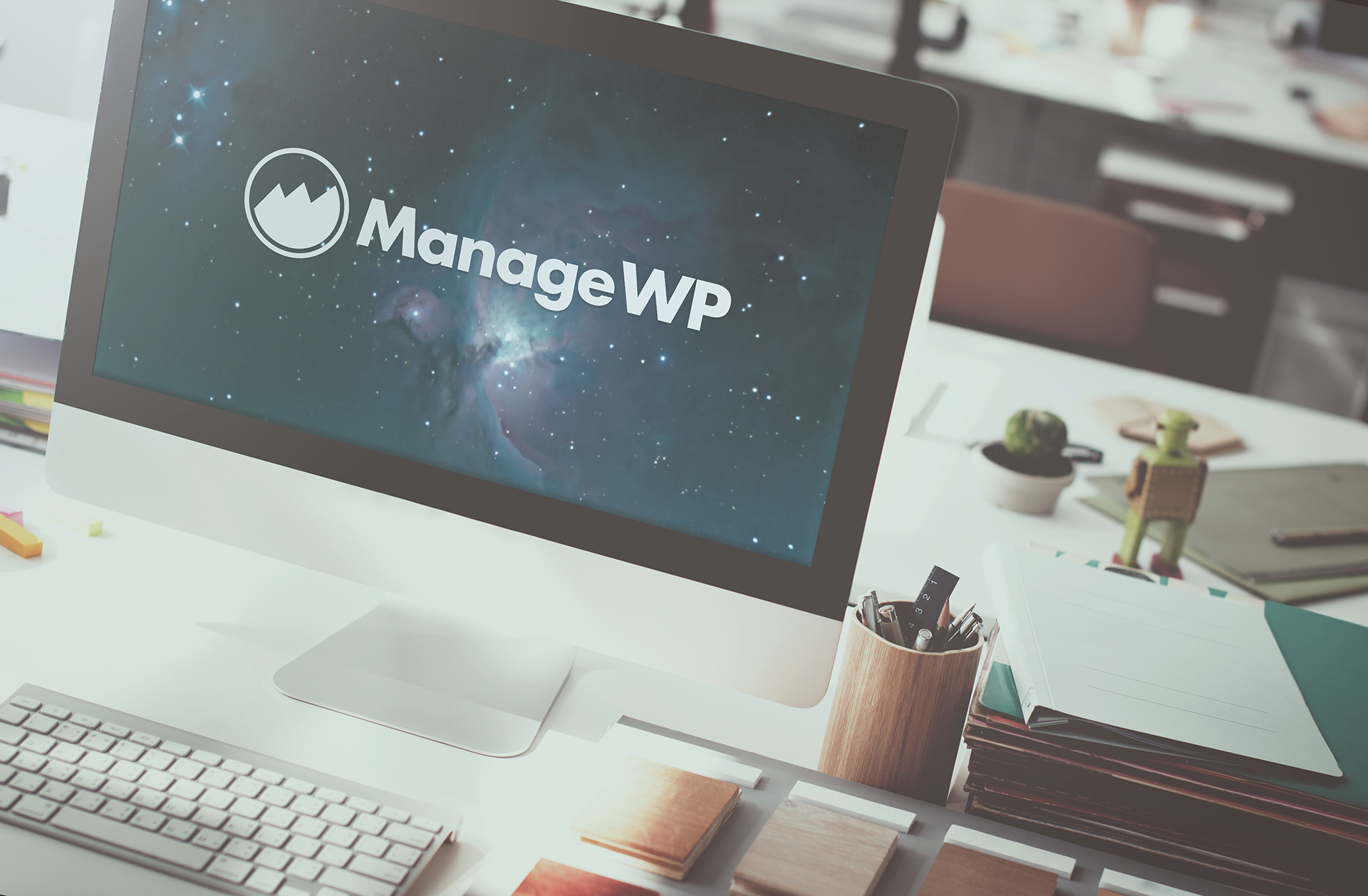 ManageWP Classic user
First of all we'd like to thank you for your loyalty and your business. It's been 6 years since we launched ManageWP and I can probably speak for both you and us when I say that this has been an incredible journey.
ManageWP helped deliver over one million updates to WordPress core (and 50 million plugin and themes updates) so you and us together literally helped make the web a better place. – Fact
Let's go through what is going to happen when you log into Orion today.
Best way to look at Orion and Classic starting from today is as two separate products. You can use both or choose to use the one you like more. We will ask you which one you want when you sign in. Worth noting is that if for any reason you do not wish to use Orion at this point, you don't have to. Simply use Classic as long as you feel more comfortable with it.
When you login to Orion, you will be asked if you want to import the websites from ManageWP Classic. This will basically copy your websites also to Orion to get you started easily.
Since Orion is free for unlimited websites you can start adding your other websites (these will not be mirrored in your Classic dashboard as it is a separate product from today).
If you have an existing discount this will be automatically applied to you in Orion. If you do not have one, you will automatically get a 10% discount for every year you've been our customer in the Classic! (up to 30%). Thank you for your loyalty and business, we hope to serve your business needs for a long time to come.
Your existing subscription is not automatically seen in Orion (as it is a separate product). If you like Orion better (which we hope you will), you can transfer your current subscription from. You will find it under Menu -> Billing -> Bundles screen. Transferring the subscription will effectively cancel your Classic subscription and activate the matching bundle in Orion with any left-over money from the subscription carried over to Orion. Here is a breakdown of Orion features that will be included in your legacy bundle:
Legacy Business users get these Orion premium add-ons: Daily Orion Backups, SEO, White Label, Uptime Monitor, Advanced Client Reports
Legacy Professional users get these Orion premium add-ons: Daily Orion Backups, Advanced Client Reports
Legacy Standard does not have a matching Orion bundle. We've made all of the tools from this plan free, and the one that is missing (bulk add post/page) is for now exclusive to ManageWP Classic.
After you've transferred your legacy subscription you can activate the premium add-ons covered by your legacy plan at no cost. The settings for these tools will not be transferred.
If you were a user during the beta, we will automatically activate all tools that you already used and setup the bundles so that the cost is optimized. Feel free to experiment with activating add-ons. If you don't see Legacy plan active in your account, please contact us through Orion and we will gladly assist.
We will ask you for a credit card once in Orion. This is because we will be creating a new billing profile for you with our new payment processor (Stripe).
If you have more than 25 websites check our post about bundles to learn how you can use them to reduce your monthly bill in Orion.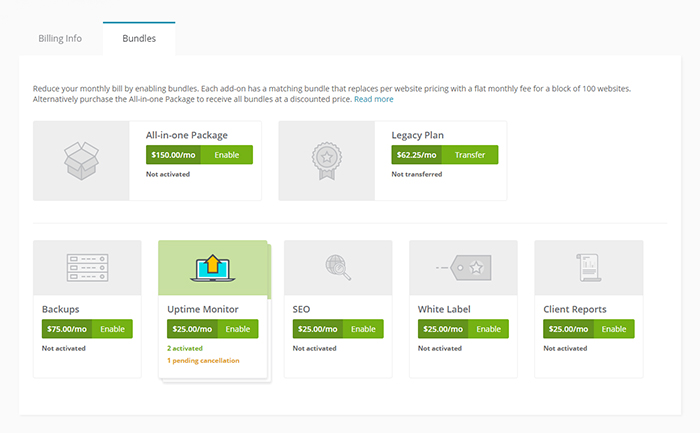 Premium add-ons
Orion Cloud Backup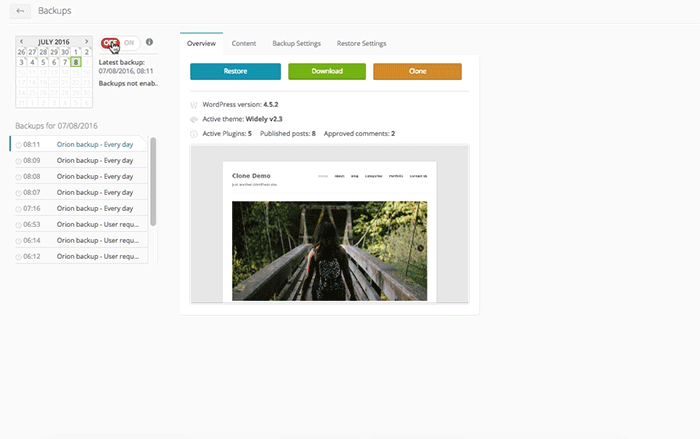 Orion is a game changer when it comes to running backups and restoring them reliably. We believe that a reliable backup should be a right, not a luxury, so we decided to have a lightweight version of the Orion Backup tool that automatically runs once per month, and lets you restore your website at any time.
This is perfect for small websites that don't have daily content updates, or websites that don't bring in any revenue. It's an insurance policy for those times when your regular backup plugin fails.
Free backup spec:
Monthly scheduled backup
Off-site storage
1-click restore
US/EU storage choice
The ability to exclude files and folders
The premium add-on has everything the free version does, plus:
On-demand backups
Cloning/migration tool
Different backup frequencies, from weekly to near real-time (every 1h)
Download backup to your computer
Upload to your own external destination (Dropbox, Google Drive, S3, OneDrive supported)
The ability to exclude as well as include files and folders
Starts at $2/month (or $75/month for up to 100 websites with bundle)
All legacy Professional and Business users will get the premium version when they transfer their subscription for daily backup frequency (increased frequency can be added at extra cost per website).
Learn more about Orion Cloud Backup.
Client Reports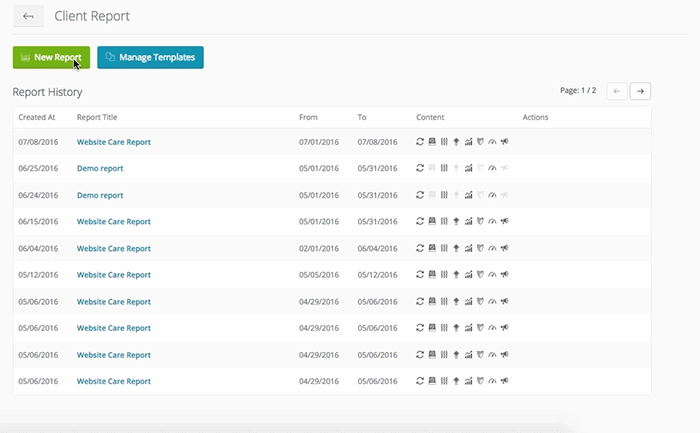 If you haven't tried these yet, you will fall in love immediately!
We've broken down the Client Report into free and premium add-ons as well. All legacy Professional and Business users will get the premium version when they transfer their subscription, including all the features that are coming after the launch.
Client Report (free):
Your logo
Intro & outro text
Notes
Reports from all activated ManageWP tools
PDF download
Templates
Localization (coming after the launch)
ManageWP watermark
Sending from a ManageWP email
Advanced Client Report (premium):
Everything in the free version, plus
No ManageWP watermark
Sending from your email
Automatization (coming after the launch)
HTML download (coming after the launch)
Bulk report generator for multiple clients
More in-depth customization (coming after the launch)
Only $1/month (or $25/month for up to 100 websites with bundle).
Learn more about Client Reports.
SEO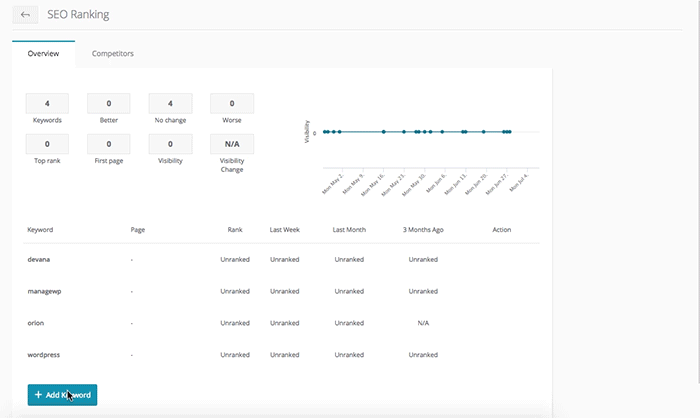 The Orion SEO tool is the right choice for you if you are tired of bloated SEO tools. Enter the keywords you want to track and you are done. You'll get a simple report (that you can include and send to clients) with competitor rankings that are automatically tracked.
Only $1/month (or $25/month for up to 100 websites with bundle). Learn more about SEO.
Uptime Monitor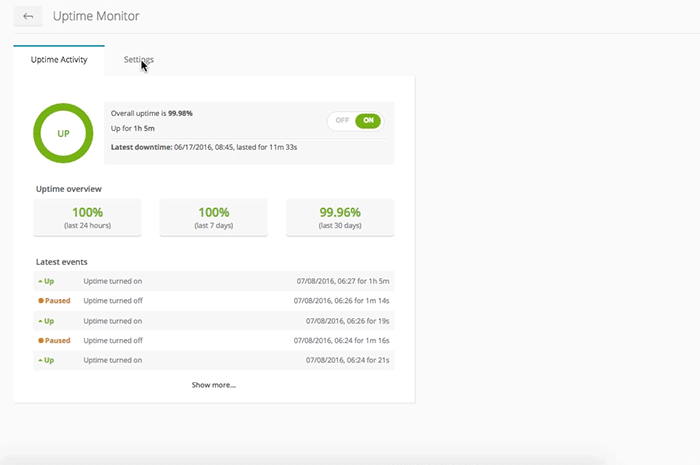 Websites sometimes go down. Catch these events before they damage the business with ManageWP Uptime add-on.
Only $1/month (or $25/month for up to 100 websites with the bundle). Learn more about Uptime Monitor.
White Label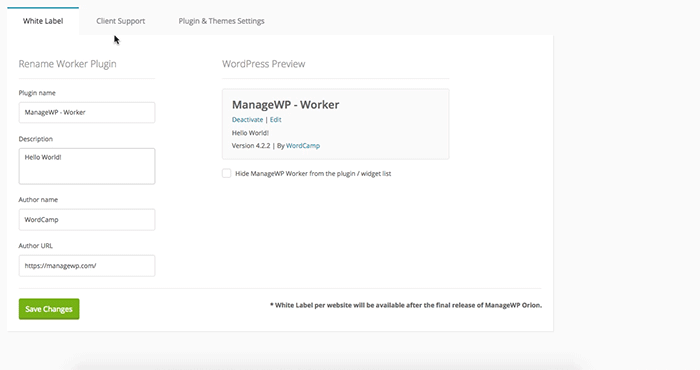 Make ManageWP your own. Customize the branding as well control the aspects of your client's website.
Only $1/month (or $25/month for up to 100 websites with bundle). Learn more about White Label.
What's next?
When the dust settles (hopefully in a week or two) we are going to start delivering couple of features that we know you are excited about:
Automated security checks
Automated performance scans
Automated client reports
We are going to be listening to your feedback with fervour, so please keep it coming.
Yours sincerely,
Team ManageWP!