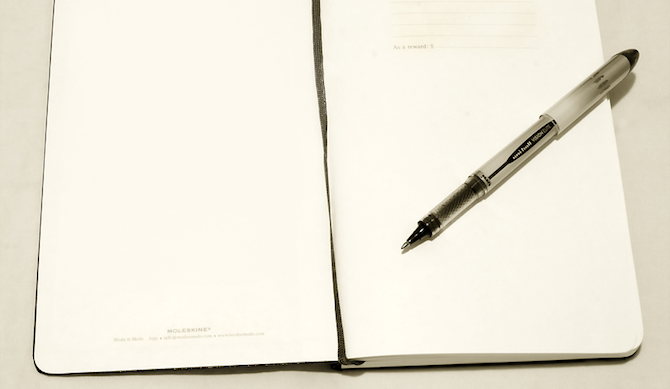 I don't know about you but if I want to do a job right I feel much more comfortable with a checklist to refer to.
Otherwise you're just leaving it up to the reliability of your focus and memory in any given moment. Mental checklists are all well and good but it if you want to make sure everything is done according to plan, you really should have everything written down. That is why I have a step-by-step checklist that I refer to when creating blog posts — it ensures that I follow every single necessary step in order to get the job done right first time.
Last week I introduced the portion of my checklist relating to tasks before you even start writing the post. In this post I want to cover all of the necessary tasks to carry out before publishing the post. In the final part of this series next week I will cover the tasks you should carry out after publishing.
Pre-Publishing Checklist
Hitting that Publish button can often feel like a bit of a momentous occasion — especially if you are going live with a post that you have put a great deal of work into. Therefore, it pays to make sure that everything is prepped as it should be. The last thing you want to do is notice some glaring error on a published post a few days later. Here's what you need to do.
1. Write the Post
If you followed my planning checklist then your post should already be planned, your research should be in hand and you should be ready to write. You will have already picked an SEO "focus keyword" which is the one you will keep in mind as you write the post. Although I advocate the principle of "Incidental SEO", that does not mean that you shouldn't look to include your chosen keyword whenever it is relevant to do so.
2. Check Page Analysis and Edit
Once you have finished your first draft of the post it is time to check how well optimized it is for the search engines. You do this by examining  the Page Analysis feature included in WordPress SEO by Yoast. Here's an example from one of my own blog posts: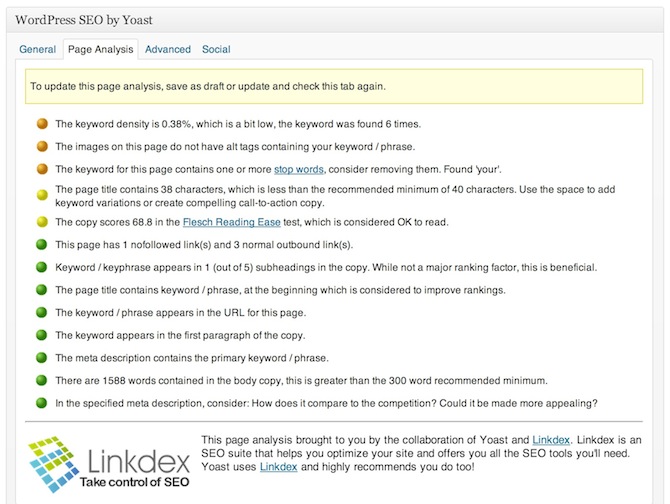 For my full guide on how to analyse this information read this post. At this point you should go back and make any amendments to your post that will help improve your SEO.
3. Emphasise Key Phrases
Most people scan blog posts rather than reading them and you should help make that process easier by including plenty of descriptive sub-headers and emphasising key points. Do this simply by surrounding relevant text in bold. Make sure to use this quite sparingly as otherwise the page will start to look extremely messy.
4. Finalize Headline
You will have drafted a headline before you even started writing the post but now is the time to finalize it. The two things to bear in mind are:
How intriguing the headline is
How well optimized it is for search engines
If you want to know more about creating great headlines then check out this superb Copyblogger series.
5. Add Tags
At this point the post will be all but complete and you will be in a position to add any relevant tags. Please tag sparingly — if you are in any doubt as to how you should tag your posts then check out my post on the topic.
6. Check All Links
There are two things you need to check regarding your links:
That they work

That they behave in a manner you would expect
The first item is self-explanatory, the second less so. What I mean is that any given link should either open in a new tab or not depending upon its placement and context to the page. If you'd like to know more about how to format your links to maximize engagement on your blog, read this.
7. Add Image(s) and Attribution(s)
With all of the writing out the way, now is the time to add an image or two (or more) to your blog post. I recommend one to kick the post off plus others within the body of the post where called for. Images do make a post more interesting but don't just throw them in willy nilly — each image should have some reasonable purpose.
Don't forget to set a featured image (if your theme calls for it) and add any relevant attributions (I include them at the bottom of the post).
8. Add an Excerpt
I always recommend that you create a manual excerpt — whether it simply be a stop point after the first paragraph or two or if you actually write up a separate short excerpt (although typically this would be drawn from your meta description). A blog home page that features automatically truncated post excerpts looks really messy and is bound to negatively impact the user experience. So take a few moments to create an excerpt.
9. Check the Permalink
The last thing you want to do is publish a post then discover that your permalink is a mess. Although you can change it after publishing, I would advise that you avoid doing so.
I will almost always edit a permalink — it is rare that the post's title exactly matches the most efficient use of keywords. Generally speaking a permalink should include your focus keyword and nothing more, although you can be flexible in this if it make sense to be so.
10. Preview and Final Read Through
By this time you should have everything done — the content has been written and proofread, you've added all the necessary bits and pieces and prepped the post in terms of an excerpt, tags, permalink and so on.
At this point I like to Preview the post as it will look on my blog and give it one last read through. Make sure that everything looks in order and that the post "flows" well, and once you are satisfied, hit the Publish button and release your work to the world!
One More Step
A lot of people get on with their day once they have published a blog post, but this is the point at which you should look to have maximum impact. The work you do after publishing a post can often have an enormous effect on its popularity — I have borne witness to this countless times.
With that in mind, in next week's post I will be covering the steps you should be taking after you hit Publish in order to give your post the best possible chance of success.
Photo Credit: Paul Watson and law_keven