The purpose of this article is to demonstrate a way of using Twitter as a tool to measure your own brand influence. To better illustrate this I am going to use the study of our own Twitter account which at this point follows carefully picked 1,500 Twitter users.
How did we come up with those?
Couple of months ago we reset people we follow to near zero and then started from scratch. This was just an autumn clean-up which was initiated with no particular reason. However an idea was quickly born.
The goal is to use Twitter to follow only the most influential people in your market (for us it is WordPress, more precisely WordPress developers and designers). These would be people whose opinion you respect, who are moving the field and whom one day you'd ideally love to have as customers.
Here is how to find them:
Look for Twitter lists from known established, trusted individuals (you probably know a few in your market to begin with). Like this. 
Look for Twitter lists from relevant industry events (these will be speaker and attendees lists). Like this.
Feel free to occasionally drop in an 'influencer' that is not necessarily directly involved with your market but is huge elsewhere, and you have respect for their opinion and brand strength. Like we follow Menlo. The more you follow the more difficult it will be to increase the brand strength metric that I am going to describe shortly.
What is the big idea?
The idea is that your brand strength (reach, influence and perception) correlates with the percentage of relevant influencers in your target market that opted into following you.
To calculate the exact metric, find out how many people that you follow, follow you back and divide this with the total number of people you follow.

In our case it is 588 out of 1,500 users (I use a free tool called CrowdFire to extract this number).
Which gives a brand strength metric of 39.2%. There, for me this number represents the influence of the ManageWP brand in our relevant portion of the WordPress market.
Obviously this can range from 0% to 100%. If you picked the influencers carefully it will be very hard to achieve 100% rating.
What do you do about it?
You obviously work on your branding to increase it.
In the few months that I have been following this metric I have happily observed an increase in our brand strength. It is of course satisfactory, given that we have been consciously working on increasing our brand reach.
Do not expect results over night, these things really take time. And the metric will reflect that – you can not force someone into following you (even if you could it should be of course left to happen naturally).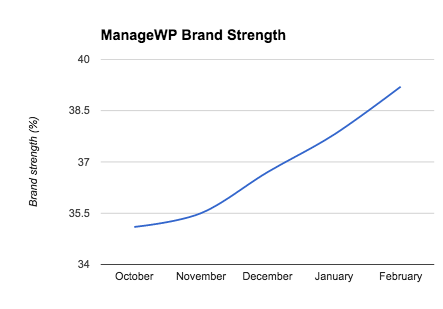 How do you further expand the people you follow?
Here are some ideas.
We just recently started going through everyone who follows us. Then use your best judgment. This can obviously take time if you have many followers.

Track your notable customers. People who write to your support.
Some people may draw your attention in various ways. Check those that favorite your tweets or add you to their Twitter lists (a column for this is easy to setup in Tweetdeck, use Notifications).
Use Twitter recommendations and follow people that are followed by at least three people that you already follow.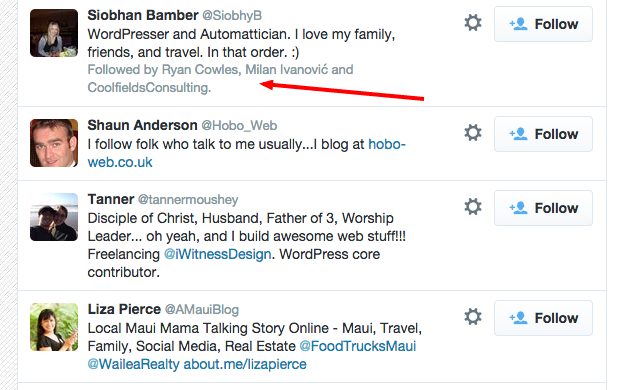 A neat side effect
Since you carefully filtered whom you follow, and these are people relevant to your business, your Twitter activity feed becomes actually useful. I use it as one of the main tools for discovery of new information and resources that I later either retweet or share through sites like ManageWP.org.
This is great, give me more!
There are two more free Twitter related tools that you can use to measure your brand strength.
Followerwonk will give you amazing amount of statistics but also include a metric called Social authority which you can track monthly as well.
Twitter's own analytics will give you engagement rate which indirectly measures the 'speed' of your brand reach.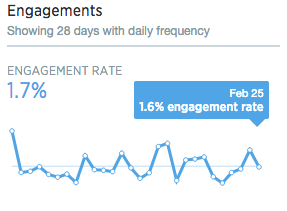 (yeah 1.7% sucks but that's Twitter, don't hope for much more)
Final thoughts
This gives you a simple and honest answer to the question how influential is your brand. More importantly it allows you to track the trend and you can use it to effectively measure the results of your branding team.
Welcoming your thoughts and feedback.