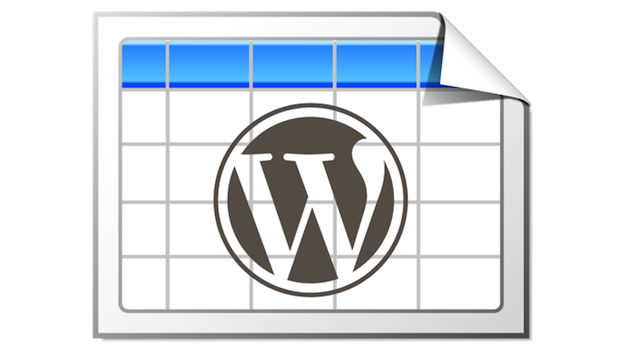 I have been a fan of WP-Table Reloaded for a long time. For over a year it has served me very well by allowing me to easily create complex tables from within WordPress. It comes loaded with a glut of great features such as simple importing and live table sorting/search functionality.
The feature set is impressive and the plugin is completely free and available for download from WordPress.org. Having said that, I've always kept my eyes open for a better WordPress table plugin, because in my opinion plugins often thrive when placed within a competitive environment.
With 2012 drawing to a close I can finally say that I have found a plugin that not only matches WP-Table Reloaded but in fact surpasses it in terms of features, performance and usability. And it comes from a rather unlikely source…

TablePress is in fact the direct successor to WP-Table Reloaded. Developed by the same chap, Tobias Bäthge, it is currently in advanced beta stage and available for anyone to use on their WordPress blog.
I was rather curious as to what some might simply consider a new version of an existing plugin would need an entirely new name, so I set out to interview the developer. Here's what he had to say!
First, please tell us a little bit about yourself.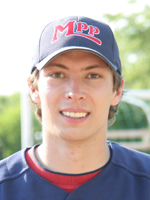 My name is Tobias Bäthge and I'm from Magdeburg, Germany. After majoring in Engineering Cybernetics at the Otto-von-Guericke University Magdeburg, I'm currently pursuing a PhD degree in the field of control theory there.
I'm an avid baseball fan (I play catcher for our local team, called Magdeburg Poor Pigs) and I keep my fingers crossed for the Seattle Mariners.
How did you first learn about WordPress and what got you into plugin development?
I've always been interested in mathematics. I started programming small math tools at the age of 12 or 13, in Turbo Pascal for MS DOS, and then Delphi on Windows.
After we got an internet connection at home, I wanted to offer my tools for download on a personal website, so I started with HTML and then PHP soon after. This worked quite well for some time, but when I started with university, I wanted something more advanced.
That's when I found WordPress and when WP 2.0 came out I used it to turn my static website into a blog. I liked it so much that I used it to rebuild my baseball team's website. As such a website needs special things, and as I already knew some PHP, I got more interested in WordPress development.
What inspired you to develop WP-Table Reloaded?
One of the things that we needed on the baseball website were tables — for player rosters, standings, schedules, and so on. As I wanted other people (without knowledge of PHP) to be able to work on these tables, just using HTML code for tables in a page was not an option.
I looked for a WordPress plugin and found "wp-Table" by Alex Rabe. It worked quite well in the beginning but we soon ran into limitations. When Alex announced that he wasn't able to continue supporting his plugin, I decided to give it a go and write a table plugin. And with that, WP-Table Reloaded was born and quickly became surprisingly popular.
Why have you decided to create a completely new plugin that intends to replace WP-Table Reloaded?
Just as with the limitations that I had run into in the original wp-Table plugin, there are now several things in WP-Table Reloaded that are making further development difficult, or that are just no longer state of the art. With the knowledge and experience that I gained while developing and supporting WP-Table Reloaded, I now know that there are better ways or technologies for essential parts of the plugin.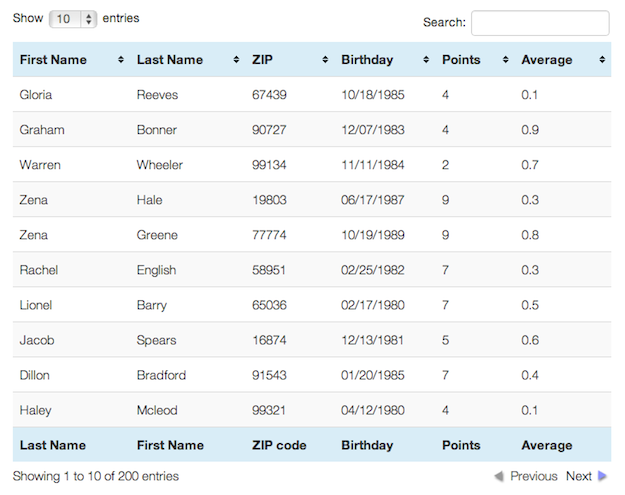 For example, the internal data format and storing location that WP-Table Reloaded uses has been superseded by better ones. Thus, I decided to completely rewrite it with the goal to use modern programming principles and techniques. This also allowed me to throw away some cruft in the code base, and as I had integrated many enhancements and new features, I felt that a new name for the plugin was appropriate.
What makes TablePress the best tables plugin for WordPress?
That's a good question, and I feel that I'm not really the best person to answer that, as I'm probably biased a little bit 🙂
Many people — for example in the plugin reviews and in the WP support forums — like that TablePress integrates so nicely into their known WordPress environment, and that it is very easy to use without a lot of training. One reason for that might be the import feature, which helps to get great results very quickly. Still, everything is designed to be flexible, if customization is desired.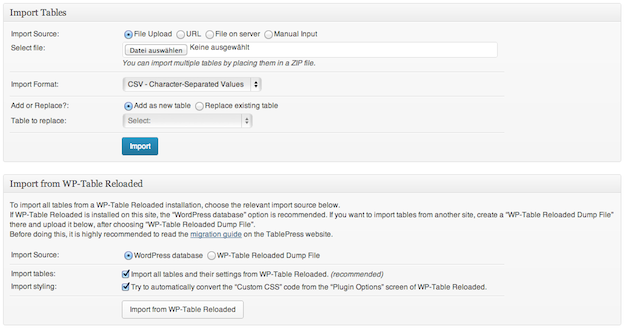 Should people who have used WP-Table Reloaded switch to TablePress, and if so, why?
Definitely, but there's no need to panic! As mentioned before, TablePress is not just a complete re-write of WP-Table Reloaded. Additional to all of the WP-Table Reloaded features, it brings many enhancements (visible and under the hood for better performance), as well as (in my opinion) awesome new features: a fresh and modern default design for tables, a table "Edit" screen that is much easier to use, Bulk Import and Export of tables, and, as a highlight, spreadsheet functionality (i.e. support for formulas and math expressions, similar to Excel).
With the release of TablePress 1.0 (probably in January — I just want to add/finish a few more minor things), development and support for WP-Table Reloaded will be phased out and eventually discontinued. The plugin will of course continue to work but it will not get any new features and only important bug fix updates, if necessary.
WP-Table Reloaded should no longer be installed on new sites. Instead, I recommend to directly start using TablePress on new sites. Sites that are already using WP-Table Reloaded should migrate to TablePress in the next few months in order to benefit from better performance and more and new features.
If people do choose to switch, can they expect a smooth process?
I'm trying my best to make sure that switching from WP-Table Reloaded is as safe and easy as possible.
TablePress can import existing tables and settings from WP-Table Reloaded in just a few clicks, and if a site doesn't use customizations (like big chunks of "Custom CSS" code, or "WP-Table Reloaded Extensions" from the plugin's website) this is a matter of seconds.
For more information and instructions, there's a migration guide available on the TablePress website here and I'll be around in the TablePress support forums.
Are you working on anything else that we should know about?
Besides WP-Table Reloaded and TablePress I'm sometimes active with WP core development — like double checking commits or submitting patches for small issues or enhancements. I also try to monitor my plugin's support forums closely as I always learn a lot from that and get to know great people.
It's Time to Switch!
Thanks to Tobias for taking the time to answer my questions — further to his comments and having tested TablePress, making the switch seems to me to be a no-brainer. The plugin seems nice and stable and there is no doubting its improved feature set. Not only that but WP-Table Reloaded will become obsolete before long, so it makes sense for new adopters to go straight to TablePress.
For those of us who are existing WP-Table Reloaded users, it seems like there is no great urgency for us to switch. Having said that, I would recommend that you port over to the new plugin sooner rather than later, to take advantage of TablePress' great new features and increased efficiencies if nothing else.
Are you an existing WP-Table Reloaded user and if so do you plan on making the switch soon? Or do you use and prefer an alternative table plugin for WordPress? Let us know in the comments section!