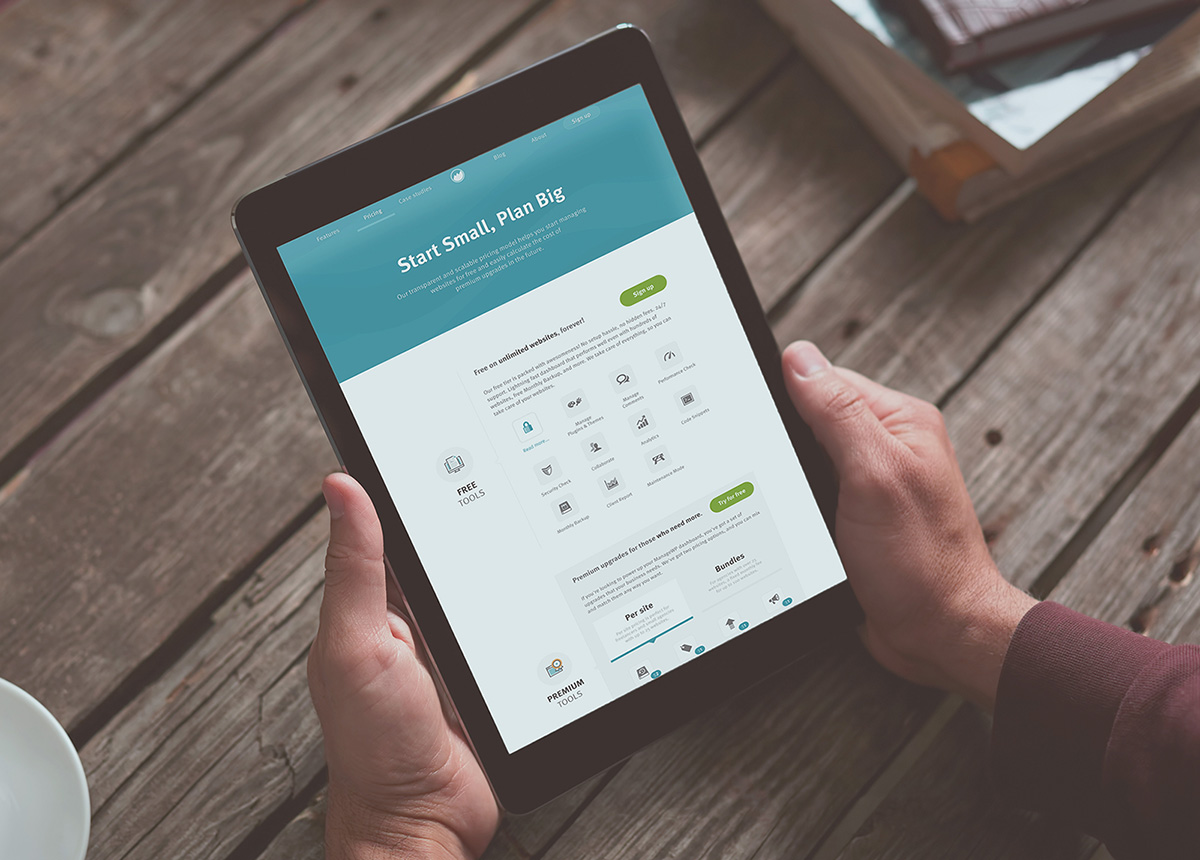 (Edit: We've edited the post to better answer some of the questions found in comments)
With Orion launch just around the corner (scheduled July 12th) we wanted to answer some of the questions you had with the new product.
Let's outline the biggest differences and how will they affect you.
ManageWP Orion is free for unlimited websites
Gone is the 5 free websites limit. Add your entire website portfolio and enjoy the best management tools in class. This also means you can bring all your subdomains and staging sites on board.
ManageWP Orion free feature set is greatly increased compared to ManageWP Classic
Previously paid tools like Sub-users (now called Collaborators), Manage users, Maintenance mode, Google Analytics and Code snippets are now completely free. We've even included a monthly cloud backup and basic client reports completely free of charge too.
All other free tools you love and use (like updates, plugin and theme management, security and performance scanning…) are there as well and have undergone a major overhaul to be better and easier to use.
New pricing model for premium add-ons
ManageWP Orion will start with five premium add-ons that you can enable on per website basis. These tools are:
Orion cloud backups – incremental backups with safe, off-site storage and website migration – starting at $2/month for daily backups
White label, SEO, Uptime monitor, Advanced Client Reports – each add-on at only $1/month
To reduce your bill in case you manage greater number of websites you can enable an add-on bundle – a flat monthly fee for up to 100 websites.
Here is a summary of our pricing.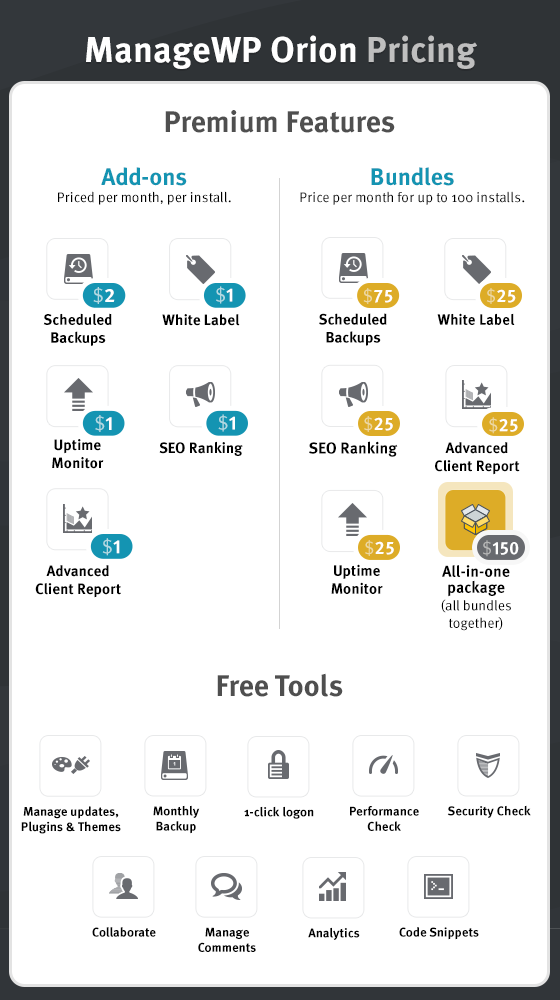 Transferring your Legacy Subscription
We will honor all current ManageWP subscribers and allow you to transfer your legacy subscription to ManageWP Orion.
This means that you will have premium add-ons available as a special 'Legacy Bundle' at your current price and website limit.
Business gets these Orion premium add-ons: Daily Orion Backups, SEO Ranking, White Label, Uptime Monitor, Advanced Client Reports
Professional gets these Orion premium add-ons: Daily Orion Backups, Advanced Client Reports
Standard gets these Orion premium add-ons: Monthly Orion Backup
July is free to play
Although the billing will be enabled on July 12th, we will not charge you for any use in July. August will be the first month when usage will be billed and since Orion switched to post-paid model (from pre-paid in Classic) your first charge will be September the 5th (for August usage).
I have brought with me some template users (or as I call them my imaginary friends), to demonstrate the effect of changes. Each character that you will meet has a different pricing plan in ManageWP Classic, and they switch to the equivalent in Orion.
Meet Emma
Emma is a loyal ManageWP user, she has been using ManageWP for over 2 years and is currently managing 15 websites. The main thing she uses ManageWP for is updates, easy accessibility to all websites, and she really makes the most out of the 1-click login and 1-click updates. She has great hosting that handles her backups, so she doesn't have to think about them. She does not use the ManageWP backup. Her choice of plan is the Standard (15), and her costs are $10/month.
Switching to Orion
When Emma switches to Orion, she will save herself $10/month, $120/year which is around 57 cups of Starbucks coffee. On the new Orion dashboard, she can access all of her websites and add an unlimited number of them for free, as well as run updates at no additional cost. She now also gets Manage Users and Collaborators, Google Analytics, and Code Snippets for free. With all the extra coffee she will get to drink and her websites being easily managed Emma will be even more productive with Orion.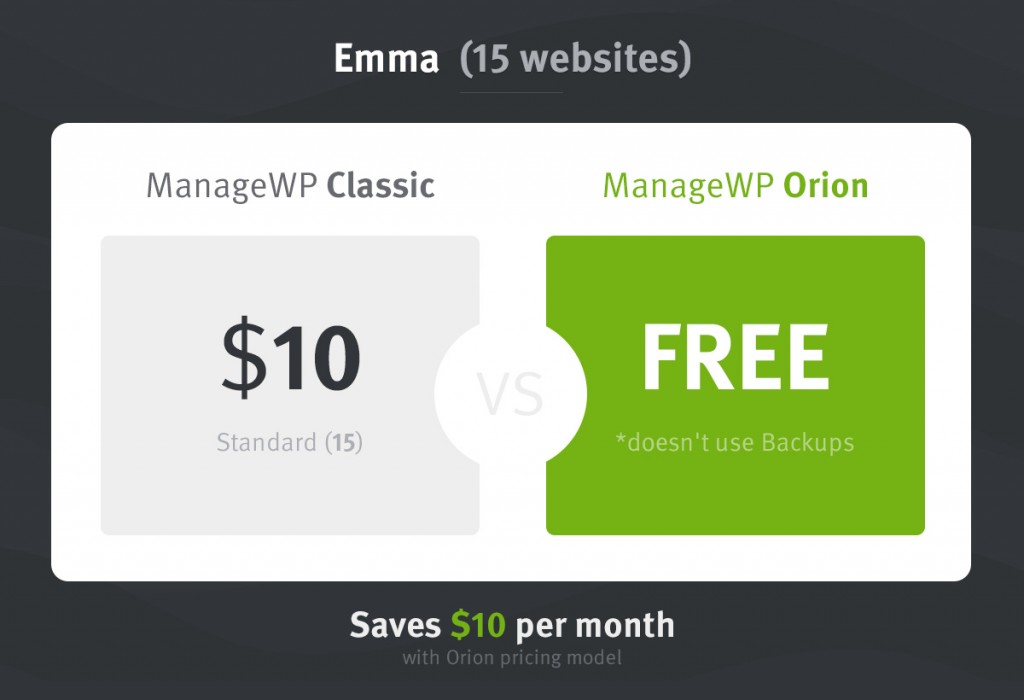 Meet Noah
I never have favourites when it comes to my imaginary friends, but if I did it would be Noah. He is a web developer and he offers a maintenance service for the websites that he built. For this reason he needs to make sure he has daily backups in case anything goes wrong, and Uptime Monitor that keeps him informed on the websites status. He need these features on 8 websites. On ManageWP he decided to go for the Business (10), that costs him $42/month.
Switching to Orion
The Orion switch has come at a great time for him, as it will save him $18/month, so he can save money for the new xbox Resident Evil 5 that's coming out coincidentally the same time as Orion, July 12. He decided to go for the Scheduled Backup ($2 per website, total of $16 for 8 websites) and also the Uptime Monitor ($1 per website, total of $8 for 8 websites), which brings him to $24/month. That's $216 saved in one year!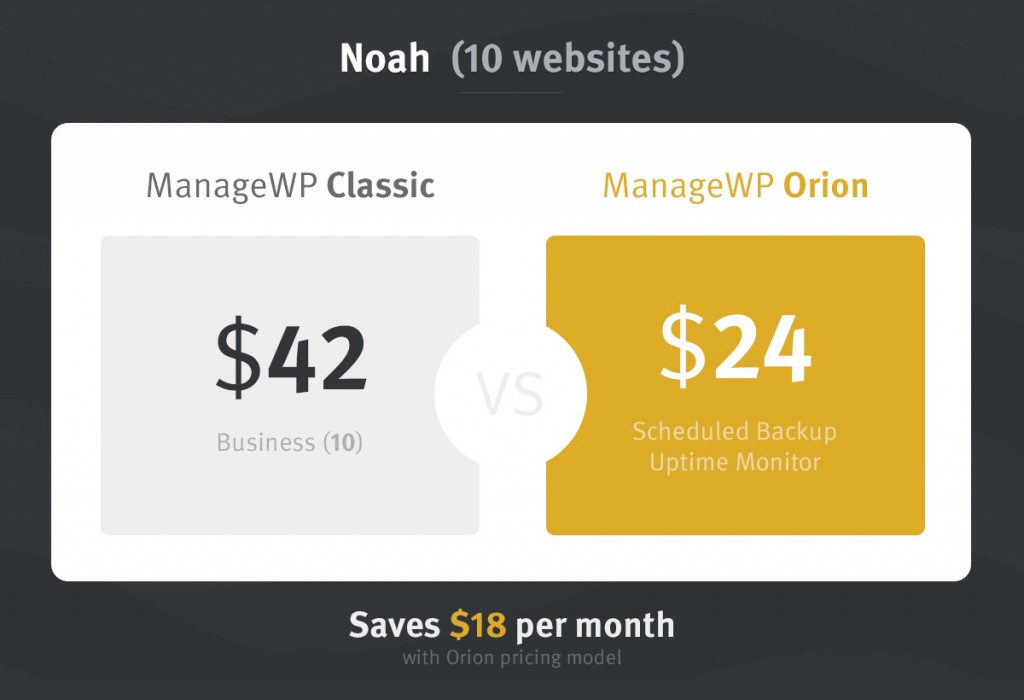 Meet Sophia
Sophia has always been the smart one at school, and today she builds websites for a living. She also has a lot of friends that she helps out, and keeps an eye on a couple of their websites pro bono. For the 3 websites she built she needs backups and the clone tool, and for the other 4 pro bono she is happy with basic maintenance. Her choice is the Professional (7) that costs her $16.50.
Switching to Orion
The great thing about building websites is that Sophia can go shopping in the morning when it's not busy, and now she can spend the extra $10.50 that she saves with Orion on a new tank top. In Orion she customized her plan to suit her needs, so for the 3 websites she built she picked the premium Scheduled Backup feature that costs her $2/websites, 6$ for all three. The other 4 websites she maintains, she doesn't need any premium features for so she can make the most out of the free features in Orion.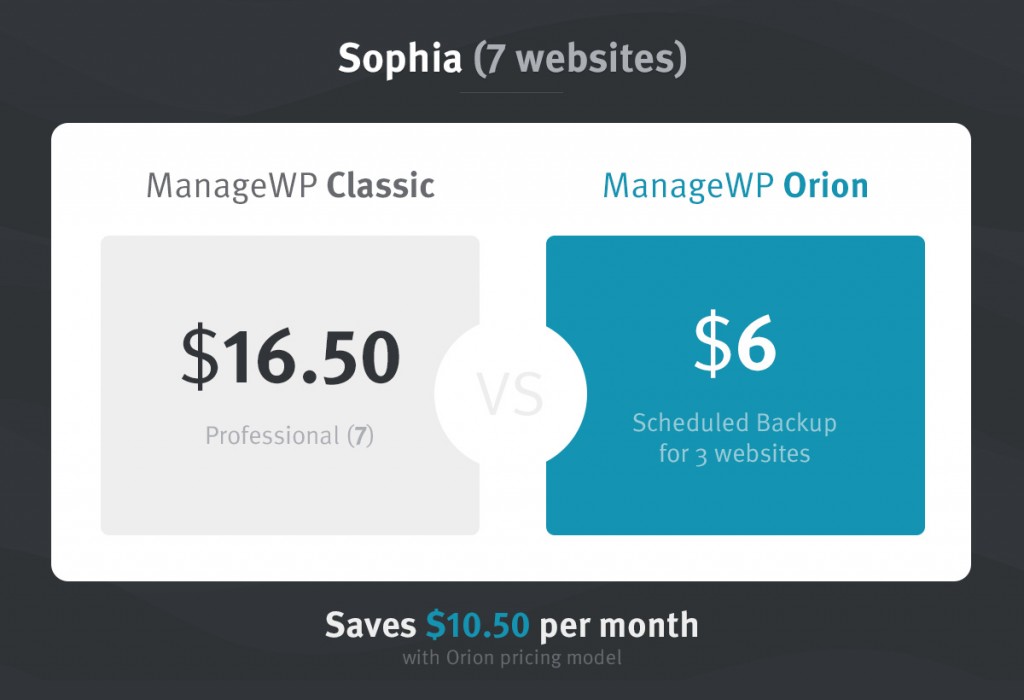 Meet Liam
Liam takes website management to a new level, he runs a white label WordPress maintenance business, with 90 websites in his care. He needs to have Scheduled Backups, Uptime Monitor, Client Reports, and the White Label feature. With this many features he decided to pay for the Business (100) that costs him a whooping $240/month.
Switching to Orion
Liam can't afford to drop the quality of his service, so needs to make sure that he includes all of the same features in his Orion package. And he needs to get it sorted quick, as he is off on holiday with his wife and kids, and doesn't want to worry about his business while away. So, he chooses the Backup bundle ($75 for up to 100 websites), Uptime Monitor bundle ($25 for up to 100 websites), Advanced Client Report bundle ($25 for up to 100 websites), and White Label bundle ($25 for up to 100 websites). This takes him to $150/month, saving him $90 each month, $1080/year enough to take his family for another getaway weekend.
Thank god for the bundle system, this way he can add another 10 websites to his business and not worry about the price changing.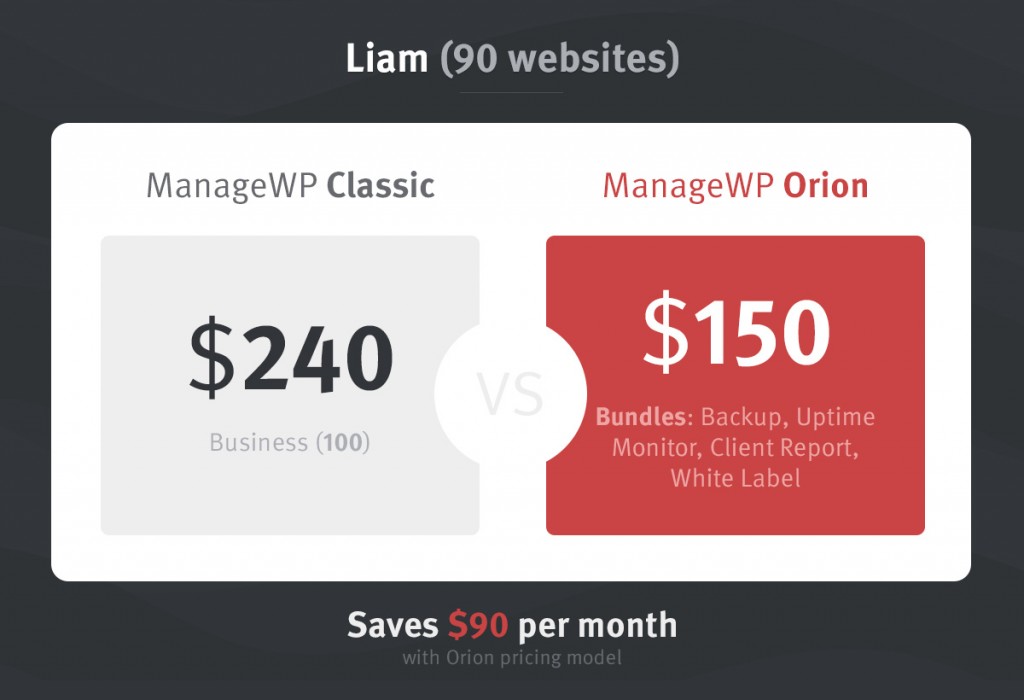 Meet Olivia and Peter
Olivia is the CEO of WebsiteOlive, a multi tiered web services company. She started her business with her boyfriend, Peter, and they have 120 websites on the basic tier that covers Scheduled Backups and regular updates. The middle tier has 70 websites, which covers the same services as the basic, plus Uptime Monitor. Peter also insisted they have a top tier that for now has only 10 websites, but this covers all of the middle and bottom tier services, as well as SEO Ranking services. They decided it was best to opt for two plans, Professional (150) and Business (100), which costs them $372/month.
Switching to Orion
At first Olivia and Peter were slightly overwhelmed with the switch and the thought of having to work out the pricing again. However, the bundles in Orion made things a lot easier. They decided to get the Backup bundle ($75 for up to 100 websites, a total of $150 for two bundles) and the Uptime Monitor bundle ($25 for up to 100 websites). For Peter's top tier clients they paid for SEO Ranking per site, which cost them ($1/website) $10 for all sites. By switching to Orion they are now paying $185/month and saving $187/month which is more than 50%!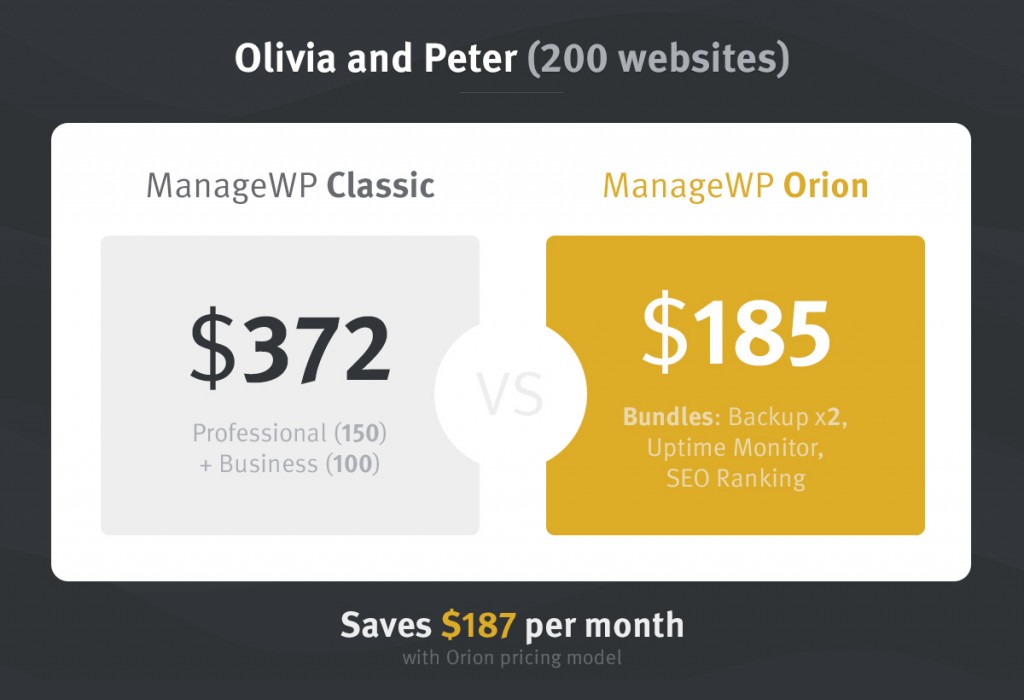 Meet Kevin and Sasha
Kevin has been using ManageWP for over 5 years, and has added all of his websites to the dashboard. He has a marketing agency and his sister, Sasha, has a website maintenance business that has taken off in the past few years. They use one ManageWP account for both of their businesses, and they have 500 websites on the Business (500) that costs them $420/month. Sasha, needs to make sure she has all of the premium features for her business, whereas Kevin uses some of them on occasion, for instance the SEO Ranking tool is not his priority.
Switching to Orion
Kevin and Sasha came to realise that by switching to Orion, the same features would cost them $750 (All-in-one package X5), costing them an additional $330/month. By getting the All-in-one package they saved $48.50 on the package discounts. They discussed not choosing certain features for all of the websites, for example Kevin could not include SEO Ranking for certain clients. However, they decided that they needed all of them to maintain the quality of their business.
Their solution to compensate for the additional cost, is to start offering their clients the higher quality Orion features for a higher price. For example, the incremental Scheduled Backup. Having a more powerful dashboard, that offers features like Advanced Client Reports that integrate all of the features in one report, means they can increase the value of their business. Advanced Client Reports have everything nicely packaged for their clients, including Uptime Monitor, SEO, Backups, Updates, Analytics, Security and Performance. This not only evened out their costs, but brought in new high-end clients.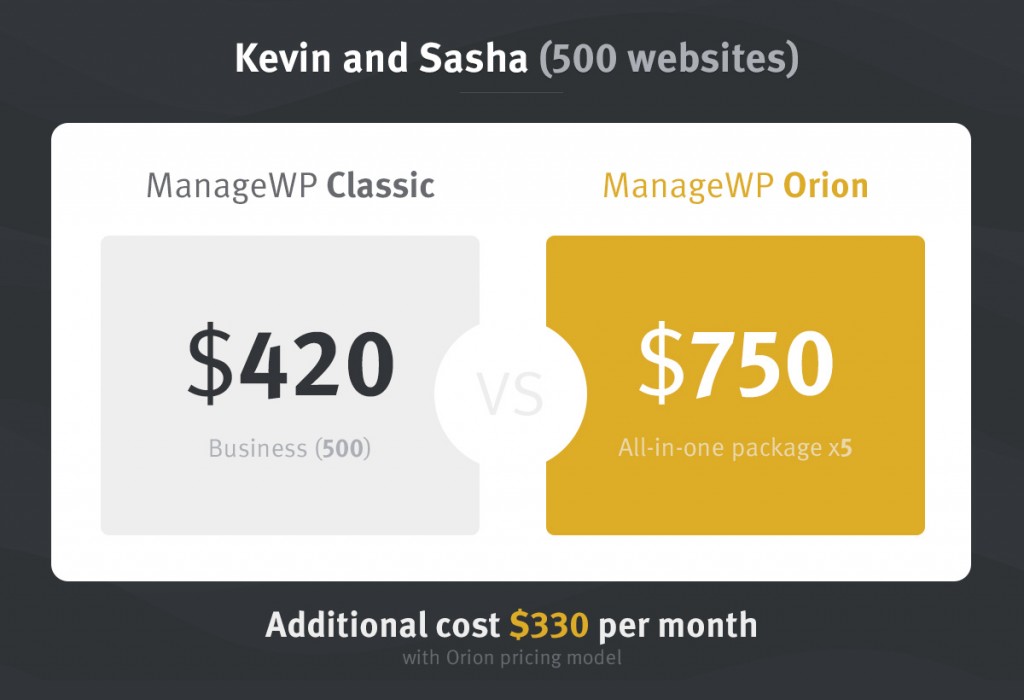 Meet Nicola
Nicola after working as an English teacher for 20 years quit her job, and decided to open up a Content Marketing Agency. Her business grew fast, and soon she found herself with 10 websites on the Professional (10) paying $21/month. She switched to the Professional, because she needed to use Client Reports, as she started monitoring her clients websites, as well as doing copywriting and blogging for them. She offers a great backup solution, always keeps them up to date with their website and writes content. As the business grew she hired young students to help her write high quality content, and that part of her business takes up most of her time. What makes her business specific is that she can charge much more for the additional website maintenance services.
Switching to Orion
When the Orion switch came, her costs went up to $30. Her monthly costs went up by $9. She decided that it was essential to keep the same service for her clients, so she opted for Scheduled Backups ($2 for 10 websites $20),  and the Advanced Client Report, at the price of $10 ($1 per website). Because of the nature of her business, where she brings added value to her clients with ManageWP, she was able to increase the price of her services. Also, switching to Orion, as adding websites to Orion is free for an unlimited number, she was able to add an extra 20 websites that she maintains pro bono for her family and friends.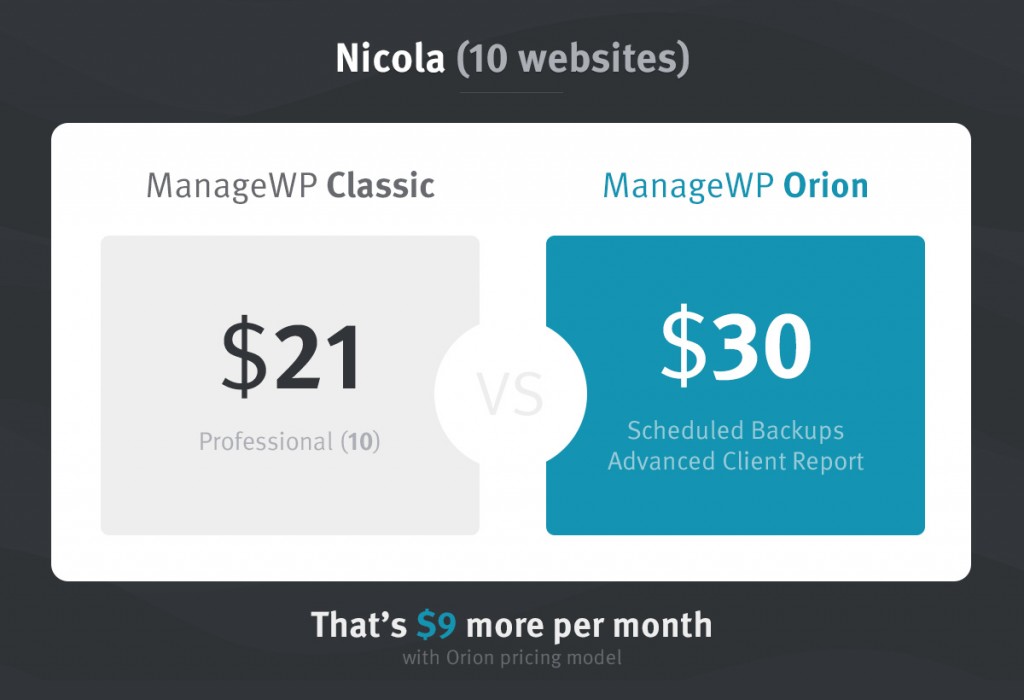 Conclusion
Now after meeting all my friends hopefully you are able to find yourself in a similar situation as one of them. Try to identify which one of my friends uses ManageWP in the same way as you, and that way you can have a good idea of how to switch to our new pricing, as well as the costs you can expect.
Just to recap how our pricing and bundles work. The main thing to remember is that you will pay only if you enabled premium add-ons on a site, that way you avoid paying for features that you are not going to use. The bundles have been introduced, to make things cheaper for those of you with lots of websites. Tons of features as well as unlimited websites now comes free!
If there is someone (a specific user type) that I haven't mentioned, or still there are unclear case scenarios, let me know and we can bring another person to the party, the more the merrier!