Web design projects never begin in a vacuum. Behind each new WordPress site you design for a client, there's an ongoing business problem that needs to be solved, a pain you can help your clients overcome.
For most clients, that business problem doesn't go away with just a new website. Designers can (and should!) continue helping clients manage their WordPress sites, improving the security, reliability, and performance of their clients' WordPress sites and businesses over time.
Lisa Stambaugh of Collective Discovery and Kristina Romero of KR Media Designs both learned this lesson in different ways.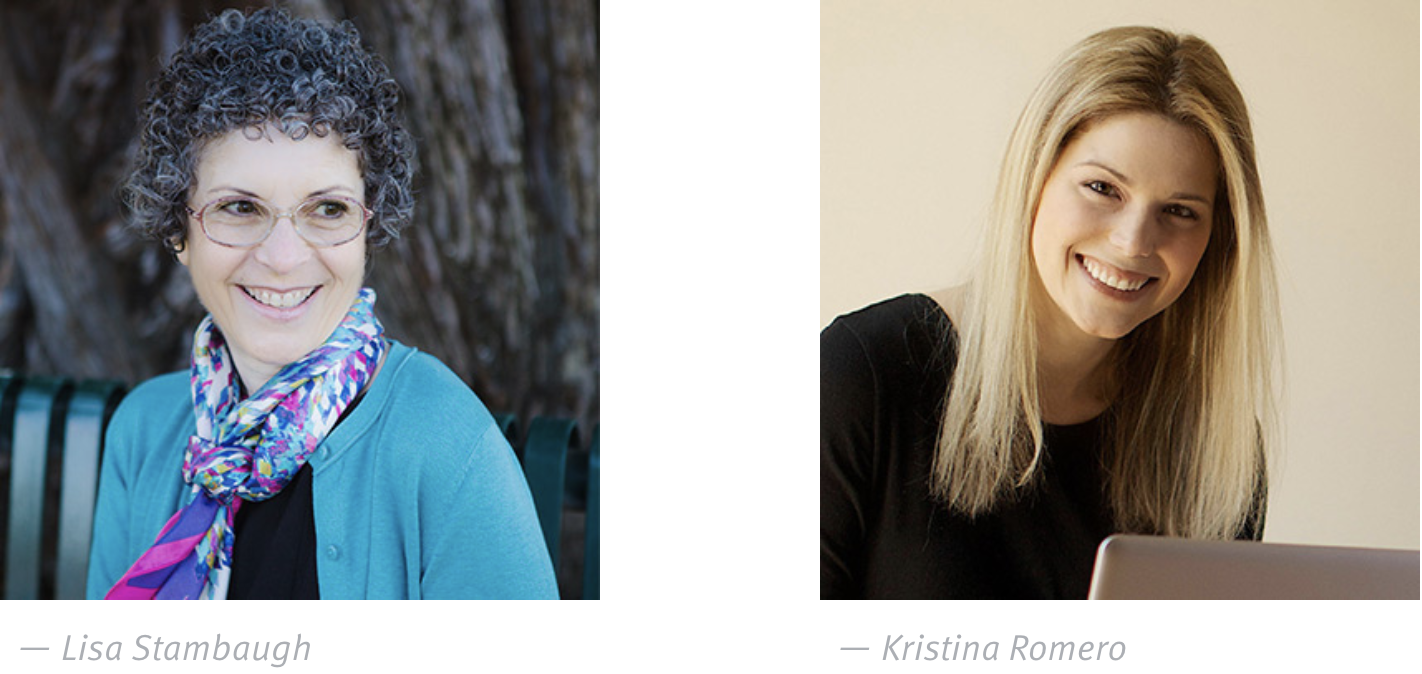 Lisa began her career in Silicon Valley, cutting her teeth in engineering and IT roles across several different companies while starting to design websites on the side for her children's school and local businesses and nonprofits. Eventually, the design business took off, and Lisa combined her business experience and technical training with her love of writing to start a new career in web design, billing herself as the Web Diva®.
Since launching her business in 1998, she has designed and built nearly 700 websites, roughly half of which were built on WordPress.
Kristina started building WordPress sites for clients in 2009, working from home to spend more time with her family. While she originally started working on WordPress sites with the goal of doing one-time projects, she quickly discovered this wasn't what her clients truly needed.
"I found clients wanted me to stay involved in the growth of their website and were willing to invest to make that happen." – Kristina Romero
While Kristina and Lisa started their web design businesses in different ways, they both have very similar advice for other designers managing multiple WordPress sites for their clients.
Tailor your design business to your clients' needs
Both Lisa and Kristina manage a large number of WordPress sites for clients—Lisa currently manages 136 sites, while Kristina manages 50 sites across 32 clients. While their clients range across many different verticals, Lisa found the most significant improvements in her own business came when she started focusing her design services purely around WordPress.
"There was a time when I would offer clients the choice of WordPress, versus the more traditional platform," Lisa explains, "but after a year of doing that, I decided to focus my efforts on being great at one thing – and that one thing was WordPress."
As she began taking on more clients, Lisa also discovered the importance of finding clients who were a good fit for her design approach, and turning away clients who weren't a great fit:
I think most people look for a web designer and just hope they will find someone to do the job—but they do not necessarily find the right someone … Engaging with the right clients for me — and only the right clients —has made my work so much more enjoyable and productive. – Lisa Stambaugh
Tailoring your design business to best match the needs of your client base also means finding the right balance of hands-on support and self-service training for each client. Kristina finds that a balance of self-service documentation and hands-on support works well for her clients:
"We begin by installing the Video User Manuals plugin, which gives clients an array of different WordPress tutorial videos they can watch on their own time, and this takes care of a lot of the heavy lifting for us. We also go on to make a couple of videos specific to each clients' website that may be outside of generic WordPress tutorials." – Kristina Romero
But while some clients like to manage their own content, both Kristina and Lisa find that the majority of their clients don't necessarily want training—they just want someone to maintain their site for them. "Some do want to learn just enough to write their own blog posts," Lisa adds, "and I have some basic training I'll do with them … But often times we find that our clients want us to do most of the updating for them, so our ongoing website care really supplies that need and they just know enough WordPress for small content changes."
Keep client chaos under control
When you're managing only a handful of clients in your design business, it's easy to keep track of logos, themes, and other assets—but as the number of clients grows, designers need to make sure they have systems in place to keep the chaos under control.
Lisa uses TeuxDeux and Appointlet to manage client calls and work items, and she makes sure every file provided by her clients gets named and organized properly:
"In terms of client files, I have a filing structure that uses consistent directory names for particular items within each client's folder. And on top of that, I have a file naming standard that includes client name and revision date. It means that I often wind up re-naming files that clients send to me, but it's worth it in the long run because I know what every file is, based on the name." – Lisa Stambaugh
In addition to organizing internal files, client communication and management becomes much more difficult as you expand. After trying out many different solutions, Kristina eventually settled on a set of unified tools for client management:
"For ongoing management of clients websites, we use a beautiful mix of Teamwork, Teamwork Desk, Airtable and Slack. I also teach website pros how to optimize their client support with this stack in my web pro training at WP Care Market."
Of course, both designers keep all their clients' sites under control using GoDaddy Pro Sites. "GoDaddy Pro Sites provides the big-picture view of all sites on a consolidated dashboard," Lisa explains "including when backups ran, which plugins need updating and more. It also facilitates logging directly into sites to manage content updates, without the need to look up each site's login credentials."
One of the main features of GoDaddy Pro Sites both Kristina and Lisa utilize the most is the client reporting feature. "It's easy for me to generate monthly status reports for clients," Lisa told us, and Kristina agreed:
"The tracking of updates with client reports is my favorite feature because it allows me to have our team update the website and send reports our clients, keeping a record of what was complete. The polished nature of the reports was exactly what I was looking for when providing the service for my clients."
Partner up to expand your design offerings
As much as we'd like to believe we can, no-one can be an expert at everything relating to WordPress, nor can we find enough time in the day to get everything done—especially when managing hundreds of client sites. As a WordPress designer, it's important to remember that your job isn't to do everything yourself—it's to make your clients successful. And sometimes, that requires a team.
As a solo business owner, Lisa relies heavily on a network of "power partners," folks specializing in photography, marketing, social media, and other associated skills.
If my job is to make my clients successful, sometimes I have to bring in the folks who can help me make that happen. – Lisa Stambaugh
Kristina takes a different approach with her agency, preferring to stay small and freeing up her own time to find more ways to make her clients successful.
"We have one person who is aware of all of our sites and client relationships and one person dedicated to the work. We find that the two-person team really helps with quality assurance and making sure that things are done well and on-time. We are able to keep a two-person support team because we have a limit of 50 websites. If we grow from that, we will have to add on to our team … Having a great support team allows me to really focus as the owner of the company, making the clients happy, growing the business and project management for our full website projects."
Provide ongoing value to your clients
Your clients' needs don't stop once the site is delivered—clients want and need someone who can help them maintain the security, performance and reliability of their WordPress site. Likewise, designers want to spend less time selling one-off projects and generate more consistent revenue streams.
Lisa combines her support and maintenance services into a productized "Care Plan" she sells her design clients:
"My Care Plan includes daily offsite backups, daily security scanning, uptime monitoring, content updates, regular updates to the WordPress core along with themes and plugins, and technical guidance if they need help or advice about anything related to their website. And of course, if there is a problem, I fix it, contact tech support, or bring in the resources needed to do so."
Lisa includes one month of this package for free after each new site is launched, giving clients a taste of the benefits and making it more likely for them to sign up for the service. And this opt-out approach works: every single client is on a Care Plan.
While Kristina originally started designing WordPress sites with the intention of walking away once a site was delivered, she quickly learned that wasn't what clients were looking for:
"I learned that there was a real need to continue the relationship with the client as the WordPress platform and needs for an online presence were constantly changing. Because of that, I starting offering ongoing website care in 2013 and reached back out to my former list of clients from the past 4 years."
Kristina's agency offers a similar ongoing support package to Lisa, along with additional options for monthly development projects and business and marketing consulting:
"We do offer website updates, monitoring and monthly support time for changes and updates to the website. We also act as a consultant to our clients, making sure that they are getting the results that they need from their investment in their website … On top of that, we offer our support desk with built-in month-to-month development time, a client dashboard for tracking website stats and requests, and monthly consulting and training calls for certain level plans."
Both Kristina and Lisa manage all their clients' maintenance and support plans through GoDaddy Pro Sites. "Everything offered on GoDaddy's Pro Sites is part of our plans that we offer," Kristina explains. Pro Sites makes it easy to set up Care Plans for your own clients, with the ability to manage clients' WordPress sites while letting them take care of hosting fees and domain registration.
Make your clients' success your top priority
The biggest takeaway from Kristina and Lisa? Make sure you're always putting the needs of your clients first, whether you're revamping their online presence or just managing their existing WordPress sites. "I started out in 2009 thinking design was the most important element," Kristina explains. "But now, for me, it's the least, and results are the most important."
Results are only possible when you are continuing to manage a website for your clients, and both of you value an ongoing relationship. – Kristina Romero
Editor's note: This post was originally published by Andy McIlwain on the GoDaddy Blog. Photo by Prateek Katyal from Pexels