Do you need a theme for your new WordPress blog? Do you think that your site's current design isn't working for your visitors? There's an app for that. Well, a startup website anyway.
WordPress offers an amazing breadth of awesome themes – many of which we highlight here on ManageWP. But sometimes the choice can be overwhelming. Other times, you'll find a lot of cool themes, but none that quite match your needs.
Enter Themeshaker. It's a website that aims to make WordPress theme search easier for everyone. In this post I'll take a look at various aspects of the site and let you know what I think about it.
Themeshaker's Functionality
I was initially struck by how great the site looks. It has a clean, sleek appearance that epitomizes good web design. Luckily, that great look isn't all there is – it's primary focus is to serve as a framework for the core functionality of the site: WordPress theme search.
When you land on Themeshaker, you'll be greeted with an assortment of thumbnails representing various themes. Hovering over each thumbnail will give you a larger image preview of the theme alongside basic information (like the theme's name). These thumbnails are the key part of the program – Themeshaker lists themes on the homepage according to the search criteria you specify.
What criteria? Well, that's the part where Themeshaker takes a turn from looking cool to offering superb functionality.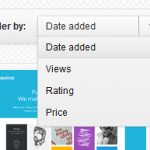 On the left-hand side of the screen you can choose how Themeshaker should order the themes that appear. By default it is set to "date added," but you can instead choose to rank the themes by how many views they have received, their ratings by other users, or price.
Just to the right of that is a button that lets you change how the results appear. So if you choose price, you're able to pick whether the most expensive themes appear fist – or last. It's intuitive and easy to use.
In the center of the top bar, Themeshaker will let you know how many themes have been loaded, and how many total themes there are that fit your search criteria. This highlights another key advantage of the application – search results are dynamically generated in real time to give you the smoothest search experience possible.
The last item on the top bar is a slider that allows you to easily change the size of the thumbnail images that come up. It's basic, simple and much appreciated. Like many of the site's options, it allows for easy customization of the user experience.

I was impressed by Themeshaker's ease of use. That said, we haven't even dug into the meat and potatoes of the search functionality. Whether or not the search options hold up to the high standards set by Themeshaker's customizable search experience largely determines the strength of the app.
Shaking It Up (In More Ways Than One)
A simple blue button near the top of the page encourages users to "shake it." Themeshaker promises "WordPress theme search at its best," and in order to deliver, they really do need to shake it up. Fortunately, that's exactly what I found.

In order to generate dynamic, unique search results for each inquiry, Themeshaker allows you to input your preferences on five different aspects of the theme: its category, style, layout, features, and price.
Categories
You'll often see blog posts promising to list the top WordPress themes for a specific topic or niche. Themeshaker does something similar here, allowing users to choose from 23 different categories.
It has everything from "E-Commerce" to "Food & Restaurants" to "Web Hosting" to "Weddings." The variety covers most major areas that you or your customers might choose to focus a blog on. I'm pretty happy with the selection they provide.
Styles
Even within a niche, different blogs and websites will have different styles.
Appealing to your intended audience requires that you connect with them – which is why Themeshaker recognizes the difference between category and style. Two blogs about home cooking may have wildly different approaches if one blogger wants a sleek, ultra-modern vibe and the other prefers a more down-to-earth design.
Themeshaker has categorized the themes into a plethora of styles, from "feminine" and "flat" to "minimalist" and "professional." There are thirteen different options, which despite not sounding like much, actually covers most of the major looks you'll want websites to have.
Why don't they go into more detail with their style choices? Because specific fine-tuning is included in some of their other options.
Layout
To make sure that the theme result you get is exactly what you are looking for, Themeshaker allows you to choose a specific site layout for your search criteria.
No sidebar, left sidebar, right sidebar, both sidebars – it's all there. If you want a theme that's a little more flexible, you can choose that, too.
Features
While WordPress boasts a wide array of plugins, a lot of functionality comes through the theme itself. Themeshaker recognizes this and enables you to select which extra features you want in your theme.
A lot of the features are very relevant and in-demand, like a featured content slider and responsive design. There is a decent amount of choice for extra features – no complaints here.
Price
There are two options under this tab – free or paid. You can pick one and see only themes that fall into that category.
It really is that simple.
Themeshaker vs. WordPress.org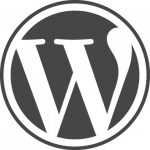 As of this post, there are 627 themes on Themeshaker – compared to almost 2,000 available for download on WordPress.org.
These numbers help put the app into perspective. WordPress.org has almost three times as many themes – and when looking for the perfect one, quantity is important.
But quality matters, too. WordPress.org contains a lot of out of date themes, whereas Themeshaker's selection is chosen manually. While WordPress.org does allow you to look at themes based on certain categories, it doesn't have the functionality that Themeshaker offers. All themes are hand picked by Themeshaker founder Paulius Rasytinis. Here's what he had to say:
"I choose themes based on design, functionality and relevancy (specific niche themes are more likely to be included than general business themes)."
Even though WordPress.org has almost three times as many themes, it can be an inefficient way to search for them. Blog posts that review themes are still an integral part of the conversation about WordPress site appearance – Themeshaker doesn't include more in-depth reviews of the features of a theme. Still, it empowers users to search for themes in an innovative way, thus filling a gaping hole in functionality.
Security
Theme security is always a hot topic. I asked Paulius if there was any sort of vetting process for the themes that the site hosts. This is his reply:
"There's no chance we could test all of the themes for security issues before listing them on Themeshaker, but customer reviews and comments for each product is the best indicator."
There isn't yet a big emphasis on security – and that's one deficiency I found in the website. There's a reason that people think theme security is important — it is important. At the same time, all themes are hand-selected by Paulius, so it's unlikely that themes with critical flaws are getting through.
What's the Verdict?
It should be obvious at this point that my review of Themeshaker is largely positive. It offer an alternative to searching endlessly and fruitlessly for that one perfect theme. It does what any good business should do: it addresses a problem by finding a real solution.
WordPress.org remains a great repository of themes to look through, especially if you have the time. Even more importantly, theme lists are still a great source of vetted, high-quality themes.
Still, Themeshaker provides wonderful functionality to help you find the perfect theme. Instead of searching for themes based on one factor alone, you can find a great design for your website at the intersection of your various criteria.
Have you tried Themeshaker? What do you think? Let us know in the comments below!