Sidebar widgets are an important part of most WordPress blogs. After all, the vast majority of all blogs have sidebars and contain at least one widget.
The widgets you choose to use are – of course – a matter of opinion and preference, but today I want to share what I feel are the best for your needs.
Before we get onto the 30 top rated WordPress sidebar widgets, let's make sure these offerings are worthy of your time by going over some key criteria.
The Criteria
I'm sure you're wondering how I came up with this list. You may even be asking yourself, "what happened to [insert plugin name here]?", or "where's [insert plugin name here] and why wasn't it mentioned?"
First, let me just say that this is a far from all-inclusive list of the top rated WordPress widgets. However, to the best of my knowledge and from hours of searching on SearchWPPlugins, these are the top 30 that fit the criteria below.
Every plugin on this list meets all of these requirements:
Must be listed in the WordPress Plugin Directory.
Cannot be an old or broken plugin.
Must have at least 10 ratings or more.
Must have a rating of 4.5 stars or higher.
The "last updated" date must be at least 09/01/2012 or later (6 months ago).
The plugin is either a sidebar widget, another type of plugin that includes a sidebar widget, or a plugin that adds extra functionality to sidebar widgets.
Top Rated WordPress Sidebar Widgets
[table id=4 /]
A Few of My Favorites
I don't use a lot of widgets because I like to keep my blog sidebar clean, but I still want to share a few of my personal favorites with you; you may want to check some of these out as well.
Ad Squares lets you display 125×125 ads in your sidebar. It supports AdSense, XHTML, PHP, iFrames, JavaScript and more. All you have to do is paste in the code for each ad block that you want to display.
You can have up to 8 squares showing at once. You can also customize the padding and choose to randomly shuffle the add positions. You can even insert a special tag to enable ad rotation; meaning, each square can contain multiple ads and Ad Squares will rotate them each time a page is loaded.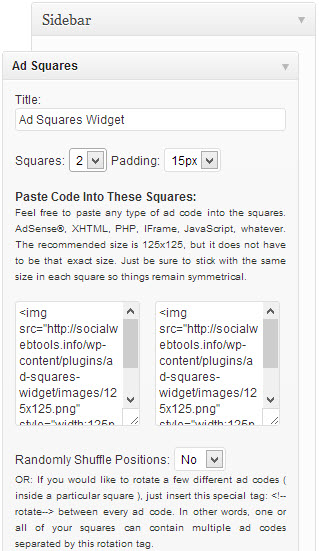 Even though this plugin has been discontinued and hasn't been updated since 2011, I have never had any issues with it. I know not everyone likes to use outdated plugins, but I really love Ad Square's functionality and how easy it is to use. I'm using the most recent version of WordPress on my blog and this plugin causes no issues at all.
Mentioned on the list above, this plugin works great for displaying links to your social media profiles, allowing visitors to easily connect with you. I chose to use this plugin because it provides 24 different button themes to choose from. It also has a unique floating feature.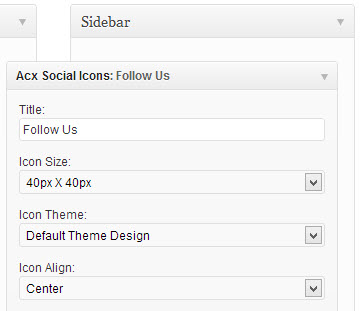 Floating Social Media Icon supports Twitter, Facebook, Google+, Pinterest, YouTube, LinkedIn, and RSS. You can choose the size that you'd like for your icons, and you can also customize their order.
If you don't want to display your icons in the sidebar, you can have them float at the bottom of the page, and follow your visitors as they scroll up and down the page.
This list just isn't complete without WP MashSocial Widget; it's the most impressive widget I've found for connecting with visitors.
There's a Facebook "like" button for your fan page, a Google+ recommend button for your business page, a Twitter "follow" button, and more; plus, there's an email subscription form built right into it.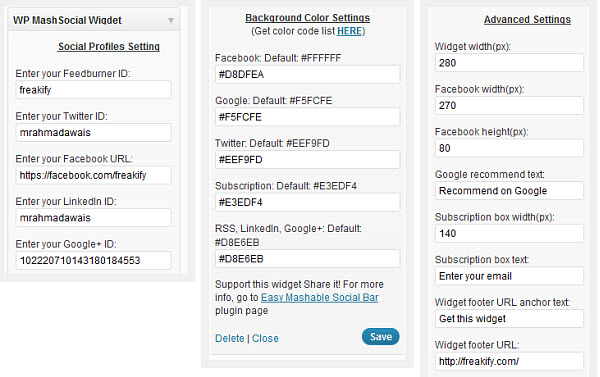 I stopped using WP MashSocial Widget months ago because it was slowing down my blog's page load times. However, the developer has recently added asynchronous loading, so now it will no longer slow down your blog. Because of that, I definitely plan to give it another try. You can also setup automatic social sharing.
4. Honorable Mentions
Widget Context (included in the above list) lets you set individual widget visibility settings. Maybe you only want your blogroll to show on the front page and blog index, and be hidden on posts and pages – with Widget Context you can make that happen. Sometimes you don't want a widget to be displayed all over your blog. This plugin really gives you total control over that.
Special Recent Posts (included in the above list) is one of the most stylish widgets I've found for displaying recent posts. Each excerpt can include a thumbnail and you can customize the width and height. There's a lot of customization, filtering, and layout options for this one, making it really unique among the rest in its league.
PayPal Donations is a great plugin for accepting donations on your blog. Honestly, I only added this plugin to my own blog because my husband and I use it frequently, to transfer money from our prepaid debit cards to my PayPal account. It's an easy way to get all of our funds together in one account. Regardless, I do love this plugin and recommend it for accepting donations.
It's Your Turn
I'd sure love to hear what your favorite sidebar widgets are and what you think of this list. Are there any plugins listed that personally use? Any that you recommend? Any you're surprised to see, or any you think should not be on the list?
Sound off!