As your business grows, it's imperative that you make communication as easy as possible. Facilitating communication helps every member of your team stay on track with different projects and tasks on a daily basis.
In such situations, using email or apps like Skype and Google Hangouts is no longer effective, especially if you need to share files or rely on other apps such as your project management tool, CRM software or your billing software.
The good news is that there is a tool that offers a lot more functionality and makes communication a breeze. We're talking about Slack, of course, and in this post, we'll share 9 useful tools that have awesome Slack integration to facilitate your daily workflow.
9 Useful Tools That Integrate With Slack
Adding third-party integrations to Slack is easy. All you have to do is click the arrow next to your name and scroll down to the Manage Apps section. On the page that loads, simply click browse to see all the available integrations. You can then select individual apps and follow the instructions to enable the integration.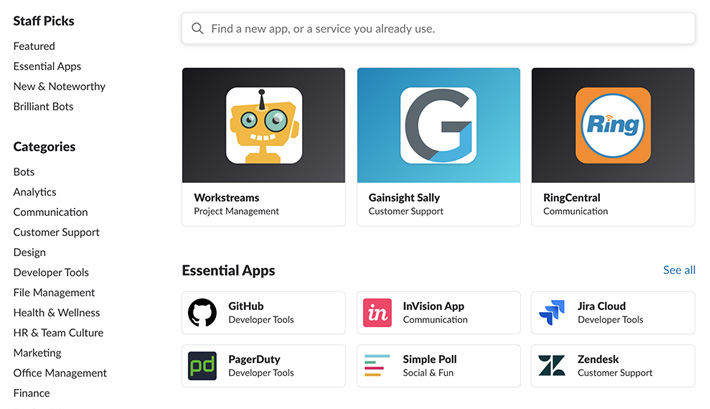 Asana

Asana is a robust project management tool and the integration with Slack allows you and your team to stay to up-to-date on projects and tasks. Once connected, the integration will post updates to a specific channel when a task is created, completed, or gets a new comment.
You can also use the slash command /asana to list all your tasks, create new ones, assign task to others, and more. One thing to keep in mind is that each team member in your Asana organization or workspace will have to authenticate their Asana account with Slack for the /slash command to work.
Stripe

If you process payments through Stripe, you can use this integration to instantly get notified on:
Charges
Invoice payments
Subscriptions
Transfers
And more
Thanks to this, you can easily follow up with your customers and wow them with your customer service.
Google Drive and Dropbox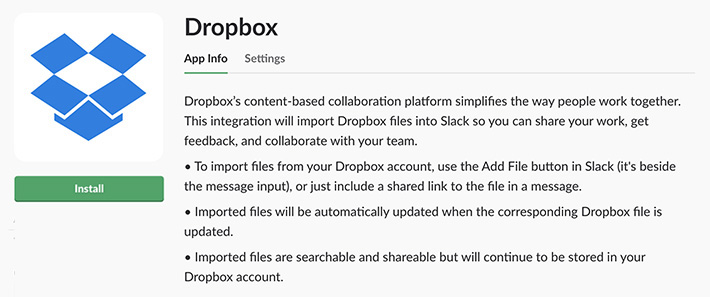 Google Drive and Dropbox both make collaborating on files easier and you can integrate both of them with Slack.
The Dropbox integration allows you to import Dropbox files into Slack and once the file is updated on Dropbox, your team members will be able to instantly use the updated version. All the files are also searchable and shareable which makes collaboration so much easier.
In a similar fashion, Google Drive integration lets you import any type of file from Google Drive, and get notified of new comments, files, and access requests, without leaving Slack.
Zendesk

Integrating Zendesk with Slack allows you to see when a new help ticket is created and you can respond to customer support requests much faster. It also allows your team members to get updates when a ticket has been marked as pending, solved, and closed, so they know which tickets need to be worked on next.
GitHub

If you work in a developer team, then the GitHub integration will make your daily workflow easier. With GitHub integration, you can collaborate as well as review and keep track of code changes in both open-source and private projects.
Simply select or create a new Slack channel to get updates on new commits, pull requests, and issues related to your project.
Blossom

Another project management tool, Blossom is used by software development teams to help them visualize the progress of any project's features.
This Slack integration will notify a dedicated channel about project status and updates so everyone can stay on track without having to jump from app to app.
Harvest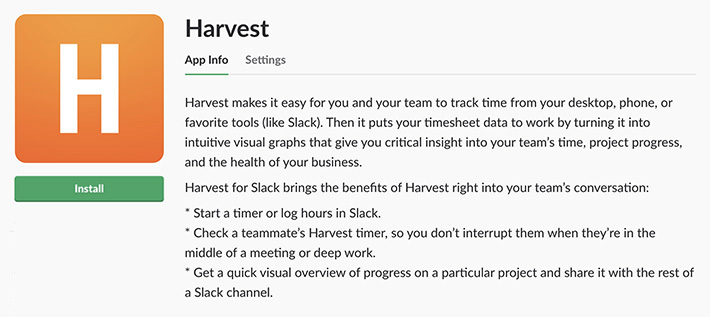 For teams who charge by the hourly rate, Harvest integration is a must-have. You and your team members can start the log directly from Slack and allow anyone to check on another teammate's Harvest timer, to avoid interrupting them in the middle of a meeting or working on a task.
You can also get a visual overview of specified projects and easily share it with the rest of the channel.
InVision App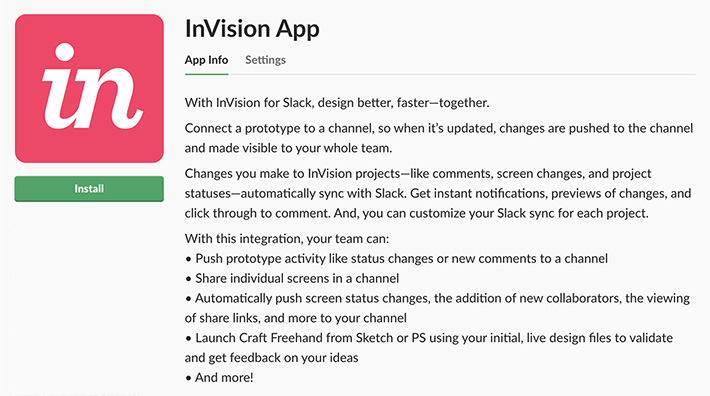 Getting feedback on a design can quickly turn into a cumbersome exchange of emails and long email chains. But if you use the InVision App and integrate it with Slack, the hassle can be avoided.
All you have to do is connect a prototype to a channel and your entire team will be able to see when the prototype has been updated. Any change you make such as adding a comment and changing the screen are automatically synced and team members can easily click through to leave their feedback.
How to Connect Slack With ManageWP
The integrations above are just the tip of the iceberg, however, if you use ManageWP, you'll be happy to hear that we launched our own Slack integration. To activate it, visit your ManageWP dashboard, click the Settings under your account name, and click on the 3-party Service tab.
Once there, click on the Slack icon and follow the prompts to connect your Slack account.
What Can You Do With Slack Integration on ManageWP
You already know that managing multiple WordPress websites individually can be annoying. ManageWP makes this task easier, and Slack integration makes it even better.
The main actions allow you to list all of your websites in ManageWP dashboard, one-click login to a website's wp-admin dashboard, and the ability to add new sites directly from Slack.
Add website
To add a new website to your ManageWP account, use the slash command /mwp add site.com [username] [password]
You can use it without the password and username if you've already installed the ManageWP Worker plugin.
List websites
If you need a quick reminder on all the sites in your account, simply type
/mwp list [substr]. The [substr] parameter is optional and you can use it to filter websites by URL.
The list command will also output a login link directly to the website's wp-admin dashboard.
Make Your Team More Productive With These Slack Integrations
The integrations above are just tip of the iceberg. They are a great starting point for any team but feel free to use the browse feature to see everything that's available and integrate the tools and apps your team uses every day.