Paris nous voici! The ManageWP team is making their way over to WCEU, and you will be able to find us at the GoDaddy booth. This year there will be 24 of us there, so you will get to know the team better. You will meet people from our engineering, customer happiness, design, operations and marketing team. We also have a few surprises in store for you!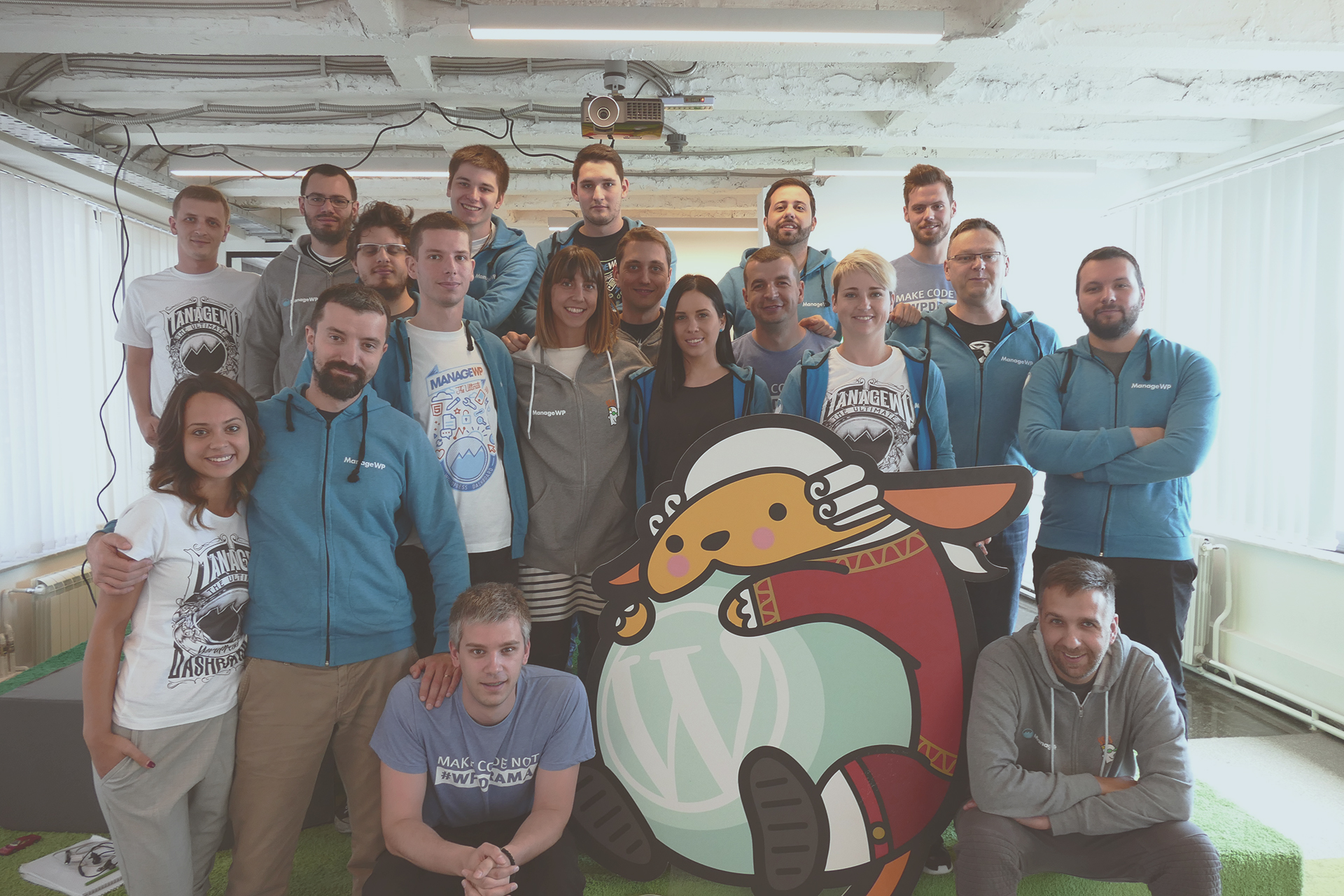 GoDaddy Pro booth
The ManageWP crew will be wearing either their ManageWP or GoDaddy Pro hoodies and T-shirts. At the GoDaddy Pro booth you will be able to find our crew from Belgrade and the US.
If you have ever put in a ticket through our ManageWP system asking for support, this will be a great opportunity for you to put a face to a name, as a lot of our customer happiness team is coming to meet our customers. If you want to discuss a feature, or understand the depths of ManageWP as a product, you are also in luck, as our very own engineers and designers will be there ready to chat to you. You like how we do marketing or you have ideas for us, that's great, come and chat to the ManageWP marketing team. Most importantly meet the operations team, the team that keeps us all together. It's our aim to get to know you, and for you to get to know us. We like to take user centric thinking to a new level, and shake your hand and ask you for feedback in person. So, make sure you come over and meet us all!
But, we also know how much you like our swag and we prepared some great gifts for you to take home. Among them waiting for you is your very own Manny.
Adopt a Manny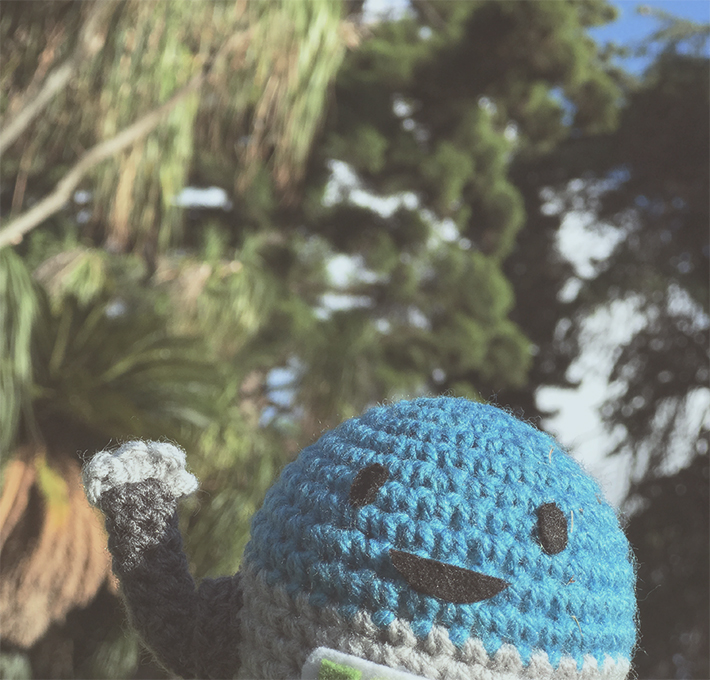 Manny is the official GoDaddy pro mascot, and you can have the opportunity to take one of his siblings home at WCEU. He loves to take selfies and accompany you on your travels, especially at events like WordCamps.
If you want to adopt a Manny, here is what you need to do:
Come to the GoDaddy booth and find Manny
Take a selfie with him
Post it on Instagram or Twitter
Mention @manny, include #WCEU and @GoDaddy
Once you have posted your selfie, keep an eye out on twitter and we will call you to come to our booth to collect one of his siblings. We know adopting is a huge responsibility, but we are sure that you will take the very best care of him. To help you first timers, we have included a little instruction sheet. Don't worry he is not a fussy eater, and he loves all things sweet!
Here is his adoption agreement and some facts about him.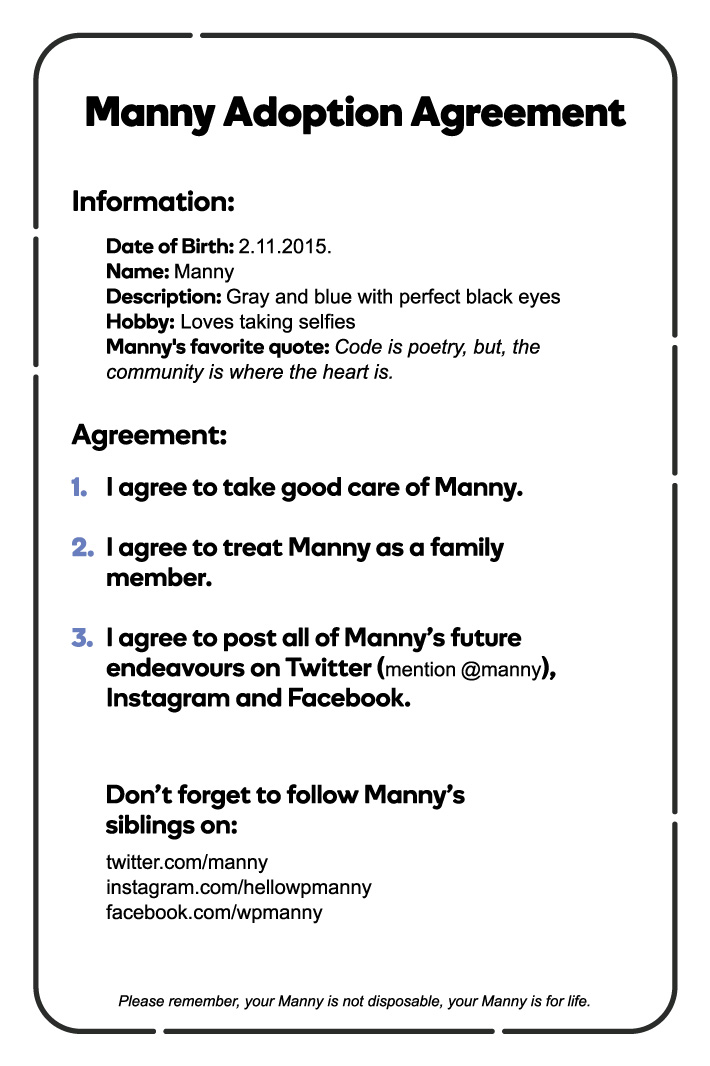 When you do come over to take a selfie with our friend, you can also pick up some GoDaddy Pro notebooks, pens, and stickers.
Customer interviews
When we went to WCUS we dipped our toes in the possibilities of interviews, and we liked what we saw. In Philly we were asking attendees what their best WordPress tip is, and here is what they said.
.
This year, we want to take our interviews to a whole new level. We are bringing equipment, a fabulous host, and some great questions.
So, what are we looking for and why you should get involved?
The interviews aim to be around 10 minutes long and they will focus on our customer's brand and business. We want to find out how you use the GoDaddy Pro tools to help you manage your clients and websites. We want to know how are we helping you with growing your business and what we can do to help you even more. We will also talk a bit about WordCamps, and ask you to share some of your best tips for your fellow WordPressers.
The interviews will be posted on GoDaddy Garage, so our readers will be able to meet you and find out more about your business, as well as learn from you. This is a great opportunity for our customers to introduce themselves to the WordPress community or focus in on their personal branding.
If you are interested in getting involved here is what you need to do:
Come to our GoDaddy Booth at WCEU and ask about the customer interviews.
We can do the interview straight away! We will find a quieter place and set you up with our equipment.
You will leave your email with us, we will edit the video and send it you.
You can expect them to be live on GoDaddy Garage as soon as they are edited.
The condition for doing the interview is being a GoDaddy Pro and using our Pro tools for you business.
See you in Paris!
We can't wait to see you all in Paris, eat lots of croissants, drink great wine and give back to the WordPress community.