There are various factors that can influence a user's first impression of your site, from how fast your pages load to how well they are able to navigate your content. Therefore, it's essential to make sure that your site delivers a smooth, speedy experience. Unfortunately, this is often easier said than done.
This is why we recommend that you conduct a website performance check. Doing so can help give you a better idea of the kind of experience your site currently offers and what steps you can take to enhance it.
In this post, we'll discuss the importance of website performance optimization. Then we'll provide a list of three key tips you can use to perform these checkups. Let's get started!
The importance of conducting website performance optimization
When you first build a website, you likely take careful measures to ensure that it has clean code and updated plugins and themes, and that it is running as it should. Unfortunately, over time things tend to get a bit neglected and run down.
The more you overlook site maintenance, the more likely it is that a small issue can eventually turn into a much larger problem. When too many minor issues start building up, it can take a toll on the speed of your site. This can negatively impact both the User Experience (UX) and Search Engine Optimization (SEO) of your website.
On the other hand, consistently checking in on the performance of your site can help keep it in excellent shape. It also makes it easier to spot errors or make necessary updates without having to take your site offline.
This is why monitoring, maintenance, and optimization are essential aspects of running a successful WordPress site. The good news is that keeping an eye on your website(s) is a relatively simple process when you know which tools to use.
How to conduct a website performance check on your WordPress site (3 key tips)
Now that we've covered the importance of checking your website's performance, it's time to look at how to do it. Below are three key tips you can use to conduct a website performance check on your WordPress site.
1. Use a performance test tool to get a benchmark of your site
There are a handful of helpful website performance test tools out there that you can use to measure your site speed. These can help give you a benchmark of your site so you can gauge its current performance level. Then you'll have something to use as a baseline for future performance checks and optimization initiatives.
Some of the most popular performance tool options include:
In addition to being mostly free, they're also quite easy to use. For example, to use Pingdom, you can simply enter your URL, then click on the Start Test button:

Once it's done analyzing your site, it will load the test results on the same screen. Here, you will find a performance letter grade as well as some important site metrics like load time:

Below this snapshot view of your results, you can find specific recommendations for ways to improve your site. We'll take a closer look at those in the next section.
Note that, regardless of which performance test tool you decide to use, many operate in a similar manner. This means that you can simply enter your URL and get an analysis of your site. While the metrics each one measures may vary slightly, they all pretty much cover the essential information such as loading times, page speed, and page size.
One notable difference among these tools is that our ManageWP Performance Check is better suited for when you have multiple websites. We'll discuss that in more detail in a moment.
2. Implement the test result recommendations
Once you use a website performance tool to test your site and have your benchmark, the next step is to look for ways that you can improve your score. Fortunately, most of the tools make that easy.
For example, the results page of Pingdom will include a section that looks something like this:

As you can see, there are specific recommendations made regarding actions you can take to improve page performance. Starting with these suggestions is a solid way to help increase your page loading times, site speed, and overall performance.
For example, in the above test, one of the suggestions is to "reduce DNS lookups". One way to do that is by leveraging a Content Delivery Network (CDN) and premium Domain Name System (DNS) provider.
3. Use our ManageWP Performance Check to regularly monitor your site
Checking and optimizing your website performance is not a one-and-done deal. It's important that you regularly stay on top of it for optimal results.
However, when you have multiple websites to manage, this can be especially tedious and time-consuming. Fortunately, whether you have one website or dozens, our ManageWP Performance Check makes it super easy to monitor your sites: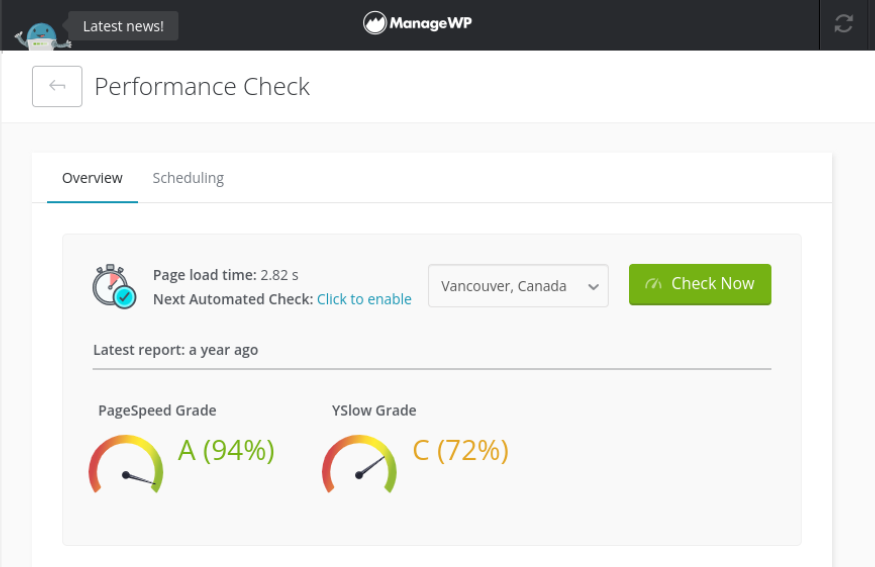 With this tool, you get all the insight you need about what's happening with your website(s) directly from a single dashboard. Besides giving you a rundown of the various metrics, it also grades your site on individual factors and offers recommendations on how to improve each one: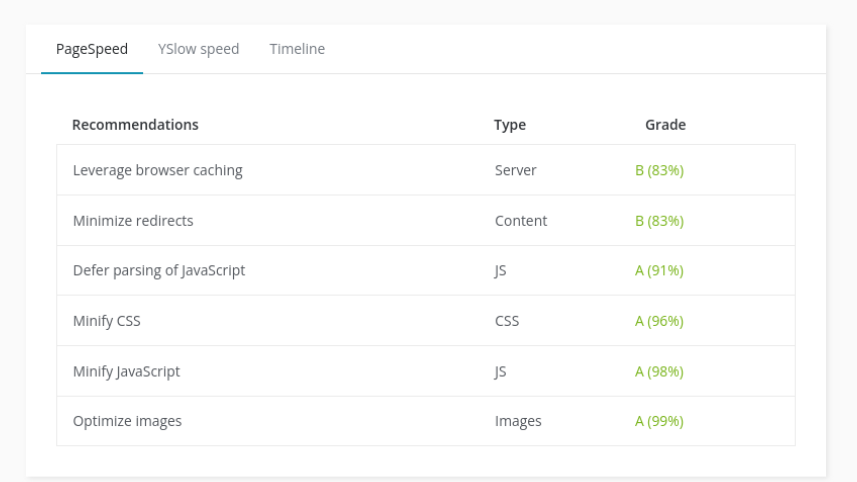 One of the best features of ManageWP Performance Check is that it lets you follow your performance over time according to a timeline. This tool is particularly helpful when you're managing client websites and wish to present reports.
Another key benefit of Performance Check is that we offer it in two versions. One is free and can be accessed by signing up for a ManageWP account today.
However, we also have a premium add-on for just $1 per site that offers extra features. For example, you can use Automated Performance Check which enables you to schedule your checks. This can help minimize the chances of you forgetting to conduct them yourself.
There is also an Events Notification feature. This will inform you when there's been a drop in your site's performance, enabling you to address it as quickly as possible.
Conclusion
Staying on top of your website's maintenance and optimization is not an easy task. It becomes even more challenging when you're managing multiple sites. However, knowing which website performance checkup tools to use can help streamline your efforts.
As we discussed in this post, there are three key tips you can use for conducting a WordPress website performance check:
Use a tool such as Pingdom to get a performance benchmark.
Implement the recommendations from performance test tools.
Use our ManageWP Performance Check feature to regularly monitor your site.
Do you have any questions about conducting a performance check on your WordPress site? Let us know in the comments section below!
Image Credit: Unsplash.