As a WordPress professional, using third-party products and services can make creating and managing your client sites easier. However, if you're not using white label tools, you're missing out on an opportunity to grow your development business and increase its value.
The tools you use may not be ones you created yourself, but there's no harm in putting your own stamp on them to help boost a client's perception of your offerings and solutions. This is exactly what white label WordPress products can assist with.
In this post, we'll discuss what white labeling is and the benefits of using it as a WordPress developer. Then we'll explain how to get started with some useful white label tools. Let's jump in!
An introduction to white label tools
If you're unfamiliar with the term, white labeling is when a company creates a product or service that can be rebranded and resold as your own. As such, you're able to give off the impression to existing and potential clients that the products you're using to manage their sites are custom solutions.
A popular example of this is the store-brand products you see in grocery stores. You might see a well-known, name-brand item on a shelf, but next to it is the store-brand version. It's usually less expensive, although it's made with the same ingredients and serves the same purpose. However, the store didn't actually create the product; they purchased it from someone else and rebranded it as their own.
White label tools let you incorporate products and services into your offerings that may not necessarily fall into one of your core competency areas. As a WordPress developer, some popular examples of what you might use white label tools for include:
Even the WordPress dashboard itself can be white-labeled with your own branding. By leveraging white label tools, you can expand your services and increase the value of your business without having to actually create new products or services from scratch.
Why you should use white label tools for your development business (3 key reasons)
Whether you have your own freelancing business or work for a development agency, there are many reasons to consider using white label tools. Let's take a look at three key ones.
1. You can expand your offerings to attract more clients
If you want to make the most of your WordPress business, it's important to offer a variety of services and solutions to your clients. However, if you're limiting yourself to the ones you're an expert at (like web design), you're putting yourself at a competitive disadvantage.
To gain an edge over competitors, it's essential to strategically market and expand your services where and when possible. The more solutions and services you provide, the more prospects you can target.
White label tools make expanding the scope of your offerings easier. You can reach a wider audience and attract new clients who might not otherwise be interested in hiring you.
For example, you may excel in development and design, but need help in other areas such as analytics and reporting. As such, you can use white label products to add these aspects to your arsenal.
2. Using white label tools saves you time and money
Building your own solution – whether it's a plugin, software, or something else – requires a lot of time and, in some cases, financial investment. Rather than creating it from scratch, you can use an existing one developed by another company, then brand it as your own.
Using white label tools for your WordPress development business doesn't just save you money; it can also help you boost your revenue. The more valuable your services are, the higher you can set your rates. Plus, white label tools can mean adding a new stream of income to your business.
Let's say you want to offer monthly reports to your clients. The advantage is that you have an opportunity to 'upsell' existing customers and charge recurring fees. On the other hand, manually collecting this information for each client would be incredibly time-consuming.
However, you can use a third-party tool to automate the process of gathering and compiling the data into reports. Then, you can use your own branding on the reports.
With white label tools, you don't have to spend unnecessary time or money building your own solutions. You can reap the benefits of existing solutions and get back to your core business to better serve your clients.
3. You can strengthen your brand and improve the user experience for your clients
You want your clients to think of you first when they need something done. The chances of this happening are a lot higher if they associate the products and services you use to manage their sites with your business rather than their original creator. This is why many developers replace the WordPress logo and other branding with their own in the dashboard.
The WordPress admin area can be confusing and off-putting to some clients, particularly those unfamiliar with the Content Management System (CMS.) White label products can help you clean up the user interface by removing or hiding certain items on the dashboard that may cause confusion.
You can also rename and rebrand elements to make them easier to understand. In addition to keeping things looking more uniform and organized, it can also make your business appear more credible.
Keeping everything under the umbrella of your brand can also help build trust with your customers. It's less confusing than seeing a bunch of different tools and products with just as many logos and brand names attached to them. Plus, there will be no second-guessing who they should call if they need assistance with the site.
How to get started with white label tools
One of the advantages of using white labeling as a developer is there are so many ways to incorporate it into WordPress sites. As we just discussed, one of the popular methods is to customize the login screen and admin dashboard to simplify it for clients.
There are some plugins that can help you do this with ease, such as White Label CMS. Another approach is to code it yourself, which the WordPress Codex offers more insight on.
However, white labeling your WordPress sites can extend beyond just customizing the dashboard. There are also plugins you can white label.
At ManageWP, our mission is to help make managing multiple client sites as simple as possible. This is why we offer a White Label feature for our ManageWP Worker plugin: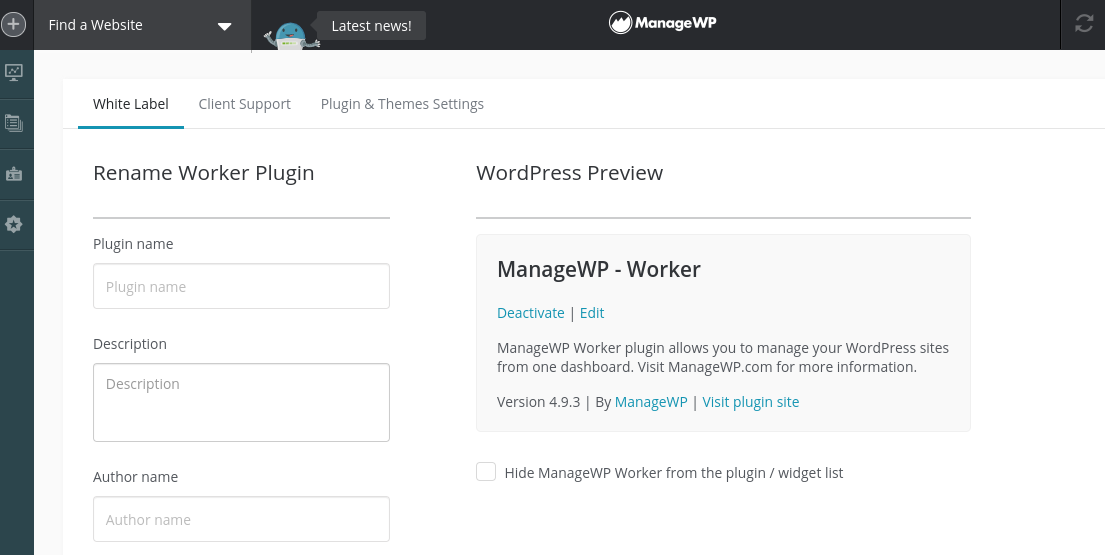 If you're unfamiliar, our ManageWP features include everything from SEO and reporting to security and maintenance tasks. It offers a simple way to manage all of your WordPress websites from a single dashboard. Moreover, you can use our Worker plugin to integrate the dashboard directly with your WordPress sites.
You don't have to keep our ManageWP branding on the plugin, though. Instead, you can use the white label feature to blanket it with your own, helping to increase your clients' confidence in your offerings.
With our White Label add-on, you can:
Rebrand and customize the Worker plugin (or hide it completely)
Disable user actions, including plugin and theme updates
Set up a support form through the admin sidebar of your websites for clients to contact you
This feature starts at just $1 per month per website. If you're not already a ManageWP user, you can sign up for a free account today to get started.
Conclusion
Figuring out how to attract new clients and appeal to a wider audience as a WordPress developer can be challenging. Fortunately, white labeling can help you to expand your services and increase your business value, without spending an inordinate amount of time or money on creating your own solutions from scratch.
In this post, we discussed three key reasons you should consider using white label products for your WordPress development business:
You can expand your offerings to attract more clients.
White label tools can save you time and money.
You can strengthen your brand and improve the user experience for your clients.
Do you have any questions about using white-label tools for your WordPress business? Let us know in the comments section below!
Featured Image credit: Pexels