You work hard to provide quality products and services to your WordPress clients. Unfortunately, they may not always recognize that. Unless your clients are able to clearly understand what you bring to the table, they may consider cutting your services our of their budgets.
Creating regular monthly reports helps showcase your value. It's an organized and effective method of highlighting exactly how your business benefits your clients'. Plus, having concrete proof of the results you're capable of achieving may even help you land new leads.
In this post, we'll discuss why it's important to showcase your value to your clients and the benefits of using monthly reports to do so. Then, we'll walk you through three tips to make creating and distributing monthly reports easier. Let's get started!
Why it's important to showcase your value to clients
As a WordPress professional, you know the value of regular updates and backups as well as investing in solid security and Search Engine Optimization (SEO) tools. However, your clients may be less experienced when it comes to website maintenance essentials.
Businesses are constantly looking for opportunities to cut costs. If your clients don't understand how your services provide value to them, they won't have any incentive to continue paying for them. Demonstrating how you help their bottom line rather than putting a drain on it increases the likelihood they'll keep you on board.
In this way, communicating your value can help increase your retention rates. Additionally, it may even lead to new clients. If your existing customers are pleased with your services, they'll be more likely to recommend you to friends and contacts in their fields.
The benefits of using monthly reports to communicate with your clients
Client reports are essentially summaries of the work you've done on the sites in your care. They might include lists of updates and backups you've conducted, security scan findings, search engine rankings, performance scores, and more.
Such reports are an effective method of communicating because you can organize and deliver a large volume of information in a manner that's easy to digest. This can help you justify the importance of your WordPress services by clearly demonstrating how you're improving your clients' sites.
Regular reports also present an opportunity to check-in with clients on a regular basis. Each month, the data you deliver serve as touchpoints to discuss the work you've done as well as additional services you may want to recommend. This can help facilitate healthy ongoing communication.
You might also use reports to educate and inform site owners about both current and future services. For example, say you manage a site that has experienced a significant uptick in traffic. You can include these results in your client report and explain the benefits of upgrading their hosting plan.
This is why monthly reports can also be powerful tools for upselling. The needs of a WordPress site are constantly changing. Demonstrating that provides context for services your clients may otherwise consider unnecessary. Highlighting where their sites are lacking gives you the chance to offer additional services to improve their results.
How to use regular monthly reports to showcase your value to clients (3 key tips)
If you're sold on the benefits of providing monthly reports to your clients, you're probably wondering how to go about it. Below, we've shared three key tips you can use to make showcasing your value to clients a breeze.
1. Make your reports easy to understand
Compiling and formatting data for client reports requires time and effort. In order for that work to pay off, you want to make sure the end result is appreciated (or at least read). If the information you provide is to be meaningful to your clients, they need to be able to understand it.
Communication can be difficult in the web development industry. Often, it can feel like you and your clients are speaking completely different languages. To prevent your reports from looking like gibberish to those reading them, it's worth taking the extra step to tweak the wording and formatting.
There are a few methods you can use to make interpreting and internalizing website analytics nearly effortless for clients. One way is through structurally sound formatting. For example, in our ManageWP Client Reports, we include a brief summary and overview page: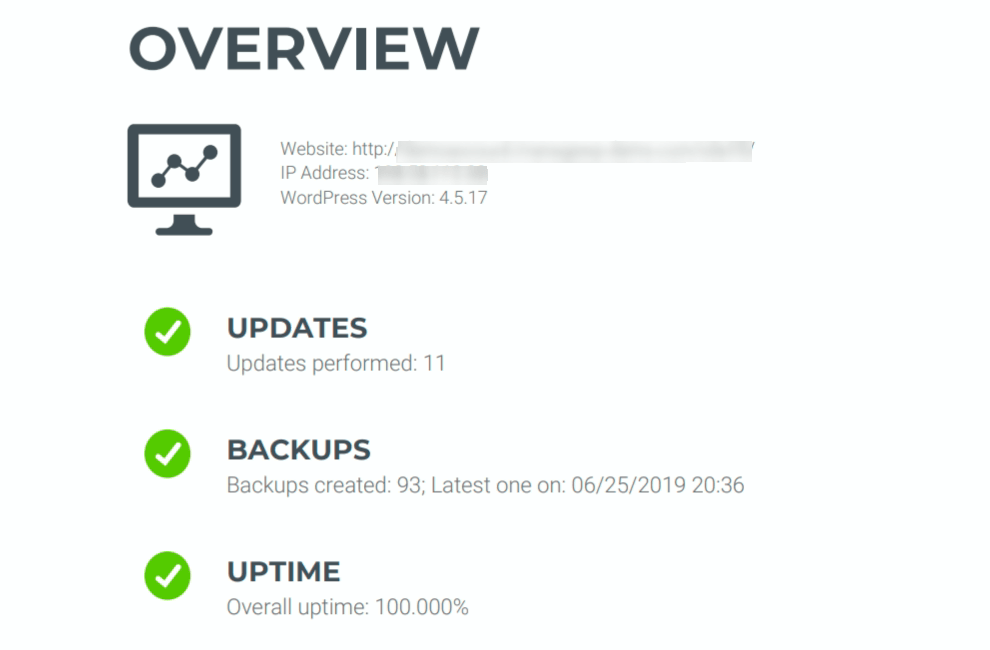 This lets the client easily see a quick breakdown of key details from the report. They can also note where to find more information about any particular services or sections that need their attention.
Your clients hired you for a reason. Often, they are not well-versed in web maintenance, especially when it comes to the more technical aspects. To make the reports easier for them to understand, consider which services probably need the most 'translating'.
For example, clients may not know what 'uptime monitoring' is. Including a short definition at the beginning of the performance section of your report can help you and your clients get on the same page. Try identifying areas that tend to elicit the most confusion and brainstorm ways to simplify the language surrounding them.
2. Identify which metrics matter most to your clients
Another way to make website data easy to understand and, in turn, valuable, is to include only the most pertinent information. Basically, it's wise to customize your reports to include only the data your clients will find useful and relevant.
To do this, you'll need to identify the metrics that matter most to your clients. This might differ between your accounts, as each site owner has their own goals. However, there are a handful that tend to be especially meaningful, including:
Basic Updates and Backups
Security
Traffic Analytics
With ManageWP, you can use our Custom Work Notes feature to personalize your client reports: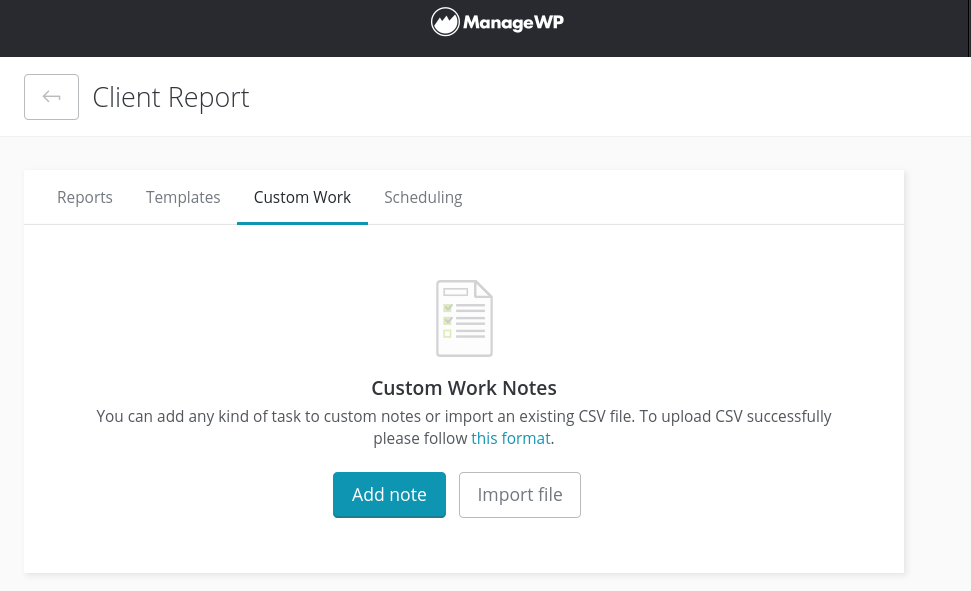 Identifying key metrics can also help you narrow down which services need more translating to make them easier to understand. You might consider adding brief labels and descriptions for each section so your client can use them for reference.
It may be helpful to include a short summary in each report as well. You could also suggest checking-in with monthly phone calls during which you review reports with your clients and answer any questions they may have.
3. Use ManageWP to automate reports for multiple clients
Creating and distributing monthly reports for multiple clients manually is time-consuming. The last thing you want is for this task to take away from the quality or productivity of your primary WordPress services.
One solution is to automate your reports with ManageWP: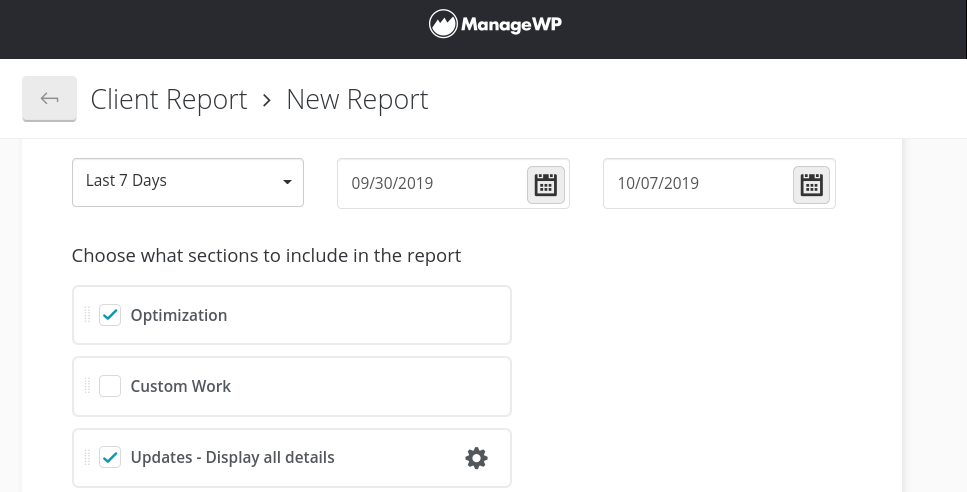 The ManageWP Client Reporting feature provides you with an executive summary of what you've done for each site on your account. The reports are fully editable, so you can customize them based on the specific needs and preferences of each client.
Our premium Client Report feature includes:
Customizable front page with intro message
Reports from all activated ManageWP add-ons
A Custom Work Section
PDF downloads and templates
Email automatization
A bulk report generator for updating multiple clients
White labeling to replace our branding with yours
If you're already using our platform to manage your client sites, automating your reports saves you from having to collect and organize data every month. Simply configure a few settings and you'll have everything you need to prove the value of your services.
Conclusion
Your clients are just as busy as you are. They're not likely to go out of their way to determine whether your services are worth what they're paying you. Monthly reports are a simple yet effective way to demonstrate your value and increase the likelihood of a continued relationship.
As we discussed in this article, there are three main strategies for creating effective monthly reports:
Make the reports easy to understand.
Identify which metrics matter most to your clients.
Use a tool such as ManageWP to automate reports.
Do you have any questions about creating monthly reports for clients? Let us know in the comments section below!
Image Credit: Pexels.