You put a lot of time, effort, and money into building a successful online business. However, there may come a time when you're no longer as passionate about it as you once were and want to explore new opportunities.
Sometimes, selling your site makes more sense than keeping it. Even if you don't have immediate plans to do so, determining your online property's value can present opportunities for assessing competition, measuring growth and potential, and identifying ways to make it more profitable.
In this post, we'll discuss some of the reasons you might consider selling your website. Then we'll provide you with three helpful tips for assessing how much it's worth. Let's get started!
Why would you want to sell your website?
In most cases, making the decision to sell a website isn't an easy one. However, there are a multitude of situations where doing so is beneficial.
One of the most common reasons is that your online business is no longer making a profit. Perhaps you feel you've reached a cap as far as where you can take it. Selling it to a buyer with skills and resources for continued growth makes sense.
If you're putting more time and money into your site than you believe it's worth, it can place a burden on both your finances and your motivation. It's normal for business owners and entrepreneurs to outgrow projects.
Selling your website can present a viable exit strategy that puts extra cash in your pocket. It also frees you up to explore and focus on other opportunities that better align with your current lifestyle and professional goals.
If you make the decision to sell your website, there are two main options for going about it. You can sell it yourself through a website marketplace such as Flippa: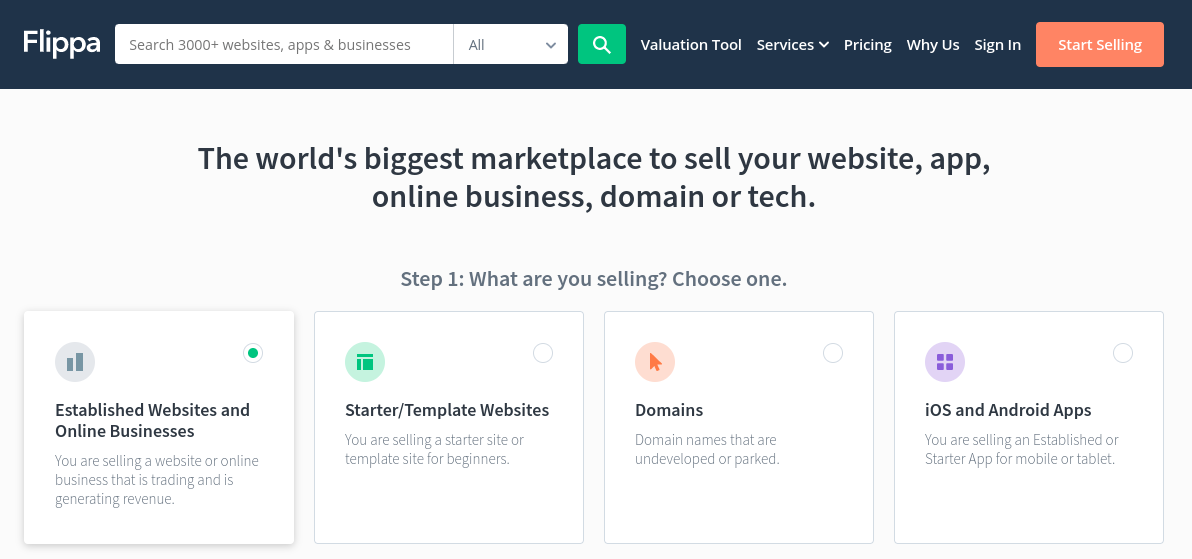 Typically, with website marketplaces, you pay a listing fee depending on the duration of the posting. You can sell your complete website or just the domain name.
Another option, which is recommended for complex websites with high valuations, is to go through a broker such as those at Digital Exits. In either event, it helps to first assess your site to determine its worth.
What determines the value of a website?
Unfortunately, the amount of time or money you put into your website isn't what determines its value. It's not uncommon for site owners to overestimate what their website is worth.
Getting an accurate picture of your site's value early on generates more realistic expectations. You'll then be better positioned to sell it at maximum value.
There are a wide variety of factors that influence the worth of a website. Rather than the investments you made in building and maintaining it, the returns your site generates are the driving consideration in this scenario.
Some common factors that impact the value of a website include:
Sales and yearly profits
Growth trends and opportunities
Size and scalability
Revenue streams
Traffic sources
In addition to monetary value, there's also the consideration of 'social value'. For example, even if you don't have a monetized site that generates revenue, it could still be worth something to potential buyers if you have an active and loyal audience.
Engagement and authority matter. If your site has been around for a long time and you've established strong visibility and popularity within a niche, that can increase your website's worth. Ultimately, it all depends on buyer motivation.
How much is your website worth? (3 tips for assessing its value)
If you plan on selling your website, there are professional website brokers who can perform a formal valuation. However, before you pay for this service, it's wise to assess your holdings on your own to get a ballpark number to use as a starting point. Let's take a look at three tips for estimating the worth of your website.
1. Use a website value calculator tool
A website value calculator, as the name suggests, is a tool you can use to calculate the estimated worth of your website. This is a quick and easy way to conduct an analysis of how much you might make by selling your site. Most can help measure public traffic ranking data as well as visits and page views.
A free website value calculator you might consider using is Worth of Web: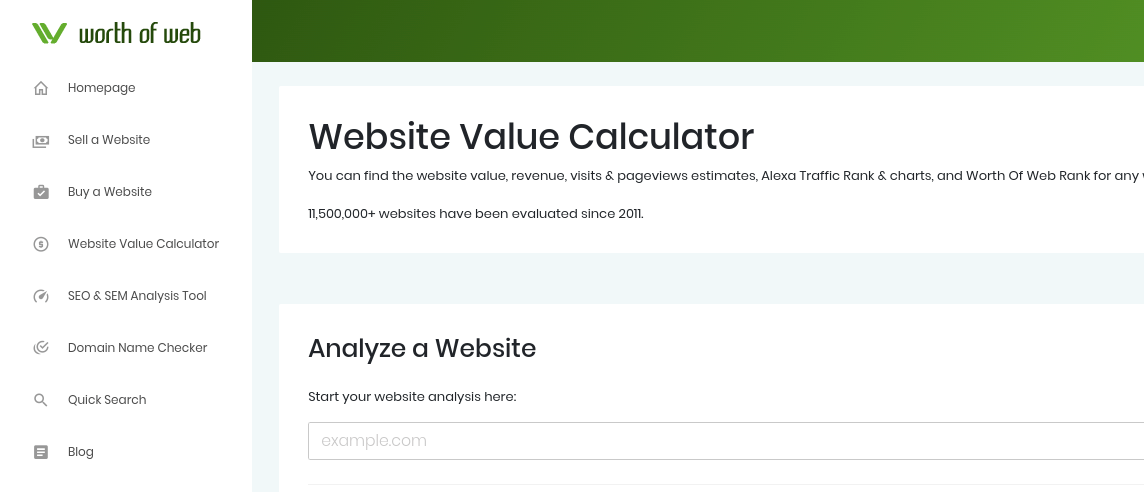 This tool uses public ranking data to calculate the potential advertising revenue of your site. However, it's important to note that it doesn't take into account factors such as your e-commerce sales.
To use Worth of Web, you can simply input your domain into the text field and click on the Analyze button. Once it's done calculating, it will bring you to a results page that details the estimated worth of your site, its Worth of Web rank (as a percentage), and the projected potential earnings: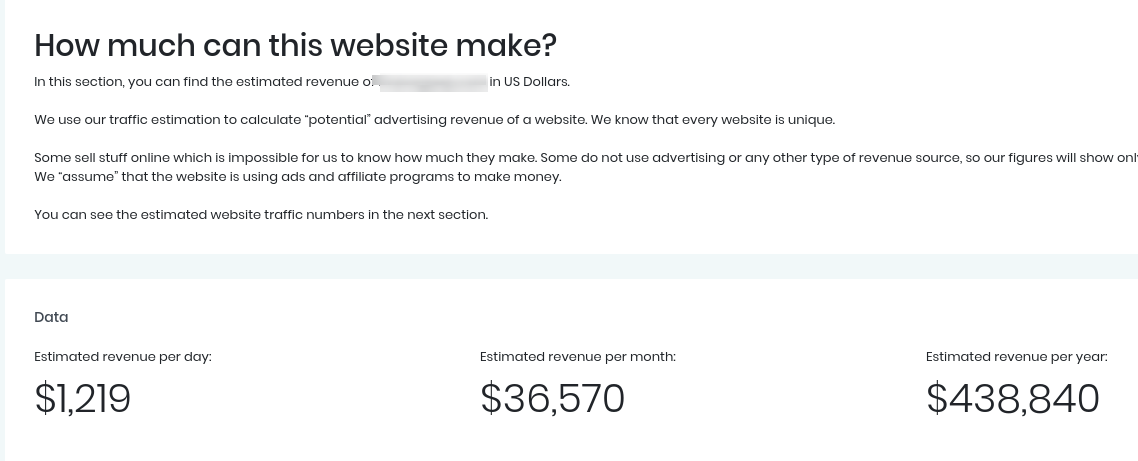 It breaks the estimates down per day, month, and year. It also includes a section for website traffic estimates: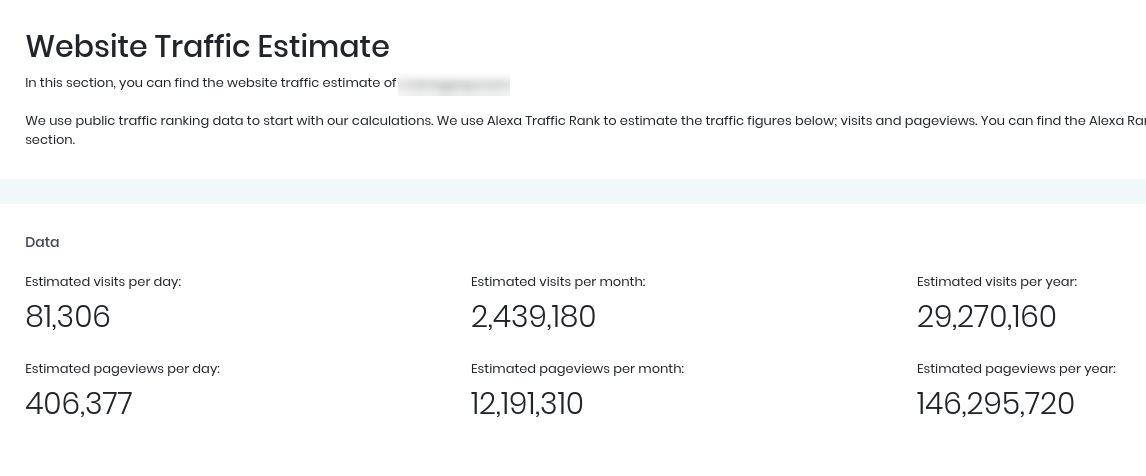 Of course, these results are not definitive. They're merely an estimate that can offer insight into your online property's potential. Worth of Web also includes a comparison tool you can use to determine how much your competitors' sites are worth to benchmark the value of your own.
2. Get an appraisal for your domain name
Another option for divesting yourself of your online holdings is to sell your domain name but not your entire website. For example, this is a viable option if you plan on keeping your online business but are rebranding.
In such a case, it might be worth it to sell your domain and switch to an address that is more appropriate for your new brand. That way, you don't have to take a loss on the registration for your old URL.
Domain names are digital assets. Their worth can range anywhere from a couple of cents to thousands – sometimes even millions – of dollars. For instance, Facebook paid $8.5 million to purchase FB.com.
There are certain metrics used to calculate the value of a web address, such as its age, primary keywords, and historic sales. If a domain includes a brand or product name, high-ranking search terms, or a witty saying, the likelihood that someone would be willing to pay a significant amount for it increases.
You might be surprised at what your domain could be worth. Perhaps there's a business willing to pay for your URL because it is similar to their current address and causes brand confusion.
To discover the worth of your current URL, you can use a platform such as GoDaddy's Domain Name Value & Appraisal tool:

Enter your domain name and click on the GoValue button. It will show you the estimated worth of your domain, as well as what comparable addresses were sold for.
3. Determine your visitor worth and customer value
If you do plan on selling your entire website, visitor worth and customer value can also come into play. From your own analytics, you can learn how much traffic your site gets per month and translate that into a monetary amount.
Customer value boils down to conversions. If you can determine the worth of each visitor to your site, it can provide information for your online holding's valuation.
To start, we suggest using Google Analytics: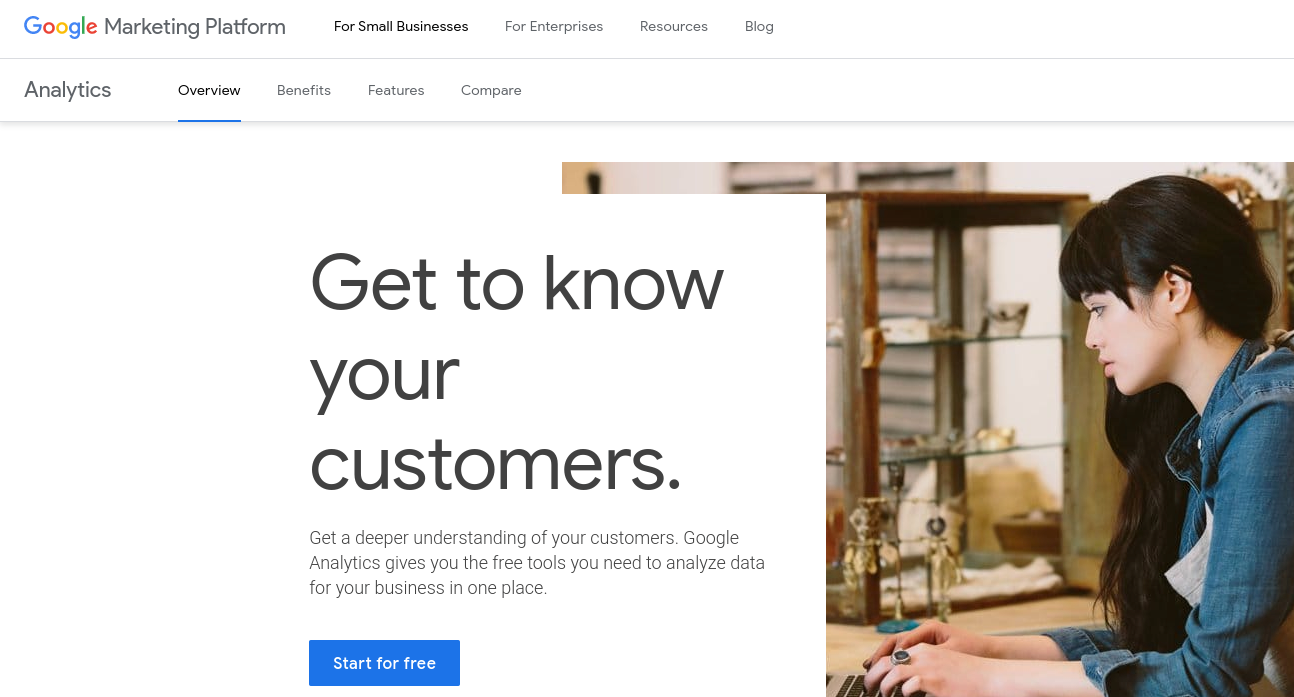 You can use this and similar tools to gather information about your site's users, as well as their behavior. Then you can incorporate this data in various formulas to assess your visitor worth and customer value.
Take the following formula as an example: monthly profit/X visitors = visitor value. If your monthly profit is $1,000 and you receive 500 visitors per month, then your visitor value is $2.
You can break this process down further by exploring specific traffic sources, such as email, social media, and referrals. Most businesses today understand how powerful these channels can be for marketing purposes.
Therefore, if you're able to show that large portions of your site's traffic come from email and social media, your subscriber list and followers become assets as well. They will influence the worth of your website as a result.
Conclusion
There are many reasons why you might want to know how much your website is worth. Maybe you are considering selling it. Perhaps you're simply curious. Regardless of your motivation, your site's value can provide you with meaningful information.
As we discussed in this post, three tips you can use to assess the value of your website are:
Use a website value calculator such as Worth of Web.
Get a domain name appraisal.
Determine your visitor worth and customer value.
Do you have any questions about figuring out how much your WordPress website is worth? Let us know in the comments section below!
Image credit: Pexels.