These days you can't be in the website development and maintenance business without encountering WooCommerce on a regular basis. That's why we decided to start pushing a set of WooCommerce specific features. In September we launched the Client Report integration, now we're focusing on WooCommerce updates.
What's so special about WooCommerce updates?
Unlike a regular plugin update where the files in the plugin directory are updated to the latest version, WooCommerce plugin sometimes has an additional step: you need to update the database as well. The reason behind this is that WooCommerce developers occasionally change the database structure, i.e. add new fields, etc.

Now, that's not a problem if you have 1-2 sites; it's just an occasional extra click. But what if you manage 25 websites remotely with ManageWP, like all the other cool kids? You will definitely miss an update, or even worse: your client will call you to ask why you aren't taking care of it.
It's a good thing we have your back.
ManageWP integration
The next time you run a WooCommerce update, you will use the Updates widget like you always do. Once the plugin update is done, you'll get a notification at the top right that you need to do a database update. You can jump to that site's wp-admin dashboard and take care of it.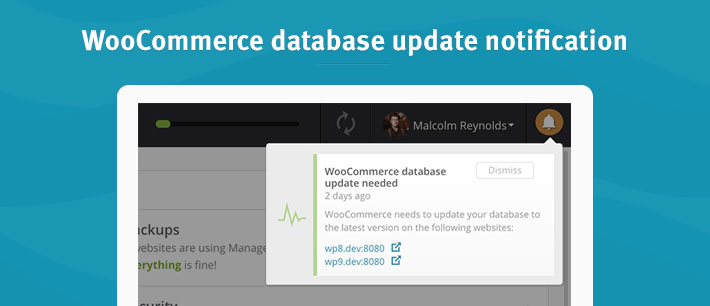 For now it's just a notification, but real soon you will be able to run database updates straight from ManageWP.
As WooCommerce becomes an increasingly more important ecommerce solution, we will make sure you get a set of tools to manage it efficiently. This is where your feedback comes in: if you have a specific need that ManageWP can solve, let us know either in the comments, or through the Send Feedback option on your ManageWP dashboard.