Many freelance developers and agencies focus on attracting new clients. However, hanging onto the ones you already have is also vital for building a successful business. You generally have a much better chance of upselling to someone who's already happy with your work than you do of qualifying a new lead.
Client reports can be a simple but effective way to keep your existing customers happy. By providing them with detailed records of your activities related to their sites, you can prove that you're worth every cent they're paying you.
In this article, we'll cover four essential pieces of information to include in your next WordPress client report. To help maximize client satisfaction while minimizing your workload, we'll also show you how to generate this important document automatically. Let's get started!
An introduction to client reports (and why they're important)
A client report is a document containing the tangible results of every action you've performed for your client. This might include data that they could technically find themselves, such as key Google Analytics metrics. However, even if they have access to this information, it's still beneficial to compile it in a readable, comprehensive report.
Your client may have access to analytics and tracking tools, but there's no guarantee they'll be familiar with locating the data they need. Alternatively, they may be too busy to properly research this information themselves. By collecting all of the most important data and presenting it as a professionally-designed report, you can provide a better customer experience.
Client reports can also help you maintain good relationships with your clients and keep the lines of communication between you open. This is particularly important in the current environment, where many web professionals are working with clients remotely.
Additionally, reports clearly demonstrate the value you contribute to each client's business. When they see that you're delivering tangible benefits month after month, they're more likely to reinvest in your services. A long history of positive WordPress client reports can also help you justify price increases.
Finally, you can also use your reports to establish a baseline for yourself. The act of collecting and organizing performance-related data can help you identify opportunities to improve and ensure you're providing the best possible experience for all your clients.
4 things to include in your next WordPress Client Report
We've discussed why you should create regular client reports, but what should you include in them? The information each of your clients cares about may vary. However, there are four key types of data we recommend including in every WordPress client report.
1. Google Analytics data
Hopefully, you're already monitoring your clients' website analytics (or have put the necessary tools in place to do so). There are various monitoring platforms available, but Google Analytics is the most popular choice. Using it, you can track user behavior such as page views, conversions, acquisitions, and more.
If you're using Google Analytics, you can export data from any section of the Analytics dashboard to share with your client. Simply click on the Export tab in the top right corner and select your preferred format:

This will generate a report that's essentially a screenshot of the site's dashboard. You'll need to repeat this process for every section you want to share with your client. It may help to provide some additional notes and commentary, particularly if the client is unfamiliar with Google Analytics.
Alternatively, ManageWP users can integrate Google Analytics with our platform. You can then view your client's Google Analytics data directly from your ManageWP dashboard: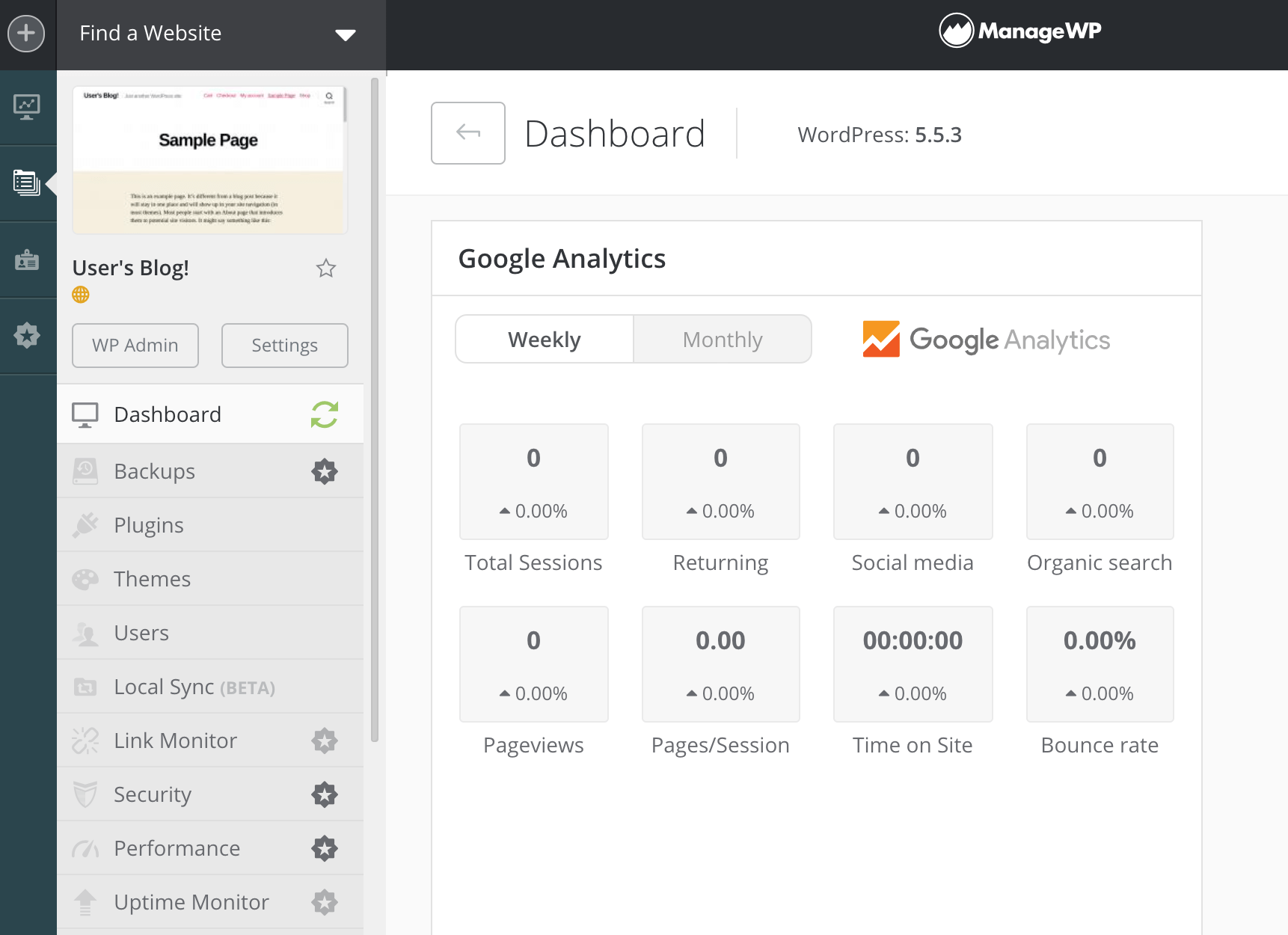 This integration is particularly useful when combined with ManageWP's Client Report feature. It will automatically integrate key Google Analytics data in your reports.
The information is also presented in a way that's easy to understand. This enables busy clients to see at a glance how your activities have translated into tangible results.
2. Search Engine Optimization (SEO) metrics
Search Engine Optimization (SEO) is a marketing technique that aims to improve a website's ranking position and search engine visibility. After investing in SEO, some websites have reported a 2,600 percent increase in traffic. That's a lot of potential new conversions and revenue for your client.
If your clients care about their traffic, revenue, or conversions, then they care about SEO. If you've managed to improve your client's SEO, you'll want to share this information with them to reinforce your value to their business.
There are many platforms you can use to monitor SEO, including SEMrush, Ahrefs, and Moz's SEO tools. These can provide a wealth of useful data for inclusion in your reports.
However, the process for sharing this data with your clients may require a significant amount of setup. For example, SEMrush has a dedicated report building tool that features several SEO-related widgets. You can use them to build an intricate and detailed WordPress SEO client report: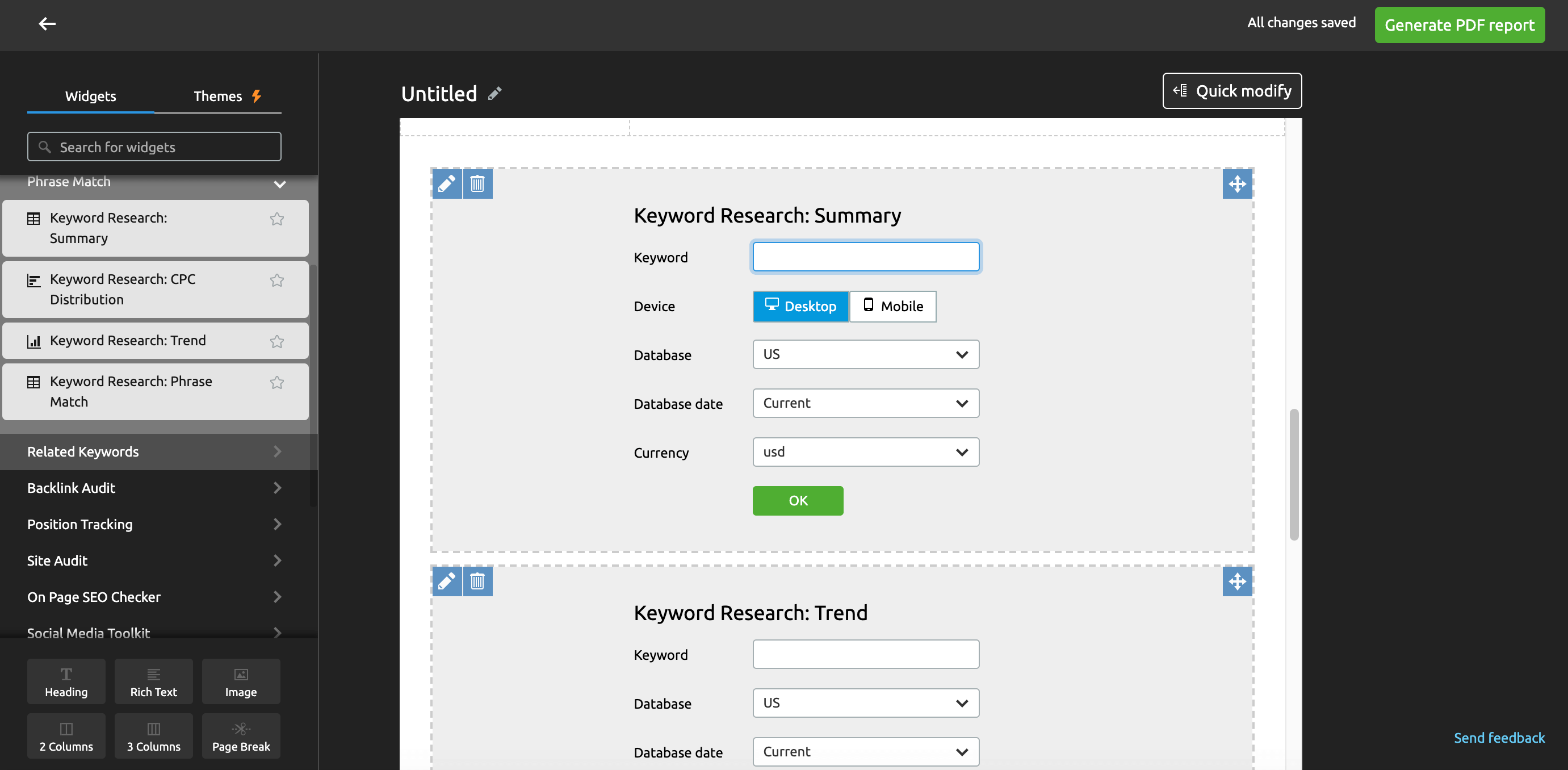 Alternatively, you can track SEO using ManageWP's SEO Ranking feature. Since it's part of the ManageWP dashboard, all of the relevant data will be included in your ManageWP Client Reports automatically.
ManageWP also provides an overview for clients who just want to know whether their key SEO metrics are trending in the right direction: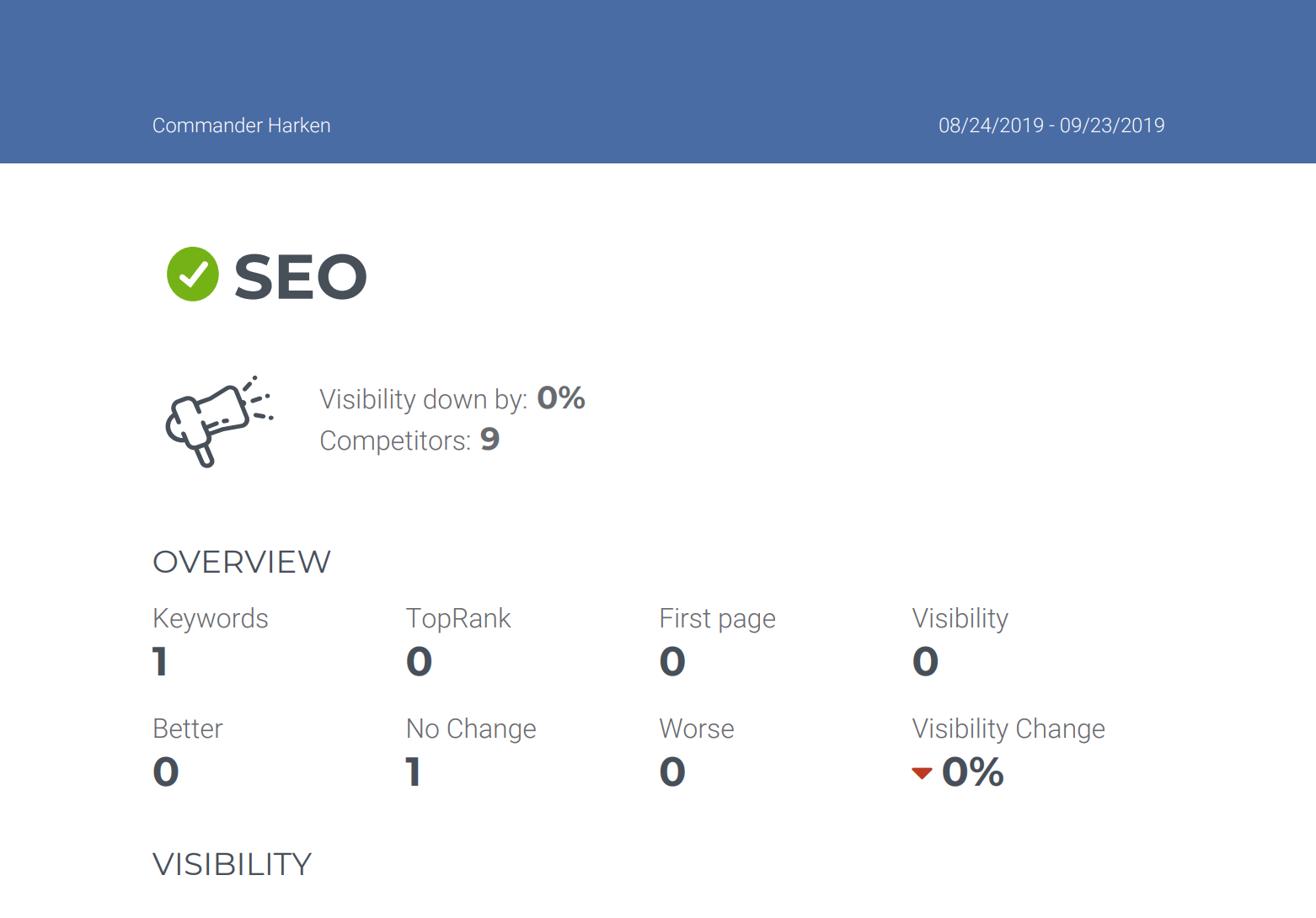 Our Client Reports feature also includes a reminder of all the keywords you're monitoring and the competition for these terms. For clients who are unfamiliar with SEO, this can provide a quick and convenient insight into their site's content strategy.
3. Security updates
With WordPress powering almost 40 percent of all websites, hackers are always looking for ways to break into sites that use it. In fact, WordPress accounted for 94 percent of hacked websites in 2019. Chances are, security is a top concern for your clients.
If you become a vital part of a client's security strategy, they'll be more likely to reinvest in your business and to see your services as integral to their website's ongoing success. This is where Client Reports can help.
To start, we'd recommend scanning your client sites for malware, vulnerabilities, and other security issues, using a tool such as Security Check. If it discovers a problem during a routine scan, it will alert you via email or Slack.
In that scenario, it's always best to notify the client immediately. This promotes transparency and enables them to help you resolve the problem as quickly as possible.
That said, you also shouldn't disregard successful security scans, as they can be valuable additions to your Client Reports. Your clients will instantly feel safer when shown evidence of you scanning their website and keeping it secure.
When you generate a report using ManageWP's Client Report feature, it will automatically include a list of all your successful security scans. This can make for reassuring reading: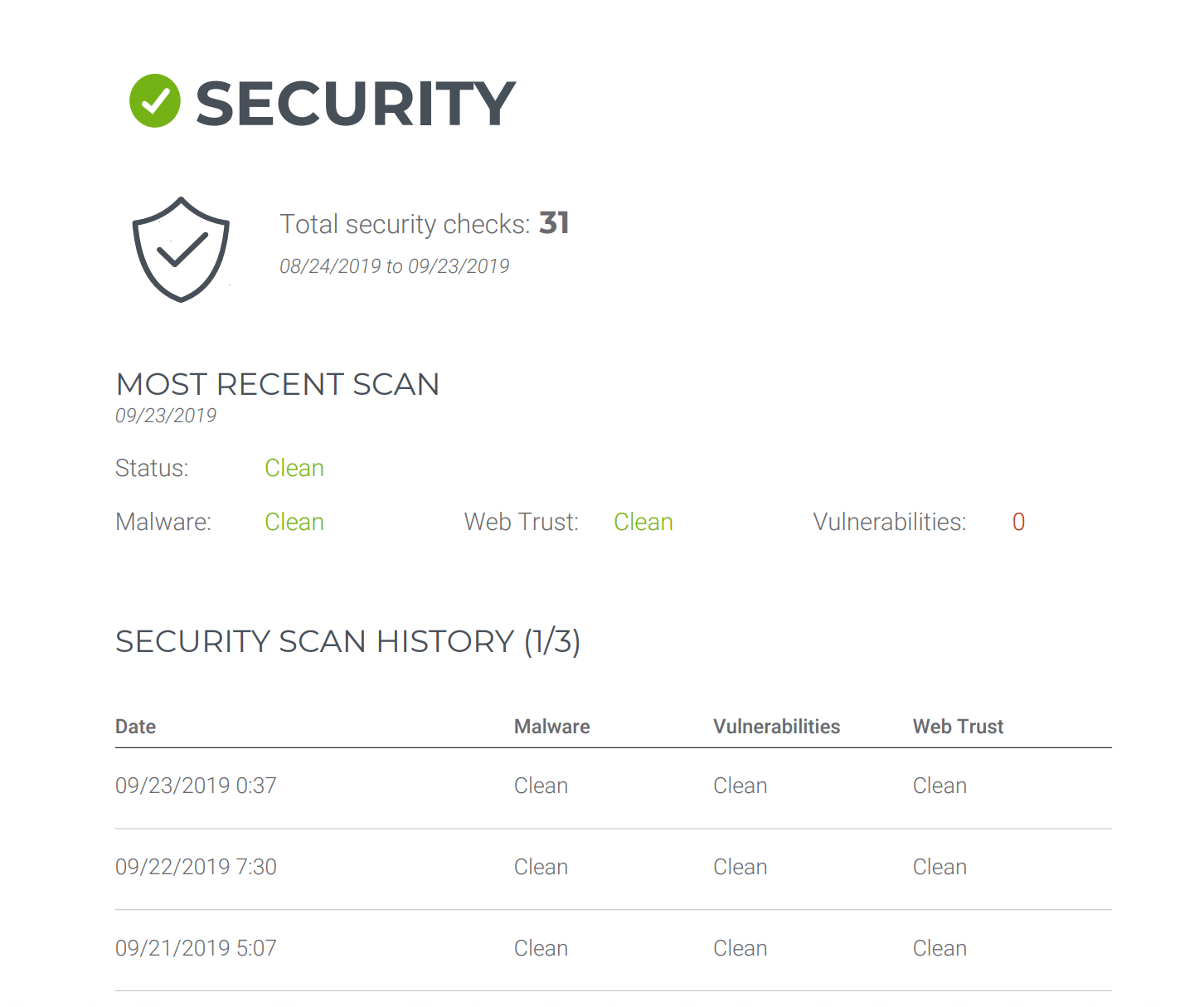 For maximum benefit, we recommend scheduling your Security Checks to run regularly. Once these automatic scans are in place, you can impress your clients while minimizing your workload.
4. Performance test results
Studies have shown that almost half of visitors abandon a website that takes longer than three seconds to load. If you've managed to boost a client's website performance, you'll want to let them know about it.
There are many performance testing tools available, including Google PageSpeed Insights, Pingdom, and GTmetrix. Depending on your chosen platform, you can often export the data to share it with your client.
For example, you can extract a subset of GTmetrix data in PDF format: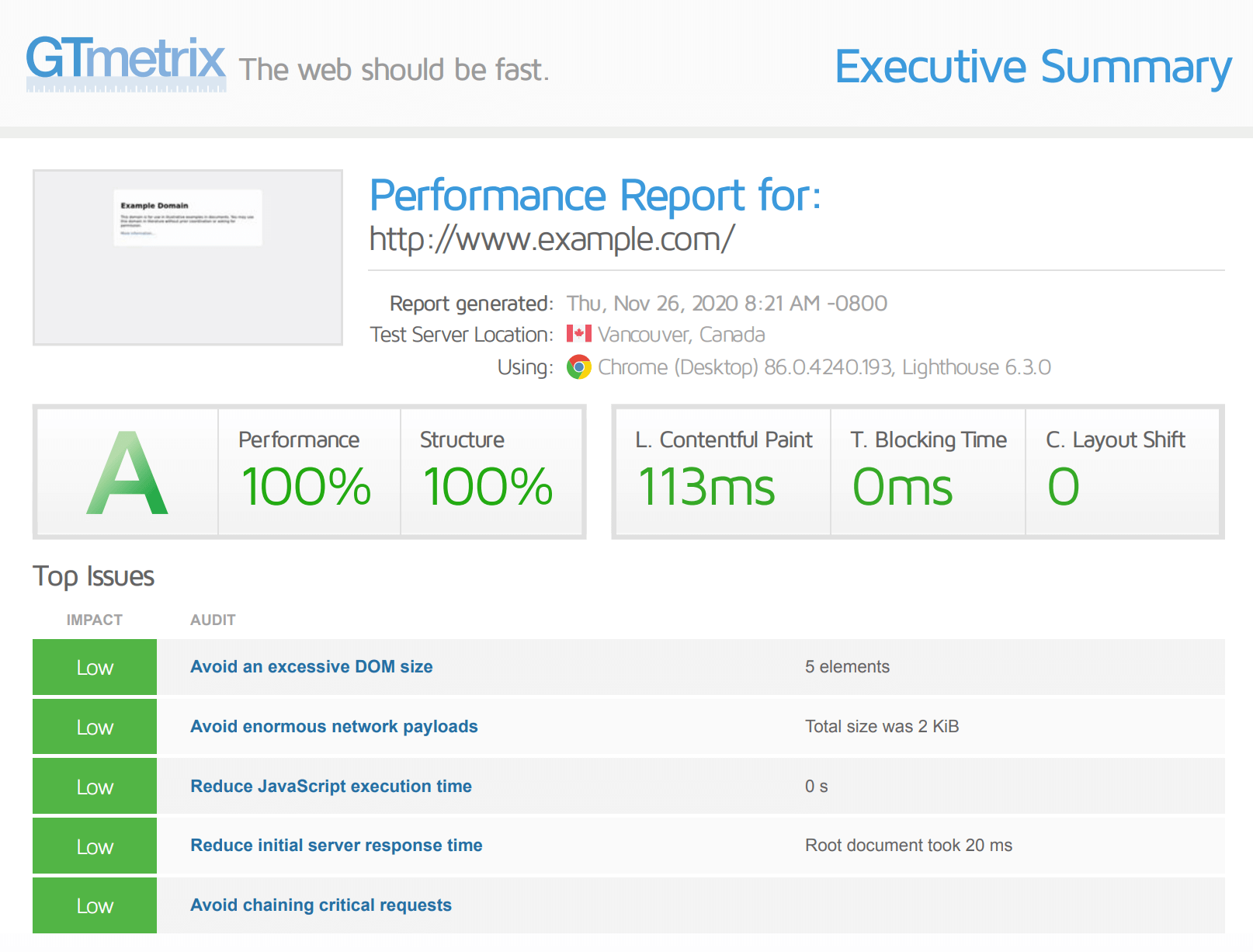 However, if you want to export the entire data set, you'll need to upgrade to a paid plan.
Alternatively, ManageWP offers a Performance Check feature. You can use it to test your client's website using Google PageSpeed and Yahoo! YSlow. ManageWP will then automatically incorporate this information into your Client Reports: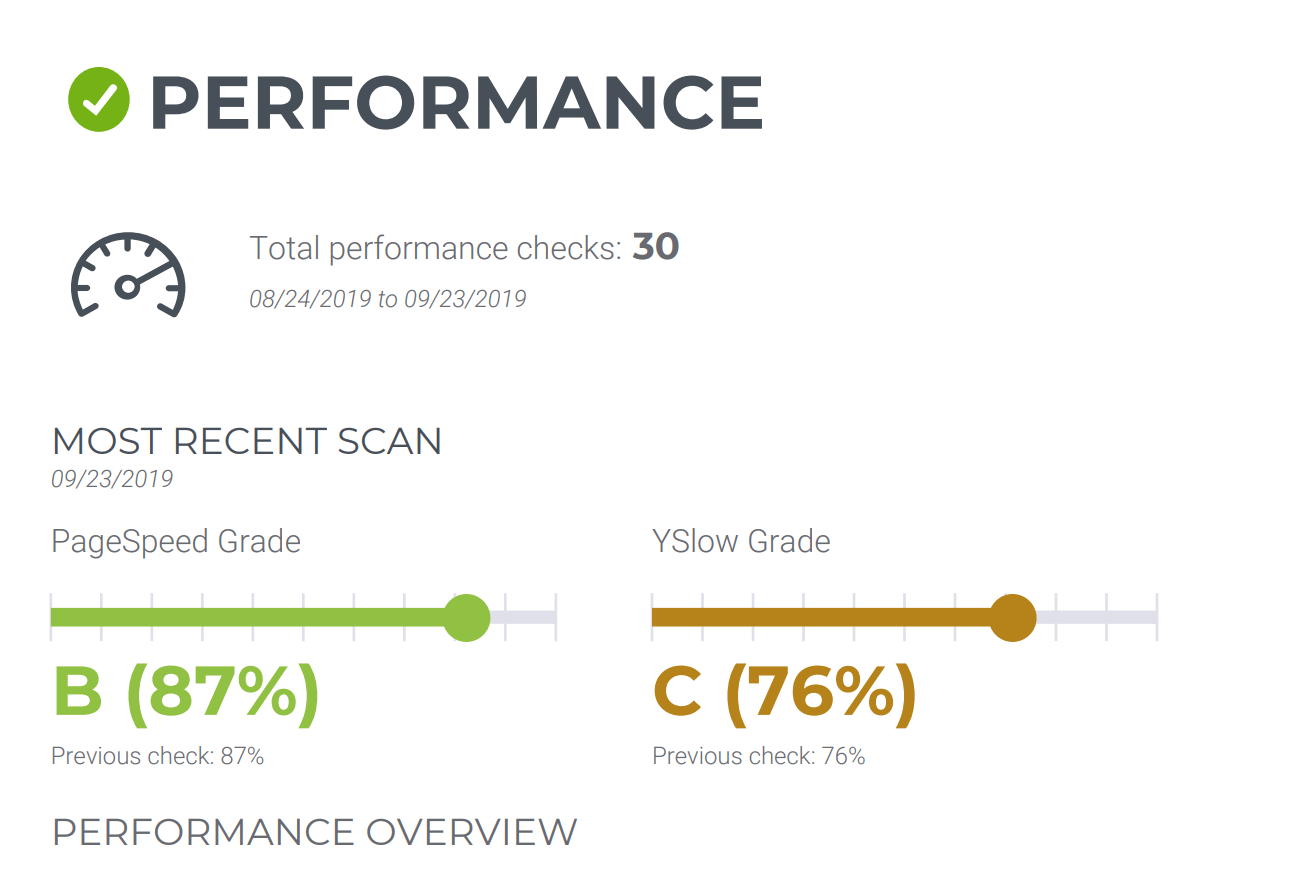 ManageWP will also include a complete record of every Performance Check. Similar to the Security Check feature, you can schedule these tests to run automatically. This can be an effective way to generate lots of positive data for your WordPress client reports while minimizing your workload.
Conclusion
Keeping your clients happy isn't always straightforward. However, by sharing your successes, you can help convince them that your services are worth every cent. You may even be able to secure recurring revenue or upsell additional products and services.
In this article, we shared four key types of information to include in your WordPress client reports:
Google Analytics data. This provides insights into key metrics, including user behavior, conversions, and acquisitions.
SEO metrics. Healthy SEO will increase your client's website traffic, conversions, and revenue.
Security updates. This is a huge concern for many WordPress website owners. Help keep your clients safe, and you'll make yourself indispensable.
Performance test results. By improving a website's performance, you can also boost key metrics that provide value to your clients, such as session duration and conversions.
Do you have any questions about ManageWP's Client Report feature? Ask away in the comments section below!
Featured image credit: Unsplash.