Working from home is a dream come true for some and a challenge for others. Since recent world events have forced many people to quickly adapt to remote work, it's important to find ways to communicate with your clients effectively.
Fortunately, there are a lot of tools you can use to stay in touch with clients and many of them are easy to set up. Whether you prefer Slack, Google Meet, or Zoom, staying in touch while working from home doesn't have to be hard.
In this article, we'll talk about why remote communication with clients is different from what you may be used to. Then we'll introduce you to five tools you can use to stay in touch. Let's get to it!
Adapting to remote work and why client communication matters
Communication is vital to any professional relationship. If you're working on a project for a client, it's wise to request feedback throughout the process. There needs to be some level of back and forth so you're both on the same page when it comes to expectations, delivery dates, costs, and more.
Unfortunately, due to the COVID-19 pandemic, clients you might normally meet in person could be stuck at home. If you worked in an office before, you're probably adapting to performing your duties remotely. Those responsibilities still include client communication, only now you can't have face-to-face meetings.
However, many agencies relied heavily on remote communication tools even before the increase in remote work arrangements. It's not uncommon for offices to use email for internal messages or to stay in touch with clients over the phone.
To communicate with clients while working from home, you can take advantage of many of the channels you've used in the past, as well as some new ones. Fortunately, there are many options when it comes to advanced communication platforms.
5 ways to communicate with clients while working from home
Below, we've explored five tools that offer different ways to communicate with clients while working from home. Depending on the preferences of your customers and your team, you might switch between these tools or rely on a single method.
1. Hold videoconferences via Zoom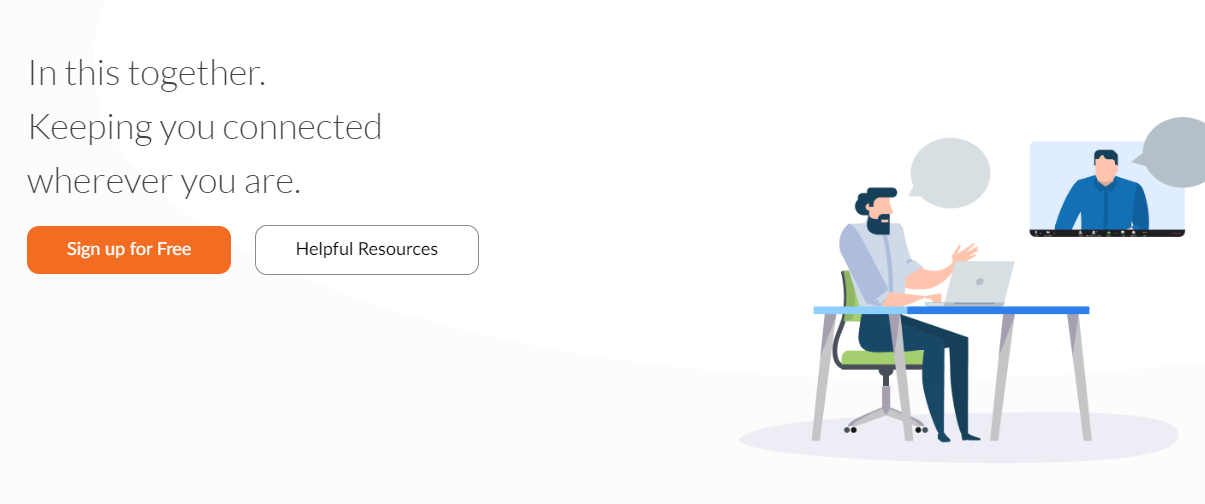 Zoom has experienced a huge uptick in usage recently. This app surged to popularity because it excels when it comes to videoconferencing.
With Zoom, you can schedule client calls ahead of time and launch them from your favorite calendar app. The software enables 'waiting rooms' so customers can join scheduled calls before you start them. You can also choose to password-protect calls.
Zoom supports up to 100 participants per call by default, so you can bring your whole team in to consult if needed. This platform is also easy to pick up, even for less tech-savvy clients. All you have to do is send them a link and they can join your call with a single click.
Since Zoom is so popular these days, chances are most of your customers already know about it. That means you can spend less time troubleshooting and more time talking about project details.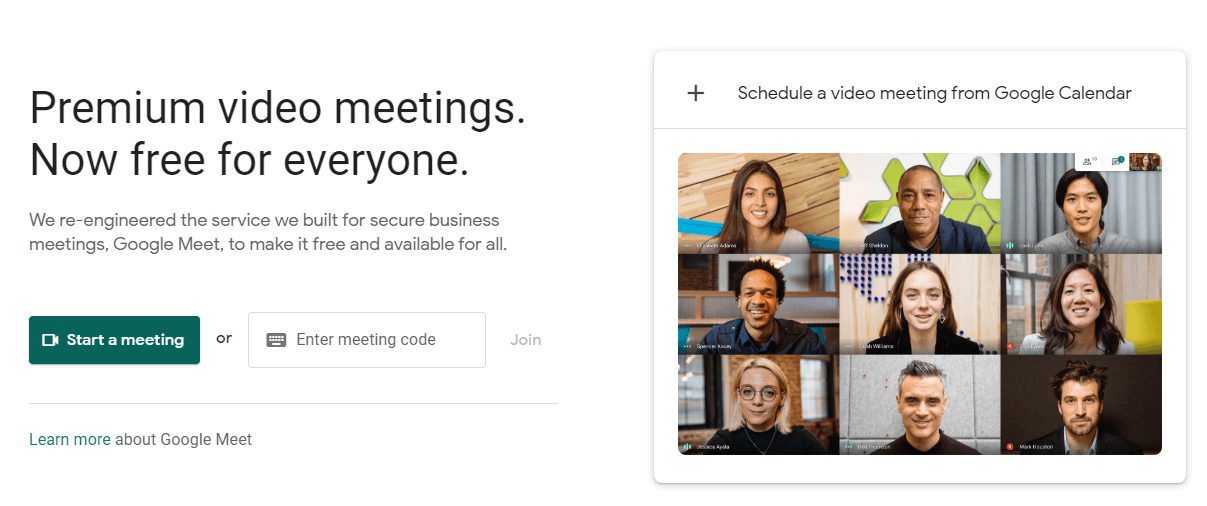 If you've used Hangouts in the past, then Meet should feel familiar. It works very similarly, only with extra features. Effective in June 2020, Hangouts will only be available for regular Google consumer accounts. For client meetings, you'll need to use Meet.
With Google Meet, you can set up calls with up to 250 participants. It also enables you to share your screen, focus on specific participants, and schedule calls in advance.
Google Meet works just as well as Zoom for small client meetings. Its primary advantage lies in its integration with the Google ecosystem.
If you use G Suite tools for your business or your clients prefer these products, then you'll probably want to use Meet over Zoom. ManageWP integrates out of the box with several Google services as well, including Gmail, Drive, and Analytics:

Those integrations will make for better synergy with Google Meet. You may want to keep this in mind if you manage your client sites through our platform.
3. Host team and client message threads with Slack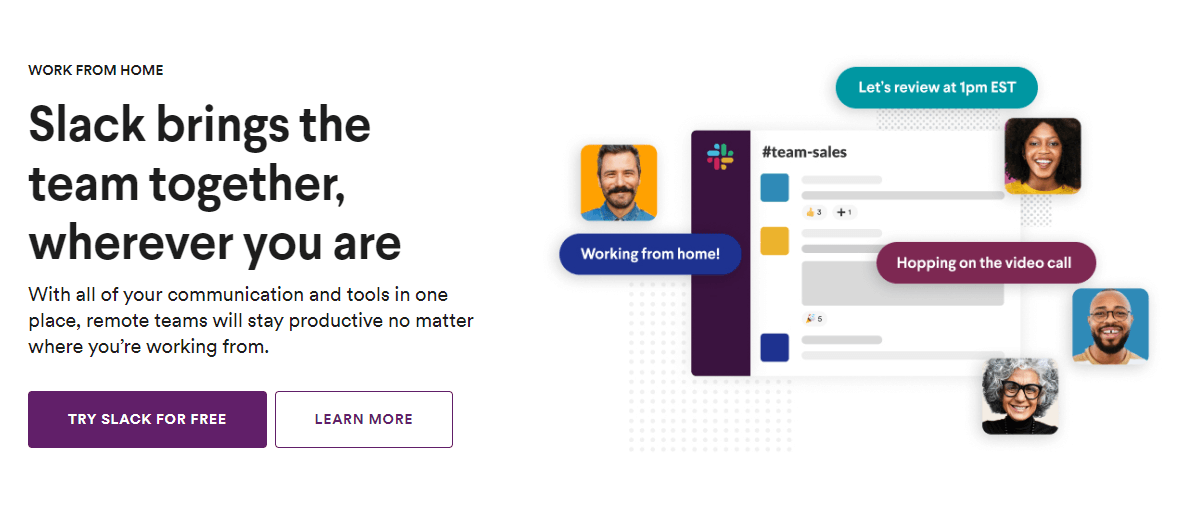 Some people think of Slack as only a tool for internal team communication. This app fulfills that role wonderfully, but it can also help you stay in touch with clients.
Slack communication is mostly text-based. You can write on different channels depending on who you want to reach and which project you're working on. If you want to use it with clients, you'll need to set up individual workspaces for each of them.
Slack's biggest benefit also happens to be its main drawback – it provides clients with constant access to you. This can create the feeling that you're always available to send responses.
This is perfect for clients that require constant small updates. You can use it to share files, let them know when you finish specific tasks, and more.
ManageWP users can connect their accounts with Slack and configure notifications for specific channels, too: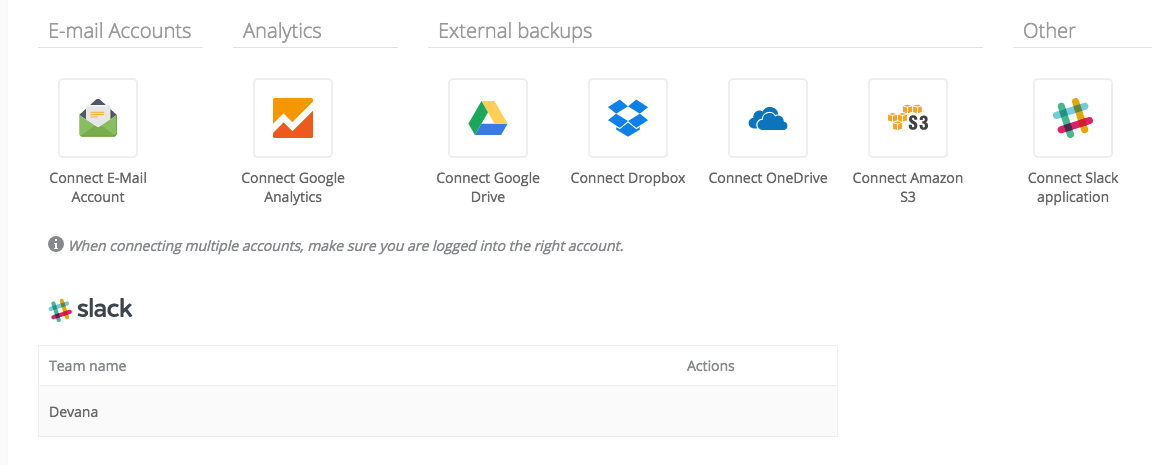 That way, you can easily let your clients know what's going on with their websites and ManageWP will notify you when you've received a response.
4. Collaborate via email with Front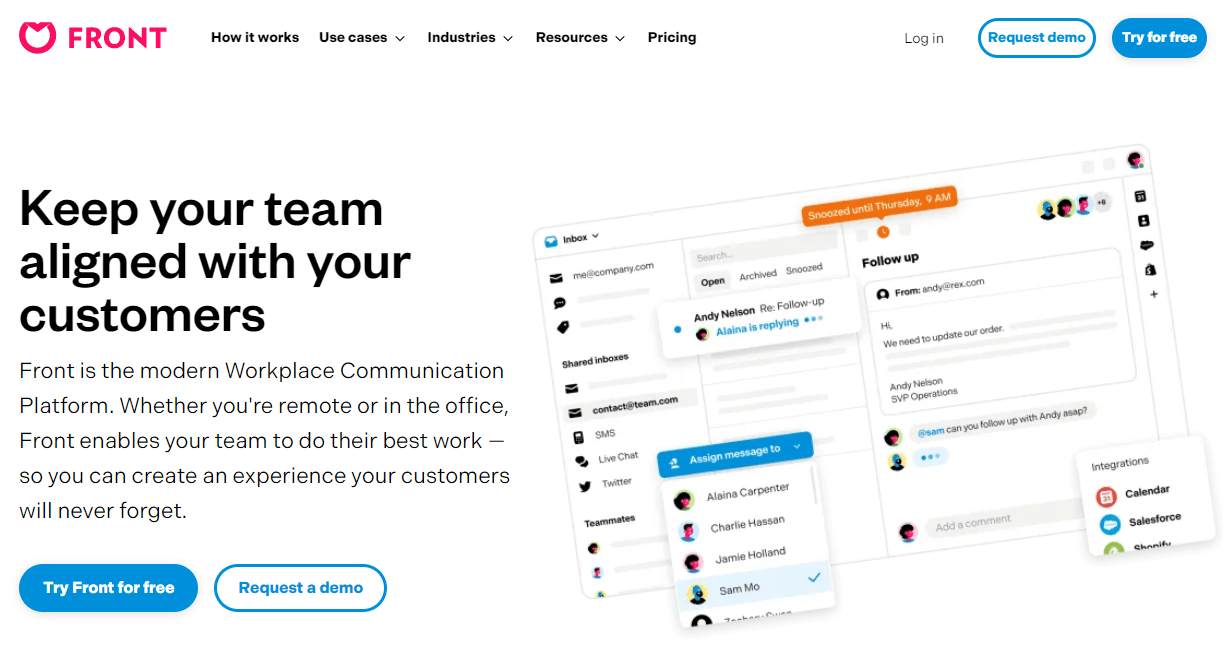 There's a reason why so many offices use email as their primary communication method. It's an easy and versatile system. You can send emails to coworkers, supervisors, or clients, all using whichever provider you prefer.
With Front, you get an email client that includes all the features you're used to. However, it's built for collaboration. You can have shared and individual inboxes, assign emails to specific teammates, build automated workflows, and more.
However, Front's best feature is that it enables you to tag teammates so you can have discussions alongside specific emails without the recipient's knowledge. This enables you to cut down drastically on internal back and forth, so you can make smart decisions for client work faster.
For example, say a client emails you a question and you don't know the answer. You can tag a teammate and have them provide you with the right information to pass along in your response without having to alert your client that they caught you off guard.
If your clients don't want to deal with teleconferencing and would rather keep using email, Front can help you step up your game. You'll even gain access to internal analytics so you can monitor how long it's taking you to respond to clients.
5. Enhance conference calls using Join.me
Even in 2020, many clients like to conduct meetings over the phone. We all have phones, but one-to-one calls can be very limiting.
With Join.me, you get a videoconferencing app that offers most of the same features as Zoom and Google Meet. However, it also enables participants to join via phone call. This is perfect for clients or teammates who aren't comfortable being on video.
Join.me provides free unlimited Voice over Internet Protocol (VoIP) calls to over 40 countries. It's a fantastic solution if your clients are located across borders.
How to get started with a new communication platform
Most of the platforms we've gone over don't even require users to download any software. However, if you're using them from your smartphone, you might need to install their individual apps.
That said, getting ready on your end is the easy part. What's important is reaching out to clients to discuss how you're going to communicate while working remotely.
A simple email or a call should do the trick. Here's what you need to ask clients to make sure you're on the same page:
Do you have a preferred method of communication?
Are you familiar with X platform? (Depending on the method they choose)
Do you want to schedule a call right away to discuss your project?
Your initial goal should be to land on a communication method you both feel comfortable with. If your clients need any help setting things up, make an effort to walk them through the process.
It's all smooth sailing from then on. However, remember that just because you're meeting remotely doesn't mean you can ignore best practices for customer communication.
Conclusion
Staying connected and meeting the needs of your clients from afar doesn't have to be complicated. In fact, you may find that by not limiting yourself to in-person meetings, it becomes easier to keep your clients in the loop and happy.
If you're not yet using a remote communication tool, consider one of these:
Do you have questions about communicating while working remotely? Share your thoughts with us in the comments section below!
Featured Image Credit: Pexels.