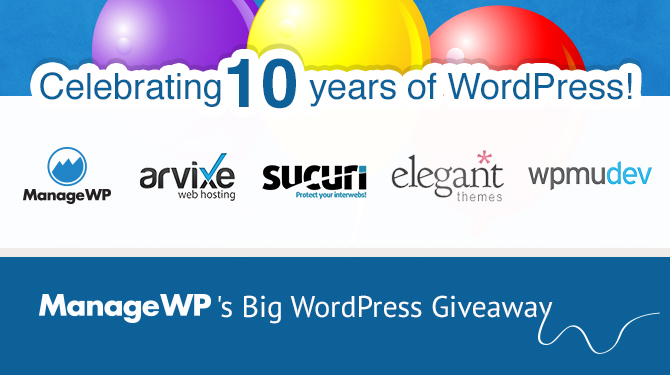 Today is WordPress' 10th birthday.
That's right folks — the world's favorite content management system is ten years old. For many of us, the creation and growth of WordPress has been nothing short of life changing. Take ManageWP for example: although it is a huge popular app amongst tens of thousands, it only exists because of WordPress.
With the above in mind, we do not believe that such a major milestone should go unnoticed. And that's why today we are launching a huge competition that any WordPress user will want to be in on.
ManageWP's Huge WordPress 10th Birthday Celebration Giveaway
To celebrate WordPress' birthday we decided to reach out to some of the biggest players in all areas of WordPress development: themes, plugins, security and hosting. Every single company we contacted was gracious in providing us with prizes to award to you, the loyal ManageWP Blog reader.
Keep reading to discover who is taking part and what they are giving away!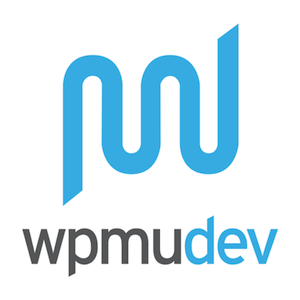 WPMU DEV is arguably the premier online destination for premium plugins. With literally hundreds of plugins available to members, they have you covered on every aspect of WordPress implementation: from SEO, to marketing, to publishing, to community and more.
Not only that, they also offer themes and top-notch 24/7 support of the calibre that we here at ManageWP love.
WPMU DEV have contributed three annual subscriptions to our giveaway!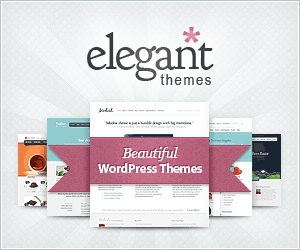 Over the past few years Elegant Themes has established itself as one of the top WordPress theme shops on the web. And with good reason — they offer an enormous variety of no less than eighty-three premium WordPress themes, all developed with the principles of stellar design, advanced functionality and unparalleled support in mind.
With a subscription to Elegant Themes you will never be short of options for taking your WordPress website's design to the next level.
Elegant Themes have contributed three lifetime subscriptions to our giveaway!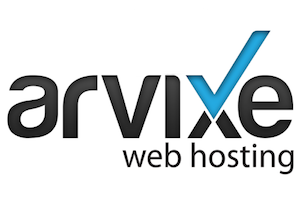 Arvixe does awesome WordPress hosting. With unlimited space and data transfer, a 99.9% uptime guarantee, 24/7 support and much more, it's a match made in heaven for WordPress users. They were also recognized as one of the fastest-growing companies in the US in 2011 and 2012.
In short, they know their stuff and you can trust you website(s) with them.
Arvixe have contributed three annual PersonalPro hosting packages to our giveaway!

Sucuri are the top web security experts. Their CEO and co-founder, Dre Armeda, was the man I turned to when I wanted to know if WordPress was secure. Sucuri offer the best web monitoring and malware cleanup service that I know of and are going from strength to strength.
Not only that, but we have so much faith in Sucuri's service that we incorporated their scanning features into the ManageWP. I can't say more than that.
Sucuri have contributed two annual subscriptions to our giveaway!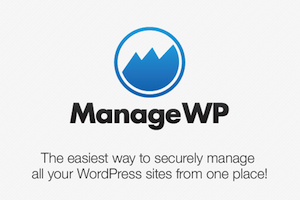 Last but certainly not least, we have the best multiple WordPress website management tool available.
This competition would of course not be complete without our own offering. If you have more than one WordPress site then you should have a free account with ManageWP at the least — we make just about every aspect of WordPress management easier.
We are contributing three annual Business licences for up to ten websites to our giveaway!
Enter For Your Chance to Win!
We have a grand total of fourteen awesome prizes up for grabs in this very special WordPress birthday celebration giveaway. For your chance to win, all you need to do is complete the form below. Best of luck!