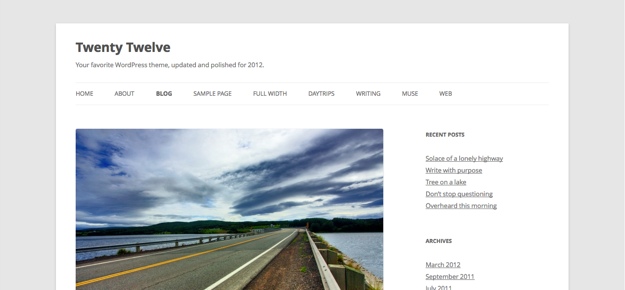 Twenty Twelve was the first official default WordPress theme to include a custom home page option in place of the standard blog excerpts home page template. Some saw this as a manifestation of Matt Mullenweg's intent to demonstrate how WordPress is more than just a blogging platform, but the fact is that you can use a custom home page for your blog. In fact, many people encourage it.
The fact is that many websites and blogs use a home page to do much more than just promote their latest blog post, so surely there is some logic behind their thinking? In this post I want to explore the pros and cons of using a blog post excerpt home page vs. a custom home page.
How to Set Up a Custom Home Page in WordPress
But before that let's quickly look at how you can set up a custom home page in WordPress. Dont worry; it's a piece of cake.
The first step is to create what will be your home page. You can do this by simply creating a new page in which you can put anything you like. You can even use a custom page template to pimp out your home page (many themes these days come with custom page templates specifically for your home page).
You'll also want to create a page for posts to be displayed in (although you won't use this for your home page it will probably come in handy elsewhere). To do this just create another blank page and give it an appropriate header.
Then just navigate to General > Reading in your sidebar. You'll be presented with a screen like this:

Select the "static page" option and select the relevant pages (i.e. the ones you just created for your "Front page" (i.e. home page) and "Posts page."
That's it! All you need to do now is style the pages as you see fit.
The Pros of a Blog Post Excerpt Page
The majority of blogs use a blog post excerpt page but that does not necessarily make it the best option. In fact, it is probably most common due to the fact that it is the default setting in WordPress and it is easy. You don't have to put any extra effort into a home page if you're going to rely upon blog post excerpts to do the work for you.
That in itself is a pro — especially if you are new to WordPress and already feeling overwhelmed. There are a whole bunch of things that bloggers have to worry about and knowing that the home page is taken care of can be a comfort. I generally wouldn't avise that beginners bother themselves with a custom home page — stick with the standard home page and worry about areas in which you can have a greater impact (like creating some content!).
That is not to say that a blog post excerpt home page is in some way inferior though. It can be pretty good for visitors to your blog — it gives them an easy opportunity to (a) see your most recent posts and (b) get a good idea of what kind of content you produce (based upon the selection of five or more posts on the home page). For someone who knows what they want, a blog post excerpt home page offers little resistance.
The Pros of a Custom Home Page
The first pro that springs to mind when it comes to a custom home page is SEO. Because you have complete control over the content that is produced on the page you can be careful to optimize it for the search engines. This is not really possible with a blog post excerpt home page.
The second pro is optimization for conversion. For instance, take a look at the Think Traffic home page: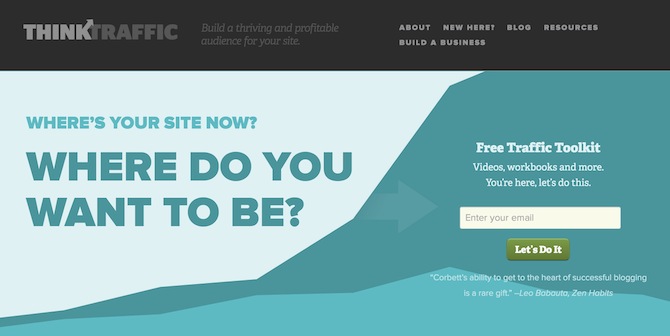 Not a blog post in sight above the fold — instead we have a big sign up form and practically nothing else. I'm willing to bet that this converts far better then a blog post excerpt page would in its stead. If your priority is on getting emails then I would strongly consider a custom home page.
That leads me onto my other point: a custom home page enables you to carefully craft a visitor's first impression upon hitting your site. Rather than simply being presented with a list of blog posts you can take the opportunity to promote your key selling proposition and give yourself the best chance of converting an idle visitor into an engaged reader. That is the potential power of a custom home page.
There is No "Right" Option
My clear conclusion in writing this post is that there is no right or wrong here — there are two options of which each have their own merits. With multiple examples of high profile blogs successful using either approach there is no way to objectively favor one or the other.
Personally, I like the blog post excerpt home page because it offers a quick and easy introduction to your content, although my preference is actually for a slight hybrid in which the home page includes a small "feature box" above the post excerpts that provides a little information about the site along with a link to a "Start Here" page. I think that offers the best of both worlds.
On the other hand, a custom home page gives you the opportunity to shape visitors' experience of your site from the get-go. And considering how many people arrive at your site on the home page, this approach may have great benefits in terms of conversion rates.
Ultimately it is up to you to decide which option you should utilize for your blog based upon your own subjective feelings. My recommendation would be to test one and the other and see which offers the best results. That's the only real way you can figure out the winning approach!