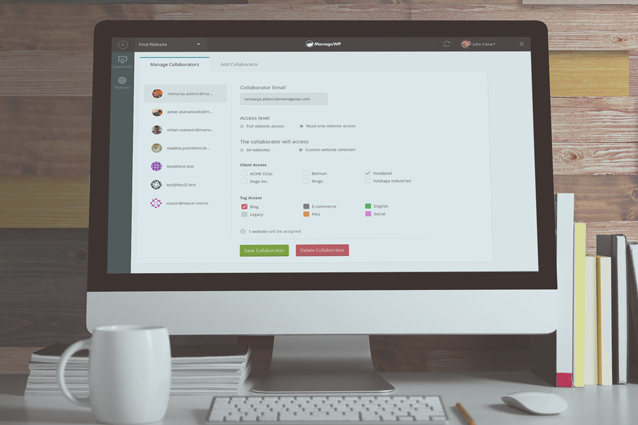 My password mantra is a volatile combination of paranoia and laziness: I distrust password managers like LastPass, and I don't write them down anywhere. At the same time, I use the same set of passwords on a lot of websites, so I won't forget them.
This is why I don't like giving away my passwords.
I talked about the Manage Users tool and the need to periodically change passwords and usernames on your WordPress websites. After all, if you're running a team, you'll have multiple people logging into your ManageWP account. You want to make sure they can't jeopardize years of hard work. Today I'm gonna talk about the Collaborate tool and how to let your team members and clients access your ManageWP dashboard safely.
Collaborate With Your Team
You've got people on your team managing your websites. You want to give them access to all ManageWP tools, so they could get things done quickly and efficiently. Here's what you need to do:
Hover over your account name at the top right.
Go to the Collaborate Icon.
Enter the team member's email and access level (you'll probably want full access on all websites).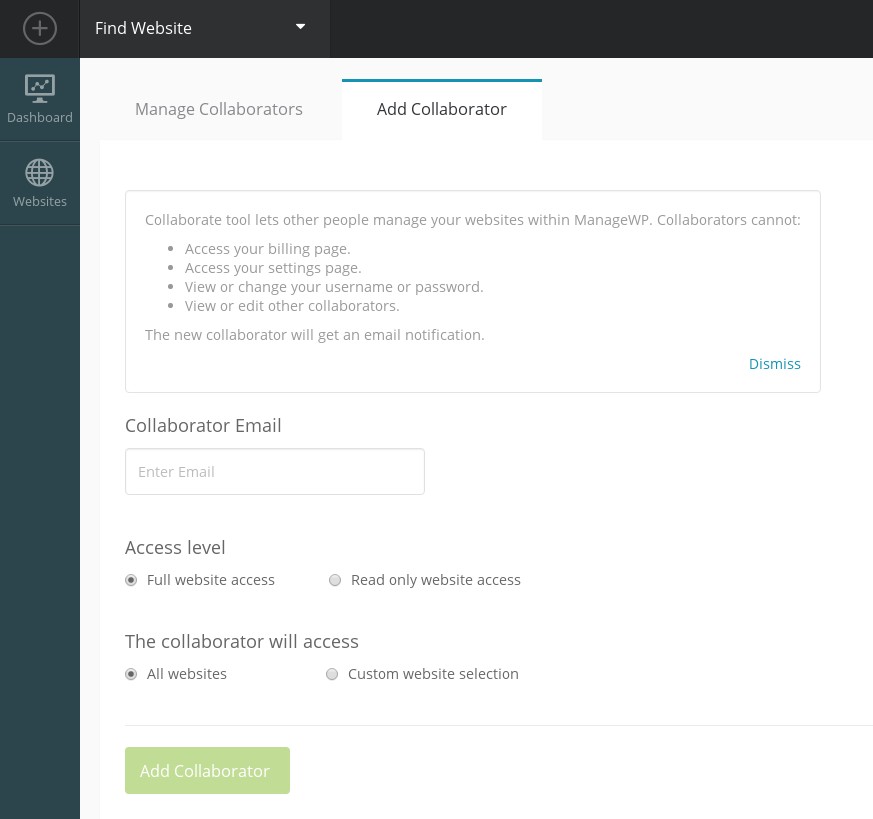 An email invitation will be sent, together with a password setting URL.
Collaborate With Clients
Client collaborators are a bit different from team collaborators. They only need to see their own WordPress websites. You might also choose to give them read-only access, to keep them in the loop without the fear of them breaking something. The invitation process is the same as with the team members, with one difference:
When choosing the access level, pick read-only if you want your clients to look, but not touch. Use full access if you're not afraid to let your clients go wild.
Pick the tags & client labels corresponding to that client. Your client will only see those websites.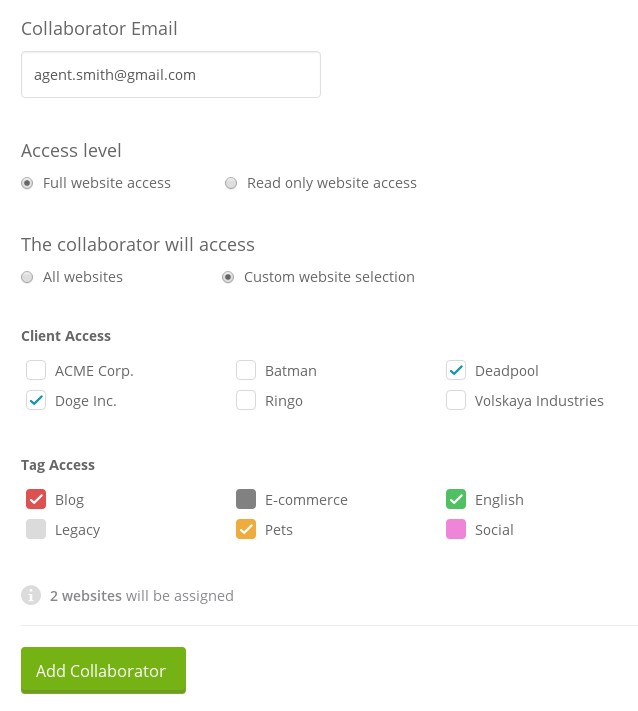 A cool feature at the bottom of this page is the website counter: as you change tags and client labels, the counter will change to let you know how many websites that collaborator will be able to access.
What Can ManageWP Collaborators Do?
They can:
Access your ManageWP dashboard
Access your websites
Use all your ManageWP tools (full access only)
They can't:
See or change your login password
Access your account settings
Access the billing page
See or edit other collaborators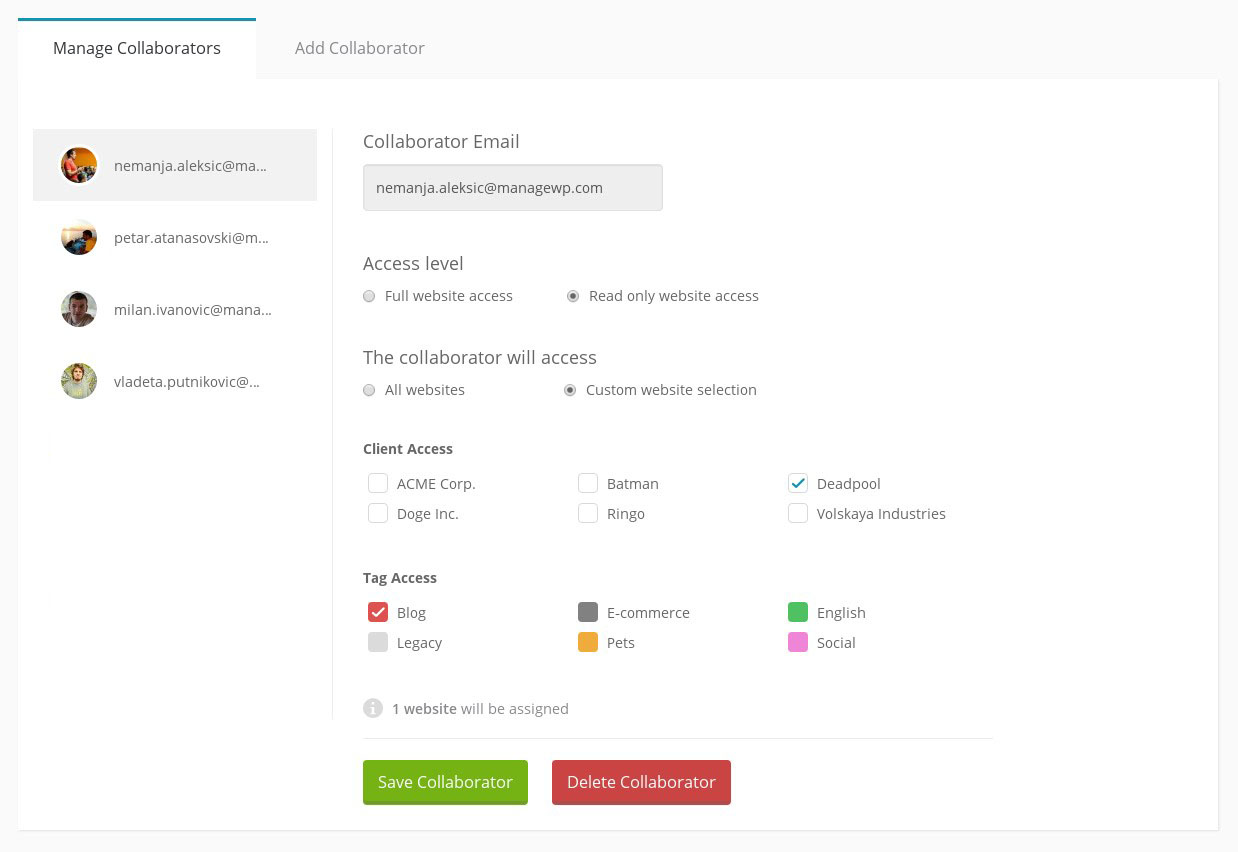 Improvement Over the Classic Sub-Users Tool
Classic users know this tool under a different name: Sub-Users. We decided to rename it into Collaborators because of the shift in our philosophy.
So, here is what we came up with.
Made for clients, as well as team members
One of the main features you kept requesting was the ability to share ManageWP tools for certain sites with your clients. Now you can. Just pick the right tag and/or client label, and they get to access the corresponding websites (and only those websites). Please note that if you choose multiple tags or clients, your client will see all the websites that have at least one of the selected tags or client labels.
Collaborators don't need a separate account
The collaboration system has been redesigned. When you send an invite, a special collaborator account will be created for that person. Once the collaboration is over, you can simply close that account.
If at any point that person decides to create her own ManageWP account, she'll simply be asked upon login if she'd like to go to her own dashboard, or to collaborate on yours.
Separate settings and notifications
Collaborators get their own notifications, news, and settings. They won't interfere with your work, and vice versa. This is pretty sweet because everyone can set their own time zone, among other things. If you collaborators have their own ManageWP accounts, they'll use their own settings everywhere.
Separate history
History will identify who did what, and be able to show it in the Client Report.
Further Development
We kept it simple and practical, and now we need your help: can you think of an upgrade for the Collaborate tool? Let us know in the comment section, and I'll be happy to discuss it.