Your clients are what keeps your business afloat. However, dealing with them isn't always the easiest part of your job. Between confusing or vague feedback and battles about budget, dealing with difficult clients can be enough to make you want to call it quits.
There's no need to let client miscommunications negatively impact your business, however. There are simple steps you can take to avoid some of these difficulties and make dealing with complicated customers more manageable.
In this post, we'll discuss some of the most common challenges developers experience with their clients. Then we'll offer five tips to help you appropriately manage your client relationships. Let's get started!
Common challenges developers face when communicating with clients
If you had it your way, your days would likely be spent solely on developing beautiful sites for your clients. Unfortunately, if you're like most developers, building websites isn't your only responsibility. You also have to manage client communications and relationships, which isn't always pleasant.
Many of the common challenges developers face with clients stem from miscommunication. Both parties may enter into a project thinking they have a shared understanding of the expectations, only to learn later they're speaking two different languages.
When you're not moonlighting as a mind reader trying to decode feedback from non-specific clients, you're fielding requests from the unrealistic ones. For example, some might demand a large amount of complex work on a modest budget. Others may want major projects with unreasonable turnaround times.
Then there are the clients who cause difficulty through their silence. They stop responding and disappear unexpectedly, disrupting your project timelines or missing payments.
Of course, not every client presents a problem. However, these situations are unavoidable, so it's vital to know how you'll deal with them when they arise.
How to deal with difficult clients (5 key tips)
Although it may seem impossible at times, there are strategies you can use to help keep your clients happy. Let's take a look at five tips for dealing with difficult clients more effectively.
1. Ask for specific examples of what they do and don't like
You spend hours upon hours creating a website. So it can be incredibly frustrating to learn afterwards that you and the client have two very different definitions of 'modern design' (just to give one example).
The best way to avoid miscommunications is to be as clear as possible from the get-go. Even if a client uses industry jargon and sounds like they know exactly what they want, it's always best to err on the side of caution.
If they say they like minimalist designs, for instance, show them a few examples of minimalist websites and ask if that's what they're looking for. This can help confirm that both of you have the same end result in mind.
Sometimes, your client may not know what they like or how to communicate what they need. That's understandable, as web design isn't their area of expertise. However, it's not helpful for anyone if they only learn what they don't like by seeing something you created for them.
To avoid this problem, aim to be as thorough and detailed as possible during your initial onboarding meetings. For example, in your onboarding client questionnaire, you might include a section for the client to provide specific examples of sites they do and don't like: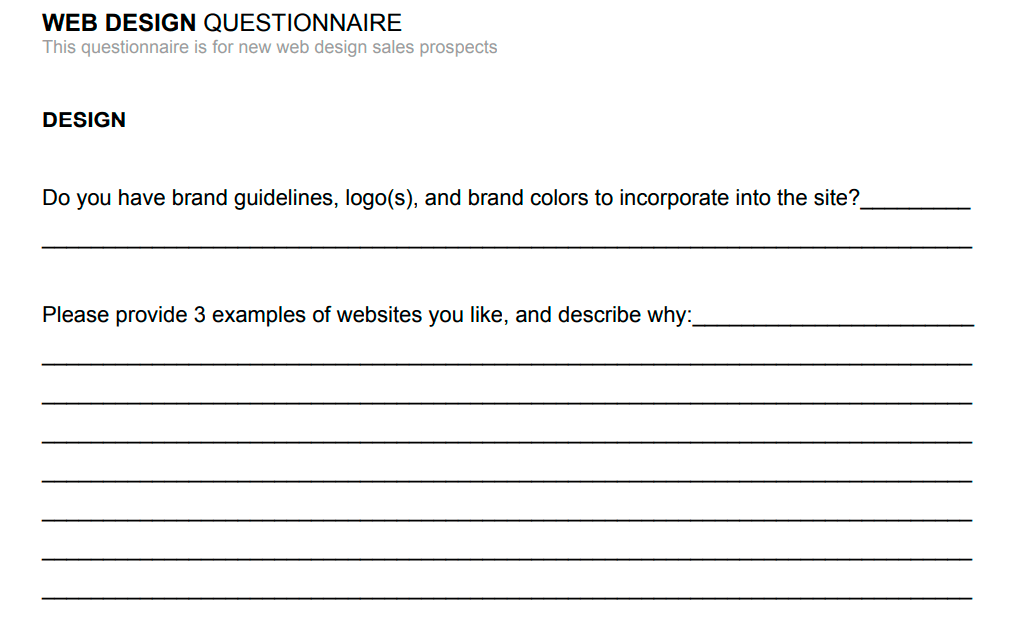 Having concrete websites to reference can help. In addition, it's a good idea to clarify precisely what it is they like and don't like about the sites they point to, so you have a clear reference point to work from.
2. Don't set your deadlines too early
Deadlines are a common source of contention between clients and developers. Part of the problem is that your client may not understand the work that goes into your design and development projects. This can lead to unrealistic goals. They may assume something that would typically take you three weeks to build should be done in five days.
Therefore, it's important to be upfront and honest about project timelines from the start of a project. It's also good practice to pad in some wiggle room. You never know what might pop up unexpectedly, and it's better to deliver the final product early than late.
A crucial aspect of dealing with difficult clients is managing their expectations. Many clients would (understandably) be more irritated about a missed deadline than they would about a longer-than-expected development time that they're aware of upfront. Most customers want to know that they're a priority, and not just an afterthought.
It also helps to explain that project timelines need to account for check-ins, feedback, and revisions. Of course, the client may be adamant about a specific deadline date. If so, politely explain that, while you may be able to meet that deadline, it could mean sacrificing certain elements, so they know exactly what to expect.
3. Understand when it's okay to say "no"
It's an unfortunate and rare occurrence, but sometimes clients end up being more trouble than they're worth. Before you fire a client, however, there are steps you can take to try and mitigate a challenging situation.
One type of client that might require this approach is the 'scope creeper'. This is the client who asked for a minor addition, which you agreed to do. However, that tiny request quickly snowballed, and suddenly you're doing twice the work you originally agreed on. To prevent this, you can establish the project scope in writing at the beginning.
Another vital technique is learning when and how to say "no" to your client. Be clear in your explanation and reasoning for turning down an unreasonable request. Express your desire to deliver a product and service the client will be happy with, while gently working in what you would need to justify prioritizing their project over higher-paying clients. In some cases, it might be worth mentioning that you've already exceeded the agreed-upon services.
It's crucial to set healthy boundaries with clients, to prevent them from taking advantage of you. If a client relationship is becoming stressful to the point of affecting your mental well being, it's probably time to cut ties.
4. Check-in and communicate regularly
The last thing you probably want with a difficult client is to increase the amount of time you spend talking to them. However, regular communication can help prevent unnecessary issues, and keep otherwise challenging clients happy.
Even a brief weekly phone call or email can be useful. Frequent check-ins present an opportunity to address any questions and concerns as they arise, rather than letting them accumulate.
Weekly conversations keep both parties on the same page so there are no surprises. If your client wants something changed with the project, the earlier you know, the better.
Similarly, staying in touch with your clients reassures them that their project is a priority for you. It also lets you keep them updated on the project's timeline.
Another method for consistent communication that you may consider using is client reports: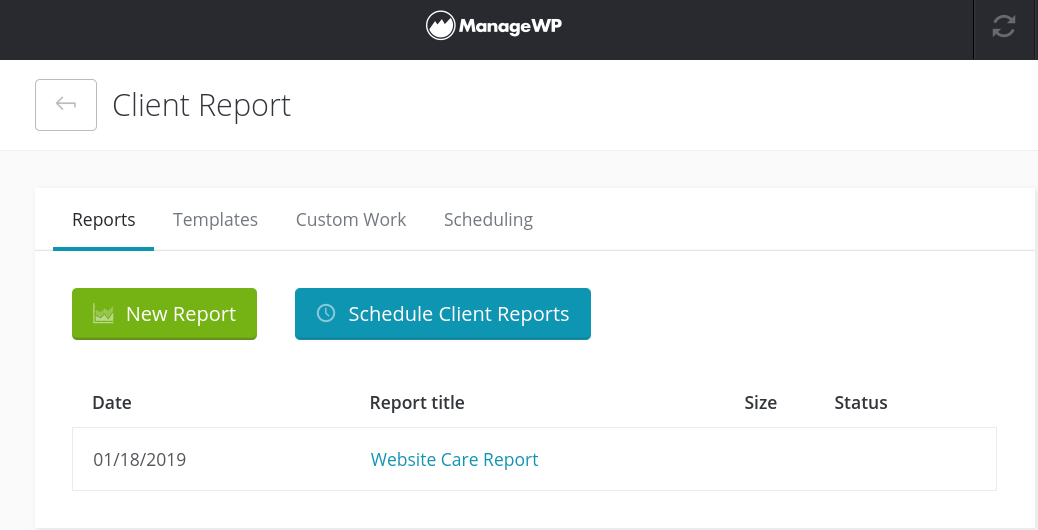 A tool like our own Client Report feature lets you quickly generate, customize, and deliver status updates for clients. This is also a smart way to avoid trouble upfront, because it helps establish a paper trail of your work and progress.
5. Clarify and document project expectations from the start
As we mentioned earlier, some client requests can quickly get out of hand. This is one of the many reasons it's essential to create and document clear expectations.
As a developer, the importance of creating client contracts and getting the project's scope and details in writing cannot be overstated. This document doesn't need to be overly complicated or fancy. There are many design contract templates you can download online, such as the one offered by Docsketch: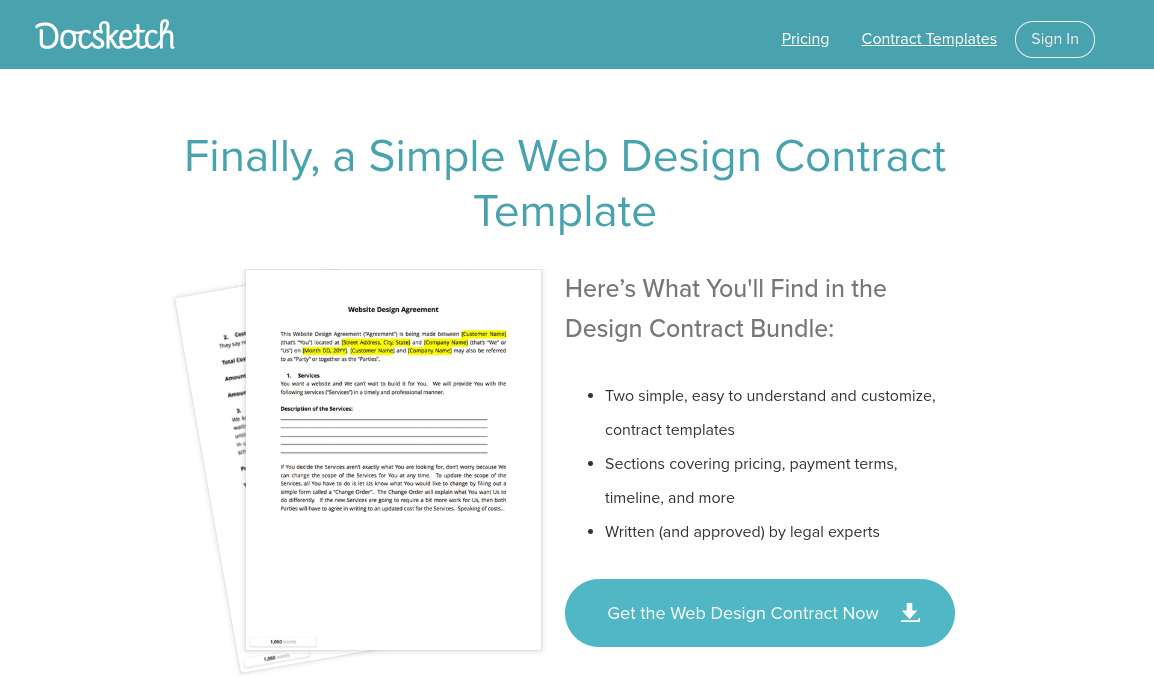 The important thing is that your contract includes the outline and timetable of the project, the agreed-upon tasks, projected deadlines, and payment details.
You might also want to consider adding in clauses about client communication. For example, if a client disappears or refuses to pay, it's helpful to have sections of the contract that address penalties and permissions for the subsequent course of action.
Conclusion
In a perfect world, all of your clients would be appreciative, pleasant, and friendly. Unfortunately, this isn't the reality. Some clients can be particularly challenging to deal with. However, that doesn't necessarily mean they aren't worth taking on.
As we discussed in this article, there are five techniques you can use to better deal with difficult clients:
Ask for specific examples of what they do and don't like about websites.
Don't set your deadlines too early.
Understand when it's okay to say "no".
Check-in and communicate regularly.
Clarify and document project expectations from the start.
Do you have any questions about dealing with difficult clients? Let us know in the comments section below!
Image credit: Pexels.