We have a nice selection of themes for you this month that tick all the items on my design checklist. From super minimalism to robust e-commerce themes, this month's list has it all. And truly, it doesn't matter what industry you're in. Photographers, travelers, corporate types, and bloggers can all find something to enjoy here.
So, without further ado, might I offer up five free themes for your consideration? Enjoy!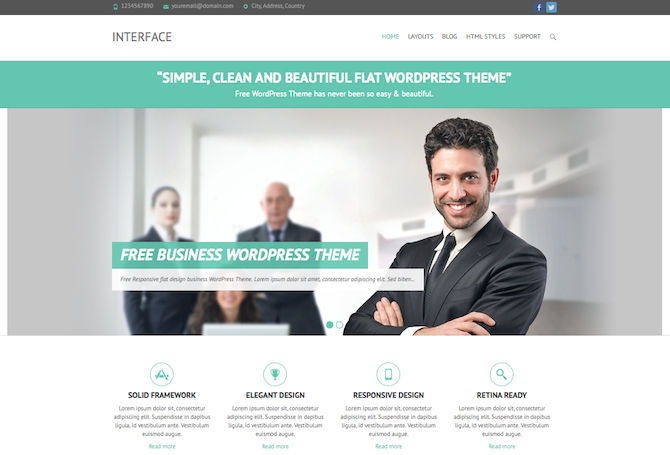 Interface is a professional-looking theme that comes equipped with plenty of options to keep you busy while still being simple enough for newbies.
It offers two site layouts, 4 layouts for posts and pages, 5 page templates, 8 widgetized areas, and 6 custom widgets. It also comes with a featured slider if you want to point your visitors to your very best posts. The top (or bottom) info bar makes your contact information easily accessible. Same goes for your social info thanks to the 10 included social icons.
Other features include a custom background, header, menu, CSS, and more.
Useful For: Business websites. Service providers. Agencies.
About the Developer: Theme Horse offers numerous free and premium themes. Beyond Interface and Interface Pro, they also offer Clean Retina, Clean Retina Pro, Attitude, and Attitude Pro. You can follow them on Twitter @theme_horse.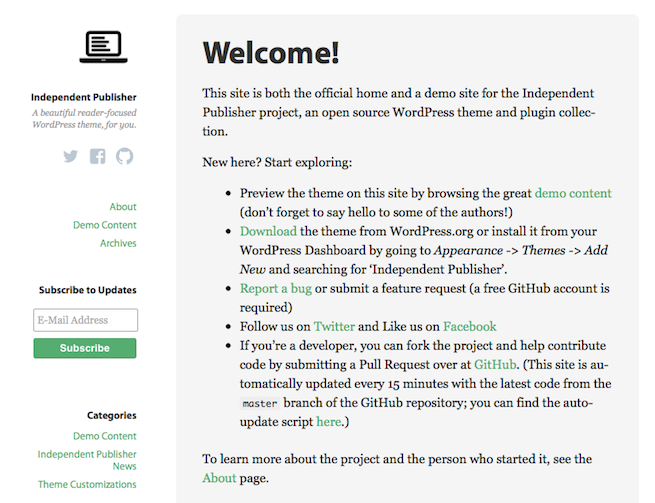 The Independent Publisher theme is designed to let your content stand on its own without any flashy distractions. It's the ultimate in minimalism while still looking nice. It's responsive and mobile-ready, of course, and offers support for most post formats. It can be used for multi-author blogs, too.
Useful For: Online publishers and bloggers. Anyone who has something to say and wants to do so in a clutter-free way could make great use of this theme.
About the Developer: Raam Dev is the creative mind behind Independent Publisher. This is the only theme he's made so far but it's already had a positive response in the WordPress Theme Directory. It's also entirely open-source. You can follow all Independent Publisher happenings on Twitter @ipubme.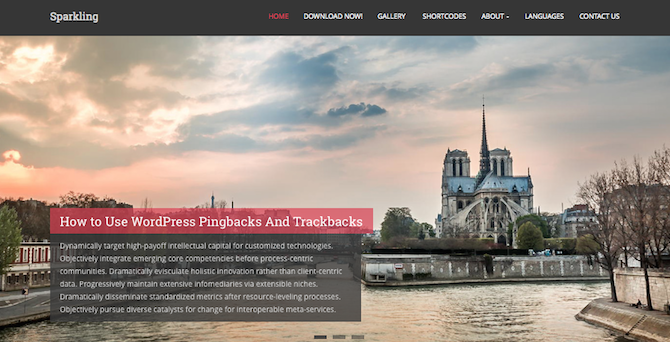 The Sparkling theme has real appeal and is quite eye-catching. It's responsive and simple and can be used on a wide variety of sites. It's mobile ready and comes with a full-screen slider.
Other features include a popular posts widget, social icons, and author bios. It's also SEO optimized and translation ready. All in all, it's a slick theme with a real down-to-earth appeal.
Useful For: Travel, health, and design websites. Can also be used for personal blogs or business sites depending on your industry.
About the Developer: Aigars Silkalns of Colorlib is the developer behind the Sparkling theme. Colorlib offers several other themes as well, including Dazzling, Travelify, Unite, and Pinbin. Keep up with their latest news @colorlib.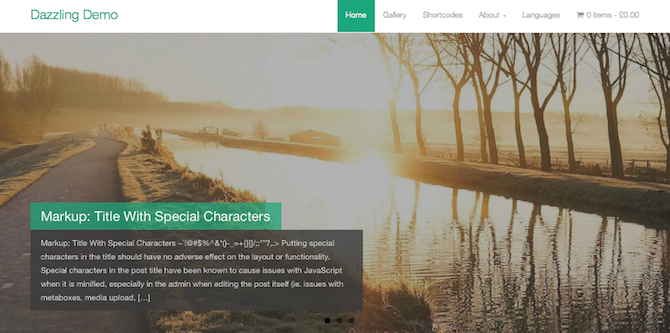 Colorlib made it onto our list twice this month! That hardly ever happens!
Still, Dazzling fits the bill by offering a fully responsive design that's ideal for WooCommerce sites. You can customize just about every aspect of the site from colors to the slider to call to action buttons. There are plenty of widget areas to tinker with. And you can rest assured this theme is mobile and translation ready.
Useful For: Ecommerce sites, corporate sites, and even portfolio sites. It's great for highlighting photography, too.
About the Developer: It's Colorlib again! Check out Aigars Silkalns' profile in the WordPress directory.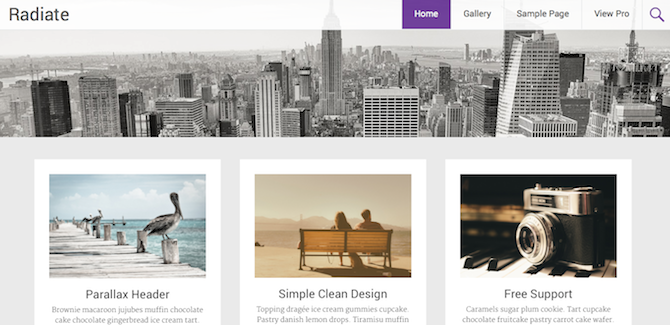 Radiate brings simple and clean to the table.
This theme is responsive and retina ready and it features a parallax header image, custom backgrounds, custom CSS, and color options. Free support is available as well.
But what I like the most about this theme is how structured it is. Your nav sits up top, the top image offers breathing room, then the content boxes present you with your options.
Remember the design checklist I mentioned above? The items on that list are: Clean, easy-to-use, and attractive. And this theme satisfies each criterion.
Useful For: Personal blogs. Portfolios. Agency websites. It's pretty flexible.
About the Developer: ThemeGrill offers free and premium themes like Accelerate, Accelerate Pro, Spacious, and Spacious Pro. Their designs are professional and can be implemented for a variety of different sites. Keep tabs on new developments @themegrill.