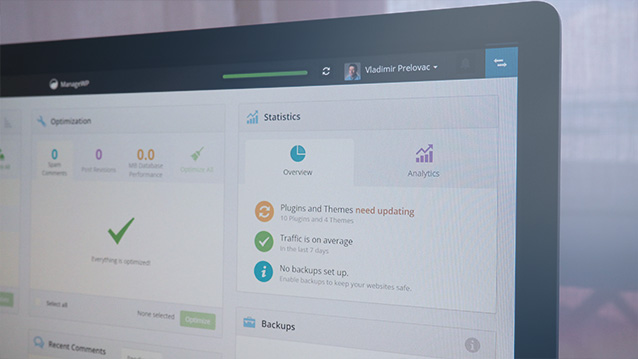 The recent Orion launch has been a truly unique experience, and we've gotten a ton of great feedback and a lot of questions. We've updated the Orion FAQ, but I wanted to go into more detail on some of the most important topics.
The Cost and New Plans
Orion looks great, but I'm concerned about the cost and the possibility of it killing my profit margin.
This is the one of the most asked Orion questions. We worked hard to gain your trust and respect in the past five years, and we're not going to let you down now. Whatever pricing model we decide to adopt, it needs to give you at the very least a similar set of tools as the ones you have right now, for a similar price.
What pricing model are you thinking of?
We ran surveys and talked to a lot of WordPress people. Our initial plan to create a per-website, per-tool pricing was not as well received as we expected. So we decided to explore a more straightforward solution – remain with the current plans, with the ability to mix and match them within a single ManageWP account. We have some other ideas floating around the office, and we'd like you to chip in with ideas of your own! Write it down in the comment section and I'd be happy to discuss it.
What about the price?
Apart from not having a pricing model, we're also not sure about the Orion backup operating cost. It's built to be the most reliable and robust backup solution, but we want to make sure we know the operating costs before we decide on the price. Real-time backups like VaultPress cost $15/month; we're confident that we can provide more value for less money.
Does Orion cost extra right now, while it's in mirror mode?
Nope. It is completely free, although you need to be on a Trial, Standard, Professional or Business plan to try it.
Development
Where is the clone/security scan/uptime monitoring/etc. tool?
All the classic ManageWP tools missing in Orion are in the making and will be implemented in the coming months. You can check out the Orion roadmap to track the progress.
What's the timeline on further Orion development?
October 27, 2015: Orion released in mirror mode. Has some of the classic ManageWP tools missing.
October 2015 – February 2016: Classic ManageWP tools implemented into Orion.
End of February 2016: Classic ManageWP gets phased out, Orion becomes the sole management dashboard.
March 2016 and beyond: It's up to you. And our product manager. But mostly you 🙂
I speak English, but my clients do not. Will you implement client report localization?
Yep! You guys can help us here. After the February release, we will work on a fully customizable client report, so you can do whatever you want with it. The client report is one of those things that really demonstrates your commitment and professionalism to your clients, and we want to make sure your client report conveys this perfectly.
Do you support multisite instalations?
Not for now. Multisite network architecture is a lot different than single-site installations. If you have a multisite on your classic ManageWP account, it will not be mirrored into Orion.
Do you plan on supporting multisites in the future?
100% support is unlikely because of all the architectural differences. What we're considering is multisite support without the backup/clone tool, which is possible without sinking in a huge amount of development hours. Right now, the focus is on releasing all the tools from the Orion roadmap. Once we get there, we'll see where your feedback takes us.
Quick update: We have decided to support multisite installations. For more information, check out this article.
Backups
What's going to happen to the old backups? Will they be replaced by Orion backups?
The old backup system is here to stay, for two reasons: cost and flexibility. Initially, we planned to phase out the old backup, but we started talking to you about all the creative ways you're using Dropbox, Google Drive, and other external destinations to improve your workflow. This is something that we cannot implement without significantly increasing the Orion backup operating cost, so we decided to keep them both — the old backup for low cost and flexibility, and Orion backup for reliability and peace of mind.
Can I set up the number of backups being made each day?
Yeah! Pick a site, choose View Backups, and in the Backup settings you'll find a slider that goes from 1 to 4 backups. The final release of Orion (scheduled for the end of February) will go all the way up to real-time backups.
What are your plans for external backup destinations in Orion?
Orion backups are saved on our private Amazon S3 cloud storage. No ETA currently on the external backup destinations, for reasons mentioned in one of the earlier answers.
I have backups set on classic ManageWP, but they are not shown on Orion. Why?
Orion backups and classic ManageWP backups are completely separate for now. At some point we will carry over the classic backups to Orion to give you full flexibility over your backups.
—
For a broader view, visit our Orion FAQ page. We'll update it as new features and questions arise, so make sure to check it out from time to time.