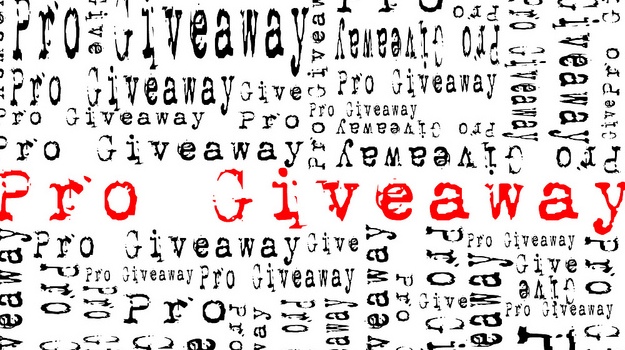 Do you run giveaways on your blog? If you don't, it's never too late to get started. Running a giveaway is not only a great way to promote your blog or a product, but it's also useful for increasing your Twitter followers and Facebook fans.
I've seen (and still see) many blogs running giveaways the old fashion way. They'll list the entry methods in a blog post, usually requiring users to leave a comment, send out a tweet, follow on Twitter, like on Facebook, etc. Then the blog owner has to manually check each entry. Now if there are hundreds of entries, this can be an extremely time-consuming process.
Not only that, but many users will skip a giveaway altogether if it seems too daunting. A long list of entry methods is going to seem like too much work and users will not want to enter. So how can you make this easier for yourself and your users?
What many blog owners don't know is that there are quite a few excellent tools online that can help you run a giveaway the easy way. Not only do these tools save blog owners the trouble of doing anything manually, but they also make entry easy for your users – no more long lists, entry is as quick as clicking a button.
So today I'm going to share three of those tools with you: PunchTab, Rafflecopter and WildFire. These tools will make running  a giveaway on your blog a piece of cake.
PunchTab
You've probably heard of PunchTab's loyalty program and reward system. However, they also have an awesome free giveaway widget that makes it really easy to run a giveaway on your blog.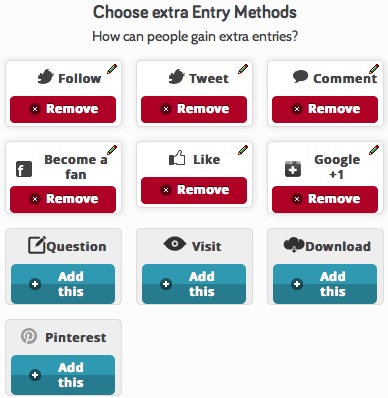 When creating a giveaway through PunchTab, you will choose and customize the entry methods (as pictured above). Each method will be represented as a "step" in the entry process on your widget. Although entering via Facebook or email is required, the rest of the entry methods are optional and can be skipped.
If the product you're giving away is really good, users will want more entries and be willing to follow, like, +1, pin, etc.
Entry methods for PunchTab giveaways include:
Follow – you can enter multiple Twitter accounts for users to follow
Tweet – create a custom tweet for users to retweet
Comment – ask a question that users will be able to answer in your blog comments area
Become a fan – you can enter multiple Facebook pages for users to become fans of
Like – you can enter multiple URLs for users to like
Google +1 – you can enter multiple URLs for users to +1 on Google+
Question – you can ask a private question for users; answers will only be visible to you through PunchTab
Visit – enter a URL for users to visit
Download – add a file for users to download
Pinterest – enter an image for users to pin; you will need to specify the page URL, image URL and description of item
PunchTab lets you customize the order of your entry methods. Upon completion you'll get the code snippet to paste into your blog page or post. You can also add the giveaway to your Facebook page as a new app (with the click of a button) and/or get a sidebar widget to help promote your giveaway.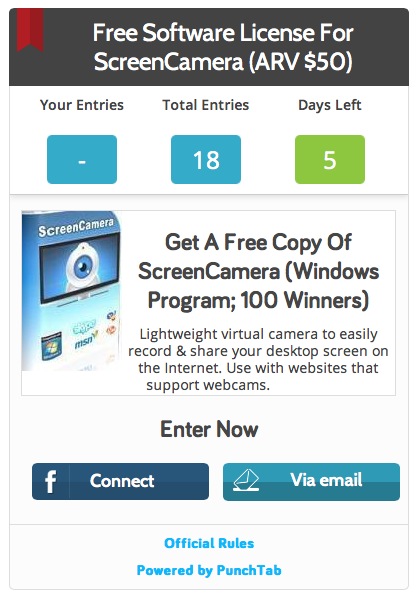 When your giveaway is over, you can choose a winner or have PunchTab choose one for you. You'll also have access to the email address collected from the widget and if you have a Constant Contact account, there's an option to export email address there as well.
Another popular free giveaway widget comes from Rafflecopter. The widget's look is a bit different from PunchTab. Instead of going through a process when entering, users can see all entry methods at once. This allows them to pick which entries to use, rather than being taken step-by-step through each one.
Like PunchTab, users can enter via Facebook or by email, so they won't be forced to have a Facebook account. The Rafflecopter widget has two tabs: one containing the entry methods and the other with a recent activity feed. Under recent activity your users can see others that have entered and how many entries they've received.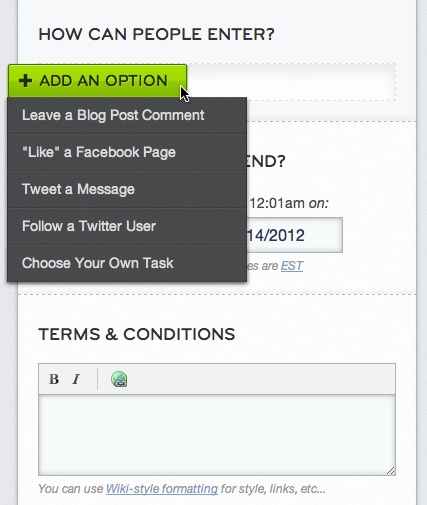 As you'll notice from the screenshot above, at first glance Rafflecopter doesn't appear to have as many entry methods as PunchTab. You can choose: blog comment, Facebook page like, tweet, Twitter follow, or create your own task.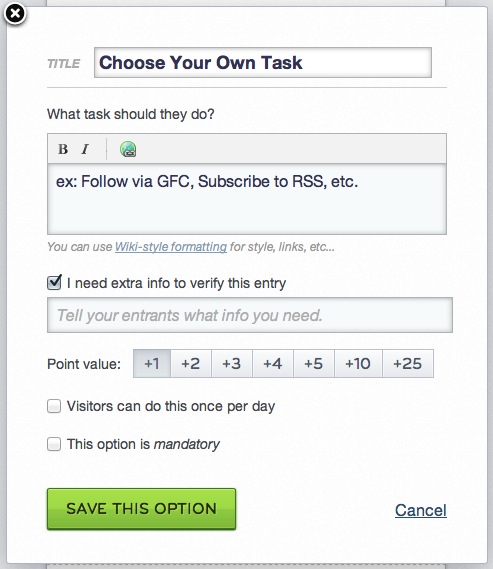 However, the "choose your own task" option can be used for many things. For instance you can enter your Google+ URL and allow users to add you to their circles, or maybe you may want to enter your RSS feed URL and require users to subscribe. The possibilities are only as limited as your creativity.
With Rafflecopter you can choose a winner as well or have Rafflecopter choose it for you. They also provide a detailed report (in a spreadsheet format) of each user and entry methods – making it easy verify the validity of entries.
Unlike PunchTab, when the giveaway is over Rafflecopter will display the winner(s) on the widget. So anyone that goes back to the widget after the giveaway has ended will be able to see who has won.
Wildfire
Jan 2018 update: Wildfire is no longer commercially available after being acquired by Google
Wildfire is the most powerful and advanced tool of the three on this list. I haven't used Wildfire personally, but I know a few bloggers that have and love absolutely love it. With Wildfire you don't just create giveaways, you create promotion campaigns.
Instead of widgets that can be pasted into blog posts and pages, Wildfire's widget appears much like a header or toolbar at the top of your blog. When clicked, the header will open up a form (much like the one pictured below) allowing users to enter your giveaway. You can also add a new app to your Facebook page containing your giveaway form.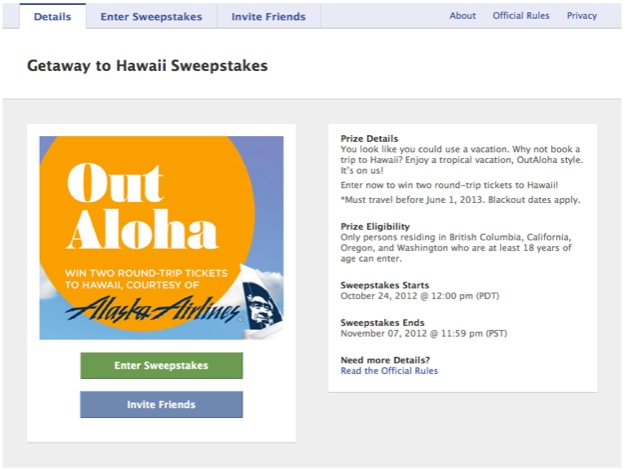 Unlike PunchTab and Rafflecopter, Wildfire doesn't focus on entry methods. Users can "like" your Facebook page and send out a tweet or Facebook post about their entry, but besides filling out the entry form there are no other entry methods.
The entry form is extremely customizable. You can choose which fields to include, define eligibility requirements (age, country) and even enter a URL redirect – a page where users will go after entering.
Wildfire is great not only for giveaways and sweepstakes, but also coupons, contests (photo, essay, video), quizzes, trivia and group deals.  It features a drag-and-drop interface, real-time analytics with in-depth stats and metrics, branding and design control, shopping cart integration and much more.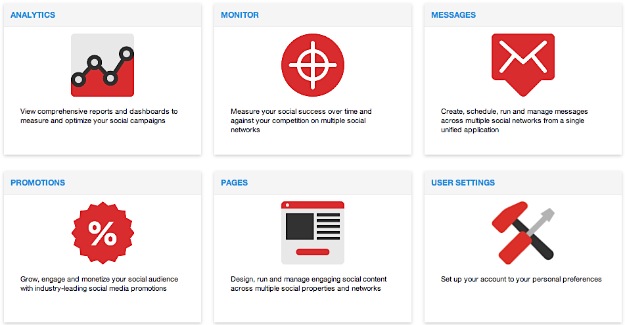 I'm sure you're wondering if a tool like this is free and unfortunately, it's not. However, there are four affordable plans to choose from. The lowest plan is just $5/promotion and $0.99 for each day that the promotion is running. With all of their advanced tools and features, this is a pretty good deal.
One thing I don't like about Wildfire, which is related to their compatibility and not their features, is that you can't use the website in just any old browser.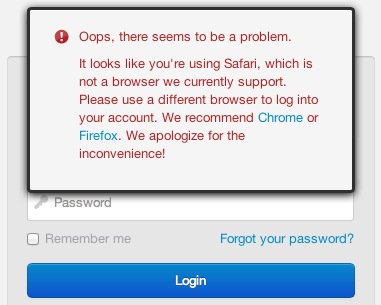 For instance, I tried to "test drive" the promotions app in Safari and I was alerted that the browser is not supported. Surprisingly, it worked just fine in Opera – a less popular browser on Mac. So just be careful which browser you try to use, should you want to test it out.
Wildfire has a deep integration with Facebook and Twitter. So when a user enters, it will show up in their Facebook feed for all of their friends to see. This means more promotion for your blog and giveaway. Facebook also has a Wildfire app that displays all giveaways and promotions running on Wildfire. So anyone that uses the app will also be able to see and enter giveaway from there.
How Do You Run Giveaways?
So how do you run giveaways on your blog? As you can see PunchTab, Rafflecopter and WildFire are three totally different tools that each have their benefits. If you're looking for something quick and simple, then PunchTab or Rafflecopter are both great.
PunchTab is likely to get you more followers, likes, etc, because it takes each user through a process. However, Rafflecopter allows more entry methods since you can add your own tasks. It's also nice that winners are displayed on the widget when the giveaway is over.
If you want to run a promotion, WildFire is the best way to create a campaign and track the performance. Not only will it help you to build fans and followers, but it can also help to increase sales and better engage with your users.
What is your preference? Which giveaway tool do you use and why?
Creative Commons image courtesy of Rob_Simpson