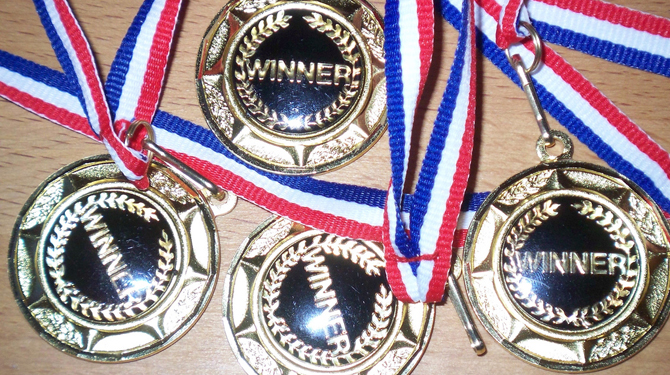 Have you ever tried to run a competition from your blog? If it's not something you've considered before, you've been missing an opportunity to create an interesting connection with your community. Competitions are a great way to promote your website or product and can also be a great way to grow your social media followers and interactions.
In the past, running competitions involved a significant amount of administration. Once the competition had finished the site owner would be required to go through every entry manually, decide the winner(s) then give out the reward.
The site owner now has another option. Spending hours going through hundreds of entries is now a thing of the past. The administration requirements for these events has dropped dramatically recently.
Gleam is a service that removes a significant administration overhead, while giving you a vast number of options to use. Let's take a look at it.
What is Gleam?
Gleam allows you to run competitions, give out rewards and gather information about the people who enter your events. This is all managed from one simple dashboard.
The service allows for multiple methods of entry through various service integrations. This can be your own site, Twitter, Instagram, Facebook and countless others. This flexibility allows your competition entrants to choose how they participate.
With a focus on user engagement, Gleam supplies detailed analytics and post competition surveys to discover how effective your competition was in achieving your goal. That goal can be social interaction, follower growth, or any number of other options.
This post competition analysis is the foundation of making future giveaways better or driving more value for advertisers.
Creating An Account With Gleam
Setting up an account on Gleam is a simple process. The initial account is created using a free plan that means you can sign up without handing over any credit card details.
Clicking on the Sign Up option on the home page will take you to an account creation window that requires five pieces of information. To get started you simple need to enter your name, email address, supply a password and then add your site name and URL.
The free plan has most of the features you would need, however the Pro ($39 AUD per month) and Business ($149 AUD per month) plans offer more functionality including MailChimp and Google Analytics integration.
Once you have added this information you are taken into the Gleam dashboard where you can begin creating your competitions and rewards.
Gleam Service Integrations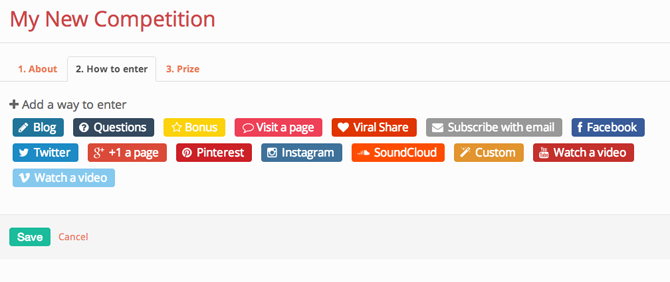 The service integration options available for competition entries is where Gleam really comes into its own.
Not content with the simple comment on a blog post, follow on Twitter, or Like on Facebook options that seem to be the most prevalent online, Gleam allow you to use many other services with your competition.
The services available to you with the free plan include:
Using aspects of a blog – commenting, writing a post, subscribing to RSS
Multiple uses of Twitter including retweeting, hashtag usage, or following a user
Watch a video on Vimeo
Answer a Question
+1 a Page on Google Plus
Using a Bonus method such as visiting a site each day, or spending a certain amount on orders
Using Pinterest to post an image or follow a user
Visit a webpage
Follow, like or submit a photo on Instagram
Share the link with your friends
Follow a user or like a song on Soundcloud
Like on Facebook or choose a video or photo
Watch a video on Youtube
Custom method of entry – this could be almost anything you can think of
I think you'll agree the options available to you are quite staggering.
Integration options increase further using the Pro or Business plan. Depending on which premium plan you use they can include email subscription for competition entry and MailChimp, Google Analytics and Constant Contact to the management and reporting methods.
Create Your First Competition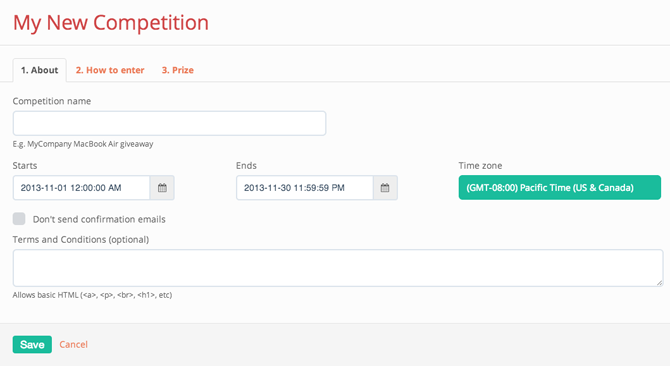 Competitions are a core aspect of the Gleam service. Once you have created your account and set it up, running your first competition is easy.
Select the Competitions option on the left hand menu which will take you to the Competition management area. Once there, click on the large green New Competition button to begin creating your first competition for your website.
This page allows you to name your competition, set the start and end date of the competition and add any terms and conditions that will apply to it.
The next step is deciding how people enter the competition. Gleam comes with an unbelievable number of options and service integrations with the free plan as we detailed earier. Each service in turn gives you multiple methods of entry as we touched upon earlier.
Once the methods of entry have been selected you then need to define the prize for the competition. This information includes the name of the prize, the quantity of prizes available and should you need it, a description of the prize.
Creating Rewards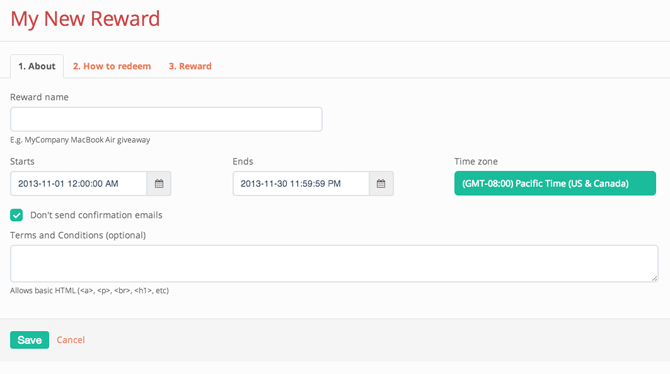 The process for creating rewards is almost identical to creating competitions. However, rather than adding simple information about the prize you can win, you are able to define the reward type.
The reward types available to you are:
This allows you to send your entrants to an additional resource to pick up their reward, or merely give them a coupon that allows them money off a product or whatever you choose it to be valid for.
Using The Competition or Reward On Your Blog
Now that you have created your competition, you need to implement it on your blog. The most common method for doing this is to simply embed your Gleam competition within a blog post or page using an embed code.
After you set up the competition you are given a unique embed code for it to use it on your blog. Take this code and then create a new post or page on your WordPress site. On this new post or page editor simply change to the HTML view and paste the embed code into the content window. You can then add any further information you like as you would with any normal post or page. It's really that simple.
A further option is available to you if you have the Business Plan. With this plan you can then create competitions as a unique landing page on your website controlled from the Gleam Dashboard.
This is especially useful if you run regular competitions. You can simply create a URL such as yourdomain.com/competition and then automatically populate it with your latest competition within an iFrame on the page. This method gives your community a constant location for any competitions you decide to run.
Conclusion
If you've ever thought about running a competition on your blog but were discouraged because of the amount of work required to do it manually, Gleam may be exactly what you are looking for.
The service takes a difficult and administratively intensive process and makes it simple and user friendly, all while giving you more options than you could ever hope to need.
Have you run a competition from your blog? Whether it was done manually or with a service like Gleam, we'd love to hear what you thought of the process in the comments below.
Photo Credit: Lergik