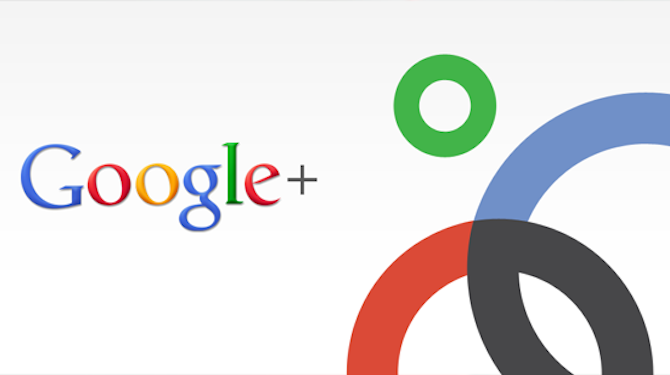 If you're a blogger then you probably love comments.
When you're just starting out, each and every comment you get is cherished. And while that special feeling fades over time, I still love getting comments. I still like to see each post on my blog get 30+ comments. A single figures comment count looks awful to me. Comments mean engagement and interaction — in a way they define blogging.
Don't get me wrong — I don't consider comments to be the fulcrum to successful blogging. But it is an important part, symbolic or otherwise. And that's why your comments system is so important. The platform that people use to submit comments on your site is something that most bloggers have deliberated over (perhaps more than once) in their time. With the multitude of options out there, it can get rather overwhelming.
And just to add to that confusion, we now have Google+ Comments. It looks sleek and sexy and it integrates beautifully with WordPress. So is it set to make a major difference to commenting on WordPress, or is it just another option that will fall by the wayside?
A Short History of Comment Systems
I've spent a fair amount of time deliberating over comments systems during my time as a blogger.
At one point I actually switched to Livefyre on my blog, only to switch back a few weeks later having discovered that I much preferred the default comments system. I still run the defaults comments system, albeit with the very snazzy Jetpack Comments module: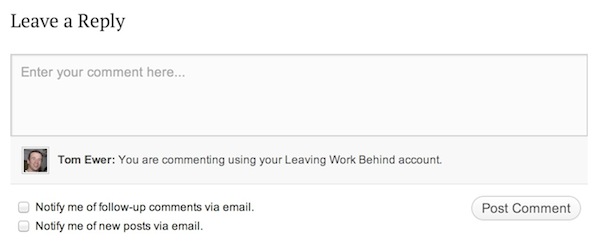 It allows visitors to login via Facebook, Twitter and WordPress.com, as well as giving them the option to subscribe to comments and/or new posts.
The likes of Livefyre and Disqus offer extra features such as bespoke spam protection and social media integration, but there's a whole other breed of comments system out there too. For a long time Facebook Comments has stood alone as the fully social media integrated comments system, but with the introduction of Google+ Comments that has now changed.
Google+ Comments
Google first announced in April that it would be integrating Google+ Comments into its Blogger platform. Without wanting to put too fine a point on it, my first thoughts were, "Holy crap that looks beautiful."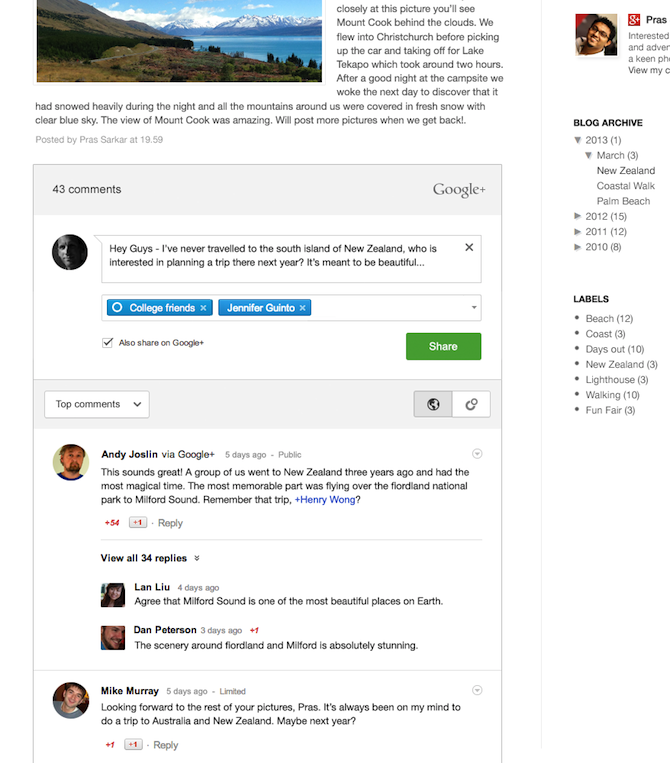 It's what you'd expect from Google to be honest, but the integration is seamless and (in my opinion) very sexy.
There's functionality under those curves too though. It's extremely easy to share your comments on Google+ as a whole as well as with individual people and Circles. In a perfect world, if everyone who visits your blog uses and loves Google+, it's a dream solution.
The Google+ Plugin
It was only a matter of days before a bright spark (Brandon Holtsclaw, to be precise) developed a plugin to utilize the new commenting system.
He's managed to retain the same style from the official version while seamlessly integrating the default system as well as any other systems you may have installed: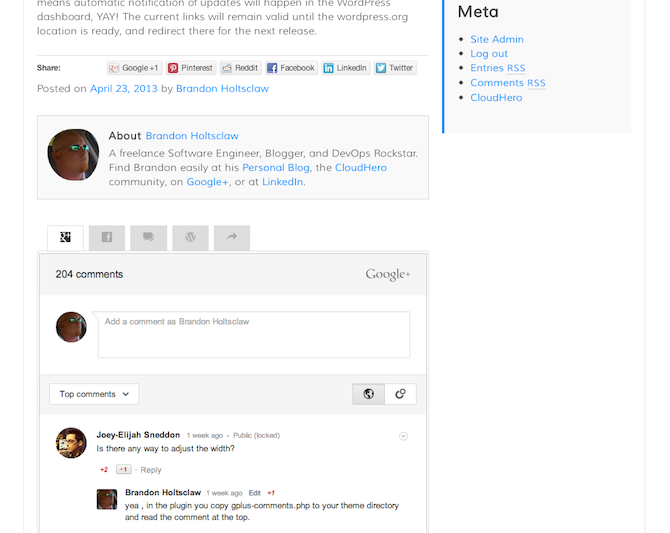 It's been done in a very slick fashion and Brandon is to be congratulated for his efforts, regardless of how well-adopted (or otherwise) the system becomes.
However, the most pertinent question remains — is Google+ Comments a good option for WordPress users?
The Problems with Comments in WordPress
When I was considering switching to Facebook comments a few months ago (in the hope that it would boost referrals from Facebook to my blog), the overwhelming response I got from people was that they wouldn't comment.
Why? Because a lot of people don't want to use their social media account for commenting. They don't necessarily want their comments being published on their Facebook page. Even though Facebook Comments includes an option to not publish your comment elsewhere, many people simply aren't willing to hand over their social information so readily.

The result of this is that the number of comments will go down if you implement a social media commenting system. The potential upsides are that you may get more referring traffic from the social media network in question and you may get far less spam. Those are two pretty good upsides, but ultimately not enough to encourage me into change.
Ultimately, the default WordPress comments system is so popular for one reason: it is simple and unobtrusive. You don't have to give any information that you don't want to (with exception to your email address, but people are used to that) and you can post a comment without having to go through a tiresome login process. It just works.
I believe that the problem people will face with integrating Google+ Comments is twofold:
Many people don't have (or don't actively use) Google+.

Many people will be unwilling to share via a social media network.
If every Internet user in the world were an avid Google+ user and there were no qualms about privacy and the distribution of comments, I would say that this is a very intriguing option indeed. But Google+ is no Facebook, and I won't even use Facebook.
What Do You Think?
I'd love to get your thoughts on the new Google+ Comments system and on blog commenting in general. Is it that important, and if so, which system do you use and why? Let us know in the (you guessed it) comments section below!