Have you ever had clients ask you to add features half way through a project? If so, how did you cope with it? The next webinar that GoDaddy and WP Elevation have prepared for you tackles exactly this. How to avoid scope creep with your clients. Knowing how to do this will help you keep your project on track and keep it profitable.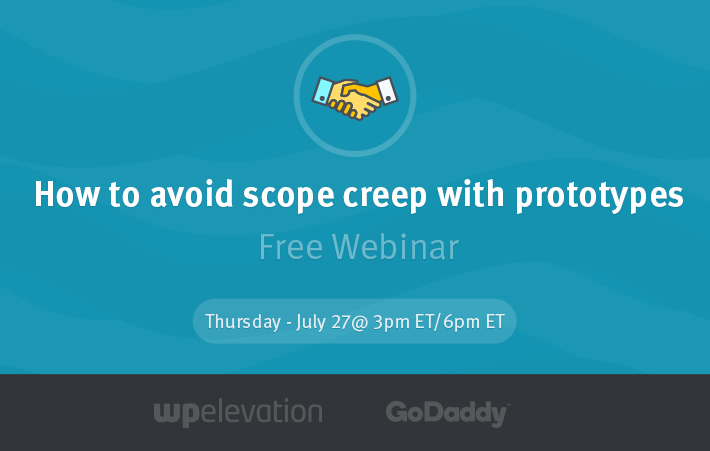 What is scope creep?
Scope creep (also called requirement creep, function creep, or kitchen sink syndrome) refers to changes that are made after the beginning of the project. To avoid this you need to make sure that the project is properly defined, and documented before you dive into it.
A lot of clients will be familiar with scope creep, and will have clear goals for you to work with, but often clients don't understand what they want right from the beginning. Only once they see their websites coming to life they want to add new features and make changes. In those occasions what is very useful to do is create a prototype as a 'proof of concept', which can be a very valuable part of your discovery process.
What you will learn?
The webinar will show you:
How and when to price a prototype into your proposal.
How to build a prototype in WordPress using an inexpensive tool kit.
How prototyping can help streamline the design and development process.
By building and selling website prototypes you will be able to communicate your solutions more effectively and avoid scope creep in the future.
When is the webinar?
The webinar will take place on Thursday, July 27th at 3pm PT/6pm ET. It will last for an hour, and like always it's free.
For those who can't make it, by registering you will receive a link to the recording and downloads. However, the live Q&A is exclusive to webinar attendees and is not included in the recording.
Who are your presenters?
For this webinar you will see Cath Hughes, some of you met her last time if you attended. Cath runs Phase Creative, a Sydney based web agency specializing in bespoke small business sites. She's also a passionate member of the WordPress community, a WordPress tutor and a coach with WP Elevation.
This week, you will also meet Mike Killen, owner of Devon Digital Design, works with digital creative businesses, professionals and freelancers to help them generate the profit they deserve.
Sign up
To register and get all of the material, head over to the GoDaddy registration page.