We are down to our final three WP Elevation webinars for this year. So, if you haven't already had a chance to sign up and get all of that FREE material, make sure you grab the opportunity for the last months of 2017.
This month's webinar is on how to productize your services. If you successfully manage to productize your services that means you can sell multiple times to "customers".  This is important, because even if your business is thriving, you still only have so much time to exchange for money. You can change your customer's perception by moving into a productized model, and avoid being trapped in a boutique service body.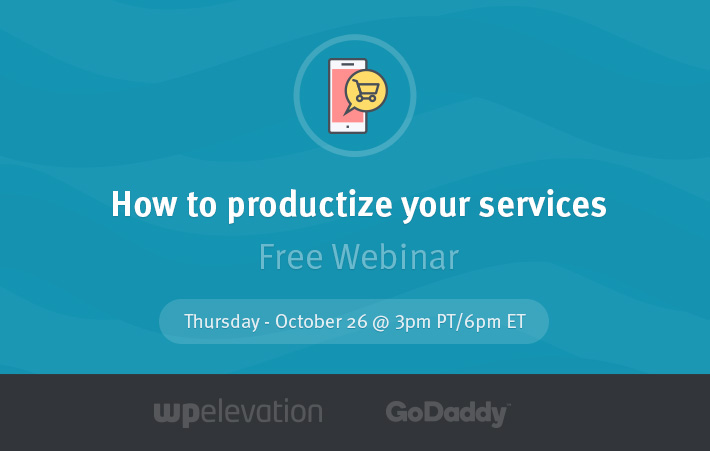 Making the transition from a freelancing service to a productized service is the goal of many entrepreneurs. This gives you more control over your business, makes you less vulnerable to "feast or famine" situations, and is often a key element to scaling a business. As a web professional there's a lot of waste of time and resources in provided services, from design revisions, getting content, managing expectations, invoicing and following up payment. This webinar will teach you how to change that.
Learning points:
This webinar will cover the following points:
The difference between a product and a service.
Types of productized websites and website care services.
How to create and sell digital products.
Webinar date & time
Join GoDaddy Pro and WP Elevation on Thursday, October 26th at 3pm PT / 6pm ET for a free one-hour training session. All the downloads you need to start taking action will be provided on the call.
Sign up
To sign up for the webinar head over to the GoDaddy registration page. If you can't make the webinar you should register anyway and we'll send you a link to the recording and downloads. (Note: The live Q&A is exclusive to webinar attendees and is not included in the recording!)