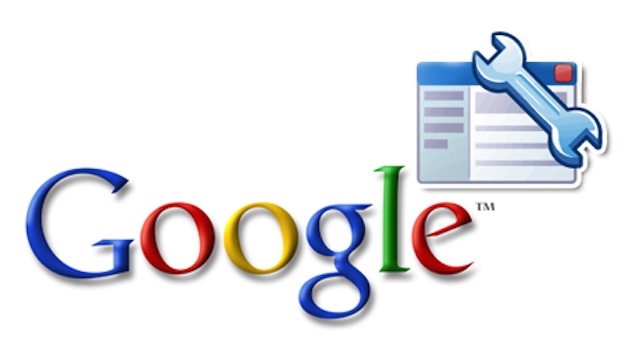 Google is your friend.
Although it often gets bashed by bloggers (typically after an algorithm update), Google is a source of free traffic for your blog that you should seek to leverage. No website has a God-given right to be on the first page — all you can do is optimize your site as best as possible, and hope that positive rankings will come in time.
Search engine optimization takes many forms, but today I want to focus on something that all webmasters should do — register their site with Google Webmaster Tools. This is like shaking hands with Google at a cocktail party — you're introducing yourself, and letting them know who you are and what you're about.
Not only that, but Google Webmaster Tools offers up a whole suit of (you guessed it) tools that you can use to further optimize your site. With that in mind, let's go through the process of setting up your WordPress website in Google Webmaster Tools.
Adding and Verifying Your Site
The first thing you need to do is head over to the Google Webmasters website, and sign in: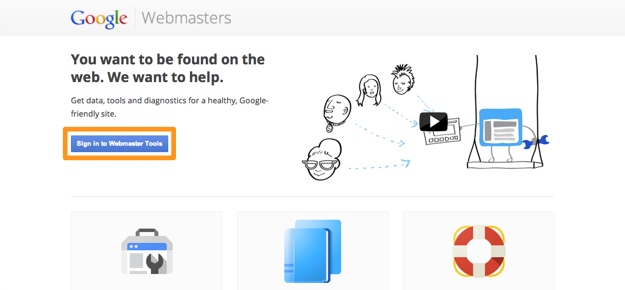 Assuming you do not yet have any websites in your Webmaster Tools account, you will be presented with a blank page. To add your first site, click the "Add a Site" button in the top right:

You will be presented with a pop-up box, in which you can enter your site's domain name. Enter your site's domain name with the "www." prefix (e.g. "www.mysite.com").
Once you have done that, you will be prompted to verify your site. The quickest and easiest way to do this is via your Google Analytics account: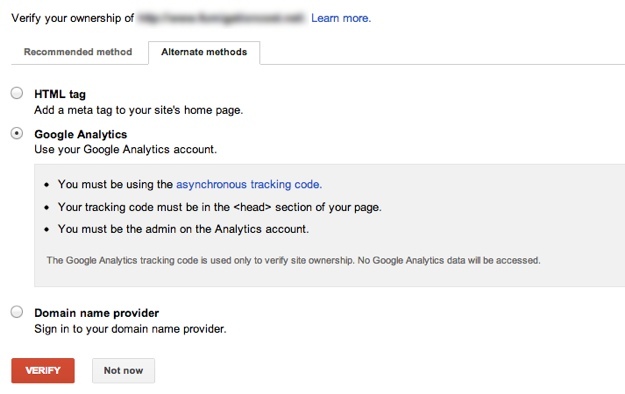 If your site is already registered with Google Analytics, verification can be achieved with a couple of clicks.
If however your site is not registered with Google Analytics (and you do not want to register), the next best solution is to verify via HTML tag.
First of all, copy the meta tag that Google prompts you with:

Then login to your WordPress site, and navigate to Appearance > Editor in the sidebar. Locate your "header.php" file in the list of theme files to the right of the screen: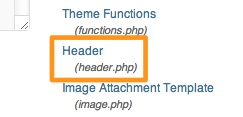 In the editor screen, locate the <head> tag, and paste the meta tag you copied earlier below it:

Re-save the file, and you can then go back to Webmaster Tools and complete the verification process.
I would recommend that you create a child theme and make a copy of your header.php file to do this. If you don't, you run the risk of your meta tag disappearing when the theme is next updated. Besides, using a child theme is best practice anyway, so this is a good reason to do it. The process is not particularly complicated.
The final thing you need to do is repeat the above steps for the non "www." version of your site (e.g. "yoursite.com"). This is an important step, as I will explain.
Setting Up Your WordPress Site in Webmaster Tools
Webmaster Tools offers up a host of useful tools that you can use to further optimize your site. However, you should not neglect the most basic tasks that every webmaster should carry out when setting their site up. I have detailed the "must-do" actions below.
Define Your Preferred URL
If you followed the steps above, you will now have two versions of your website verified with Webmaster Tools. The next step is to tell Google which is your preferred URL, which you can do by navigating to Configuration > Settings in the sidebar: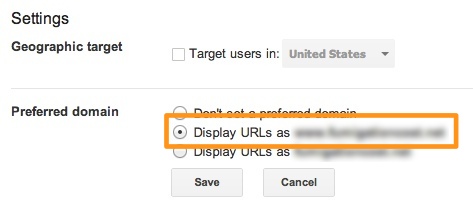 You will want to repeat this process for both versions of the site (obviously, each preferred URL should point to the same version).
It doesn't make a difference which one you go for — it's an aesthetic choice more than anything. However, it is important that the version you pick matches the URL defined in the General Settings of your blog:

The point of this exercise to demonstrate to Google which version of your site it should prioritize in the search results, in order to avoid duplicate content issues. You are defining what is known as the canonical URL. If you would like to learn more about canonicalization, click here. Take a look at permalinks guide too.
Set a Geographic Target (or Not)
Setting a geographic target is done via the same page in which you defined your preferred URL (as shown in the screenshot above).
Doing so is extremely relevant if you intend to target a specific locale with your site, because you will essentially be telling Google to prioritize your site's rankings to searchers in a specific country. This can have a major impact on your rankings.
If you intend to target a global audience, do not touch this setting. But if you are targeting a single country, make sure that you inform Google via this method.
Add a Sitemap
The final step in getting your site set up in Webmaster Tools is to add a sitemap.
A sitemap is an XML file that lists every single post, page and taxonomy on your site that you want Google to index. Although having a sitemap isn't essential, they give Google's spiders an easy way of determining the layout and structure of your site, which can't be a bad thing. Plus, with one of two free plugins, creating a sitemap can be done at the click of a button.
To create your sitemap, I recommend using one of two plugins:
The first option is just a straight-up XML sitemap generator, with no other bells and whistles. SEO by Yoast, on the other hand, is a fully-featured SEO optimization plugin. It is, in my humble opinion, by far the best SEO plugin available, here's our guide for using it.
To create an XML sitemap with SEO by Yoast, just install and activate the plugin, then navigate to SEO > XML Sitemaps in the sidebar. On the resultant screen, just check the box to enable XML sitemap functionality, and you're done!

The plugin will dynamically update your sitemap without you having to do anything.
Before you move on, open your XML sitemap and make a note of its URL.
Now head back to your Webmaster Tools account and navigate to Optimization > Sitemaps. Click "Add/Test Sitemap" on the resultant screen, and enter the location of your sitemap in the popup box:
You can now test the sitemap for errors, then submit it.
Exploring Webmaster Tools
Congratulations — that's all you need to do to get your site up and running with Webmaster Tools!
However, there are plenty of tools and resources for you to experiment with — from sitelinks, to crawl errors, to search queries. Take some time to explore your options — you may find a few things that are of real help.