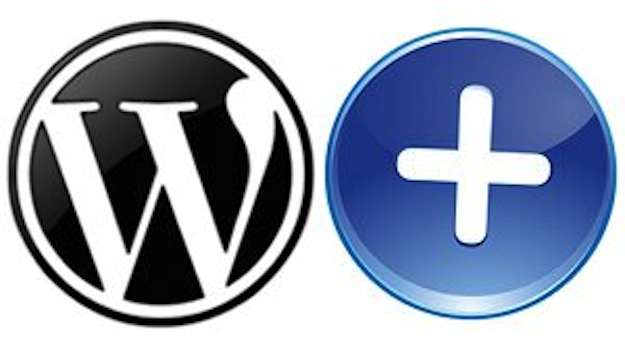 There are plenty of reasons to love WordPress. However, when I examine my day-to-day usage (across my own blogs as well as others that I write for), I can see that there are certain features and plugins that I use consistently.
These are things that would drastically alter my user experience if they no longer existing — things I consider essential to the way in which I blog. Most of the time I take them for granted but in this post I want to list everything I use in WordPress that I consider indispensable — features that really define WordPress for me — in the order that I tend to use them when blogging.
To put it simply, without the following items, my daily WordPress experience wouldn't be the same.
I've spoken about Edit Flow on the blog before but it certainly deserves another mention — it is pivotal to the content scheduling on my own blog as well as here on ManageWP.
Although it has many useful modules, by far its best feature in my opinion is the editorial calendar: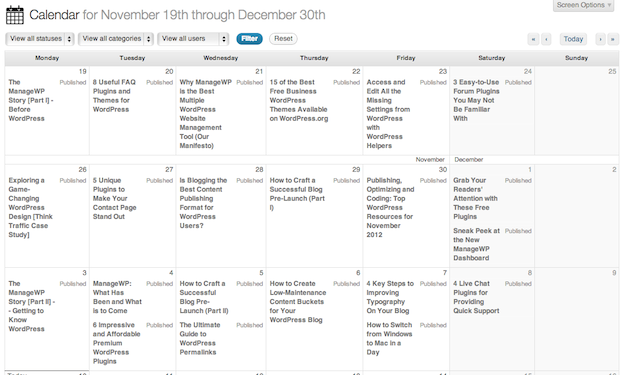 Contrary to what some people think, I do not consider Edit Flow to only be useful for multi author blogs. Any blog should be driven by a well thought-out content schedule and such a schedule is easily planned, amended and updated with the editorial calendar. But it only gets better for multi author blogs with features such as editorial comments, notifications, user groups and more.
2. The Distraction Free Editor
I love the Distraction Free Editor (DFE) and use it exclusively when writing content in WordPress (which is typically for a few hours each day).
For those of you who haven't seen it before, just click on the following button in your text editor on the New Post/Page screen:

For your troubles you will be rewarded with a gloriously minimalistic and clutter-free environment in which to produce content. Here's a screenshot of the post that I am writing right now: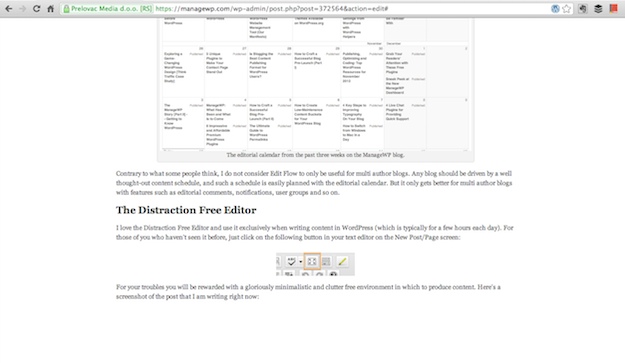 If you ask me, it's slightly easier to write in such an environment when compared to the standard text editor: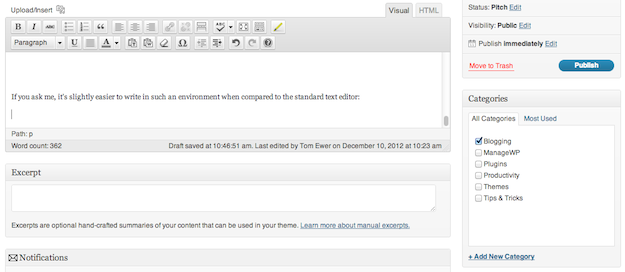 Although the DFE is certainly not without its faults, I consider it by far the best tool for writing available for WordPress and would recommend it to anyone.

Better Internal Link Search is in my opinion the most underrated plugin available on WordPress.org. It has been downloaded less than 2,000 times at the time of writing and yet is in my opinion nearly indispensable for just about anyone who blogs with WordPress.
I talk about this plugin a lot but with good cause. For anyone who values a solid interlinking strategy on their blog (that should be everyone), it makes creating those valuable links far easier. The plugin's page on WordPress.org explains it better than I can:
The most basic feature limits results to posts and pages that contain your search query in their titles, rather than returning every post that contains the query in the title or content fields — this greatly reduces the number of results on sites with a large amount of content and should improve accuracy. In addition, term archives are included in the results so you can more easily link to them.
Better Internal Link Search's functionality is not just limited to what is described above but that is by far its best feature.
It may not sound like much but if you find yourself endlessly frustrated with WordPress' default internal search engine, Better Internal Link Search is the ideal solution.

WordPress does a great job of automatically redirecting posts and pages when you change the permalink but the system is not perfect and of course does not allow you to manually create your own redirects.
That is why a redirect plugin is a necessity for most WordPress bloggers, and I have found that Quick Page/Post Redirect Plugin is as good as any other option out there. It allows you to quickly and easily set up multiple redirects for any purpose (e.g. to mask affiliate links):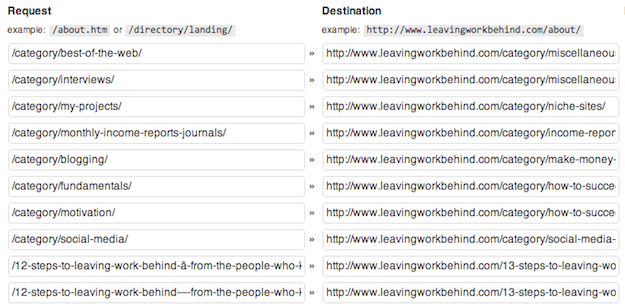 As you can see from the above screenshot, I have used it on my own blog to ensure that categories redirect properly after I have consolidated them and changed permalinks. You can also use the plugin to define links as "nofollow" and also have them open in new windows.

Every time I create a new blog I install and activate this plugin. Every time I create a new post or page I use this plugin. It is, perhaps moreso than any other feature mentioned in this post, absolutely indispensable.
Put simply, if you care about SEO, you need to install this plugin on your blog. I recently wrote a two-part series here on the ManageWP blog that explained how to use it to get the maximum benefit for your blog:
6. Comments Moderation
The fact that comments moderation barely ever gets a mention is testament to how easy it is in WordPress. Once you have got over the initial buzz of actually receiving comments the whole email notifications thing can get pretty old, which is when WordPress users tend to try a different approach.
You only need to go as far as the Comments menu option in the WordPress sidebar: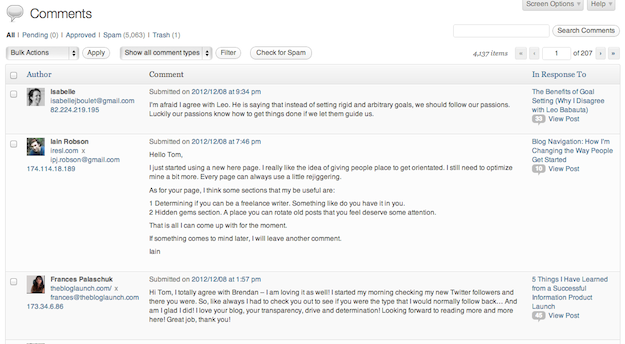 Above is a screenshot from my blog which shows all of the most recent comments in reverse chronological order. I only need to scroll down to my own last comment to see what has been added since I was last logged in and can easily address each comment in turn.
Various editing and moderation options are available within one click and if you need to you can open up the post that a specific comment is associated with and answer it there. It really does make comments moderation a piece of cake.
What WordPress Features Do You Consider Indispensable?
So that's my list — quite small and eclectic, which is exactly what I expected. These are the things that I use on a daily basis and would rather not live with out.
However, your tastes may be very different, depending on your workflows and what you use WordPress for. So don't be shy — what WordPress features do you consider indispensable? Let us know in the comments section!