The combination of WordPress and MailChimp is a dream come true for many website owners.
Even though there are many email delivery platforms to choose from, over five million users rely on MailChimp. If you use WordPress to power your websites, there's a pretty good chance that you use MailChimp to communicate with your email list. (We do!)
However, if your WordPress and MailChimp integration begins and ends with a basic subscription form, you're leaving a lot on the table. In this article, I'll show you how to best integrate MailChimp and WordPress, whether you're looking to master your subscription forms or unlock hidden elements of this match made in heaven.
Diving Into MailChimp
If you've made it this far, I'm guessing you have an integral understanding of MailChimp.
However, you may also be thinking about switching your list over to MailChimp from another provider. We won't be covering how to do a direct import, but the overwhelming list of features we'll cover below may help you make the decision.
The main types of integration are split up into two categories:
1. Email Subscription Forms
This integration process will have you using widgets, plugins, or just plain copy and pasting source code.
2. Plugins, Analytics and Everything Else
This is where the integration process gets fun. This involves setting up new post notifications, adding commentors to your list, installing special themes and even using specialized analytics software.
Integrating Subscription Forms
The most common type of integration deals with subscription forms. Before we jump in, it's important to know some of the plugins I mention could create a conflict within your current theme, so do any experimentation at your own risk. That being said, the plugins we reference do have very high ratings and quality support across the board.
The Way Of The Plugin
MailChimp for WordPress is one of the highest rated options for subscription form integration. The subscription forms this plugin produces are very clean and highly customizable.
After installing this plugin you need to obtain an API via your MailChimp account. You enter this on the MailChimp Settings tab of the plugin.
This will ensure the plugin and your account are communicating properly and users are subscribing to the correct list.
Upon configuration you have the option to enable checkboxes, which you can customize to your own liking. You can even have users choose which list to subscribe to, if you have more than one.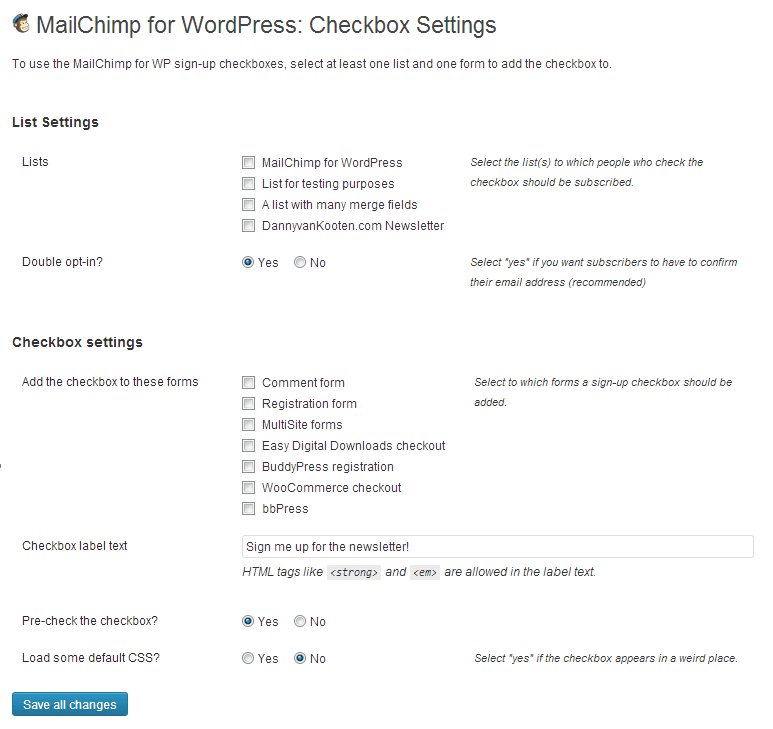 After the basic form setup you'll want to tweak the actual styling of the form. At this stage you'll be presented with the usual HTML customization options.
When it comes time to decide how to display this plugin, you can either use the shortcodes you're given or utilize the plugin widget option.
Overall, this plugin is one of the highest rated WordPress and MailChimp subscription form plugins. There is a premium version of the plugin, but the free plugin is still completely useable and very helpful.
MailChimp's official plugin for WordPress was created by Crowd Favorite. However, this plugin does have a very low user rating and a ton of bugs that have gone unfixed. If you're going the plugin route, we'd recommend MailChimp for WordPress.
Using The Old Fashioned Method
If extra plugins aren't your thing, or you're worried about having a possible plugin conflict, there's always the classic installation. Although this isn't as easy as simply installing a plugin. It's what most webmasters and web designers opt for.
In the Signup Forms section of your List, go to the Embedded Forms tab. Under this menu you'll see that you can customize your form and are given HTML code to work with.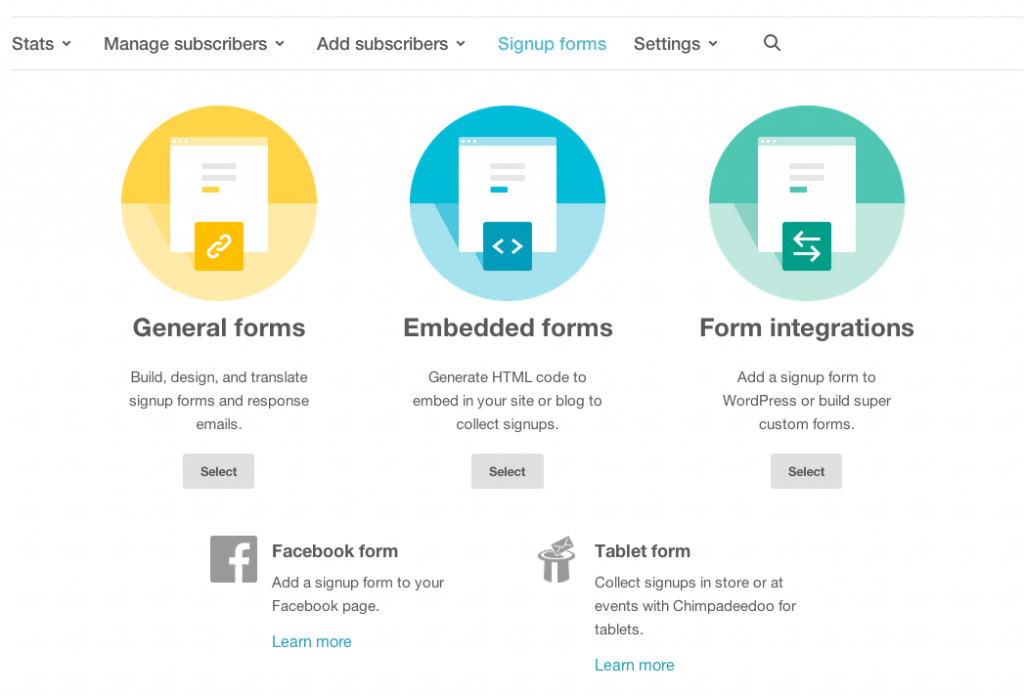 Once you've customized the form to your liking, just copy and paste the code into any section of your site. It's not the smoothest transition, but it does get the job done.
Setting Up New Post Notifications
Sometimes you don't want to login to your MailChimp account every time you want to inform your list that a new post is live. The are two plugins which can help you complete this task automatically.
1. Autochimp Instant Emailing
MailChimp allows you to automatically send content from an RSS feed at given interval. However, beyond RSS you may need to send an email regarding your post the moment it goes live. Autochimp allows your posts to be immediately broadcasted to your subscribers the moment they are published.
The plugin's options give you the ability to custom tailor every aspect of your campaign. You can choose to have all of your posts sent immediately, to a certain group of subscribers, or to every person on your list.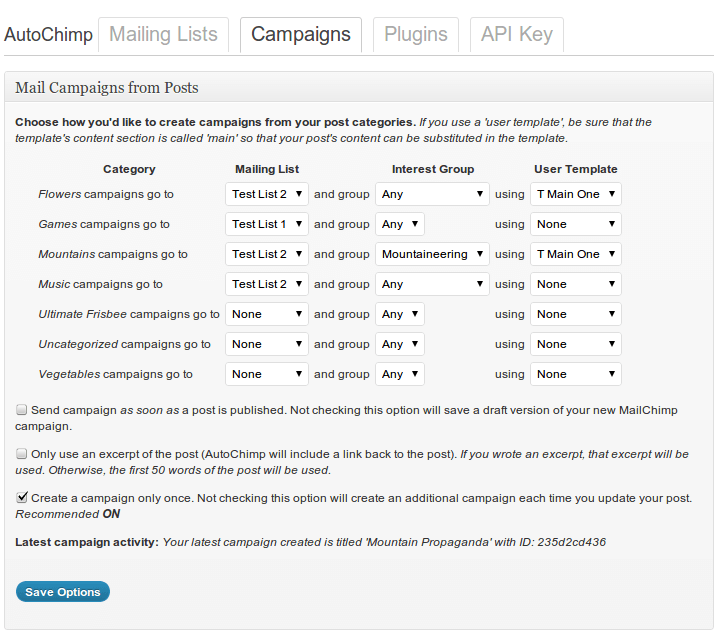 This plugin also integrates with WordPress categories nicely, so you can set certain schedules based upon the category of your post.
2. MailChimp For WordPress Subscription Form
The other way to alert your subscribers to new posts is to, once again, utilize the MailChimp for WordPress plugin. The process is as follows:
Create a new list in MailChimp.
Create an RSS campaign using the RSS feed from your site and the list your just created.
Use the MailChimp for WordPress plugin to create a subscription form that's dedicated to this specific list.
Similar to the first method, subscribers will now receive a post delivered to their inbox the very moment you publish your post.
Going Beyond Email Forms
If you're looking for an all-in-one integration, Launch Effect may be your best option – it's a WordPress landing page theme with built in MailChimp integration.
All you need to do is obtain your API key from your MailChimp account and have a list that's created specifically for this account.
Although Launch Effect isn't a full-fledged theme, it's a great way to build a list while you build out your website. There is also a paid version of this theme that has more customization options, but the free version can handle more basic websites.
Get Launch Effect for WordPress.
From Comments To Community
Did you ever wish you had a way to encourage your commentors to join your list?
With the MailChimp Comment Optin plugin, now you can. This simple plugin adds a small checkbox to the bottom of your comment box. That way when a visitor leaves a comment they have the option to also subscribe to your mailing list.
The only downside to this plugin is that it's currently unsupported. So try it at your own risk. However, the reviews of the plugin still remain very good.
That being said, if you want a simplistic way to offer your users another way to subscribe this plugin might be worth your time.
The other great thing about this plugin is it won't add duplicate subscribers.
Get the MailChimp Comment Optin plugin.
Start To Track Your Success
I'm sure you already have analytics available on your website. However, there are some really cool ways to link your MailChimp account to your current site analytics.
This will help to track the success of your email campaigns and the traffic they're actually sending back to your website.
Analytics360 is an official MailChimp plugin that links your Google Analytics and MailChimp accounts. This plugin makes it easy to see when your new posts were published, what time your email campaigns were sent, and the overall results of your efforts.
The plugin keeps some of the original analytics features and adds a few more, such as, the ability to track how your list has grown over time.
Get Analytics 360 for WordPress.
Email Still Remains the Top Player
Any savvy marketer or owner of a successful website will tell you the power of email. Even though email is one of the older forms of digital communication, it still reigns supreme when it comes to communicating with your customers.
People cherish their inboxes. By having smooth integration between your WordPress website and MailChimp email service, you'll ensure you have a way to keep in touch with your audience. No matter how complicated, or large your business may grow.
Having steady integration allows you to stay in touch with your audience while you focus on producing quality content.
How far have you gone with your MailChimp and WordPress integration? Share in the comments.