There are many reasons why you might want to enable events scheduling on your WordPress site, and it's a popular feature request for many site owners. Unfortunately, the platform doesn't offer this functionality out of the box.
However, like most desirable functions not included in WordPress core, you can use a plugin to meet your site's needs. In fact, when it comes to events scheduling, there are many plugins on the market to choose from. It means you can find the right one for your exact needs, potentially for zero cost.
In this post, we'll discuss the basics of events scheduling and the types of sites that use it. Then we'll share four plugins you can add to your site so users can book appointments or register for events. Let's go!
An introduction to online events scheduling and when to use it
Though you may not have given it much thought, you've probably used an online events scheduling system more than once. Booking medical appointments, registering for conferences, and reserving an Airbnb are all common examples.
There are a few basic functions a solid events scheduling system includes:
An availability checker: Users are able to see how many spots are left, or when you're open for appointments.
Event, date, and time selection: A drop-down or calendar selector is available so users can choose the correct event, date, and time.
Verification and reminders: There's a way to send a confirmation to users so they know they've successfully registered, and a way to remind them their event is coming up.
These features make it easy for users to set up their appointment while also maximizing communication to avoid double-bookings. This should prevent you from having to make awkward calls to customers regarding mixups.
There are dozens of use cases for online events scheduling, including:
Airbnb, hotel, or apartment rentals
Community events
Professional conferences
Equipment rentals
Hair, makeup, nail, and other cosmetic appointments
Home maintenance (e.g., plumbing, electrical, etc.) appointments
Private events (e.g., weddings, baby showers)
Venue bookings
As you can see, events scheduling is relevant across a wide range of industries. Setting up an online booking system will save you time, as you won't have to manually keep track of all your appointments or events.
Using a scheduling plugin with your WordPress site also keeps you organized while also providing the highest level of convenience to your customers, who will be able to make their appointments whenever they want, even outside normal business hours.
How to integrate online events scheduling on your WordPress site (5 plugins to consider)
There are plenty of plugins on the market that provide a calendar feature for WordPress sites. However, not all of them are ideal for events scheduling. Below, we've listed five of the most effective events scheduling plugins, in no particular order.

This high-quality plugin enables you to create custom booking forms for your WordPress posts and pages and add them using shortcodes. With BirchPress you can:
Sync the plugin with popular calendar apps such as Google Calendar and iCal so all appointments export to your calendar automatically.
Create customized email reminders for customers regarding upcoming appointments and booking changes.
Accept online card payments for paid events and services.
Use WordPress hooks and filters for even more advanced customization (although this will require some development experience).
Keep track of your appointments with a built-in calendar, as well as a public calendar your customers can see.
As far as ease of use goes, BirchPress Scheduler isn't the simplest. There are many settings to configure after installation: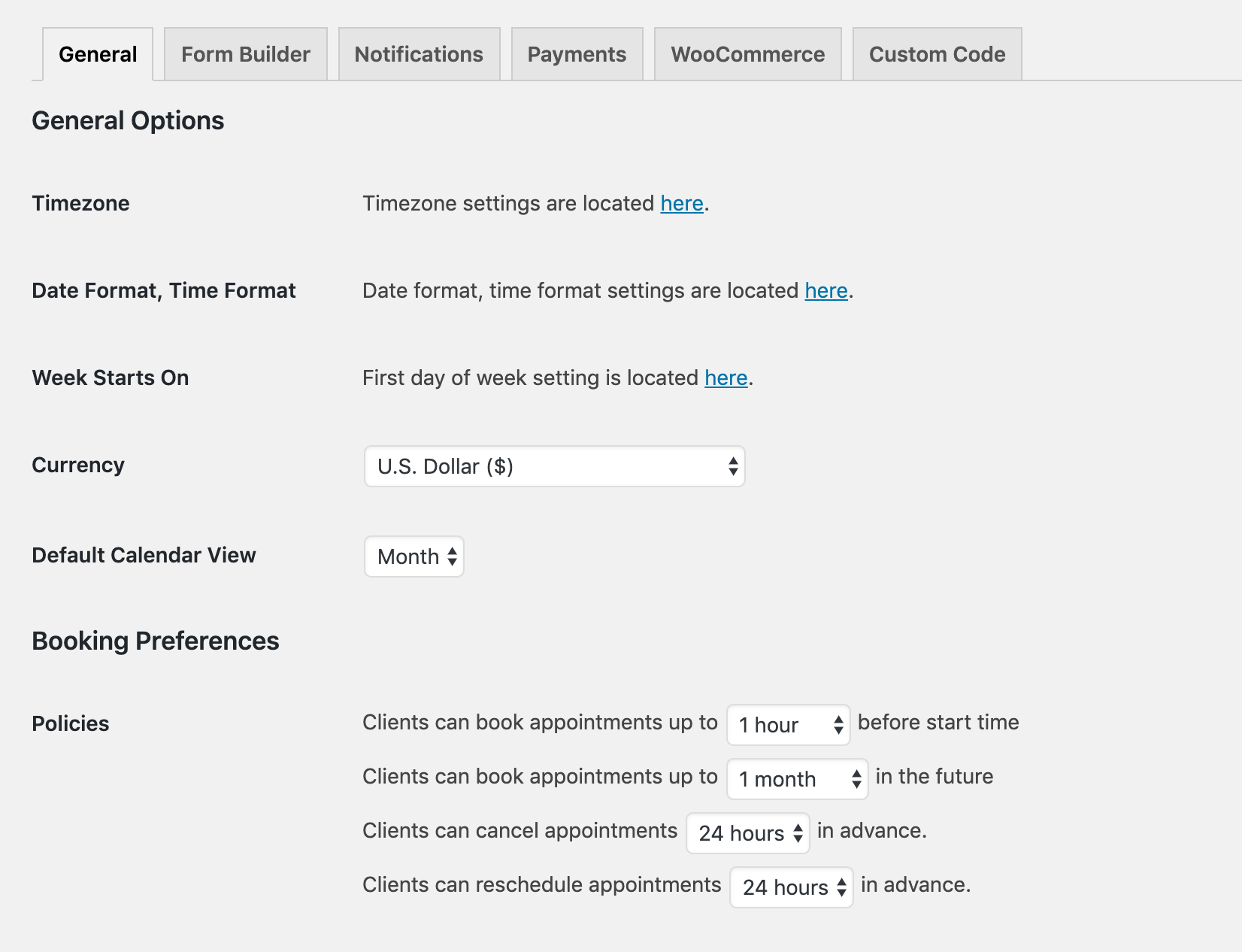 Plus, the form builder is quite extensive and you may need to play around with it to find the optimal setup for your site. Even so, the wide range of options makes for a high level of customizability.
BirchPress is a premium plugin, and licenses start at $99 per year.

A popular choice when it comes to events scheduling plugins, Booking Calendar offers several key features:
Calendar selectors you can customize to fit the design of your site
Booking Calendar blocks for easily adding content in the WordPress Block Editor
Listing table and calendar overview displays for appointment management
Flexibility to prevent double bookings or multiple people signing up for an event
Email notifications for both you and your customers regarding new appointments and changes to existing ones
While there are just as many (if not more) settings to configure for this plugin, its form builder is much more straightforward than BirchPress':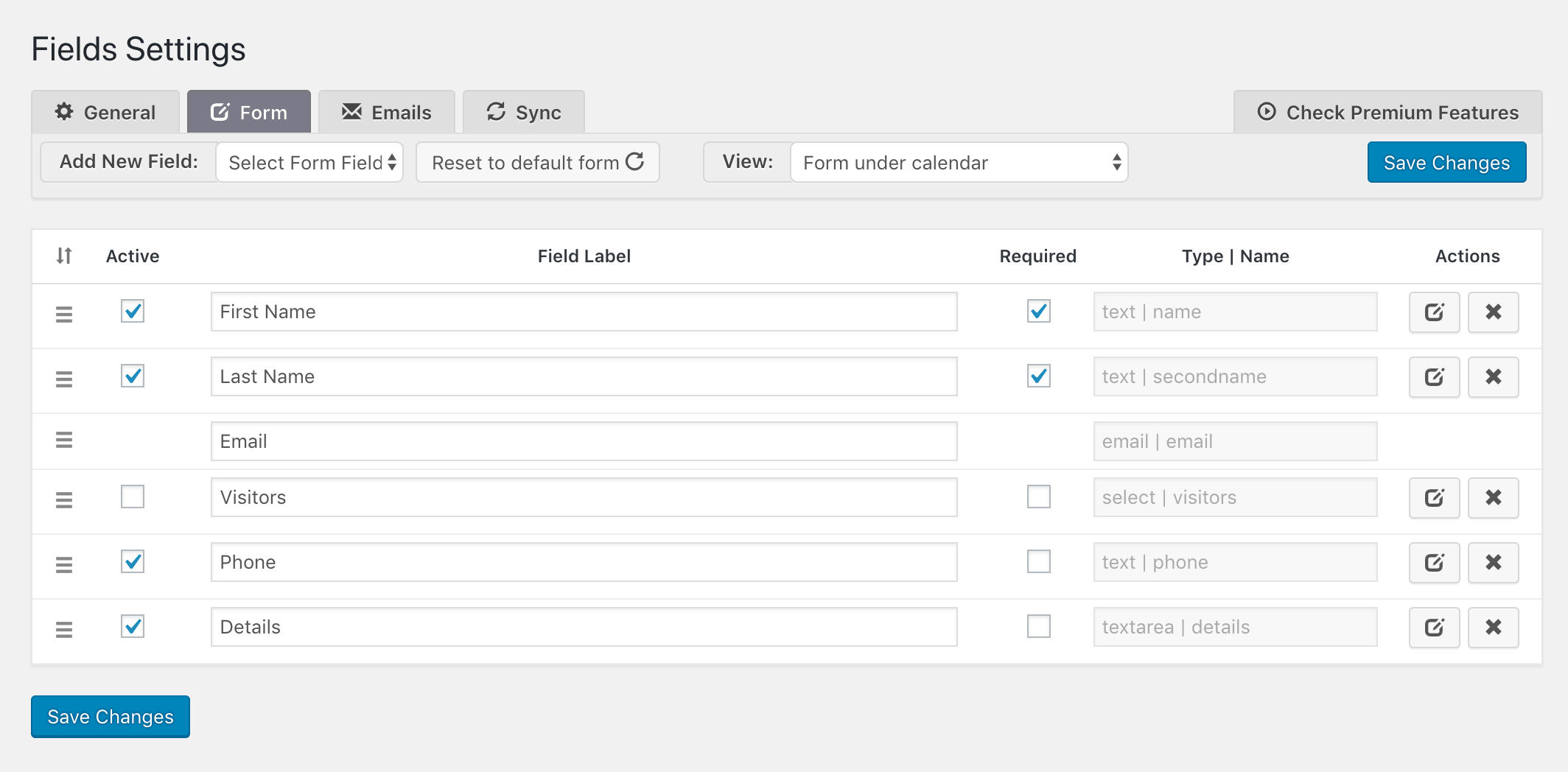 On top, it adds a handy button to the WordPress Classic Editor for adding booking forms to your pages and posts.
There's a free version of the plugin in the WordPress Directory. However, you can also check out the premium versions, which include advanced features for businesses. Licenses start at $59.25 per year.

Designed with rentals in mind, this plugin is a decent alternative to the more complex plugins we've discussed so far. WP Simple Booking Calendar includes:
An availability calendar to inform customers of when rentals are up for grabs
A shortcode generator (Classic Editor) or block (New Editor) for adding the calendar to your post or page
A very simple interface for easy calendar creation
User-management features for assigning certain users to specific calendars (premium only)
A booking calendar widget (premium only)
Creating your availability calendar is extremely straightforward. Simply use the drop-downs to specify when you're open for appointments: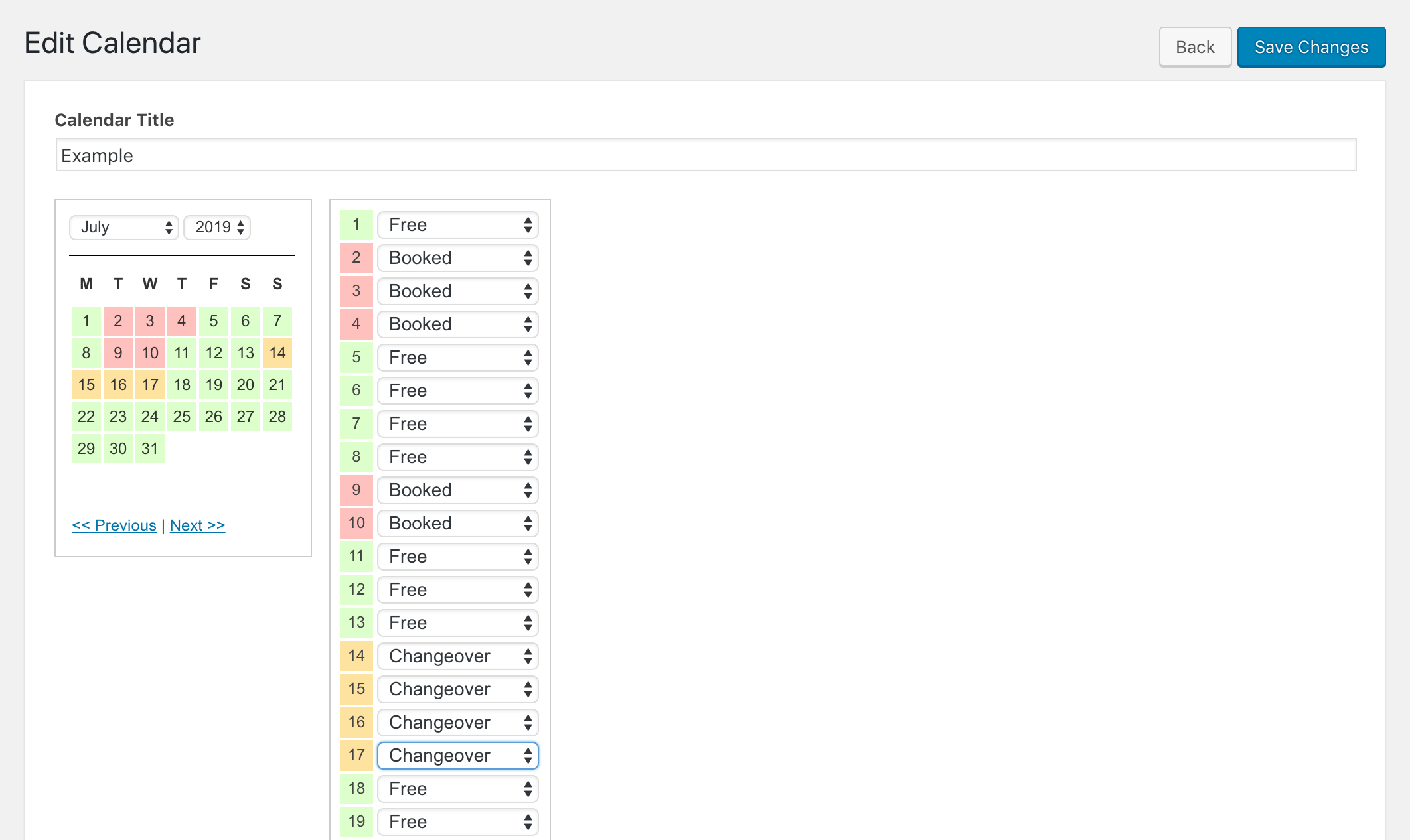 Of course, the downside to simplicity is a lack of customizability and functionality. Users won't be able to schedule appointments with the free version of this plugin – they can only see when you're available. You also can't customize the calendar to match your site.
However, the premium version enables you to save booking information on your calendars and access several responsive calendar themes, and licenses start at $39 per year.

Easy Appointments is ideal for any business that offers multiple services and has several expert staff members. This plugin's unique booking system enables you to:
Specify multiple locations, services, and workers for each calendar
Create time slots for classes, cleaning services, vehicle repairs, or any other service
Generate time slots based on location, service, and worker information
Send a variety of custom email notifications
Add custom booking form fields
Creating new appointments is smooth – you use simple drop-down selectors to specify location, service, and work for specific times and dates:

While there are a large number of settings you can choose to configure, the interface is incredibly user-friendly, with a sleek, organized design: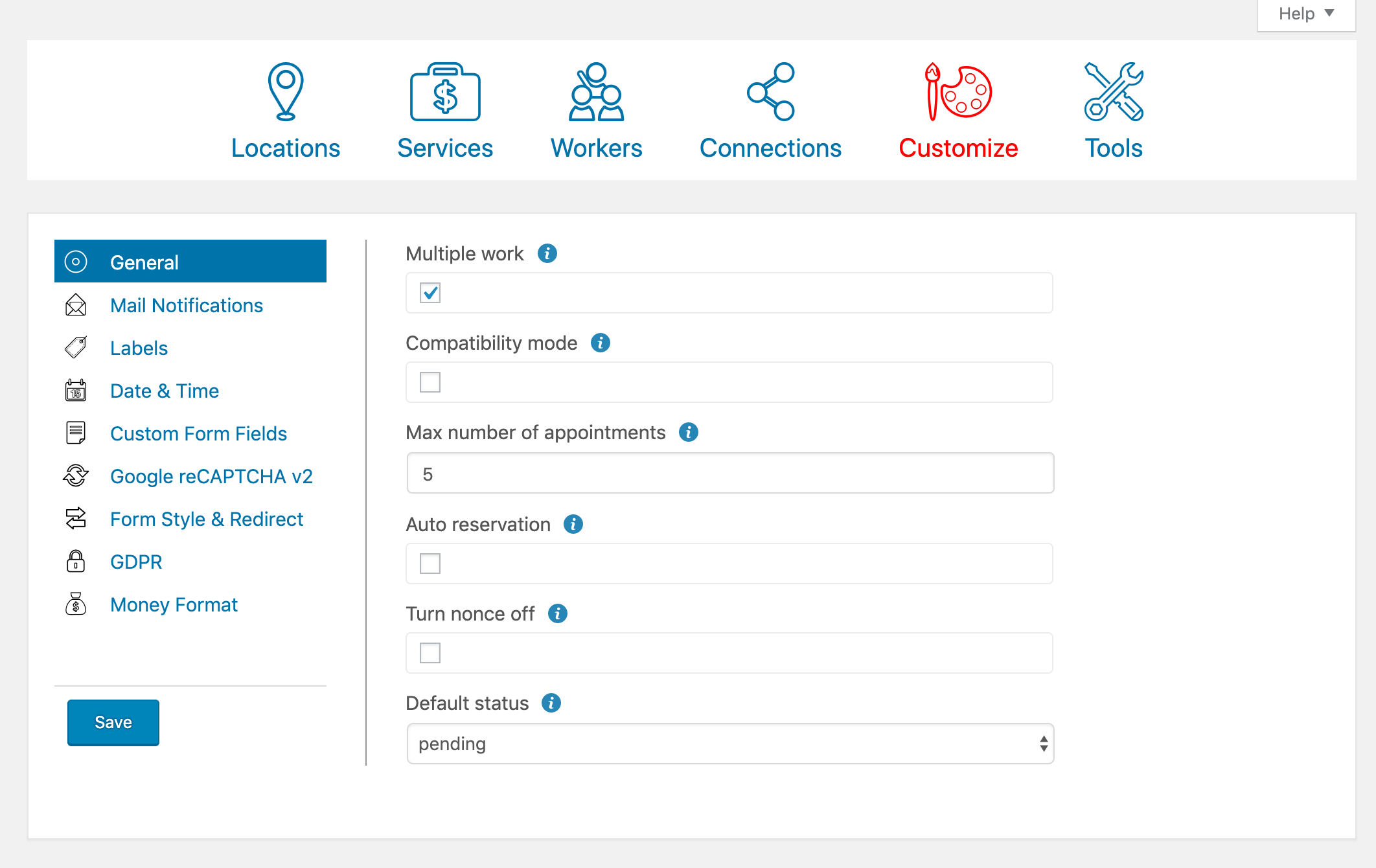 Easy Appointments is free to use. However, you can purchase an extension to sync your schedule with popular calendar apps such as iCal or Google Calendar, which is priced from $39 per year.

This plugin is probably one of the most prominent in WordPress events scheduling. Event Espresso is designed for managing ticketed events, with features such as:
PayPal Express Checkout (free) and a variety of other payment gateway options (premium)
Attendee profiles and management
Automated confirmation emails regarding registration
An integrated calendar for an overview of all your upcoming events
Ticket scanning and attendance tracking apps for Apple and Android
This plugin contains a lot of settings that might make it a little overwhelming to use. However, because it's designed with paid events in mind, it can also be one of the easiest to set up payments for, especially if you already have a PayPal account: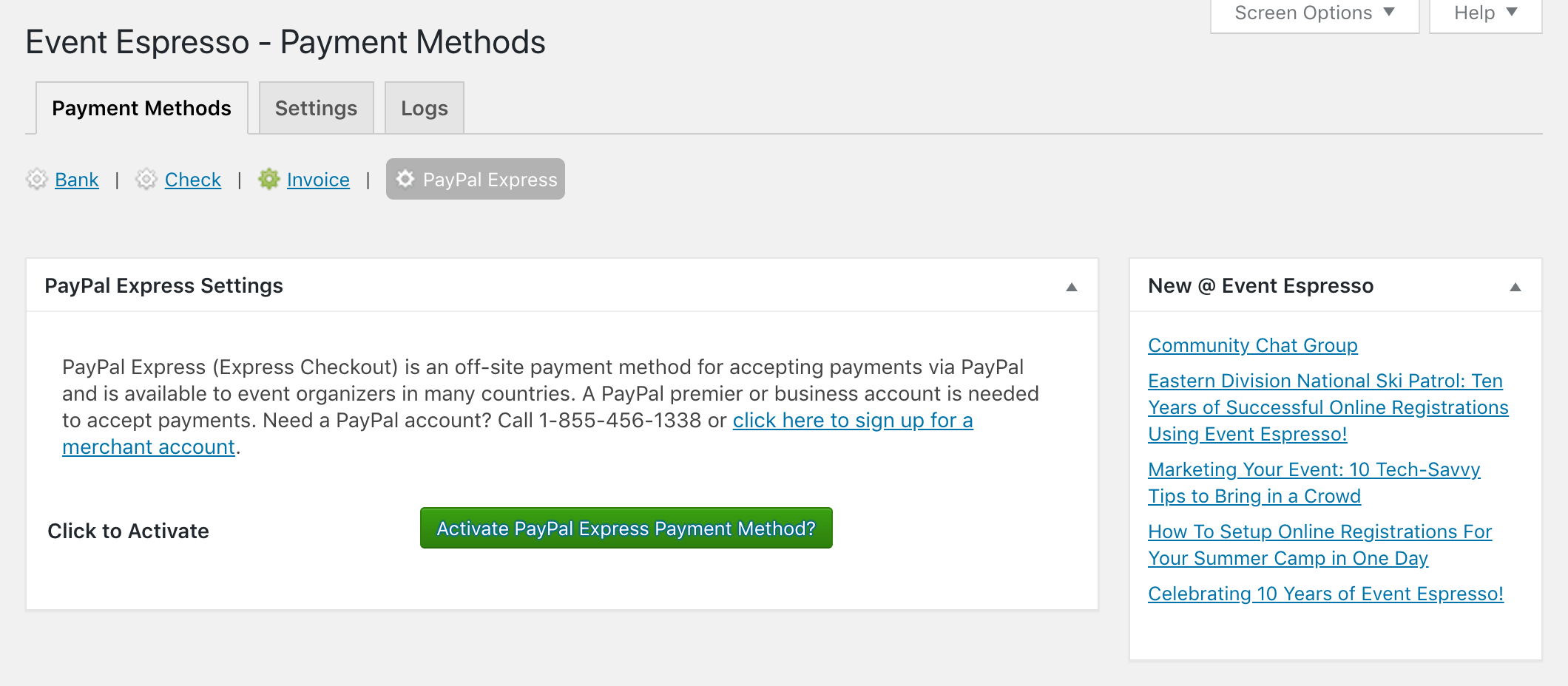 There's a 'decaf' version of Event Espresso available in the WordPress Plugin Directory. However, for full functionality you'll need a Premium Support License, which is priced from $79.95 per year.
Conclusion
Events scheduling is integral to a wide range of businesses. Being able to handle appointments and registrations on your website will save you time and make it easier for your customers or attendees to confirm their attendance.
If you're thinking about adding an events scheduling function to your site, consider these five plugins:
BirchPress Scheduler: A premium option for businesses that scheduling often and need a reliable appointment tracking system.
Booking Calendar: Flexible and easy to customize, works well with just about any site.
WP Simple Booking Calendar: Created for displaying rental availability, but the free version lacks some key functionality.
Easy Appointments: Ideal for booking service appointments, classes, physical training sessions, and other similar activities.
Event Espresso: The best choice for paid and ticketed events.
Do you have any questions about online events scheduling or enabling it on your WordPress site? Let us know in the comments section below!
Featured Image Credit: Pexels