Running a WordPress website takes a lot of work. You'll likely need to split your time between creating and promoting content, and performing ongoing maintenance. However, you might be wondering if it's worth investing in maintenance services for a single WordPress website.
Maintenance services can save you a lot of time. By using a tool such as ManageWP, you can automate your website security, backups, and Search Engine Optimization (SEO) with minimal effort. Then, you'll have more time to dedicate to other parts of your business, such as content creation and product development.
In this guide, we'll discuss the benefits of using maintenance services for a single WordPress website. We'll also explore how to use them for your site. Let's get started!
4 benefits of using maintenance services for a single WordPress website
There are multiple benefits to using maintenance services, even if you only have a single WordPress website. If you run a small business, you likely have to manage multiple tasks simultaneously by yourself. By delegating some of these tasks to intuitive software, you can focus your energy on the more important parts of your company.
Let's take a look at a few key benefits of using a maintenance service such as ManageWP.
1. Automate essential processes
Regular backups are necessary to keep your WordPress website in working order. Backups protect your site in case of data loss from hacking attempts, failed migrations, issues in your code, or any other errors. Without them, you would need to create your website again from scratch, losing all valuable content.
However, backing up your WordPress website manually can be time-consuming. Even with a single site, you'll need to remember to make copies of your website files regularly. Alternatively, you could use the automatic backups feature built into our ManageWP maintenance services:

If you have just one WordPress website, you might like to opt for the free backup service. It automatically backs up your site data once a month and stores the files externally. Then, you can restore previous versions of your website with a single click if you run into any issues.
Alternatively, the premium backup tool enables you to choose your backup frequency. For instance, you can store copies of your site files every hour, day, or week. Additionally, you can run the backup process on-demand before making significant changes to your WordPress website.
In the same vein, it's essential to regularly update your WordPress website. This process involves upgrading the core software, as well as any plugins and themes. Outdated programs make you vulnerable to attacks or may slow down your WordPress site.
Using ManageWP, you can update your WordPress software safely with a single click: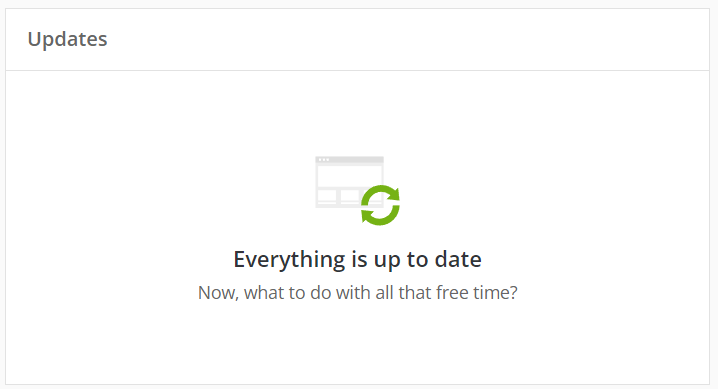 Furthermore, the premium software automatically creates backups of your files in case the updates cause problems. Therefore, you can keep your website up-to-date without navigating to your WordPress dashboard.
2. Protect your WordPress website
In 2020, there were more than 90 billion attempted attacks on WordPress websites. Even if you only have a single WordPress site, there's a good chance that a hacker will try to break into it at some point. Therefore, it's essential to keep your files safe from would-be attackers.
However, finding security vulnerabilities can be challenging if you don't know what you're looking for. You could easily overlook embedded malware and expose your data to attackers.
When you use a maintenance service, you can automate various security processes. For example, the software will scan your website for malware and vulnerabilities. Then, it will inform you of any potential issues and propose solutions: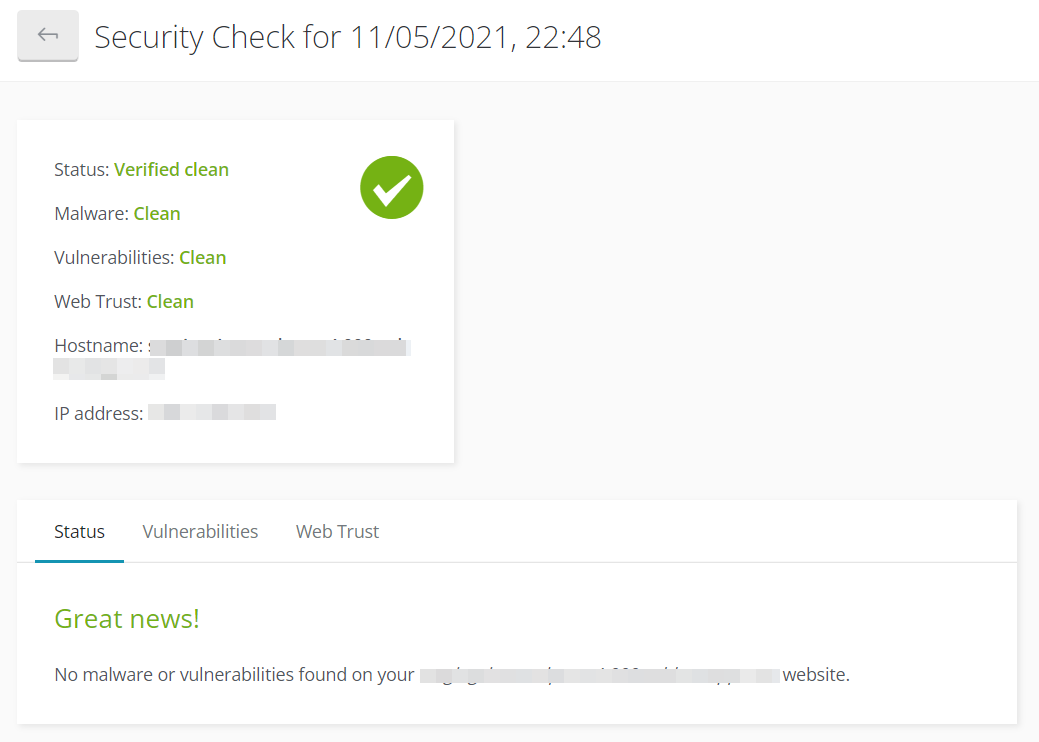 With the free version of ManageWP, you can conduct on-demand security scans. Additionally, the premium software enables you to set up scheduled website checks. Then, you can view all of the data in detailed reports that identify problem areas.
3. Stay on top of SEO and performance
SEO is one of the most vital considerations for WordPress websites of any size. More than half of search traffic comes from organic sources. Therefore, making your site more visible online can help you attract new readers, encourage conversions, and grow your business.
However, SEO isn't a passive process. To climb the search engine rankings, you'll need to put time into keyword research, analyzing your user data, and changing your strategies according to your findings.
Using website maintenance services such as ManageWP, you can view your analytics data from a single dashboard. For example, you can use add-ons to track site clicks and your rankings for particular keywords simultaneously:

Furthermore, the software includes a performance checker and uptime monitor. The latter will notify you if your website goes offline for any reason. You can then can work to get it back online before your rankings suffer.
4. Manage website maintenance and migrations
Finally, there may be times when you need to perform website maintenance. For example, you might redesign your site layout, change significant amounts of content, or even migrate to a new domain.
However, maintenance can be tricky. You likely don't want your users to access your site while elements are moving around. If they did, it could cause performance issues and even turn away your readers.
Fortunately, ManageWP includes a free maintenance mode. You can use this feature to let your users know that your website is undergoing renovations and will be back online soon: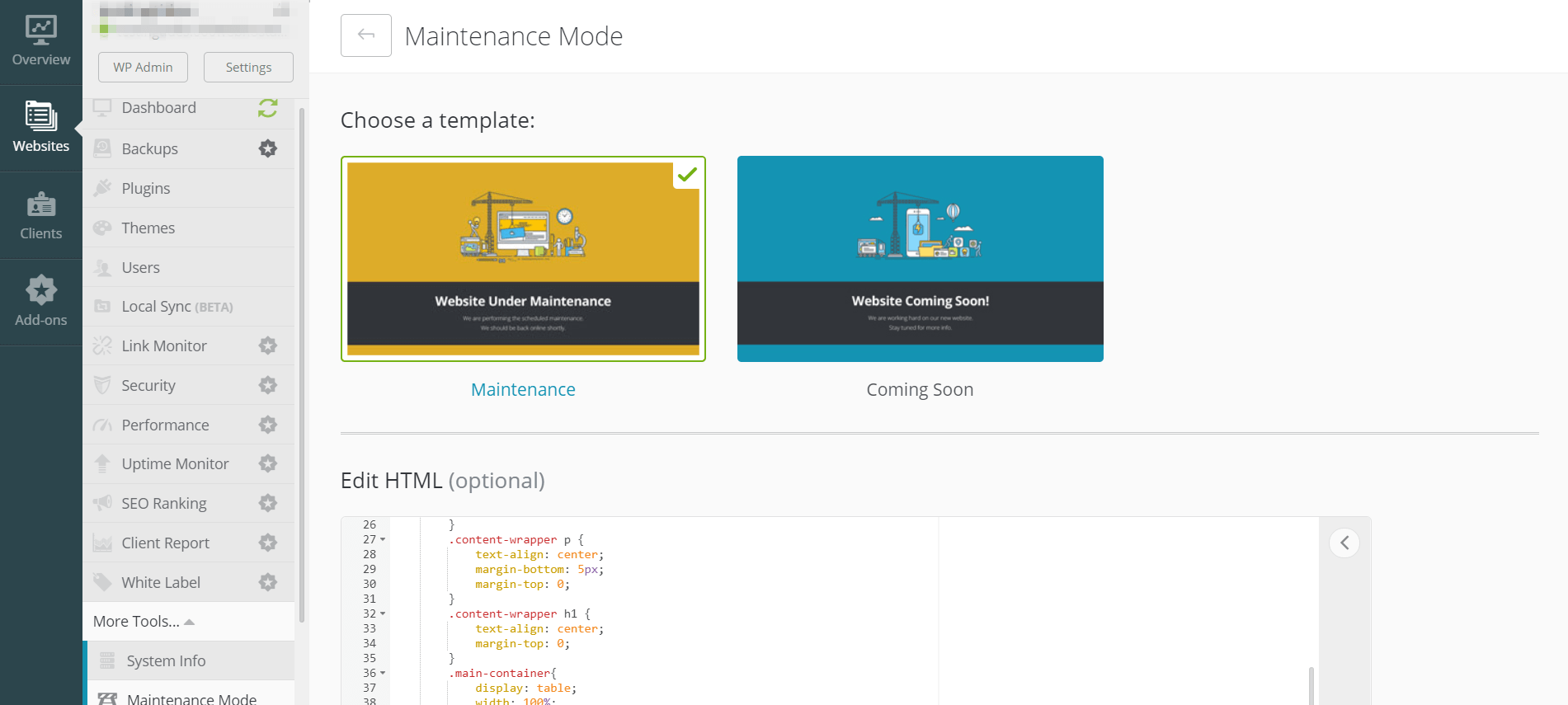 Furthermore, you might need to migrate your website from staging to the live version. Alternatively, you may choose to change your WordPress hosting provider. In either scenario, website migration can be a headache.
Many maintenance service providers enable you to migrate your website more quickly. With ManageWP, you can use the premium software to clone and move your site to a new server: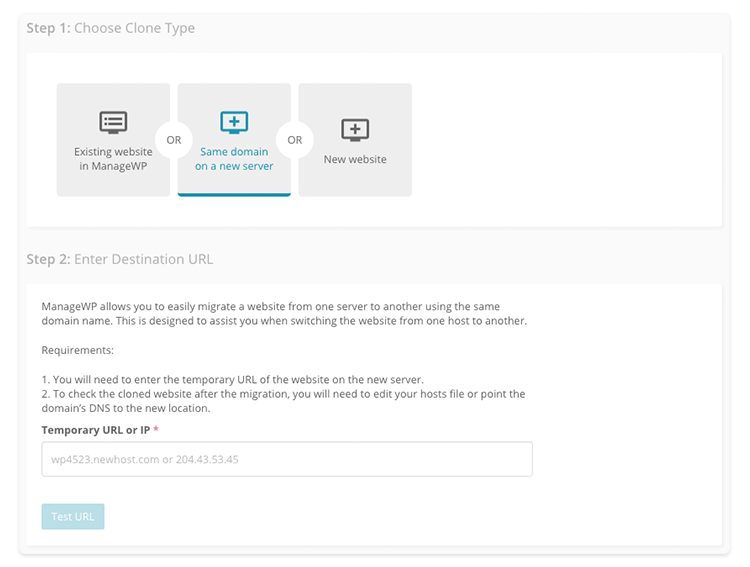 The process requires minimal effort and safeguards your data in case of issues during the migration. As such, the software can streamline the process and reduce your stress.
Conclusion
There are many challenges to running a WordPress website. However, you don't have to shoulder all the responsibilities yourself. By using maintenance services such as ManageWP, you can free up time to focus on your business.
To recap, there are four key benefits to using maintenance services for a single WordPress website:
Automate essential processes such as backups and software updates.
Protect your WordPress site with reliable security protocols.
Stay on top of SEO and performance to reach new audiences.
Manage website maintenance and migrations from a user-friendly dashboard.
Do you have any questions about using maintenance services for your WordPress site? Let us know in the comments section below!
Image source: Pexels