Update: As Orion development evolves, some of the information below became outdated. Check out the Dev Diary #8 for more up-to-date info!
Summertime is the time to sit back and unwind, at least according to Fresh Prince of Bel Air. We ain't got time for that, not with a huge challenge like Orion ahead of us; we're doubling our effort. Our team is being reinforced, which means more talented developers and persistent Customer Happiness Engineers watching your back. Some you've already met in the support tickets, others will soon leave their mark in ManageWP.
Backup & Restore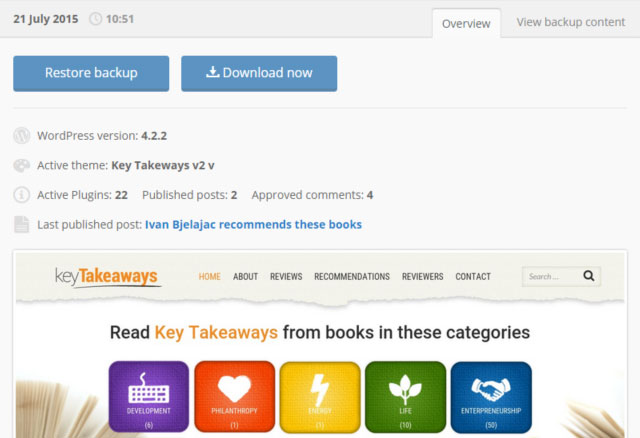 If you're already a tester, you know that the Restore and Backup buttons have been implemented for some time. The flow is seamless – you just need to pick the date and time you want to restore to, and click the Restore backup button. The backup archive download is a 2-step process: the click on the Download button instructs the server to prepare the backup archive; once it's ready, you'll get a notification and you can start the download.
If you're not sure which backup you actually need, we have a quick rundown of the WordPress version, theme, plugins, posts, comments, as well as the screenshot of the website at the time the backup was taken. For those who want to go deeper, flip to the View backup content tab and browse the backup files, as well as the database tables in that backup.
Improved Search
If you're a Mac user, you probably know how Apple's Spotlight works. We started with its autocomplete concept, and took it a step further: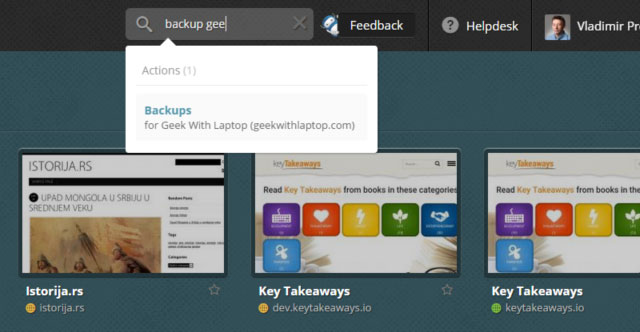 Let's say you want to run a backup of a website before committing major changes – just to be safe. Normal people would browse for that website, click on it, go to the backup screen and hit the backup button. But not you; you've got a shiny new Search feature! It will take you where you want to go instantly, avoiding unnecessary navigation and the threat of being lost in the GUI maze. The Search recognizes the context of what you're typing, so if you type "backup geek" it will automatically offer to take you to the backup screen of geekwithlaptop.com.
Retiring the API
Good news for all of the premium theme and plugin developers – the API that handled the updates of plugins and themes not listed in the WordPress repo is retiring. Back in the day WordPress handled these updates rather poorly, so we needed to come up with a way to detect and perform these updates. With all the improvements to the WordPress core, we've updated our code to handle the updates without 3rd party involvements.
If you're one of the developers with ManageWP API implemented in your code, like BackupBuddy or Gravity Forms, fell free to yank it out 🙂
Other Things of Note
The Orion release has been scheduled for fall 2015
Backup success rate is 98.31% and closing in on the target 99.5%
Numerous visual tweaks, thanks to your awesome feedback
Changelog added to the Updates widget, to keep you on top of changes
My Websites screen now has a small lock icon next to each HTTPS website, to help you stay on top of things
A whole bunch of bug fixes
Tester Spotlight
We wanted to thank our most active testers for helping us make ManageWP better; that's why the most active among you will be featured here, in our dev diary. Say hello to Brandon Gilmore and Susan Marshall!
Brandon Gilmore
Brandon hails from Barrie, Ontario. He's a Business Support Specialist at gShift, a Web Presence Analytics Platform that helps content marketers make informed decisions. In his spare time he enjoys collecting Funko Pops! and likes TV shows, movies and video and board games. His feedback helped us greatly in the early stages with the interface optimization.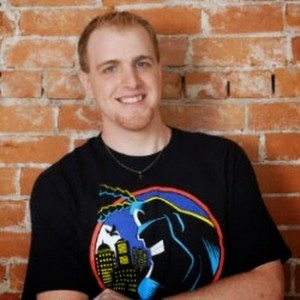 Why WordPress?
Why? Simply it was the go-to solution for providing an easy to use and flexible CMS solution for our clients. Many clients come to us with WordPress already and others we have migrated them to it. The platform is so flexible and customizable that it fits all of our clients needs.
How did you decide to start using ManageWP?
We were looking for a solution to help manage multiple WordPress installations. In particularly at the time it was to monitor security and I stumbled upon ManageWP. It does security checks and so much more. The time it saves by having a single login to access all the dashboards in a single place is worth the price alone.
The abundance of features it offers made the adoption of ManageWP very easy. Besides the benefits of their software, their sales and support team are always very responsive and there to help out.
Why did you become an Orion tester?
As soon as I heard they were developing a new version of ManageWP I knew instantly I wanted to test it out and provide feedback. Using the platform for 100 websites you quickly find out some areas that need some work. Being a tester gave me the opportunity to give feedback and get a sneak peek at what's coming. In short, I can't wait for it to be released!
Any word of advice for other WordPress professionals?
Best advice I can give to WordPress professionals is to ensure you have backups set up and working. Test them out and ensure that there are restoring properly. You never know when you will need them. ManageWP makes this easy to do.
Susan Marshall
Susan is her own boss. With her education (a college degree in Computer Information Systems), work experience and love of computers, specializing in website support made perfect sense for her. She worked as a Virtual Website Assistant since January 2004 and now specializes exclusively in WordPress sites. Her MO is to form long-term relationships with a limited number of clients, so she could be dependable and provide the best and most affordable support and solutions possible. Her clients represent entrepreneurs, solopreneurs and small businesses in the life coaching, law of attraction, alchemy, authors, real estate and travel industries. She lives in Arizona with her three children and husband, a journalist for The Associated Press. Our Product Manager loves her because she gave us a lot of actionable feedback, and she's a delight to talk to.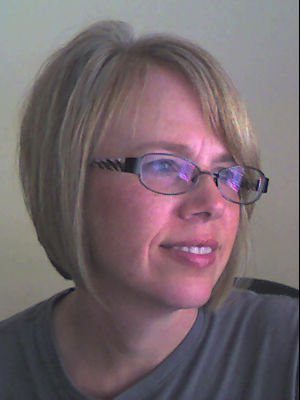 Why did you choose ManageWP?
I chose ManageWP because of the clean and intuitive dashboard and the ability to easily backup/restore/clone/migrate sites. I've stayed with ManageWP because of the awesome support and tools that have helped me to provide a better service to my clients. I've tested a couple of other services but none comes close the the features and service provided by ManageWP. I couldn't run my business they way I do and support the number of sites that I do without them.
How did you decide to become an Orion tester?
I decided to become an Orion tester because I knew that my voice and opinion would be valued and heard. I hate to be a broken record, but I knew this because of my previous interaction and contact with their support staff. I also knew how valuable the client reports could be for my business and wanted to make sure that I was providing feedback in that area.
Do you have any word of advice for other WordPress professionals?
I don't know if I feel comfortable giving advice to other WordPress professionals, but I can say that when I started paying attention to what other WordPress professionals had to say (via their blog posts and newsletters) my business started to grow. Everyone in the WordPress community is so generous with information, tips and advice. It pays to listen and even engage in conversations with them when ever possible.
Want to know more? Check out the Developer Diary #4 here.
UPDATE: The Developer Diary #6 is out, with the release date and feature set!