UPDATE (2019): This is an older article, and as such may not have up-to-date information on the current pricing.
For accurate pricing information please consult ManageWP pricing page.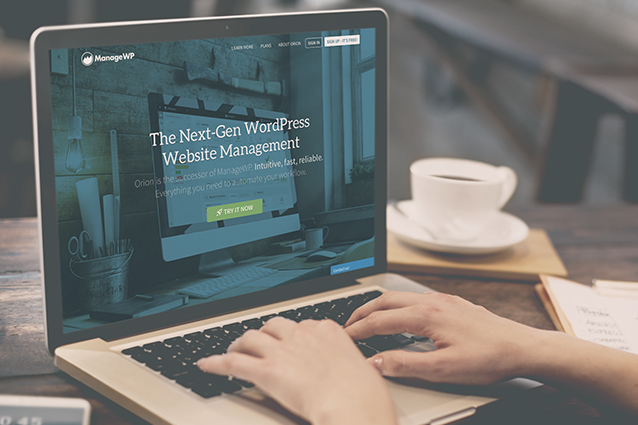 This is it, ladies and gents, the long overdue article you've all been highly anticipating. Get your popcorns, calculators and pitchforks ready, we're talking about the new ManageWP Orion pricing model.
Update: Terrified of the wall of text below? Read the TL;DR version here that gets straight to the point.
Problems With The Current Model
We're one of the rare WordPress services where you don't need to commit to a whole year of service. You're able to scale your subscription on the fly, both up and down, and get a pro rated refund. We made sure you are able to vote with your wallet and cancel your subscription if you ever feel you're not getting what you pay for.
Personally, I think it's great. But just because it's great, doesn't mean it can't be better. There are three main problems with the current pricing model that we wanted to address:
Paying for a set of tools, when you only need some of them
Different websites have different needs, but you can have only one plan for all
No love for the little websites that need just the basics
When we started working on Orion, the objective was simple: tear everything down, rebuild ManageWP from scratch to make it rock solid. So when pricing came up, we threw out the WordPress norms and took the risk of building a pricing model that you need, instead of a pricing model you are used to.
Orion Pricing Model
A scalable pricing model is great, but you're not paying us to play around with the pricing slider. You need to manage websites efficiently, and we need to take care of everything else. You need a clear, transparent pricing model. Optimize the cost, maximize the flexibility.
Such a model does not exist in the WordPress ecosystem. So we expanded the search and found Amazon Web Services. Orion is running on AWS, so we have a lot of experience with a number of their services. The beauty of the AWS pricing model is that it does not stand in the way of your work. It does not upsell packages, doesn't prompt you to pull out your card every time you want to bring a server online. You do your thing, and AWS keeps the score and sends you the bill at the end of the month.
The new prices are much more appealing compared to the first round of surveys, and in general. I'm happy with this structure.
– Ian Gilligan, the works IT
We ran a series of pricing surveys, tested various models with hundreds of current and potential ManageWP users. This is what you liked the most.
Custom plans
Let's say you need backups, client reports and uptime monitoring, nothing else. In the Classic version you have to subscribe to Business, our highest plan, and get everything. In Orion you'll simply create a custom plan with only the tools you need. This will lower the fee you're paying for each website. Oh, and you can name your plan, so you'll finally be able to have a "Deadpool" plan that you'll pack with all the killer features.

Different plans on a single account
Some of your websites need the Daily Backup tool, others need Uptime Monitor, and the third group needs White Label. No worries, Orion has you covered. Simply create three custom plans and distribute your websites among them. You'll have all your websites on one dashboard, and you'll be able to switch between them with a single click. There's no limit to the number of custom plans you can have on one ManageWP account.
I think it is awesome to combine several plans in one account. Now it is possible to maintain customer websites and my own blogs (not frequently updated) in one account. Creating custom plans is a good way to have a free choice in what to use, but don't have to spent a lot of time configuring each website individually.
– Tobias Laubscher
Unlimited free websites
You'll now be able to mix an unlimited number of free websites with the premium ones. The free websites have gotten a lot of love, so now you'll be able to run client reports, track Google Analytics data, manage users, and more. For free. Forever.
I LOVE free unlimited- this really opens up onboarding possibilities. I'll have to get busy designing all the new package breakdowns. Thanks for your hard work team.
– Jeff Sararas, WP Maintained Hosting
Automatic scaling
I hate it when I buy an annual subscription for something, and stop using it after a few months (or worse, force myself to use it so I don't feel like I've wasted my money). That's why we started thinking about how we could empower you even more, and encourage you to vote with your wallet if you're ever unhappy with our service. The answer was simple: pay as you go.
How does this work? Every day the system keeps tabs on the websites on each premium plan and adds it to your monthly bill. If you need a tool for just one day (e.g. to clone a website), you'll pay only 1/30th of its monthly cost. This way you can clone a website for just $0.03 (Weekly Backup turned on for one day).
You can always check your monthly bill, and be sure that you'll never pay a cent for a tool you don't use. This feature could easily reduce your operating cost to a fraction of what you're paying now.
It is fair and if I can choose from site to site and from day to day it is flexible too.
– Micha Meyer, W.INGS consulting
Per site pricing
We tried to make it as straightforward as possible, so you could easily figure out how the cost will scale. If you know a tool costs $1 per website, you can easily deduct that from the fee you're charging your client. Another important thing you should note is that we're switching from per-domain to per-site pricing, meaning each WordPress installation counts as one website, and each subsite in a multisite network counts as one website.
We did this mainly because of Orion backups. Their reliability comes at a much higher operating cost for us, and we had to make the switch to protect ourselves from potential abuse. The good news is that, with the free websites, the plan flexibility and the pay-as-you-go model, the savings should offset the cost by a large margin.
Discounts
Getting closer with the new survey. Still pretty steep if you want all the bells and whistles.
– Jamie Markizon, Strategic Websites
While a linear fee would be simple and easy to understand, we wanted to reward users who've been with us for a long time, and those who use ManageWP a lot. We came up with a set of discounts that add up to 80%
It's also worth noting that the current lifetime discounts will be honored.
Check out the discount list below: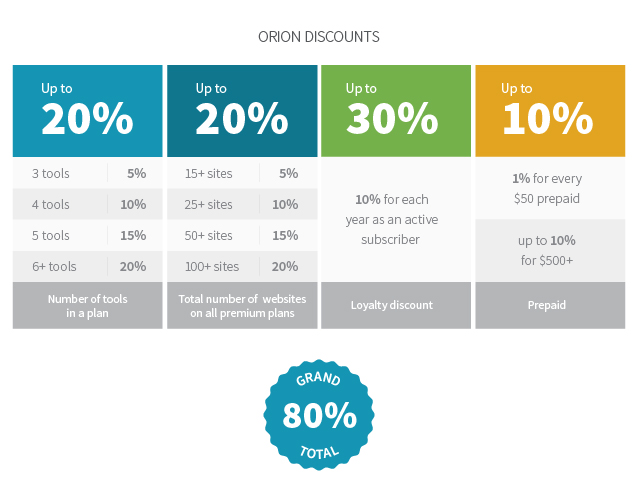 Tool discount: If you need a lot of tools on a particular website, it makes sense to offset the cost. Please note that each plan has its tool discount – you can't have a plan with 1 tool and another with 2 tools, and get a 5% discount for all.
Website discount: a global discount that checks the grand total of all your websites across all premium plans.
Loyalty discount: For each year you've been an active ManageWP subscriber, you get a 10% loyalty discount. If you currently have a lifetime ManageWP discount, the larger of the two will apply (e.g. you have 20% loyalty and 10% lifetime discounts, only the loyalty will apply).
Prepaid discount: Charge your ManageWP balance in advance, and avoid potential billing issues and invoice hassle.
Prepaid
UPDATE (2019): This feature is discontinued.
The Orion model does not support long term commitment because of its flexibility. This is bad news for those of you on an annual plan. It's also bad news for those who experienced problems with our current payment processor. So we came up with a way to handle subscriptions in the long run, avoid invoice hassle and potential billing problems.
The prepaid/balance concept is basically like PayPal balance. Let's say your monthly subscription is $20. Instead of letting the system charge your card $20 every month, you could add $240 to your credit right away, and have only one ManageWP invoice for the whole year. The system will always try deducting from your balance first. You'll also get the extra $9.60 credit on your balance (the discount picture is a bit confusing, as prepaid does not actually reduce the fee, but adds extra credit).
The Tools
Here's a table of all the ManageWP Orion tools that will be present when the Classic dashboard gets phased out: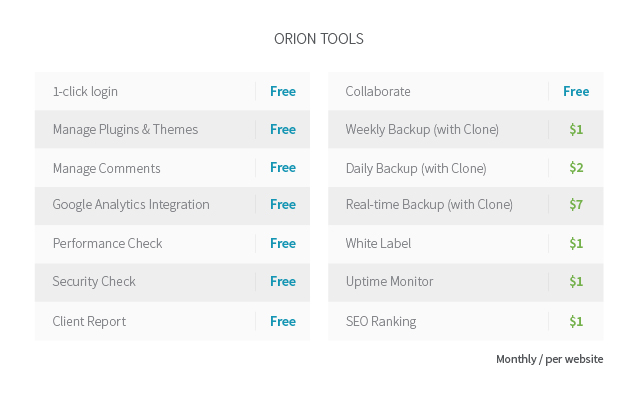 We don't plan on stopping there. As we reached Orion milestones, we talked about ways to improve different tools. Right now we're working on Automated Performance & Security Checks, Automated Client Report and in-depth Client Report Customization. These tools will be released 1-2 months after Classic ManageWP is phased out. We've got even more ambitious plans for the future: security, hosting and more. We will soon publish a new roadmap that will cover these subjects.
I like being able to select the upgrades I want/need for each website, thereby controlling my costs.
– Michael Windham, TaDa! Interactive
Backups
As you can see, there are three types of backups available: Weekly, Daily and Real-time. There's been some confusion about the Orion backups in the surveys we've been running, check out the explanation below:
Each backup is treated separately for pricing purposes (e.g. you don't need to pay for both Daily and Weekly if you need the Daily Backup).
Each backup tool comes with manual backup and cloning capability.
Weekly Backup runs automatically once per week.
Daily Backup runs either once per day, or a couple of times per week.
Real-time Backup runs once every hour, or 2-4 times per day.
Backup price vs. value
I was surprised at the cost for real-time backups, but otherwise everything seems pretty reasonable.
– Jillyn Dillon, Technology Aloha
The first impression might be that Real-time Backup is too expensive, but think about this: each week, Weekly Backup makes 1 automatic restore point. Daily makes 7 restore points. Real-time is triggered every hour, creating up to 168 restore points each week. That's 168 times more restore points for just 7 times higher fee.
Upload to external destinations
As nice as the new backups are, I think I would not use them or at least not right away. I'm comfortable with the free backup plugin that I currently use and I like that the backups are stored on my own personal AmazonS3 account and I can access them even after I remove a site from my ManageWP account.
– Susan Marshall
It's not just Susan. A lot of you asked for the option to automatically upload the backup archives to an external destination you own. As much as we tried finding an acceptable solution, we couldn't incorporate this feature into current tools, without bumping up the cost for everyone. So the solution was simple: upload as much as you want, for a transparent fee.
Orion backups are stored on Amazon infrastructure, and with the $0.10/GB transfer rate we've covered the transfer cost to your own destination without making backups expensive for everyone. Keeping backups on our own Amazon infrastructure is included in the backup tool price.
The Switch
ManageWP has always been about quality. You need the best service possible, so we made damn sure you get it. We supported your businesses for years, and earned your trust. That's why it's imperative that we figure out the switch from Classic to Orion that you will be happy with.
In 6-8 weeks the Classic dashboard will be phased out. Orion dashboard will become the only ManageWP dashboard, and the Orion pricing model will go live.
The switch is optional
We're grandfathering all active subscribers. As long as your Classic subscription is active, you'll get what you paid for. Your plans will work the same way they do now, and the legacy plans will have the following Orion tools:
Business: Daily Orion Backups, SEO Ranking, White Label, Uptime Monitor
Professional: Daily Orion Backups
Standard: Manual only Orion Backups (not available as a separate tool)
Extra websites will remain
I mentioned earlier that we're switching from per-domain to per-site pricing. If you have excess websites, they will not be removed automatically.
Let's say you have a Professional (10 domains) subscription, with 10 websites on these domains and another 4 on subdomains. As long as you have these 14 websites on the legacy plan, you'll be able to manage them as usual. You will not be able to add more websites from the same domains, and if you remove the excess websites, you will not be able to put them on the legacy plan again, if they are over the website limit.
Honestly, Orion is a fabulous piece of work.
– Barry Tolson, Just Ask Jean Limited
Try the new model without canceling the legacy subscription
If you want to try a new tool, or simply want to try out the new pricing model, you don't have to cancel your legacy subscription. Create a new custom plan, enter your billing information, and try it out. This way you don't need to commit to just one pricing model, but make a gradual switch at your own pace.
New payment processor
The reason you'll be prompted to enter your billing info when you switch to the Orion model is because it's powered by Stripe. It is a much more robust and flexible solution, and we're hoping this will resolve a number of problems you had with ManageWP payments in the past.
Rethinking your business strategy
Our main concern with the switch is that we might disrupt your business model. In some cases the monthly fee might go up and eat your profit. We will not allow this to happen.
Grandfathering your subscription takes care of any sudden changes to your subscription fee. When it comes to long term plans, some of our users addressed this in the surveys:
I'm a bit sad to see the massive $7 price tag on the new real time backup. But I fully understand what you went through in creating this, and I understand it has to be priced according to value. I was hoping to WOW my current clients with it as an 'upgrade' to their existing service, but I'll just create another upsell tier, and frame it as part of an increased service on my part ""screwed something up? Email me with the time and I'll roll your site back!"".. magic.
– Jeff Sararas, WP Maintained Hosting
I wrote an article a while back on how WordPress professionals often grossly underprice their service. How much did you pay your plumber the last time he fixed your faucet? $50? And you're providing a vital service that's protecting their business for what, $5/month? We both know you're worth way more than that.
One way to turn the tables is to frame the new Orion tools the right way. For example, Real-time backups are a new tier of service, bringing additional value to your clients. Your service makes a snapshot of the client's website every hour of every day. Over 650 restore points each month. That's worth at least $70 to your clients.
I like the idea of being billed on a per-site basis for the premium services my clients are willing to pay me for, but having the basic free services available to make my life easier. (Plugin updates, etc.)

If clients want weekly, daily or real-time back-ups they'll need to pay for them, ditto for up-time monitoring, etc. Some of the sites I would have on ManageWP would be there simply to save me the hassle of having to fix things because the client forgot to update, etc. But some clients do want managed services and willing to pay for it, so this set-up is perfect.

The pricing is fine; very affordable and great for getting clients to agree while still leaving room for some margin on the developers end.
– Tony Djukic, BANG! Creative Communications
As we introduce new tools, you'll be able to build higher tiers and provide more value to your clients, while at the same time you'll have less hassle since ManageWP is doing everything for you.
Use cases
Here are two use case examples how you can benefit from the new pricing model that comes with Orion.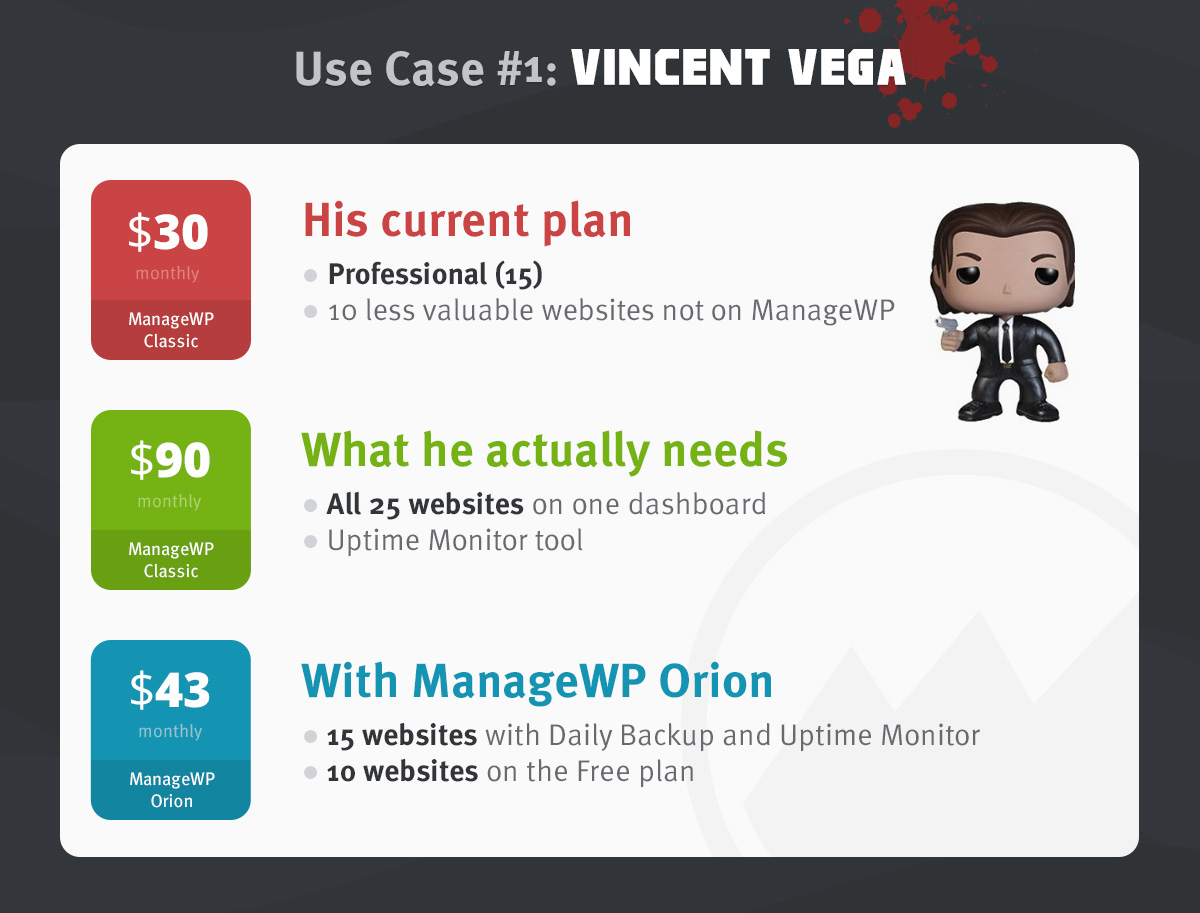 Vince is happy with the ManageWP service. The only tool he's missing is Uptime Monitor, but the Business plan costs twice as much than what he's currently paying. He also has 10 websites that he doesn't keep on ManageWP. These are mostly fun side projects, with a few belonging to his friends. They don't bring in any money, so it doesn't make sense to pay to have them on ManageWP.
Orion is perfect for Vince: it lets him use Uptime Monitor without the massive price hike. And now he's able to have all of his websites on one dashboard, which makes things a lot easier for Vince.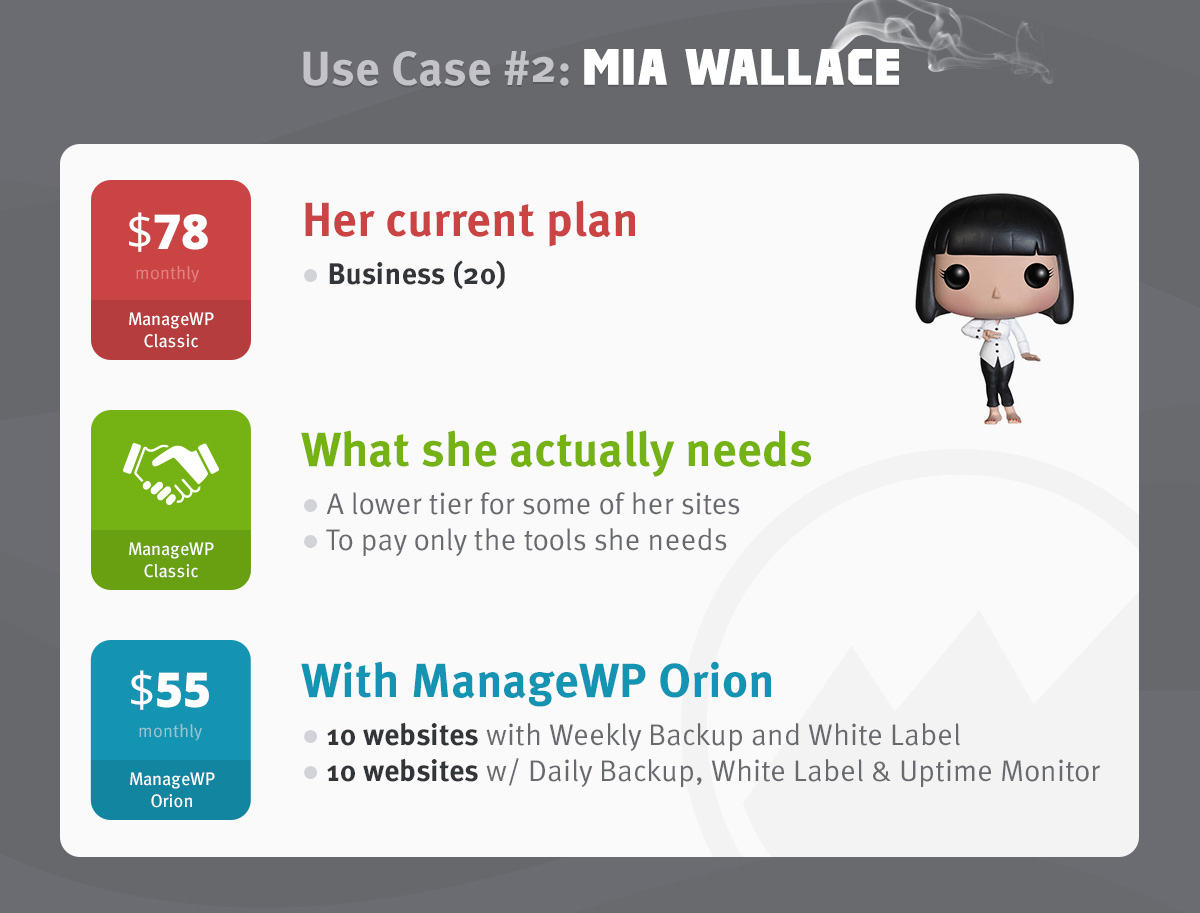 Mia does not mind paying the Business price tag, even though she doesn't need all the available tools. She offers two tiers of service, but it's too much hassle to maintain two separate ManageWP accounts, so she put all her websites on one account.
Orion allows her to mix and match plans to match the tiers of her service. For the lower tier she created a plan with Weekly Backup and White Label. The higher tier has Daily Backup, White Label and Uptime Monitor. Mia optimized her cost, bringing down her monthly fee from $78/month to just $55/month.
Q&A
We gathered a ton of feedback during the pricing surveys. Here are some of the most commonly asked questions.
I think the price for uptime monitoring is a bit too high. This is a tool you don't need much server resources for and there are free tools for it. Perhaps it would be an idea to have a smaller plan for 0.5$ with a reduced checking interval.
– Tobias Laubscher
Most of our tools have a free alternative. The thing is, those same free tools existed way back in 2010 when we started working on ManageWP. We weren't trying to build another free service. We wanted to build a service that saves you a huge amount of time (4h/month per website, according to our survey). That's why, whenever we had to make a time-vs-money decision, we chose the option that saves time. In this particular case, Uptime Monitor lets you see all the websites from one dashboard. Everything is logged. The history can be included in the Client Report. You get unlimited email, SMS and (in the near future) Slack notifications. And with all the discounts, you can actually get this tool for less than $0.50 per month.
If you go down this pricing route, your revenue model from me could go from $67 to NIL. Plus I might as well put another 50 sites on here for free that don't pay for backup because they are ours and we use another plugin for backups.
– Anonymous
If you're happy with just the free features, we're happy as well. Even if you don't go premium at some point, you'll recommend us to others, and maybe even give us a fist bump if you ever meet us at a WordCamp.
I think it's flexible enough. Although I still think $1/website for White Label is unreasonable. Should be a one-time or monthly fee for the whole account.
– Niels van Renselaar
There are a couple of reasons for this:
Simplicity: We already have several novel concepts, we'd rather not complicate our pricing model further (that's one of the reasons the Collaborate tool is free, even though it's a part of the Professional plan in Classic).
Value: We don't mind you using our service for free, as long as your clients can see ManageWP. If you're looking to white label our plugin, you're automatically providing greater value that you're planning to charge.
Fair fee for everyone: It wouldn't be fair that one person with 3 websites and another with 75 websites pay the same $20/month fee.
It's too much. Paying per site in modular system is not fair. I like to pay for modules and use them limitless.
– Anonymous
As a software-as-a-service, we don't have this kind of luxury. Our goal is not to sell you a piece of software and stop caring until the annual renewal comes around. We watch over your ManageWP dashboard 24/7 and make sure everything is running smoothly and securely. It does not matter if you're free or premium, our Customer Happiness team is here for you, day and night.
So, if you have 200 backups running, it's not the same as having just 1 backup. It costs us more to keep your dashboard running, the odds of troubleshooting a support ticket are much higher, etc.
There's also the question of a fair fee. When you're just starting a business, you're not really able to cough up $500 for a piece of software that you might not even need in a few months. The per-site pricing is here to help you optimize cost in those early days when you need to focus on breaking even. As your business grows, so does the monthly fee. I know that this is not usual in the WordPress ecosystem, but I believe it's the most fair model.
The new Orion plans are cheaper for me. How will I switch the plans to Orion and will i get a credit for the difference?
– Anonymous
When the Orion plans go live, you just need to move your websites to one of the custom Orion plans, and cancel your Classic subscription. When you cancel, let us know what you want us to do with the remaining credit: we can issue a refund, or move it to your balance.
In summary
We built a pricing model that takes even more hassle out of your busy schedule, and optimizes your operating cost. We included several novel concepts that might take a bit to get used to, but once you've settled in, you'll never look back.
Every day you're finding inspiring ways to put WordPress to good use. Our task is to handle the distractions for you. We'll keep improving, so you can as well.
Thank you for letting us be a part of your story.