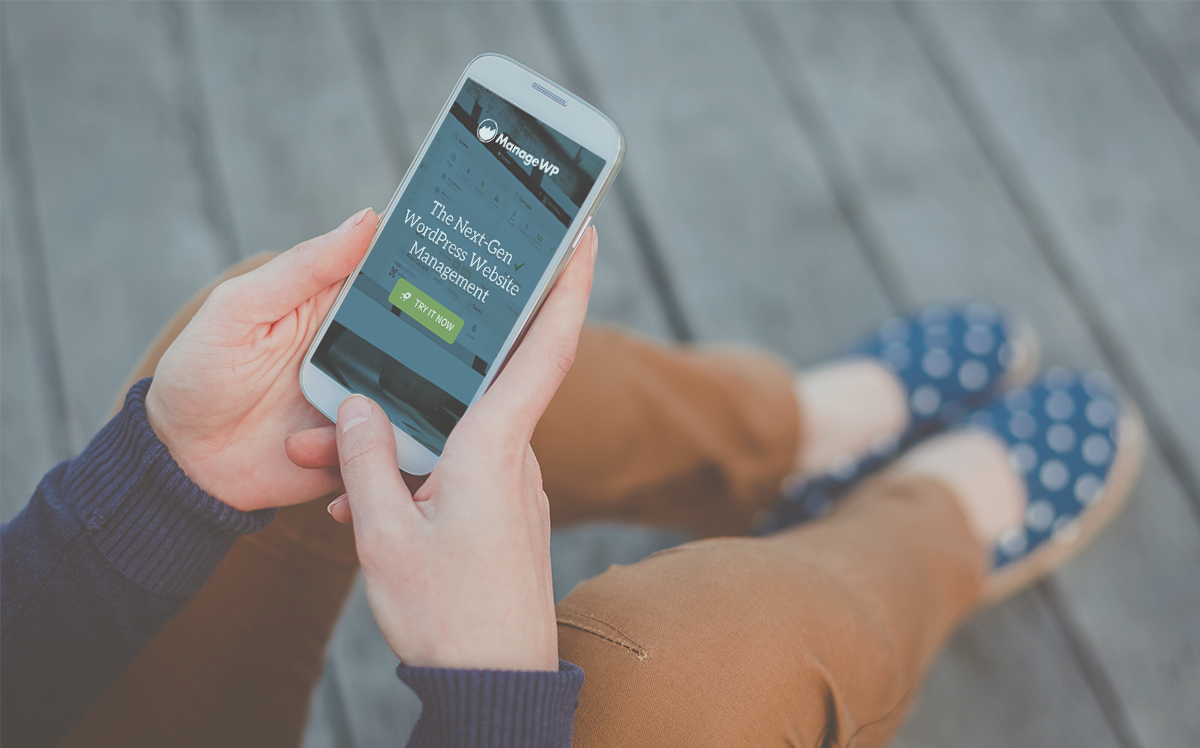 Last week we published a very long article about the upcoming Orion pricing model. This is the condensed version that covers all the important points in a nutshell. Enjoy!
The Specs
Orion comes with a much simpler and more flexible model. It lets you easily figure out the cost per website, and scales your subscription automatically, so you can focus on your business:
Per-site pricing: Got 8 websites? You'll only pay for 8 websites. not 10, not 15.
Multiple plans on one account: Put as many different plans as you want on a single account.
Custom, a la carte plans: Choose the tools you need, build your plans to best fit your needs.
Pay-as-you-go: You no longer need to upgrade or downgrade. When you move a website to another plan, the subscription automatically adjusts.
Unlimited free websites: You can now keep hundreds of free websites on the same ManageWP dashboard as your premium websites.
The Game Plan
In roughly 8 weeks, the Classic dashboard will be phased out, and all ManageWP users will be moved to the Orion dashboard. Here's what you need to know:
Right now all ManageWP users (except those on the Free plan) can access their mirrored Orion account. It's the inconspicuous tab icon at the top right, in case you ever wondered. Try it, get to know Orion. The layout is a bit different, so it might take a bit to get used to it.
Roughly 8 weeks from now we will take the Classic dashboard offline, and move everyone to Orion. At this point the Orion pricing model will go live.
All active ManageWP subscribers will be grandfathered. Your legacy plan and all your websites will be waiting for you. The Classic backup will be replaced by the Orion backup, at no extra cost.
Here's what each legacy plan will get:
You will not be able to change the number of websites on your legacy plan; if you plan on expanding your business, upgrade before Classic gets phased out.
We're switching from a per-domain to a per-site model. If you have multiple websites on a single domain (e.g. you are on Business (10 domains) but have 17 websites), the excess websites will not be removed. As long as they are on your dashboard, they will be managed as usual. If you remove them from the legacy plan, you won't be able to add it back if you're over the plan limit.
You can keep your legacy plan and experiment with the Orion plans at the same time. Your legacy plan will basically be treated as just another plan on your ManageWP dashboard. Your lifetime discounts will be honored in Orion.
If you choose to cancel your legacy subscription, you will be pro rated upon request.
Tools and Custom Plans
Creating and adding websites to custom plans is a breeze:
Create a plan by picking the tools you need, and naming the plan.
Drag and drop your websites to that plan.
The tools have a straightforward, per-site pricing. Uptime Monitor is $1/month. Daily Backup is $2/month. This means that each website on the Uptime Monitor + Daily Backup plan is $3/month. This makes it very easy for you to compare your cost to the fee you're charging your client.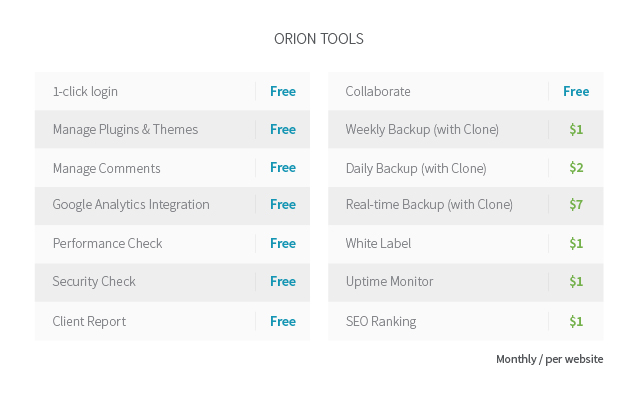 There are several discounts that offset the cost if you pick multiple tools for a plan, if you have 15+ websites, and a few more. All existing ManageWP lifetime discounts will be honored.
Check out the Orion pricing page below to figure out your perfect set of plans: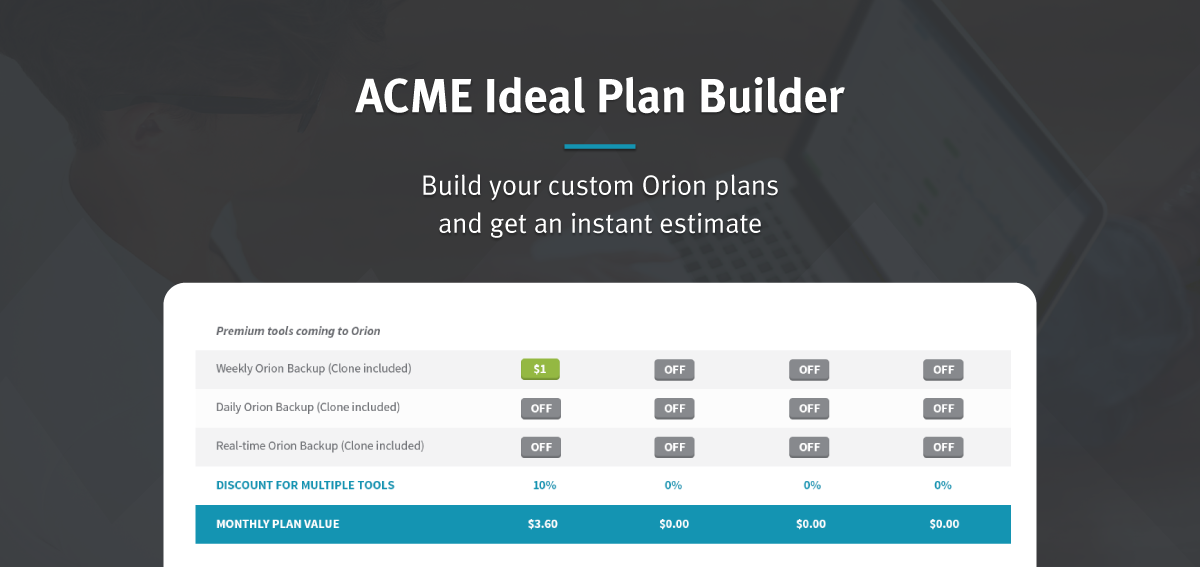 Got questions? Leave us a comment below, or check out the full Orion pricing article here