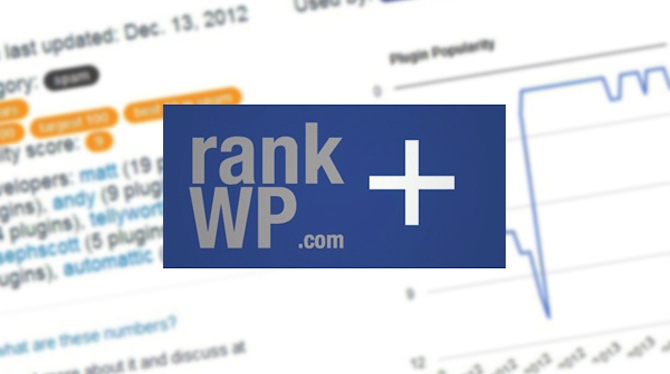 I am confident that most WordPress users will agree with this statement: the WordPress.org Plugins Repository could be better.
It is a flawed masterpiece. While its potential in terms of the sheer scale of free plugins available is astonishing (and perhaps something we take for granted), the way in which the plugins are collated and presented leaves little to be desired. And that's not to mention the issues that developers face in publishing and supporting their plugins (as outlined in this recent post from Tom McFarlin).
While the WordPress development team are making strides towards improving the repository (consider for example the introduction of written reviews), there's certainly more that can be done. And more is being done — not by the WordPress development team but by independent developers who recognize the plugin repository's shortcomings and hope to address them.
Introducing RankWP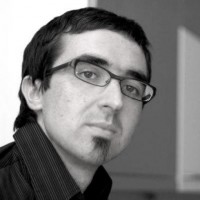 RankWP is an alternative plugins repository developed by Boštjan Špetič (founder of Zemanta) that intends to make browsing for and finding the best plugins a far simpler and more intuitive experience.
In terms of better describing what RankWP has to offer, I'll turn it over to Boštjan:
RankWP is like a twin brother of the plugins directory — same genes, different personality. We are taking the same information about the plugins that is available there but exposing it in different (sometimes smarter) ways. This comes in different forms:

Because we keep track of the historic data we can present how plugins' rankings for instance have been changing, as opposed to simple current rank in the original directory.
By connecting individual data points like 'number of daily downloads' and 'share of installations' together with some math, we can estimate the real install base of the plugin — which gives completely different view of a plugin than total downloads available until now.
By querying the SEOmoz API we are for the first time presenting all reviews of a plugin that exist.
Using all this second order data and adding a real search engine in the backend has enabled us to better filter out irrelevant search results.
Does RankWP Work?
The first thing I would say is that the question as to whether or not RankWP "works" is largely a subjective one. I do encourage you to test it for yourself so that you can form your own opinion. Having said that, I have been playing around with RankWP for a few weeks now and have discovered some interesting results.
Search
Update 12th April 2013: although I initially found the search functionality to be poor, an update to RankWP has improved the search feature massively.
The first thing that many people will go for when using RankWP is the search bar. With that in mind, I thought I'd put it through its paces.
Consider SEO. It is commonly accepted that WordPress SEO by Yoast is the best SEO plugin available. But if you search for "SEO" on RankWP that plugin is not listed first (or second, or third).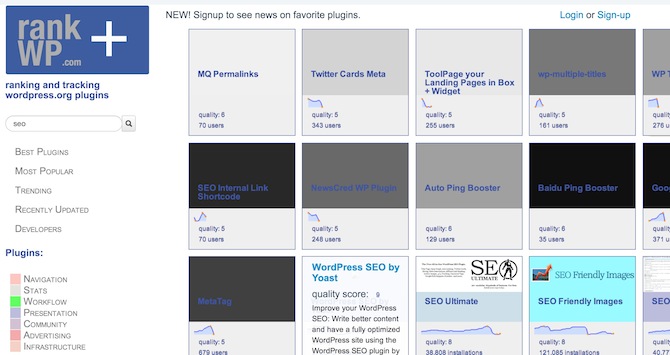 However, you will find it on the first page and you will also see that it has an exemplary 'quality score' of 9. If I am a brand new WordPress user in search of an SEO plugin then I am probably going to choose Yoast's offering, which is a great outcome.
However, this particular example offers nothing more than the official repository, which ranks Yoast's plugin third when using the search term "SEO." Further searches revealed some pretty undesirable results — for example, consider the search below for "Twitter":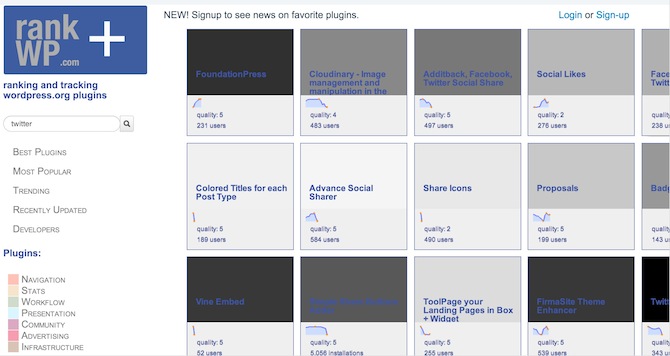 Some of these plugins have very little to do with Twitter and they all have poor quality scores. Not a great set of results.
So I'm not too impressed with the search functionality, but RankWP has plenty more features on offer to explore — the kind of features that I think the official repository is screaming out for.
Plugin Categories
It is quite astonishing that the WordPress.org repository does not categorize its plugins. The best we have in terms of taxonomies are tags, and the way in which plugins are tagged is unreliable at best.
RankWP attempts to resolve this issue by categorizing this plugins, and the feature is both brilliant and frustrating at the same time.
You can access the categories easily via the sidebar: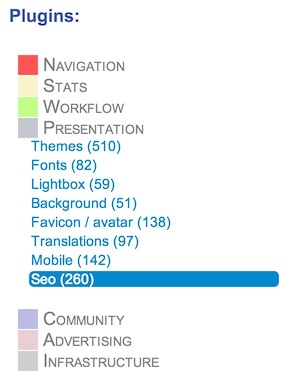 As you can see, there are seven main categories with various sub-categories nested within each. And that's where the problem starts — the categories are a bit of a mess in terms of usability.
For starters, some of the categories just aren't that useful in terms of determining what sub-categories you might find within. While 'Navigation' and 'Advertising' are relatively straightforward, categories such as 'Workflow' and 'Infrastructure' are far less helpful. For instance, would you have expected to find SEO under 'Presentation'?
Given that there are less than 40 sub-categories in total, I would argue that the main categories are not necessary — just list all of the categories in the sidebar. And to be perfectly honest with you, some of the sub-categories (such as 'Background' and 'Extend') aren't useful enough to be worthy of inclusion anyway. I would much rather see a more concentrated list of 20-30 categories than the rather cumbersome setup we see at the moment.
But in spite of all that, the system works. Browsing through the repository with the categories has not failed me yet in terms of displaying the best plugins available for task at hand. For instance, here's what you'll find under 'Navigation':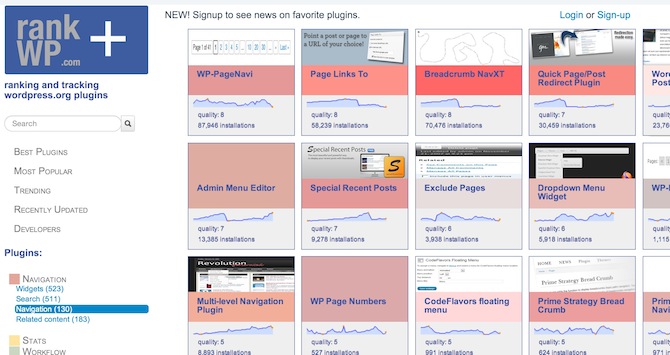 What we have here is a well-ordered list of plugins with some great data immediately available (such as the quality score, number of installations and trending popularity). It is a far better means of browsing plugins than clicking through tags on WordPress.org, that's for sure.
Dynamic Plugin Lists
The final feature I want to cover in this post is a selection of additional ways in which you can browse plugins on RankWP:
Best Plugins

Most Popular
Trending
Recently Updated
Developers
The first two lists are great for beginner users as they do list what I would consider to be the best and most popular WordPress plugins. The 'Recently Updated' list no doubt has its use on occasion.
The other two lists however are a little more unusual. Trending plugins appears to be a pretty mixed bag — good for someone who likes to uncover the occasional diamond in the rough perhaps, but there is a lot of rough to navigate through.  And while the 'Developers' list is a neat idea, it leaves me a little confused. For example, how come Yoast is listed as having 209,251 users when his SEO plugin alone has a reported 372,378 installations? Perhaps I am misinterpreting the data; but then if I am, other people will be too.
My Verdict on RankWP
Boštjan has a lot of plans for future iterations of RankWP, including a 'bundling service' that will allow you to group plugins for mass install on a new WordPress site (like a little brother to ManageWP's site cloning feature).
However, in my opinion RankWP would be best served by focusing on the fundamentals: improved search and category browsing. There is room for improvement on both fronts and I for one would love to see a RankWP v2.0 that addresses the issues discussed above. Just simple adjustments like categorizing the plugins in a more intuitive fashion could make a big difference and would leave us with a tool that is far superior to the WordPress.org repository.
In its current form I consider RankWP to be a good complement to the official repository, but certainly not a replacement. I do however think that with some further work on improving the existing features a truly superior tool could emerge.
At the beginning of this post I referred to the WordPress.org Plugins Repository as a "flawed masterpiece." I am inclined to refer to RankWP in the same manner.
Finally, there are alternatives out there. I have recent had my attention drawn to WP Plugins which offers a very clean and uncluttered interface, a number of dynamic lists (like RankWP) and a bunch of great filters. It's certainly worth a look too.
Boštjan is keen to obtain feedback from the WordPress community regarding RankWP and I would love to know what you think too, so please add your thoughts to the comments section below!