Last week we were lucky enough to have had the pleasure of taking part in a free webinar on how to get yourself setup with recurring revenue organized by WP Elevation. The webinars were split into 3 different live sessions, each focusing on a key component. For those of you who signed up and made the most out of it, nice work! Understandably, some of you could not make the live sessions, and others might have missed the memo. Fear not, because today I will get you started with some key takeaways and also share with you a link that will take you to the webinars.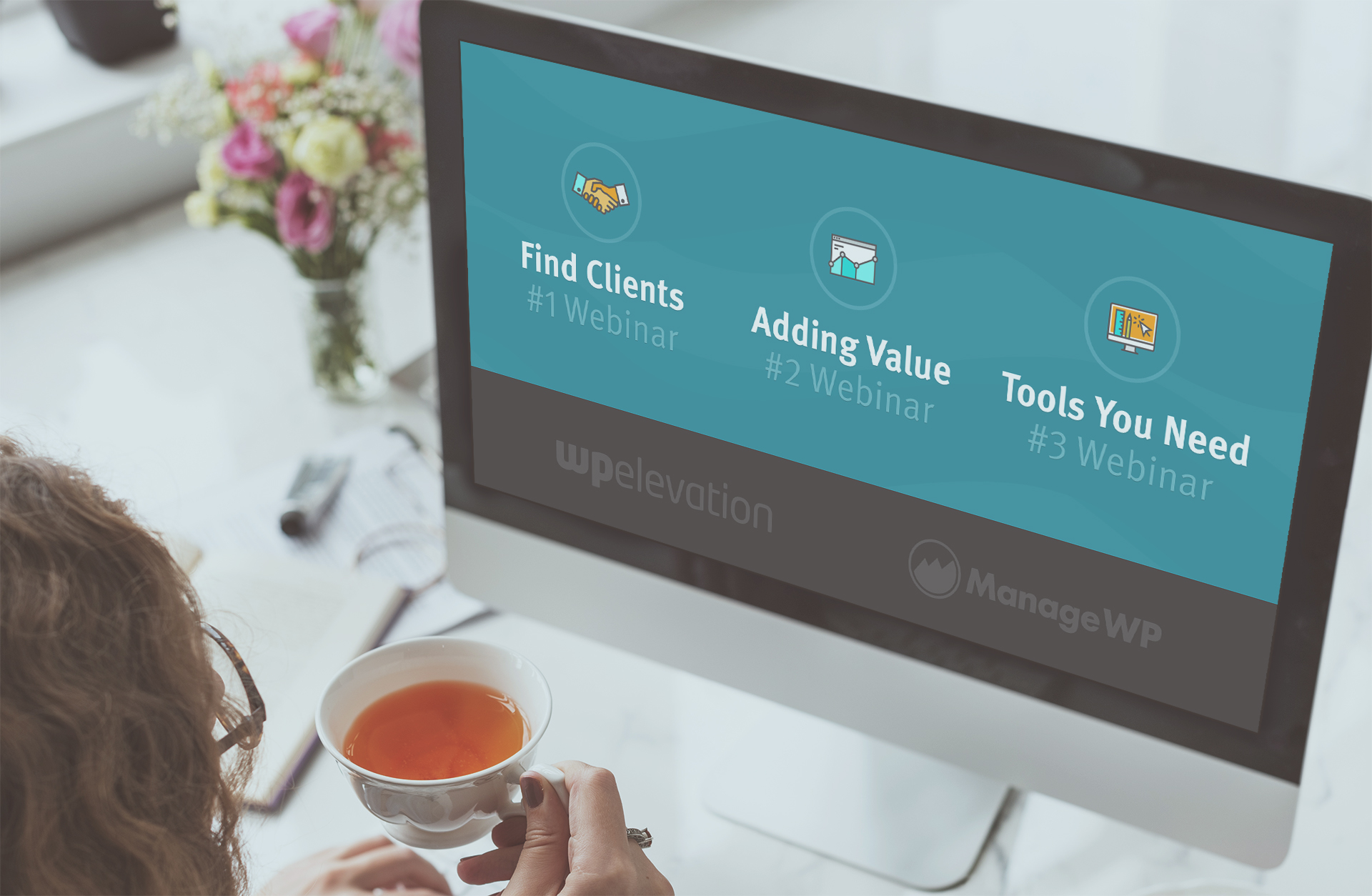 Important note about the link, WP Elevation have been kind enough to make the webinars available for all of you for the entire week. So, make sure you find time before Friday to watch the webinars and make notes. In this post I want to share with you some my notes, and "ah ha" moments.
So, let's get started.
The Core Message
The first webinar starts by highlighting the most important aspect and that is that care plans are the holy grail. Often, we forget the huge demand there is out there for website care plans. There are thousands of small and medium business owners, who are not web professionals and need someone to take care of their website. That's you. Clients don't know how to use their website to its full potential, it's your job to show them, WP Elevation will teach you how and ManageWP will give you the tools you need.
Finding Clients
If I had to pick the most useful webinar out of the three, this would be it. The teaching points, I think, can change your mindset and really take your business to the next level.
Here are my webinar notes.
Kristina talks about your past client list being your best and most reliable way of finding clients. She suggests to dig into your past client list, reach out to them and get them signing up for care plans. To do that, you need to show them why having website care plans is necessary and beneficial to their business. You can do that in a few ways.
Write a blog post that talks about the importance of website maintenance, show them that you have the solution to their troubles.
Craft an email to reach back to your client list, tell them you are providing maintenance and send them a link to your blog post.
Draw the line in the sand. This meant for Kristina not requesting work with her unless they wanted to sign up for website care plans. This is one example, but the idea is to create benefits for those on care plans.
Note, it's important to have that conversation with your clients and ask them, what is your website worth to you? Don't be afraid to do that, you won't experience as much pushback as you might think. The pushback you do get, is ok, it's normal that not everyone will want to sign up, but you need to remember what type of clients you want.
The Webinar goes on to discuss how to attract new clients. I don't want to reveal too much good material here, so I will just give you the bullet points again from my notes.
Offer a download for email capture. This means creating useful material, to get people signing up and leaving you their emails. It's similar to the blog post you wrote, but will look a bit more like an e-book. You can even teach someone how to maintain their website, and the benefit of this is explaining to them why it's important to have maintenance plans.
Create a lead magnet and re-market the blog post to email. This is a simple note saying, "not sure if you saw my blog post on website maintenance, if not have a look here".
What the above does, it get's someone interested and shows them the importance and complexity that it takes to maintain a website, they are likely to see the value and hand over the work to you. You have their email, so this is a great time to reach out and introduce yourself.
For the blog post and email (as well as other documents) I mentioned above, you can download full templates made by WP Elevation, they will be all available with the link.
Adding Value
Moving on to the next webinar, which is great, because it's a topic that a lot of people struggle with. It's hard to see true value, and to create that mindset that really focuses on selling value to your clients. I had an "ah ha" moment here, on a very simple yet powerful point that Kristina made. She said,
Every person has unique value that they bring and can add to their care plans.
This is really true, and yes although most of us will offer similar basic packages, each one of us has an interesting background and experience they can bring to their work. Here are some more key point on looking at adding value.
It's all about the value, don't start with the price. Decide what value you want to offer your clients and only then start thinking about the price. This is a big mind-shift for most people to start with looking at the value. Think about what is valuable to the client.
Review the current marketplace. Realize that it's worth a lot of money to maintain websites, and don't underprice.
Determine your value adds. See what other people are offering and see what you can offer. It can be anything from SEO services, to backups and support time. The webinar gives you lots of ideas for value adds, so don't miss this slide!
Additional "hidden" value. This is important for customer retention. Things like analytics reporting, update reporting and "don't worry" emails.
Convincing past clients. Kristina wrote a great post that will help you here. Have a look at the THE GREAT MIGRATION: TRANSITIONING CLIENTS INTO RECURRING REVENUE that really goes into the details.
Again, you can find downloadable resources, like examples of the "don't worry email" in the link for the webinars.
The Tools
The third and final webinar is a great wrap up, as it focuses on the tools and processes you need to have in place in order to create profit. This isn't a webinar on how to use ManageWP, it covers all sorts of tools and additional tips and tricks. This webinar really brought to light all of the things that are needed in order to run smoothly a website maintenance care plan.
The learning point I would like to highlight is that the key to profit is process. If you can do something over again the same way, you will do it faster, better, and then maybe someone else can do it for you. Simple, yet requires some practice to achieve.
The tools needed are split up into sections, and Troy and Kristina cover each one in the webinar. I will just give you an overview and a few examples.
Billing Tools, Stripe and Bookkeeping system etc.
Schedule Tools, Zapier, ManageWP, MailChimp etc.
Delivery Tools, Slack, ManageWP etc.
This webinar also covers some workflow tips, that I found extremely useful. Kristina goes into the details of her workflow and shares some of her ideas. Here they are in shorthand.
Tips for Workflow:
Notify client the day before maintenance
Batch update
Check website before and after the update
Send report to clients (cc' yourself in)
An interesting point that is added to this webinar and as a tool and process is having the right resources. It's important to have what you need in order to do your job to the best of your ability. Here are some of the resources that the webinar touches on. I will just list them for you, and let you guys listen to the details online.
Email list for WordPress news, keep yourself in the loop with the latest WordPress news.
Offshore team (outsource), have a reliable team that can help you.
Video Tutorial Library, these are for your clients so they don't need to ask you everything.
Trello Board (Client History), team can reference it over time.
Wrapping Up
That's the webinars in a nutshell, and I really mean in a very small nutshell. Each webinar, like I mentioned has downloadable material that is extremely helpful, and the webinar goes through how to use it and make the most out of it. In addition to this, there is a Q&A session, where Kristina and Troy answer live questions. This can also be useful, because most people will have similar questions.
I like that the WP Elevation team always say that this is just their examples. They are there to point you in the right direction and bring your attention to the important parts that most of us don't see, but you can adjust and create your own unique website care plans.
For me this has been the best 3 hours in front of my computer with a glass of red wine, and I hope you will feel the same. So, without further adieu, here is that golden link that will bring all of this knowledge to you.
Next Webinar?
What would you like to see next on a webinar? If there is a subject matter that you are interested in learning about, or you want to teach something to our readers, then tell us about it. We are really happy about how this webinar series went, so we want to get the ball rolling with another webinar soon. Looking forward to sharing more knowledge with everyone.