Last week we wrote the Safe Updates announcement and why you should be excited about it. Today I am happy to announce launch of Safe Updates – an automated process that ensures your update of WordPress core, plugins and themes is safer than ever.
Best of all? Safe Updates is completely free for everyone with the premium Backup add-on!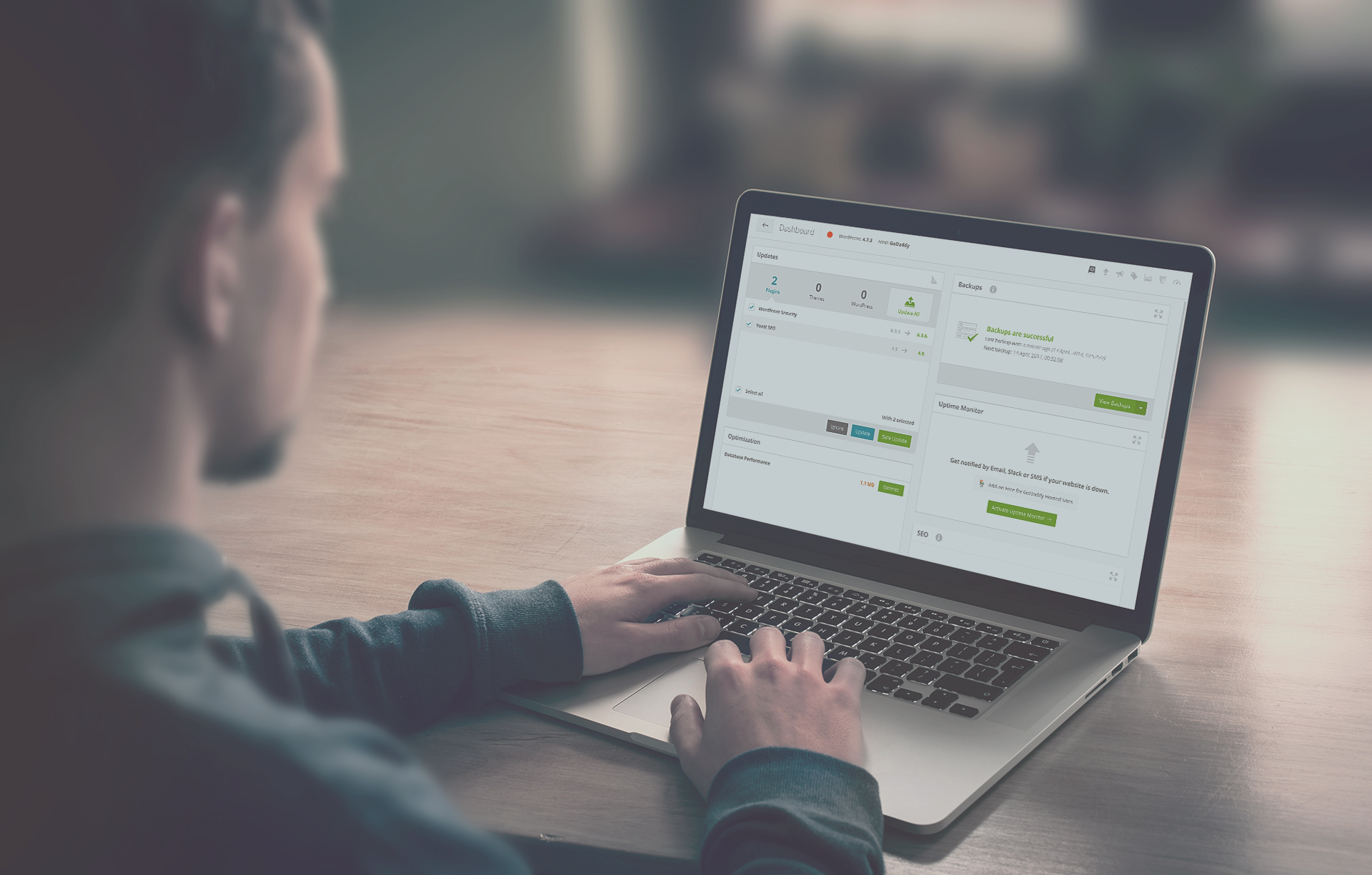 There are many great things you could say about WordPress, but keeping it up to date is not one of them. You have to constantly update your websites, since exploits show up all of the time. At the same time, these updates require verification and tend to break your websites in so many ways. Having to go into each website and test it manually can be time consuming and not very efficient.
With Safe Updates this is no longer the case. With a click of a button you can perform updates on any website and we show you any errors you might have. We check the entire website for any changes, and let you make the decision if you want to accept them or roll back.
Safe Updates is a fantastic new feature that takes the pain out of your update cycles. We built it with the goal of helping you scale updates across dozens of websites.  Safe Updates will allow you to:
Reduce time spent updating stuff
Increase the success rate
Troubleshoot issues faster
Here is how to run Safe Updates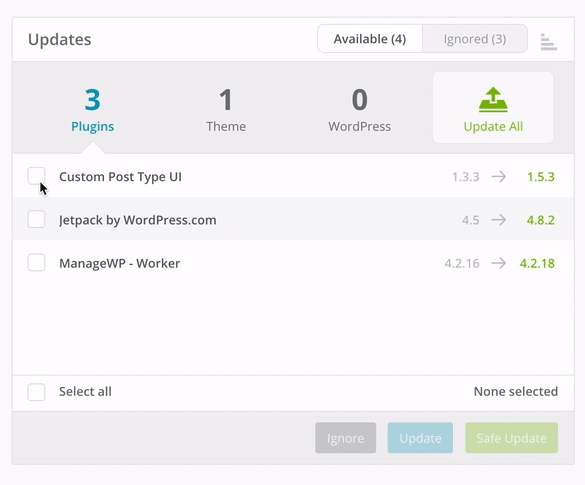 Safe Updates runs in 7 automated steps.
When you go to the individual website and have a look at the dashboard, on the Updates widget you will see an additional button "Safe Update". Select the plugin(s) that you want to run the Safe Update on and by clicking the button you will initiate the first step – creating a restore point for your website.
Step two is sending HTTP requests to the website before the actual update to make sure everything is working smoothly on your website, and step three it creates a before screenshots of your website so that you can make a comparison when the update is complete.
Step four is running the updates. In step 5 we send a HTTP request again to check your website response after the update. Step six we take an after update screenshot of your website, and the final step, step seven is your option to go in and see the screenshot comparison. Screenshot comparison lets you drag the slider across and immediately see any changes to you website.
Safe Update perks and pricing
Safe Updates are just another way that we want to make sure you have the best care for your websites, and keeping your client's and your own websites protected. I sat down with our head of Engineering, Sergej Grivcov, and asked what he thought. He said,
Our incremental backups have made it possible for us to create this feature, because they only have to detect the changes on your website before running Safe Updates, making the whole process faster and more reliable.
Safe Updates is a free upgrade for everyone with the premium Backup add-on. If you are not using our premium backup solution, and already have a backup set up with someone else, by signing up for our premium backup starting at only $2 you get the Safe Updates feature. We think $2 per website for this feature is definitely worth it!
And if your website is hosted on GoDaddy servers, it's free since all GoDaddy hosted sites get premium Backup and Uptime Monitor for free!
A few things to remember, for now Safe Updates do not support multisites, and they can be run on individual websites only. But, this is only the beginning of our Safe Updates feature, and like with all of our features we work on improving them and customizing them to best suit your needs.
Next step for Safe Updates
Our next step for this feature is automated/scheduled Safe Updates. Like with our Performance Check and Security Check, you will be able to schedule when you want to perform your Safe Updates.
We are getting one step closer to a perfectly safe way to fully update your website and keep track of any changes post updates – all of this with one click for hundreds of sites. 
We think this is the next big thing in WordPress website management, but we want to hear from you. What do you think? Test it and tell us all about it.